In 1930, aviation pioneer Louis Charles Joseph Blériot established the Blériot Trophy, to be awarded to an aviator who demonstrated flight at a speed of 2,000 kilometers per hour (1,242.742 miles per hour) for 30 minutes. The technology to accomplish this was three decades in the future.
On 10 May 1961, a U.S. Air Force/Convair B-58A-10-CF Hustler, serial number 59-2451, The Firefly, did just that. Flown by a crew consisting of Aircraft Commander, Major Elmer E. Murphy, Navigator, Major Eugene Moses, and Defensive Systems Officer, First Lieutenant David F. Dickerson, the Mach 2+ Strategic Air Command bomber flew 669.4 miles (1,077.3 kilometers) in 30 minutes, 45 seconds. Their average speed was 1,302.07 miles per hour (2,095 kilometers per hour).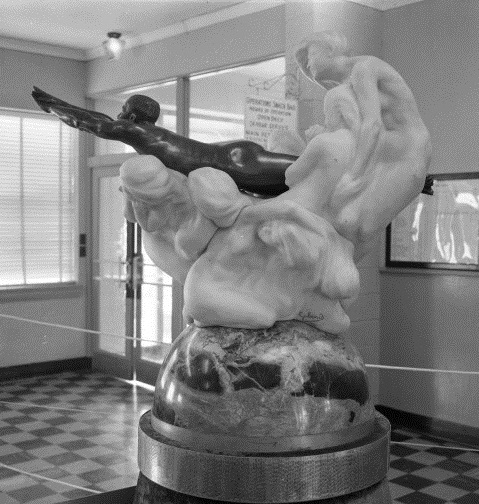 The black and white marble trophy was presented by Alice Védères Blériot, widow of Louis Blériot. It is on permanent display at the United States Air Force Academy.
On 26 May 1961, The Firefly, flown by a different aircrew, set a speed record by flying New York to Paris, while enroute to the Paris Air Show, a distance of 3,626.46 miles in 3 hours, 19 minutes, 58 seconds, for an average of 1,089.36 mph.
On 3 June 1961, the Blériot Trophy-winning crew of Murphy, Moses and Dickerson departed Le Bourget Airport aboard 59-2451 for the return trip to America. The B-58 crashed five miles from the airport. All three men were killed and the aircraft totally destroyed.
© 2015, Bryan R. Swopes
by