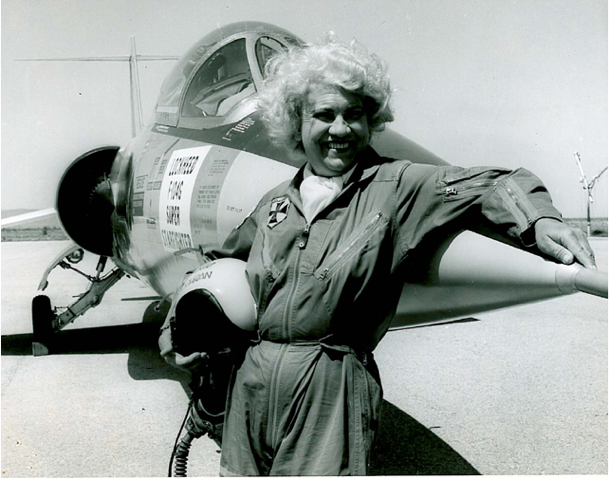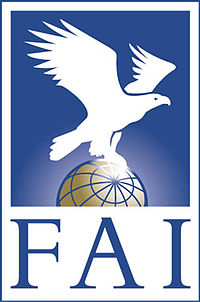 1 June 1964: At Edwards Air Force Base, Jackie Cochran flew a Lockheed F-104G Starfighter, serial number 62-12222, over a 100 kilometer (62.137 miles) closed circuit without payload, averaging 2,097.27 kilometers per hour (1,303.18 miles per hour).¹ This new Fédération Aéronautique Internationale (FAI) speed record broke the one set a year earlier—2,038.70 kilometers per hour (1,266.79 miles per hour)—by Cochran's friend and competitor, Jacqueline Auriol, who flew a Dassault Mirage IIIR delta-winged reconnaissance fighter at Istres, France. ²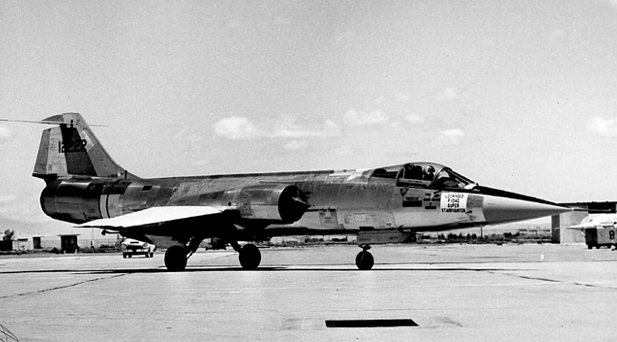 Designed by the legendary Kelly Johnson as a Mach 2 interceptor, the Starfighter was used as a fighter bomber by Germany. The F-104G was most-produced version of the Lockheed Starfighter. It had a strengthened fuselage and wings, with hardpoints for carrying bombs, missiles and additional fuel tanks. Built by Lockheed, they were also licensed for production by Canadair, Dornier, Fiat, Fokker, Messerschmitt and SABCA.
The F-104G is a single-seat, single-engine fighter bomber, 54 feet 8 inches (16.662 meters) long with a wingspan of just 21 feet, 9 inches (6.629 meters) and overall height of 13 feet, 6 inches (4.115 meters). The empty weight is 14,000 pounds (6,350.3 kilograms) and loaded weight is 20,640 pounds (9,362.2 kilograms).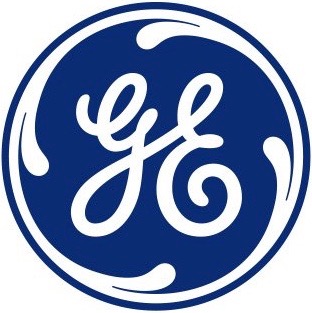 The F-104G was powered by a General Electric J79-GE-11A engine, a single-spool, axial-flow, afterburning turbojet, which used a 17-stage compressor section and 3-stage turbine. The J79-GE-11A is rated at 10,000 pounds of thrust (44.48 kilonewtons), and 15,800 pounds (70.28 kilonewtons) with afterburner. The engine is 17 feet, 4.0 inches (5.283 meters) long, 3 feet, 2.3 inches (0.973 meters) in diameter, and weighed 3,560 pounds (1,615 kilograms).
The maximum speed is 1,328 miles per hour (2,137.2 kilometers per hour). It has a combat radius of 420 miles (675.9 kilometers) or a ferry range of 1,630 miles (2,623.2 kilometers). The service ceiling is 50,000 feet (15,240 meters).
The Starfighter's standard armament consists of a 20 mm General Electric M61A1 Vulcan 6-barreled Gatling gun, with 725 rounds of ammunition, and up to four AIM-9 Sidewinder air-to-air heat seeking missiles could be carried on the wingtips or under wing pylons. In place of missiles two wingtip fuel tanks and another two underwing tanks could be carried.
On NATO alert, the F-104G was armed with a B43 variable-yield nuclear bomb on the fuselage centerline hardpoint. The B43 could be set for explosive force between 170 kilotons and 1 megaton and was designed for high-speed, low-altitude, laydown delivery.
Jackie Cochran set three speed records with this F-104 in May and June 1964.³ Under the Military Assistance Program, the U.S. Air Force transferred it to the Republic of China Air Force, where it was assigned number 4322. It crashed 17 July 1981. The pilot, Yan Shau-kuen, ejected.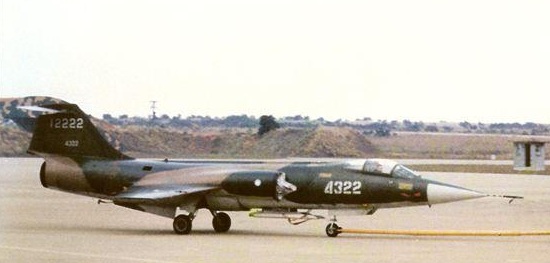 ¹ FAI Record File Number 12389
² FAI Record File Number 12392
³ FAI Record File Numbers 12389, 13037, 13041
© 2019, Bryan R. Swopes