10 May 1927: At 3:55 p.m., PST, Charles A. Lindbergh and his Spirit of St. Louis lifted off from Rockwell Field on North Island, San Diego, California, for their record-setting overnight flight to St. Louis, Missouri. The new Ryan NYP, N-X-211, had been ready and all the flight tests complete since 4 May. Lindbergh had completed the navigational planning for both the transcontinental flight to New York City, and then, the transoceanic flight to Paris. He had been in daily consultation with Dean Blake, chief of the Weather Bureau in San Diego. A system over the Rockies had been holding up his departure for days, but now everything was ready. Lindbergh wrote:
     At 3:40 I crawl into my flying suit. It's uncomfortably hot in the California sun. . . It's a few minutes early, but why wait any longer in this heat? I wave good-by, taxi into position, and ease the throttle open. As I pick up speed, I hold the tail low to put as much load as possible on the wings and reduce strain on the landing gear.
     The Spirit of St. Louis is in the air soon after its wheels start clattering over the hummocky portion of the field. The take-off wasn't as difficult as I expected. It's 3:55 Pacific. I make a mental note of the time, check instruments, pull the throttle back slightly, and begin a wide climbing turn to the left. Two army observation planes and a Ryan monoplane have taken off with me as an escort. Colonel Graham, the Commanding Officer at Rockwell Field, is in one of the observation planes. Hall, Bowlus, Harrigan, and A.J. Edwards are in the Ryan. We circle North Island, the factory, and the city of San Diego. Then, leaving the ocean and the bay behind, I set my compass heading for St. Louis.
— The Spirit of St. Louis, by Charles A. Lindbergh, Charles Scribners' Sons, 1953, at Page 134.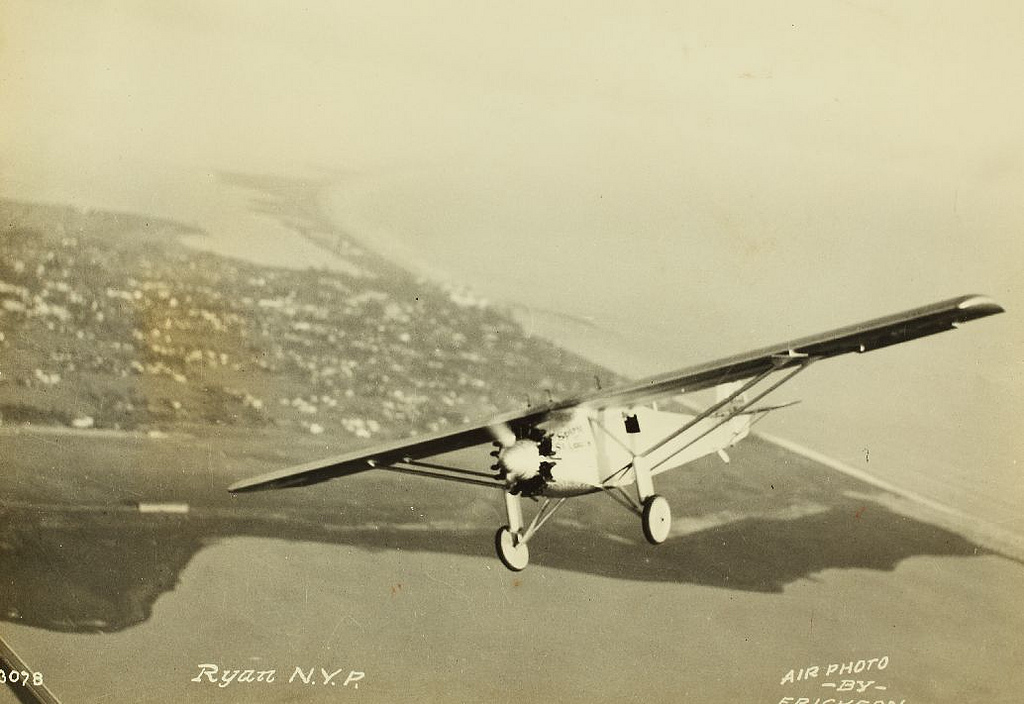 © 2016, Bryan R. Swopes