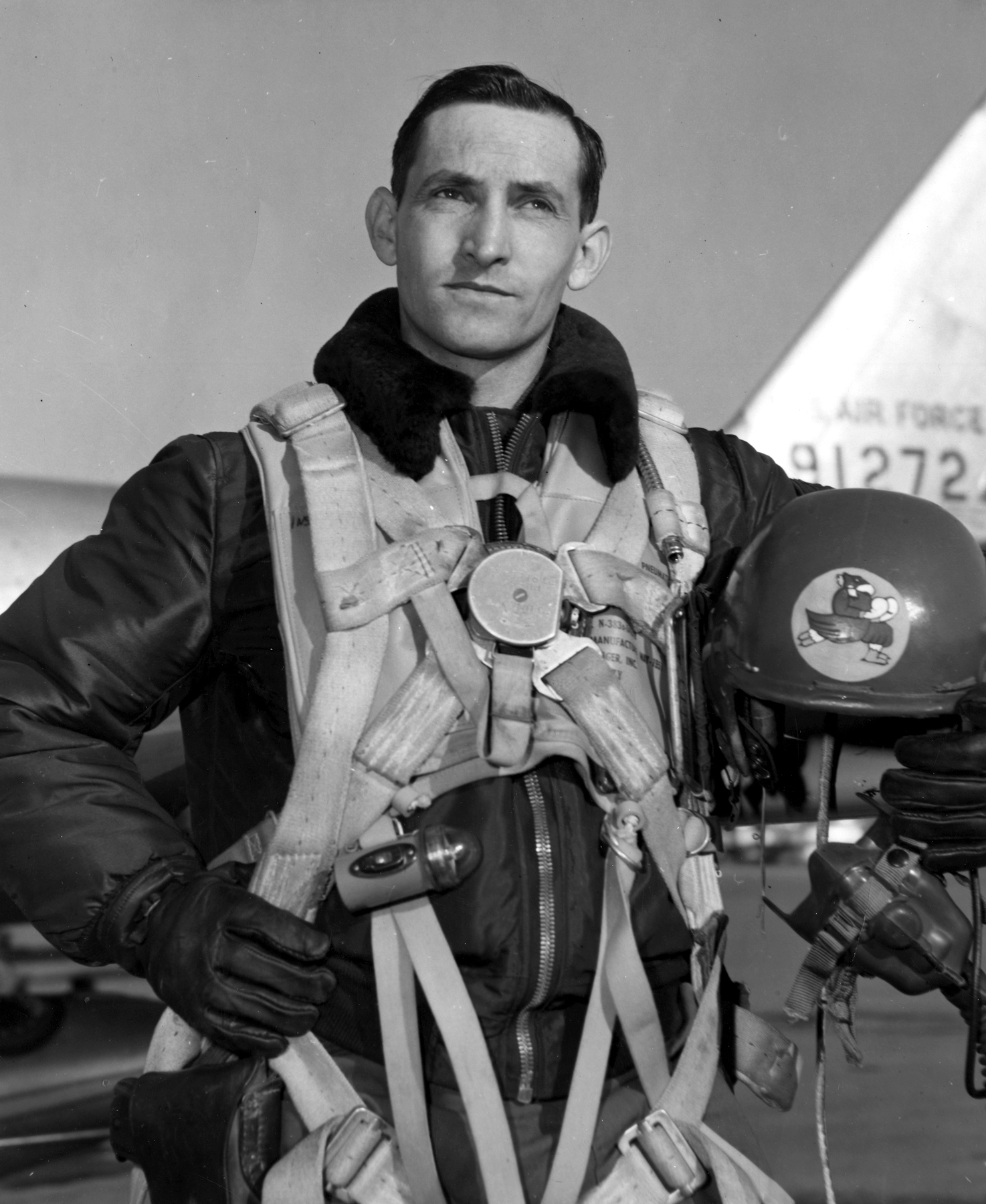 MEDAL OF HONOR
GEORGE ANDREW DAVIS, JR.
The President of the United States of America, in the name of Congress, takes pride in presenting the Medal of Honor (Posthumously) to Major George Andrew Davis, Jr. (ASN: 0-671514/13035A), United States Air Force, for conspicuous gallantry and intrepidity at the risk of his life above and beyond the call of duty while serving with the 334th Fighter Squadron, 4th Fighter Wing, Fifth Air Force in action against enemy forces near Sinuiju-Yalu River, Korea, on 10 February 1952. While leading a flight of four F-86 Saberjets on a combat aerial patrol mission near the Manchurian border, Major Davis' element leader ran out of oxygen and was forced to retire from the flight with his wingman accompanying him. Major Davis and the remaining F-86's continued the mission and sighted a formation of approximately twelve enemy MIG-15 aircraft speeding southward toward an area where friendly fighter-bombers were conducting low level operations against the Communist lines of communications. With selfless disregard for the numerical superiority of the enemy, Major Davis positioned his two aircraft, then dove at the MIG formation. While speeding through the formation from the rear he singled out a MIG-15 and destroyed it with a concentrated burst of fire. Although he was now under continuous fire from the enemy fighters to his rear, Major Davis sustained his attack. He fired at another MIG-15 which, bursting into smoke and flames, went into a vertical dive. Rather than maintain his superior speed and evade the enemy fire being concentrated on him, he elected to reduce his speed and sought out still a third MIG-15. During this latest attack his aircraft sustained a direct hit, went out of control, then crashed into a mountain 30 miles south of the Yalu River. Major Davis' bold attack completely disrupted the enemy formation, permitting the friendly fighter-bombers to successfully complete their interdiction mission. Major Davis, by his indomitable fighting spirit, heroic aggressiveness, and superb courage in engaging the enemy against formidable odds exemplified valor at its highest.
General Orders: Department of the Air Force, General Orders No. 20 (April 30, 1954)
Action Date: February 10, 1952
Service: Air Force
Rank: Major
Company: 334th Fighter Squadron
Regiment: 4th Fighter Wing
Division: 5th Air Force
George Andrew Davis, Jr., was born 1 December 1920, at Dublin, Erath County, Texas. He was the seventh of nine children of George Andrew Davis, a farmer, and Pearl Love Davis. George attended high school at Morton, Texas, and Harding College (now, Harding University), at Searcy, Arkansas.
Davis married Miss Doris Lynn Forgason in Maple, Texas, 21 February 1941. They would have three children, Mary Margaret Davis, George Andrew Davis III, and Charles Lynn Davis.
Soon after the United States entered World War II, on 21 March 1942, George Davis enlisted as a private in the U.S. Army Air Corps at Lubbock, Texas. He was 5 feet, 7 inches (170 centimeters) tall and weighed 135 pounds (61 kilograms). Davis had a light complexion, black hair and blue eyes. He was selected as an Aviation Cadet and sent to Kelly Field, San Antonio, Texas, for pre-flight instruction. Cadet Davis received primary flight training at Bonham Field, Bonham, Texas, a member of Class 43-B.
On completion of flight training, Davis was commissioned as a second lieutenant, Air Reserve, 16 March 1943. He was then sent to Bowman Field , Kentucky, for combat training in the Curtiss-Wright P-40 Warhawk.
Assigned to the 342nd Fight Squadron, 348th Fighter Group, Lieutenant Davis was deployed to the Southwest Pacific, serving in New Guinea and the Philippine Islands. With that unit, he flew both the North American P-51 Mustang and the Republic P-47 Thunderbolt. He was credited with destroying seven enemy aircraft.
Second Lieutenant Davis was promoted to the rank of First Lieutenant, Air Corps, Army of the United States, 3 February 1944, and to First Lieutenant, A.U.S., 2 March 1944. On 12 November 1944, he was promoted to Captain, Army of the United States.
Following World War II, Captain Davis was assigned to Bryan Field, just west of Bryan, Texas. A contemporary newspaper article described his experiences during the war:
. . . Credited with seven Japanese planes, Davis got two of them and won the Silver Star over Clark Field, near Manila, last Dec. 24. He was leading a flight of three Thunderbolts, escorting Liberators, when he saw the two Nips attacking the bomber formation. He immediately turned in pursuit of one, and chased it to within firing distance. Then he let his wingman shoot it down. Soon after that he saw eight to ten more enemy planes attacking American fighters and went after one of them. Three short bursts from his guns were enough to send one Nip crashing into the side of a mountain.
     Once again in position covering the bombers, he saw another enemy fighter heading for the big planes. He climbed after it, and fired from 200-yard range. Pieces flew off the Jap plane and it burst into flames and crashed.
     The official citation says "the superb protection afforded the bombers by this officer enabled them to carry out their runs with telling effect."
     Davis got the DFC when he shot down two more planes over Leyte last Dec. 10. He and his flight of four Thunderbolts were attacked by four Nips over Ormoc Bay. Davis gave chase and caught one over Cebu and the other over Negros.
     The Oak Leaf cluster to the DFC came 10 days later over the Mindoro beachhead. Again his flight of Thunderbolts was attacked by the Nips and again Davis gave chase to one of them. He fired three different bursts into his target and a short time later the enemy crashed into the water.
The captain had flown a total of 705½ hours on 266 combat missions before he left for home. He was commanding officer of one of the 348th's units. 
—Fort Worth Star-Telegram, Tuesday,  7 August 1945, Section Two, Page 1, columns 7–8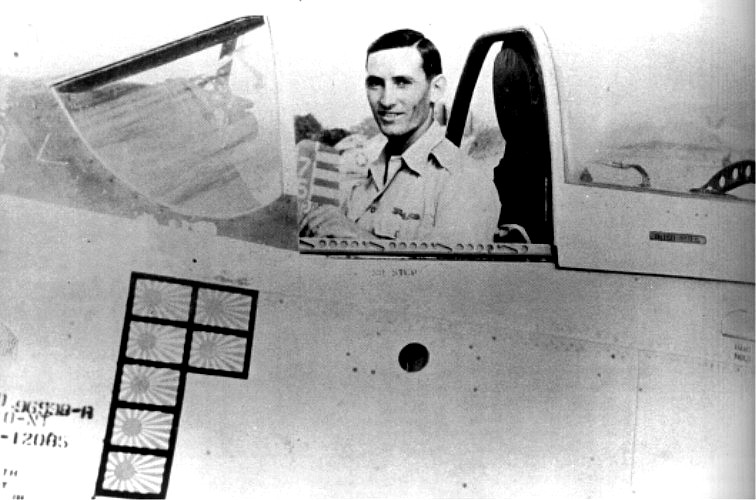 Following World War II, Captain Davis reverted to the rank of 1st Lieutenant, Air Corps Reserve, 16 Feb 1946. On 24 August 1946, he was appointed a 1st Lieutenant, Air Corps, with a date of rank retroactive to 16 February 1946. Lieutenant Davis was transferred to the United States Air Force when it was established as a separate military service, September 1947.
In 1950, Captain Davis flew as a member of the 1st Fighter Interceptor Group's Sabre Dancers, an aerial demonstration team, based at George Air Force Base, California.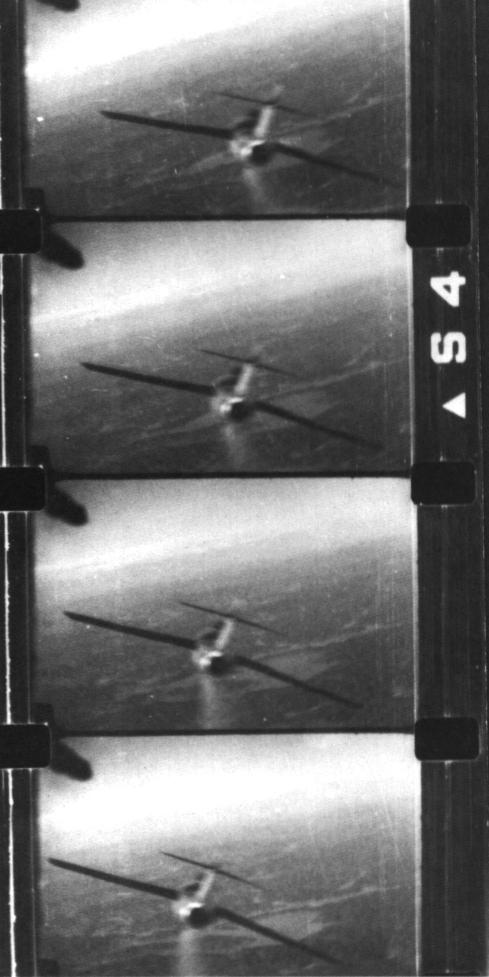 Captain Davis was promoted to the rank of Major in February 1951. He was assigned as commanding officer, 334th Fighter Squadron, 4th Fighter Interceptor Group, in Korea.
Major Davis was killed in action 10 February 1952, when his F-86 Sabre was shot down near the Yalu River. Both a Chinese pilot, Zhang Jihui, 12th Fighter Aviation Regiment ¹ and a Soviet pilot, Mikhail A. Averin, claimed the shoot down. Davis was posthumously promoted to the rank of Lieutenant Colonel, 15 April 1953.
The Medal of Honor was presented to Mrs. Davis by General Nathan F. Twining, Chief of Staff, United States Air Force, at a ceremony held at Reese Air Force Base, 14 May 1954.
In addition to the Medal of Honor, Lieutenant Colonel Davis was awarded the Distinguished Service Cross, three Silver Stars,  the Distinguished Flying Cross with three bronze oak leaf clusters in lieu of a fourth DFC, and eight Air Medals. He flew 266 combat missions in World War II, and 60 during the Korean War. An ace in both wars, he is credited with destroying 21 enemy aircraft.
Davis' remains were not recovered. A cenotaph in his memory is at the City of Lubbock Cemetery, Lubbock, Texas.
¹ An interesting analysis can be found in "Who Shot Down Major Davis?" at https://www.historynet.com/shot-major-davis.htm
© 2022, Bryan R. Swopes