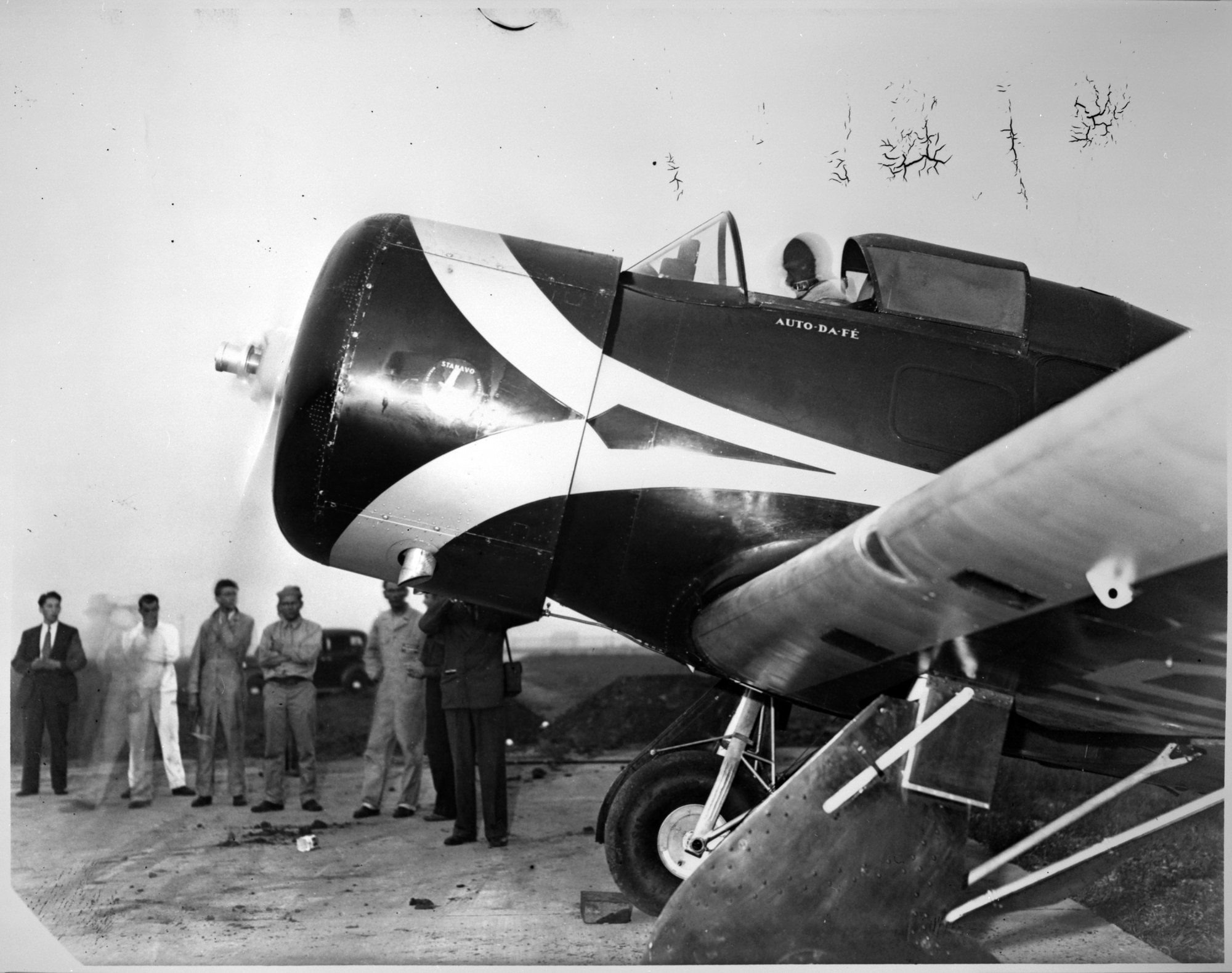 11 July 1935: At 4:31 a.m., Eastern Daylight Time, (08:31 UTC) Laura Houghtaling Ingalls took off from Floyd Bennett Field, Brooklyn, New York, and flew non-stop across the North American continent to the Union Air Terminal at Burbank, California. She landed there at 7:51 p.m., Pacific Daylight Time (02:51 UTC, 12 July). The elapsed time of her non-stop transcontinental flight was 18 hours, 19 minutes, 30 seconds.
After departing Floyd Bennett Field, Ingalls flew along a commercial airway defined by radio beacons. Her route of flight was from Brooklyn, New York, to Pittsburgh, Pennsylvania—Columbus, Ohio—Indianapolis, Indiana—Kansas City, Missouri—Albuquerque, New Mexico—Burbank, California. This was only the third time that a non-stop transcontinental flight had been accomplished.
The Los Angeles Times reported:
MISS INGALLS SETS RECORD IN AIR DASH
Nation Spanned Nonstop
First Woman Ever to Cross from East Without Halt Also Slashes Time.
     Hatless and with her brown curls flying, diminutive Laura Ingalls, 30-year-old aviatrix, set her black-cowled monoplane down at Union Air Terminal, Burbank, at 7:51 o'clock last night and became the first woman pilot ever to span the American continent in an East-to-West nonstop flight.
Taking off from Floyd Bennett Airport, New York, at 4:31:30 a.m., she completed the Atlantic-to-Pacific hop in eighteen hours nineteen minutes and thirty seconds, establishing a women's East-to-West record. She was timed in by Ted Raycraft, National Aeronautic Association representative.
     Miss Ingalls failed, however, to break Amelia Earhart's transcontinental mark of seventeen hours seven minutes and thirty seconds, set in 1933 in a Pacific-to-Atlantic hop. Winds are more favorable for flights starting from the West.
TELLS OF ORDEAL
     With powerful floodlights playing on he low-winged Lockheed plane, Miss Ingalls circled the field once before landing.
     "Boy, what a long ride!" she exclaimed as she climbed from the cockpit. "It was an ordeal and I'm glad I'm here."
     She immediately began plans, however, for an onslaught on Miss Earhart's West-to-East record and said she contemplated a return nonstop flight as quickly as her ship can be overhauled and placed in order.

DISAPPOINTED AT TIME
     The aviatrix said she had hoped to make the flight in fifteen hours and expressed disappointment that she was unable to do so.
     The East-to-West nonstop record for men was established by Jimmie Doolittle in slightly more than thirteen hours.
     Miss Ingalls said she encountered strong head winds most of the way and ran into an electrical storm over Winslow, Ariz., shortly after 5 p.m., which slowed her down.
    She followed a TWA transport route most of the way and depended on the TWA radio beam for her directions. Her ship is equipped with a radio receiving set, radio compass, Sperry automatic pilot, retractable landing gear and landing wing flaps.
     Miss Ingalls said she took off from the New York airport with a capacity load of 600 gallons of gasoline, enough to have carried her 3,000 miles.
     She experienced some difficulty in gaining altitude with the heavy load and was forced to slow down at the start when she was unable to raise the retractable landing gear.
Her speed at times, however, exceeded 200 miles an hour, she said. The ship has a top speed of about 240 miles an hour.
     After leaving New York, her ship was unsighted until she passed over the TWA airport at Winslow about 5:15 p.m.
TAXIES PLANE TO HANGAR
     After landing at Burbank and removing her heavy shoes and flying togs, she taxied the plane to the Western Air Express hangar and gave orders for its care. She then went to the California Hotel in Burbank, where she will reside while here.
     The flyer took up airplanes at Roosevelt Field in New York six years ago because she was "tired of vaudeville and wanted some excitement."
SIX-YEAR RECORD
     In six years she set the first women's east-west transcontinental record. She has looped 980 times for a women's record. She has barrel-rolled 714 times for a world's record. She has captured third place in the Chicago-Dixie air derby. She has solo hopped 17,000 miles around South America with no accidents.She has been chosen outstanding woman flyer for 1934 by International League of Aviators.
—Los Angeles Times, Vol. LIV, Friday Morning, July 12, 1935, at Page 1, Column 5 and Page 3, Column 5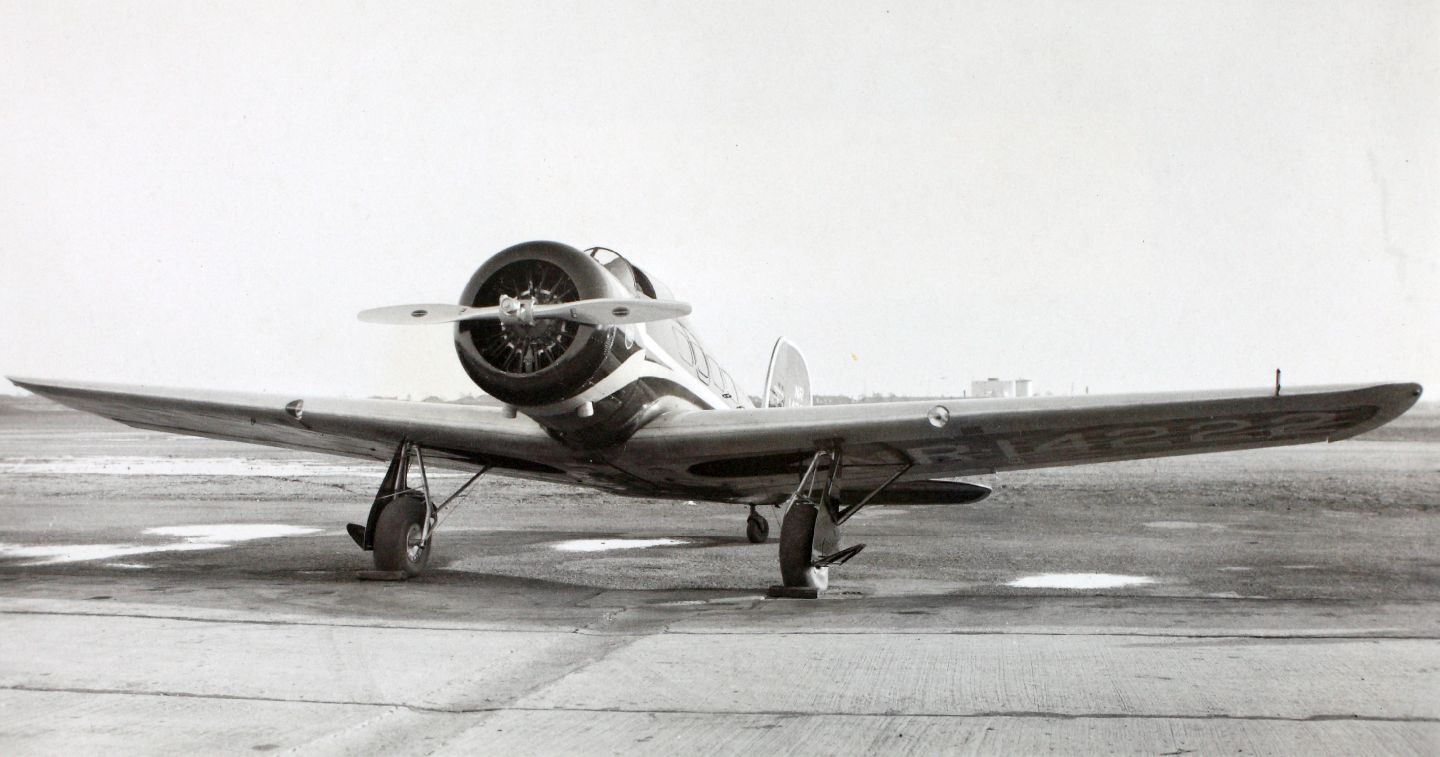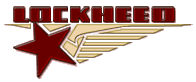 Ingall's airplane was a single-engine Lockheed Model 9D Orion Special, registration NR14222, which she had named Auto da Fé. ¹ Ingalls had taken delivery of the Orion at the Lockheed Aircraft Company, Burbank, California, 1 February 1935. Contemporary newspaper reports said that the "Black Mystery Ship" cost $45,000.
The Lockheed Model 9 Orion was a single-engine, low-wing monoplane, designed in 1931 by Gerard Freebairn Vultee for airline use. It was capable of carrying six passengers in an enclosed cabin. The Orion was the first commercial airliner with retractable landing gear. It was faster than any military airplane in service at the beginning of the decade. Like other Lockheed aircraft of the time, it was constructed of strong, light-weight, molded wood, but the Orion would be Lockheed's last wooden airplane.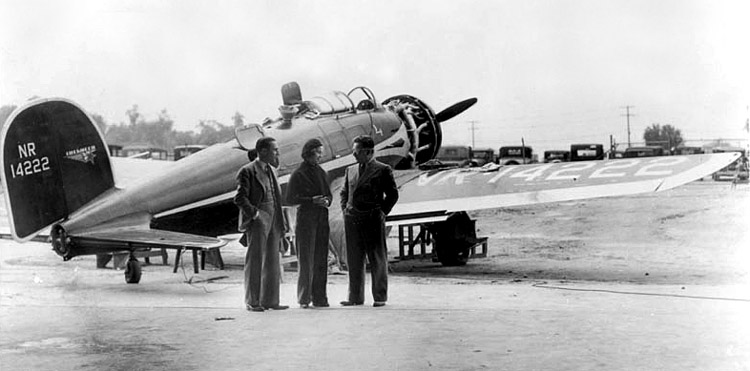 The Lockheed Orion 9D was 28 feet, 4 inches (8.64 meters) long with a wingspan of 42 feet, 9¼ inches (13.04 meters) and height of 9 feet, 8 inches (2.95 meters). It had an empty weight of 3,640 pounds (1,651 kilograms) and maximum takeoff weight of 5,200 pounds (2,359 kilograms).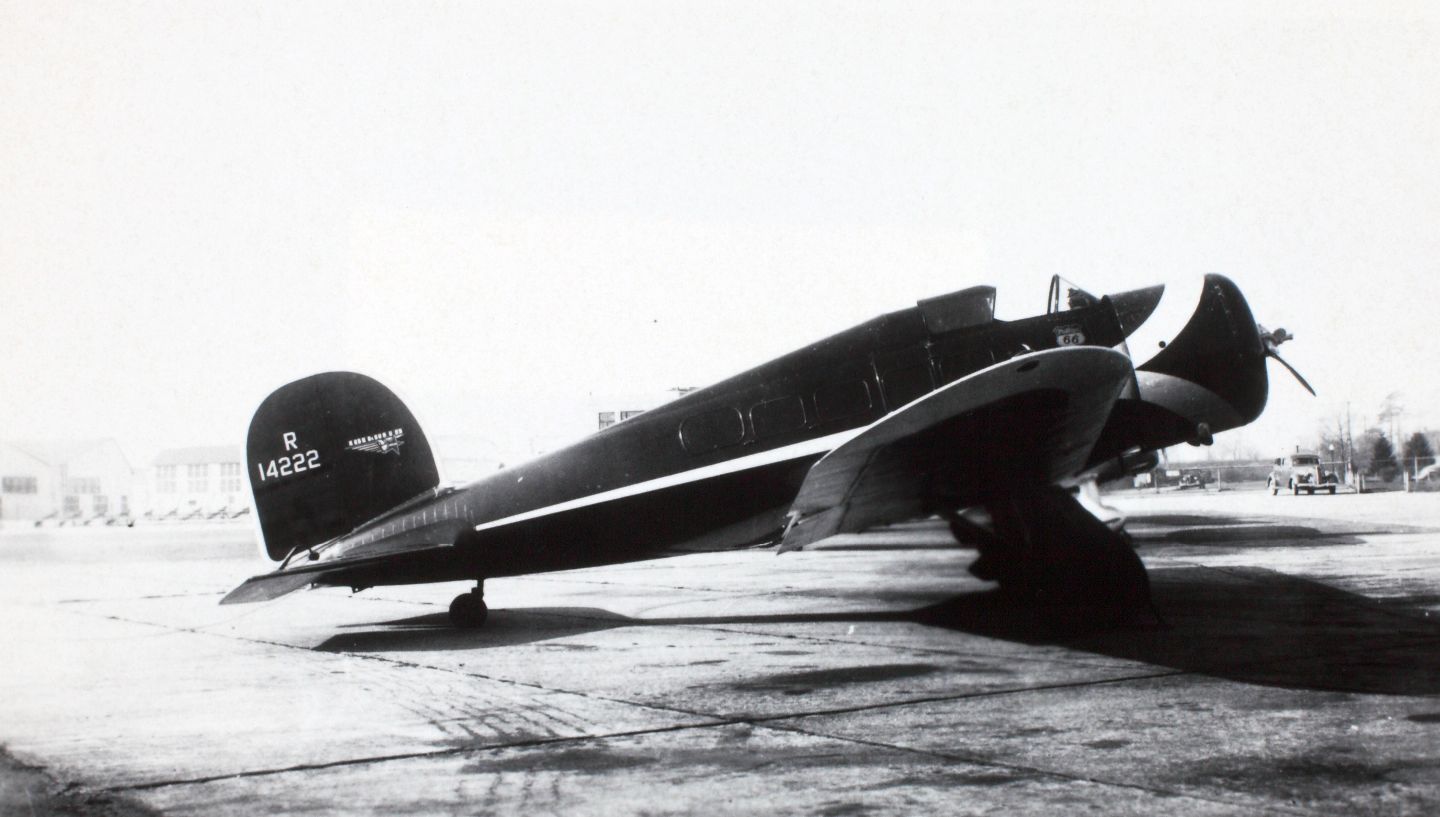 Auto da Fé was powered by an air-cooled, supercharged, 1,343.804-cubic-inch-displacement (22.021 liter) Pratt & Whitney Wasp S1D1 nine-cylinder radial engine. The engine had a compression ratio of 6:1 and was rated 525 horsepower at 2,200 r.p.m. The S1D1 was a direct-drive engine, which turned a two-bladed Hamilton Standard variable-pitch, constant-speed propeller. The Wasp S1D1 was 4 feet, 3.438 inches (1.307 meters) in diameter, 3 feet, 6.625 inches (1.083 meters) long and weighed 763 pounds (346 kilograms). The engine was enclosed by a N.A.C.A. cowling.
The cruise speed of the Orion was 205 miles per hour (330 kilometers per hour) and the maximum speed was 220 miles per hour (354 kilometers per hour) at Sea Level. It had a range of 750 miles (1,159 kilometers) in standard configuration. The service ceiling was 22,000 feet (6,705 meters).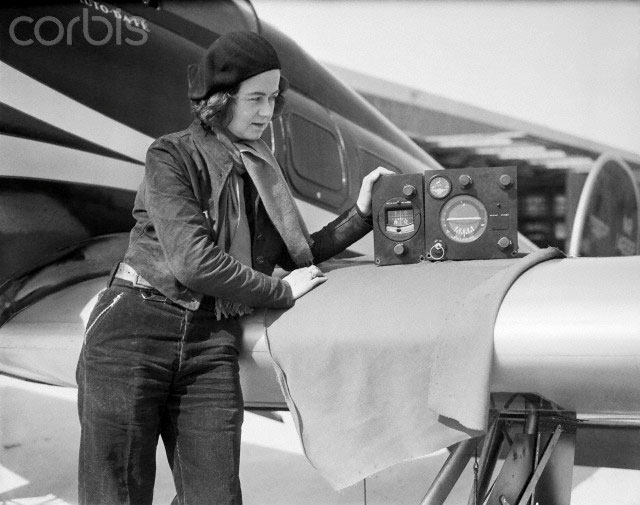 Ingall's airplane had a fuel capacity of 630 gallons (2,385 liters) of gasoline and 40 gallons (151 liters) of engine oil. NR14222 was equipped with a Sperry Gyro Pilot and a Westport radio compass and receiver for navigation.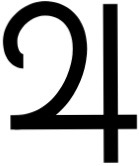 The Greek lower-case letter zeta (the astronomical symbol for the planet Jupiter) was painted on each side of the airplane under the cockpit rails. Ingalls had the same symbol on several of her airplanes. A source suggests that it was used as a stylized representation of her initials, "L.I." (Her Lockheed Air Express carried the astronomical symbol for the constellation Sagittarius, which was Ingalls' astrological sign.)
In 1937, NR14222 was sold to Rudolf Wolf, Inc., a burlap company in New York. It was then transferred to Fuerzas Aéreas de la República Española (FARE), the air arm of the Spanish Republican forces during the Spanish Civil War. What happened to the Lockheed Orion after that is not known.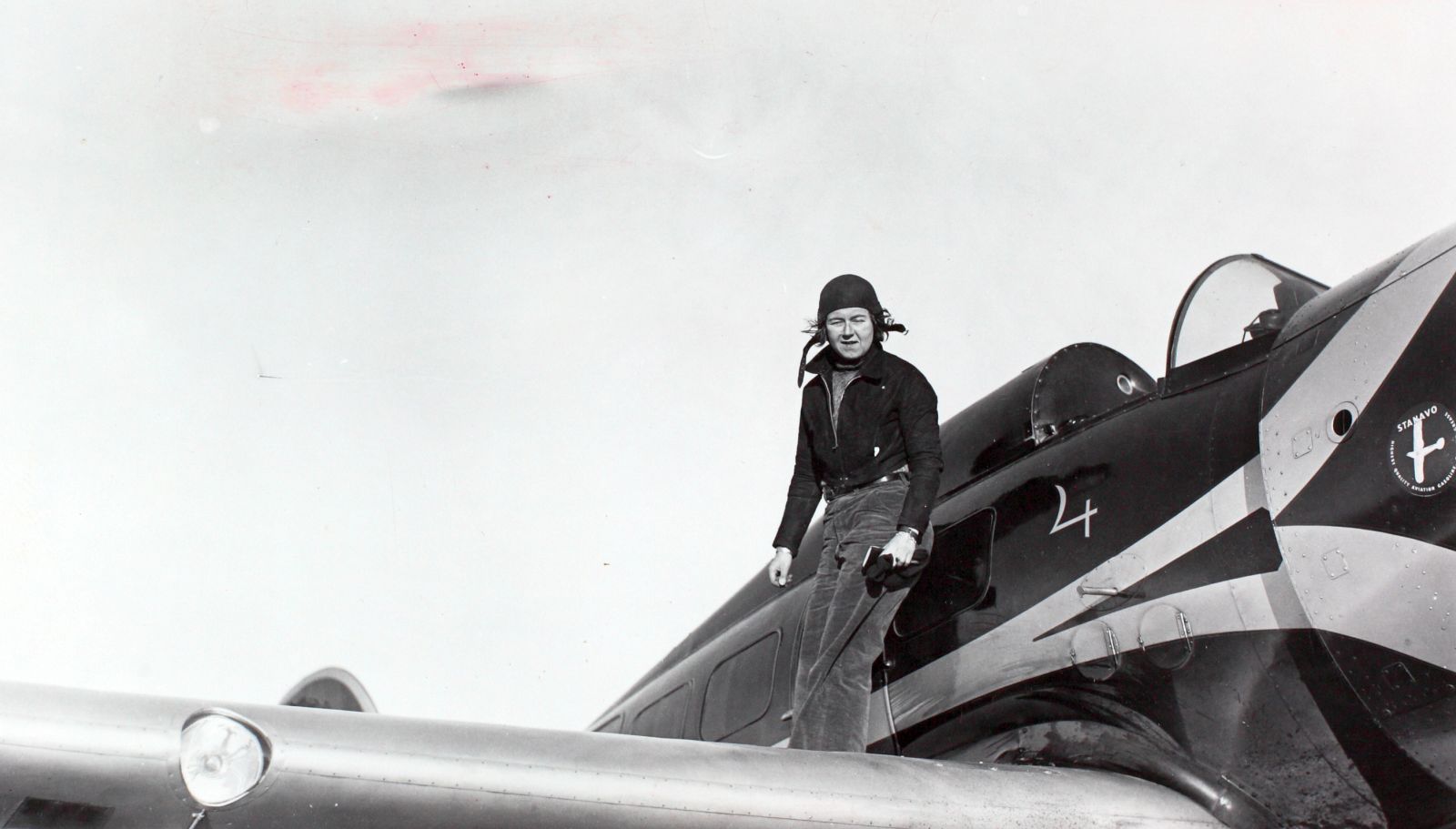 The San Diego Air & Space Museum Archives have a large set of photographs of the Model 9 construction process. See:
https://www.flickr.com/photos/sdasmarchives/4590550616/in/photostream/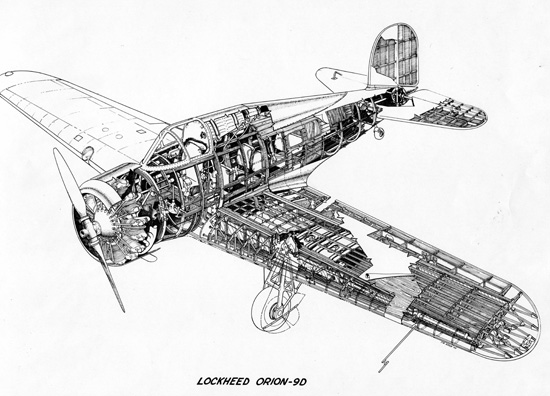 Laura Houghtaling Ingalls was born at Brooklyn, New York, 14 December 1893. She was the first of two children of Francis Abbott Ingalls, a cotton goods merchant, and Laura McAlister Houghtaling Ingalls.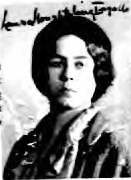 Miss Ingalls lived in France prior to World War I, and returned there as a relief worker following the War. In 1920, she lived with her family in Tuxedo Park, New York, and was employed as a stenographer.
Laura Ingalls began flight training at Roosevelt Field, Long Island, New York, and completed her first solo flight on 23 December 1928.  In June 1929, she began training for a commercial pilot certificate at the Universal Flying School, Lambert Field, St. Louis Missouri.
Woman Pilot Finishes Studies
     Miss Laura Ingalls, who recently received a limited commercial license, has completed her studies at the Universal Flying School and is taking the examination for a transport license under Inspector Fox. Miss Ingalls' home is in New York, where she is said to have received several offers of work as a pilot.
—St. Louis Post-Dispatch, Vol. 82, No. 212, Sunday, 6 April 1930, Page 6-I, Column 1
Ingalls qualified for her limited transport license, 12 April 1930. (After qualifying for an F.C.C. radio-telephone operator license in 1934, her restricted transport license was upgraded to Scheduled Airline Transport Pilot, 26 January 1935.) Her pilot certificate number was 9330.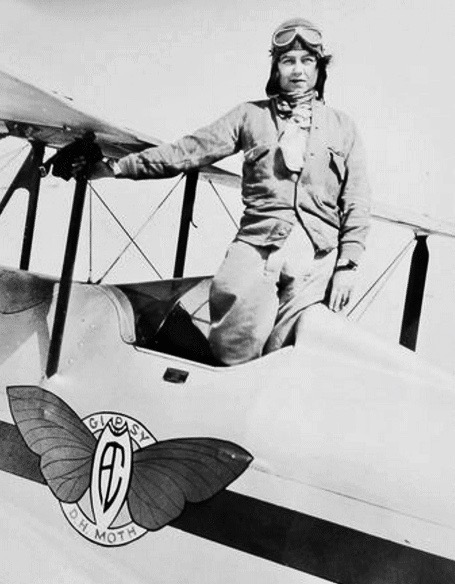 Laura Ingalls first gained public attention when she performed 344 consecutive loops with a de Havilland DH.60G Gipsy Moth NR9720 (c/n 885), at St. Louis, 4 May 1930. Three weeks later, she increased the number of loops to 980. On August 13, she completed 714 consecutive barrel rolls in the same airplane. (At the time, the airplane was a demonstrator for the Moth Aircraft Corporation, Lowell, Massachusetts, which was licensed by de Havilland to produce the DH.60 in the United States. Kits were built in England, then assembled in Massachusetts. Miss Ingalls later purchased the airplane, 23 June 1930.)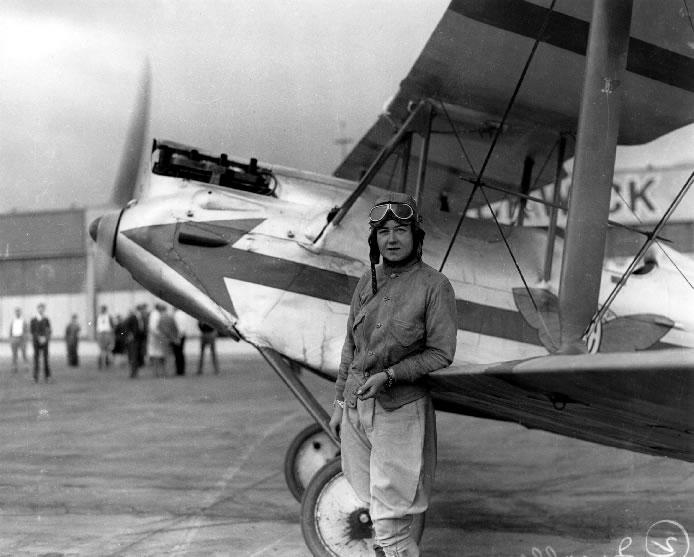 Miss Ingalls was the first woman to fly across the United States from East to West. In 5 October 1930, she flew NR9720 from Roosevelt Field, Westbury, Long Island, new York, to the Grand Central Air Terminal at Glendale, California, arriving 9 October. The flight required nine fuel stops, and took 30 hours and 27 minutes over four days.
Between 28 February and 25 April 1934, Laura Ingalls flew a Lockheed Model 3 Air Express, NR974Y, on a 17,000-mile (27,400 kilometers) solo flight around South America and over the Andes mountain range.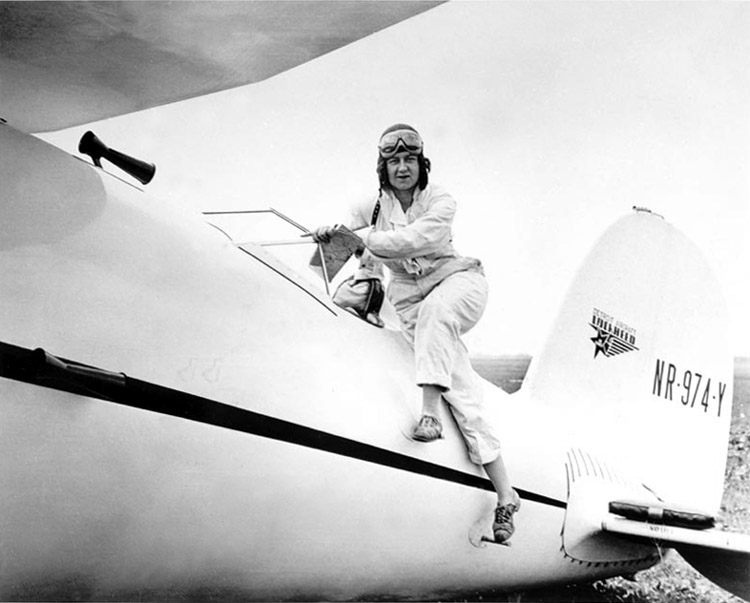 Laura Ingalls was awarded the Harmon Aviatrix Trophy for 1934.
Ingalls flew her Orion in the 1936 Bendix Trophy Race, finishing in second place behind Louise Thaden, with an elapsed time of 15 hours, 39 minutes.
Miss Ingalls bought a Ryan ST-A low-wing monoplane, NC18901 (c/n 179), which was powered by a 125 horsepower Menasco C4 Pirate inverted 4-cylinder engine. The Ryan ST was developed into the Ryan PT-16–22 military trainers of World War II.
In 1939, Laura Ingalls dropped political leaflets during a 2-hour flight over Washington, D.C. On landing, she was met by representatives of the Civil Aeronautics Administration. Her pilot's license was suspended by the C.A.A. for violating the airspace surrounding The White House. Some sources indicate that the license was later revoked.
After the United States entered World War II, Miss Ingalls was arrested for acting as an unregistered paid agent of Nazi Germany. At trial, she was convicted. She served 1 year, 7 months, 15 days in prison. (Ingalls was initially incarcerated at the federal prison in Washington, D.C., but after having been severely beaten by other prisoners, she was transferred to the womens' prison in Alderson, West Virginia.)
Laura Houghtaining Ingalls died at her home in Burbank, California, 10 January 1967, at the age of 73 years. Her ashes were interred at Wiltwyck Cemetery, Kingston, New York.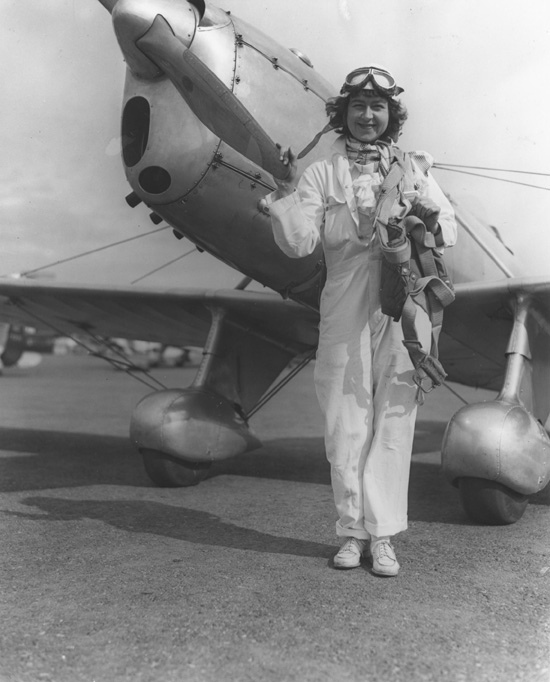 ¹ An auto-da-fé was a public act of penance required of condemned heretics prior to their execution during the Spanish Inquisition. The meaning of the reference on Ingall's Orion is unknown.
© 2019, Bryan R. Swopes