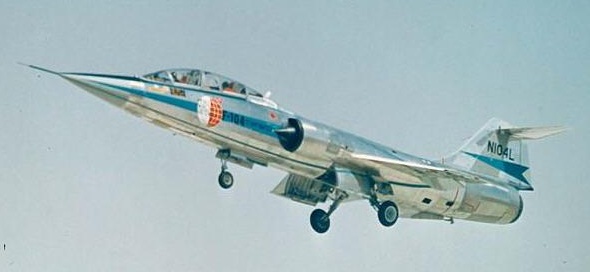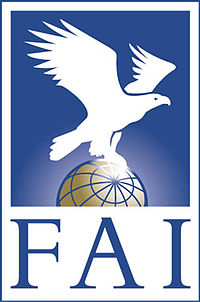 12 April 1963: At Edwards Air Force Base, California, Jacqueline ("Jackie") Cochran, Colonel, U.S. Air Force Reserve, established a Fédération Aéronautique Internationale (FAI) World Speed Record when she flew a two-place Lockheed TF-104G Starfighter, FAA registration N104L, over a 15/25 kilometer (9.32/15.53 miles) straight course at an average speed of 2,048.88 kilometers per hour (1,273.115 miles per hour).¹
Jackie Cochran wrote about flying the 15/25 kilometer straight course in her autobiography:
     Picture in your mind a rectangular tunnel, 300 feet high, a quarter of a mile wide, and extending 20 miles long through the air at an altitude of 35,000 feet. I had to fly through that tunnel at top speed without touching a side. There were no walls to see but radar and ground instruments let me know my mistakes immediately. Up there at 35,000 feet the temperature would be about 45 degrees below zero. Not pleasant but perfect for what I was doing. Inside the plane you are hot because of the friction of speeding through the air like that. The cockpit was air-conditioned, but when you descend, things happen so fast the plane's air-cooling system can't keep up with it. I was always hot and perspiring back on the ground.
—Jackie Cochran: An Autobiography, by Jacqueline Cochran and Maryann Bucknum Brinley, Bantam Books, New York 1987, Page 314.
N104L was retained by Lockheed for use as a customer demonstrator to various foreign governments. In 1965 Lockheed sold N104L to the Dutch Air Force, where it served as D-5702 until 1980. It next went to the Turkish Air Force, remaining in service until it was retired in 1989.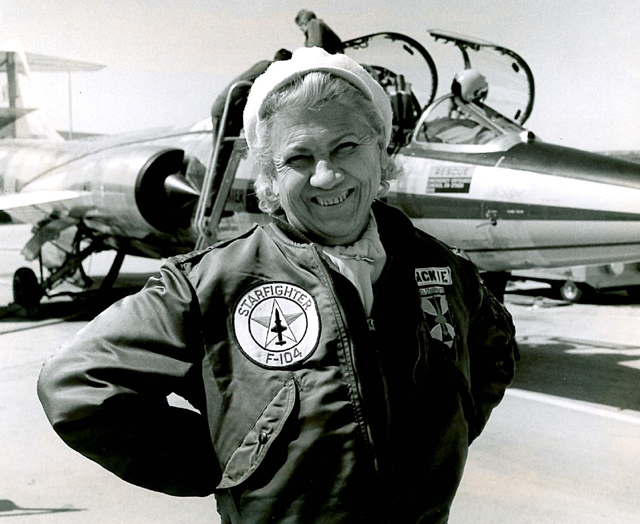 ¹ FAI Record File Number 13042
© 2018, Bryan R. Swopes