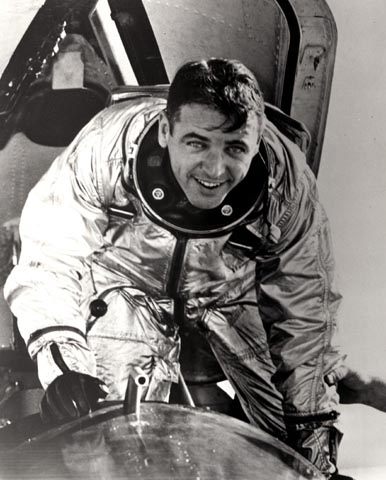 12 August 1960: At Edwards Air Force Base, California, Major Robert M. White flew the North American Aviation X-15 rocketplane to an altitude of 136,500 feet (41,605 meters), exceeding the previous unofficial record of 126,200 feet (38,466 meters) set by the late Captain Iven C. Kincheloe, Jr., with the Bell X-2, 7 September 1956.
Iven Kincheloe had been assigned as the Air Force's project pilot for the X-15. When he was killed on a routine flight, Bob White was designated to replace him.
This was White's fourth flight in an X-15, and the 19th flight of the X-15 Program. The Number 1 rocketplane, serial number 56-6670, was carried aloft under the right wing of the "mothership," Boeing NB-52A Stratofortress 52-003. At 08:48:43.0 a.m., PDT, 56-6670 was dropped over Silver Lake, near the Nevada-California border. White fired the two Reaction Motors XLR11-RM-13 rocket engines and they burned for 256.2 seconds.
This flight took place in Phase II of the Program and was intended to gradually increase the envelope of X-15 performance with the XLR11 engines while waiting for the much more powerful XLR99. The purpose of Flight 19 was to reach maximum altitude in order to test the rocketplane's stability and controllability above the atmosphere.
The X-15 accelerated to Mach 2.52, 1,773 miles per hour (2,853 kilometers per hour) while climbing at nearly a 70° angle and reached a peak altitude of 136,500 feet (41,605 meters). After engine shutdown, White glided to a landing on Rogers Dry Lake and touched down. The duration of the flight was 11 minutes, 39.1 seconds.
Neither Kincheloe's or White's altitudes are recognized as records by the Fédération Aéronautique Internationale(FAI). Over the next few years, the X-15 would reach to nearly three times higher.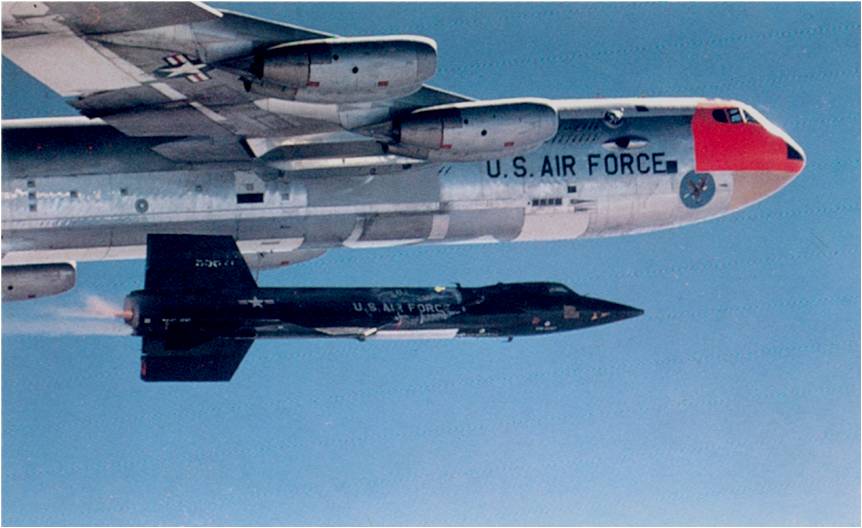 © 2016, Bryan R. Swopes