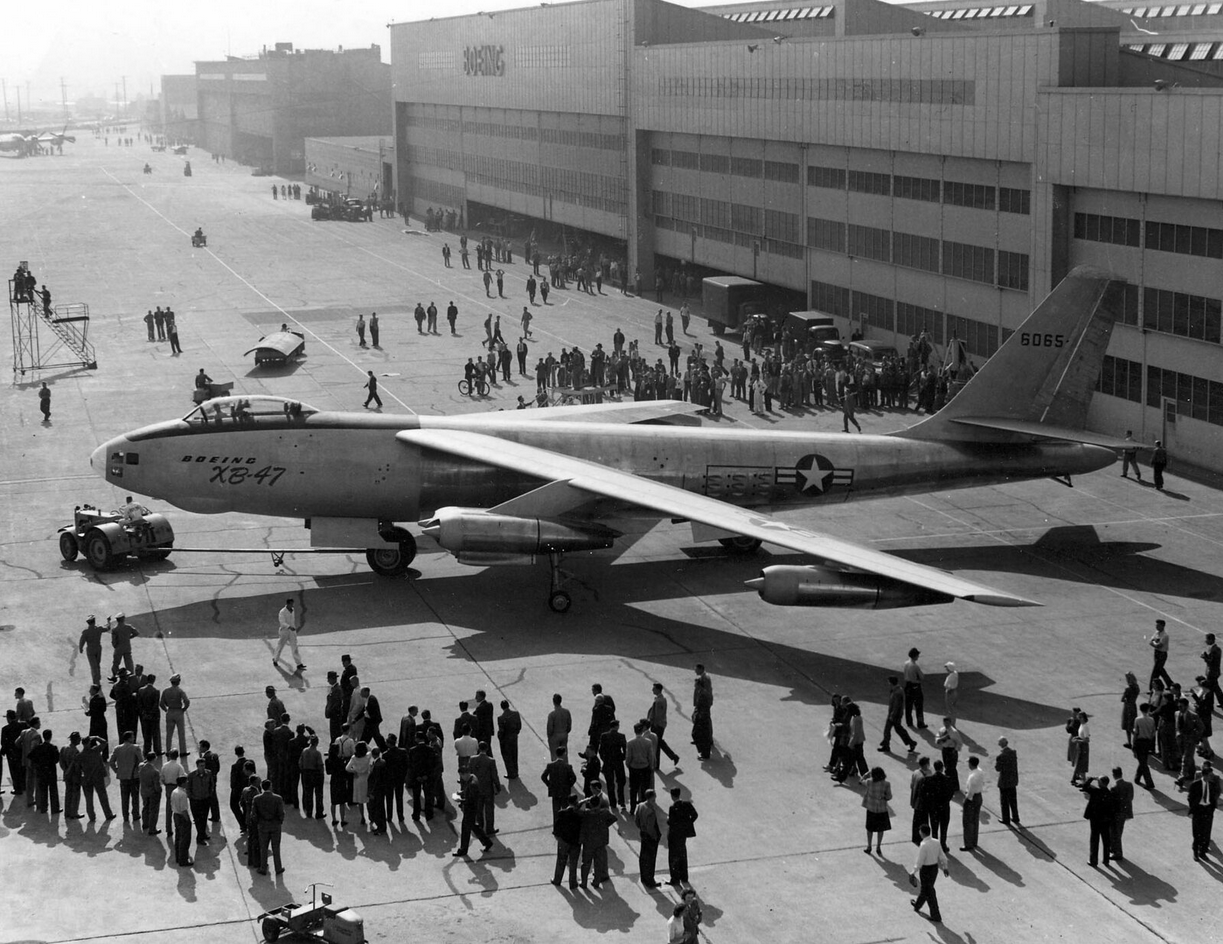 12 December 1947: The Boeing XB-47 Stratojet was rolled out of its hangar for public display.
The Arizona Republic reported:
Boeing's New Jet Bomber Is The Size of Superfort
     SEATTLE, Sept. 13—(AP) A new jet-propelled bomber, the size of a B-29 Superfortress and with sharply sweptback wings and tail surfaces will begin ground and taxiing tests soon.
     Whether the new Boeing XB-47 Stratojet, rolled out of its construction hangar for the first public display yesterday will near or attain speeds of jet fighter planes remains undisclosed. The army air forces and Boeing, showing the plane, made no mention of its expected speed, but streamlining was carried to the extreme.
     The sharply turned-back or inverted wings and tail surfaces appeared to be notable innovations in plane design. Four general Electric-built jet engines are mounted in pairs under the inboard sections of the wing, with another out near each wing tip.
     The wings are also "exceptionally thin," a Boeing spokesman said, and the plane has a tandem type landing gear with small outrigger wheels. What was also described as 18 jet-assisted takeoff units studded the rear fuselage for added power. There was only one bomb bay, compared with the two on a B-29, but it was longer than those on a Superfortress.
     Compared with the B-29's wing span of 141 feet and length of 99 feet, the XB-47's wing span is approximately 116 feet and its length about 108 feet.
     Robert Robbins and Scott Osler, chosen as the plane's test pilots a year ago, said it would be probably a month or more before it could take to the air. They said its initial flights would be "admittedly hazardous" but believe it will be an "outstanding airplane."
     Blueprints used in planning the ship provides for two rocket motors near the tail, to be used for emergency bursts of power, experts said. It would be the first combat-type aircraft with such equipment.
     The Boeing company has turned out three other new-type planes this year. They were the new B-50, the successor to the Superfortress, the first 80-passenger Stratocruiser and the XL-15 Liaison plane, being built at the Wichita, Kan., plant.
     Several other jet bombers are under experiment for the army and the Consolidated Vultee XB-46, powered with four engine, and the North American XB-45, also a four-engine plane, have undergone trial flights.
—The Arizona Republic, Vol. 58, No. 116, 14 September 1947, Page 12, Columns 1–3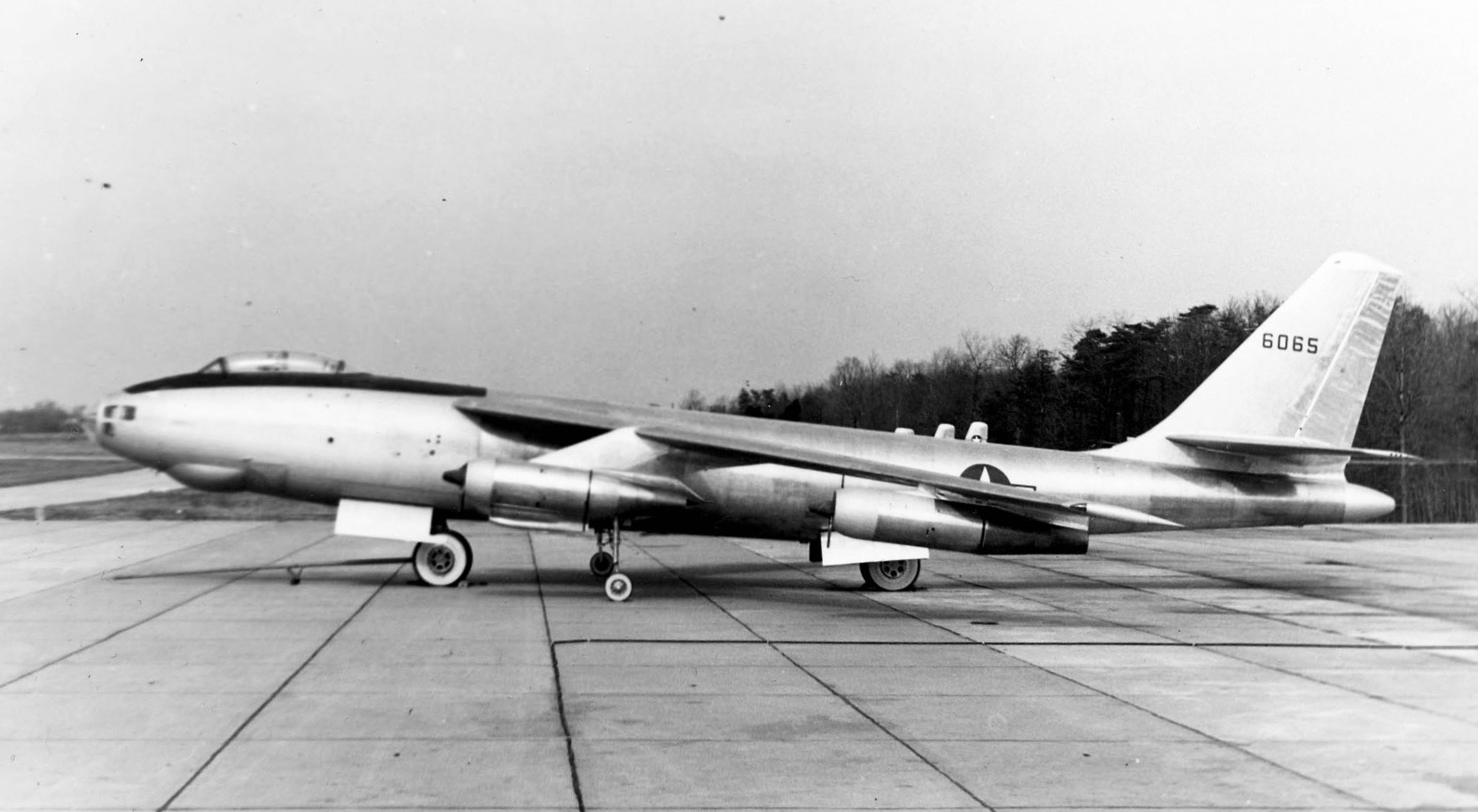 The first prototype, 46-065, was powered by six General Electric J35-GE-7 axial flow turbojet engines in four pods mounted on pylons below the wings. The J35 was a single-spool, axial-flow turbojet engine with an 11-stage compressor and single-stage turbine. The J35-GE-7 was rated at 3,750 pounds of thrust (16.68 kilonewtons) at 7,700 r.p.m. (static thrust, Sea Level). The engine was 14 feet, 0.0 inches (4.267 meters) long, 3 feet, 4.0 inches (1.016 meters) in diameter and weighed 2,400 pounds (1,089 kilograms). (The second prototype, 46-066, was completed with J47 engines. 46-065 was later retrofitted with these engines.)
The XB-47 prototype had a maximum speed of 502 knots (578 miles per hour/930 kilometers per hour/0.80 Mach) at 15,000 feet (4,572 meters). The combat speed was 462 knots (532 miles per hour/856 kilometers per hour/0.70 Mach) at 35,000 feet (10,668 meters). The prototype's empty weight was 74,623 pounds (33,848 kilograms), while its maximum takeoff weight was 162,500 pounds (73,709 kilograms). It required a ground run of 11,900 feet (3,627 meters), or 4,800 feet (1,463 meters) with JATO assist. The bomber could climb at a rate of 3,650 feet per minute (18.5 meters per second) at Sea Level, at combat weight and maximum power. The service ceiling was 37,500 feet (11,430 meters). The XB-47 carried 9,957 gallons (37,691 liters) of fuel. The combat radius was 1,175 nautical miles (1,352 statute miles/2,176 kilometers) with a 10,000 pound (4,536 kilogram) bomb load.
Planned armament (though the XB-47s were delivered without it) consisted of two .50-caliber machine guns in a tail turret, with 1,200 rounds of ammunition, and 10,000 pounds (4,536 kilograms) of bombs.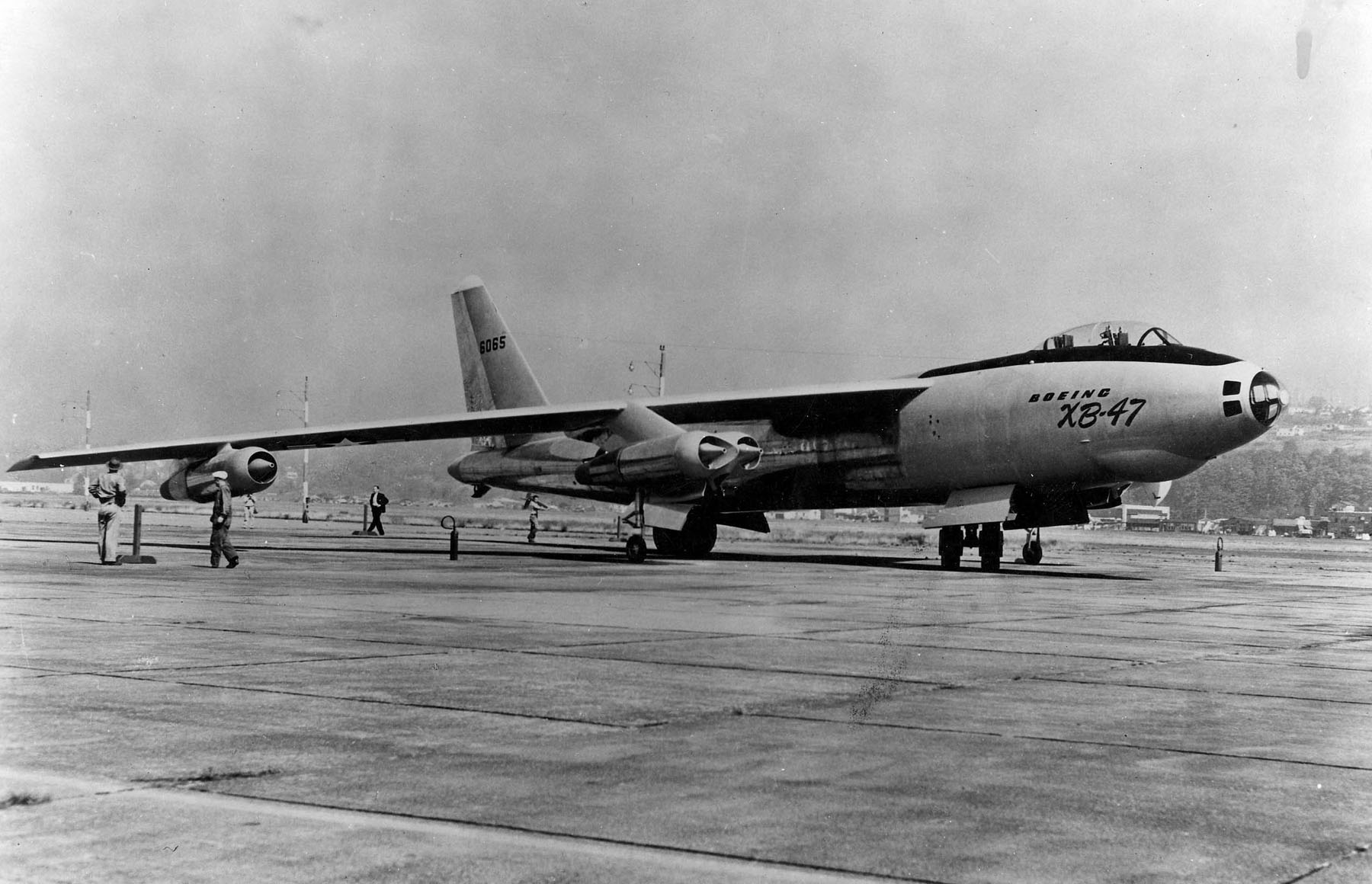 The Stratojet was one of the most influential aircraft designs of all time and its legacy can be seen in almost every jet airliner built since the 1950s: the swept wing with engines suspended on pylons, mounted forward of the leading edge.
2,032 B-47s were built by Boeing Wichita, Douglas Tulsa and Lockheed Marietta. They served the United States Air Force from 1951 to 1977.
The very last B-47 flight took place 18 June 1986 when B-47E-25-DT, serial number 52-166, was flown from the Naval Air Weapons Center China Lake to Castle Air Force Base to be placed on static display.
XB-47 45-065 stalled while landing at Larson Air Force Base, near Moses Lake, Washington, 18 August 1951. The crew of three escaped uninjured. The airplane was damaged beyond repair. The second prototype, XB-47 46-066, is in the collection of the Air Force Flight Test Museum, Edwards Air Force Base, California.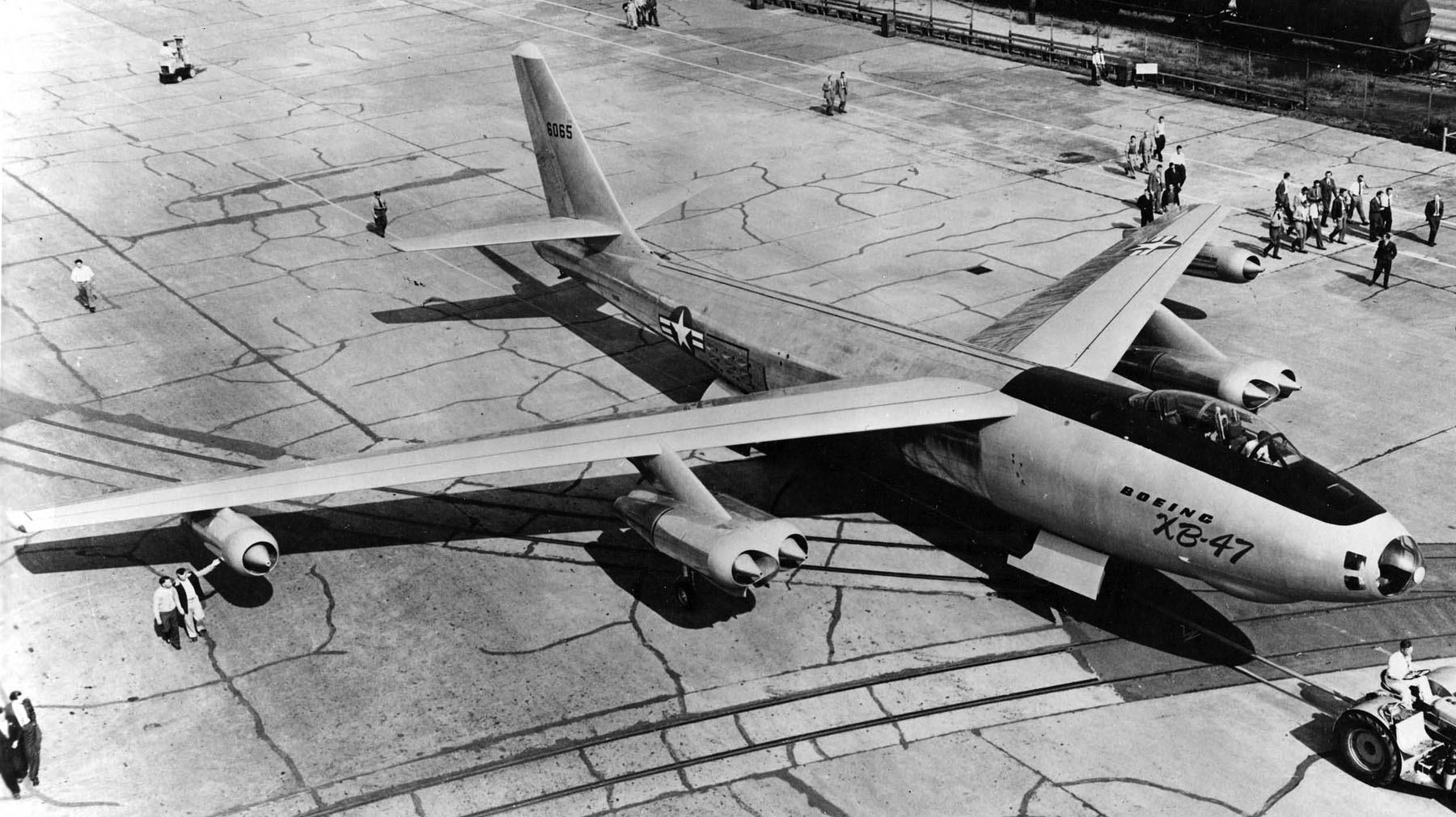 © 2023, Bryan R. Swopes