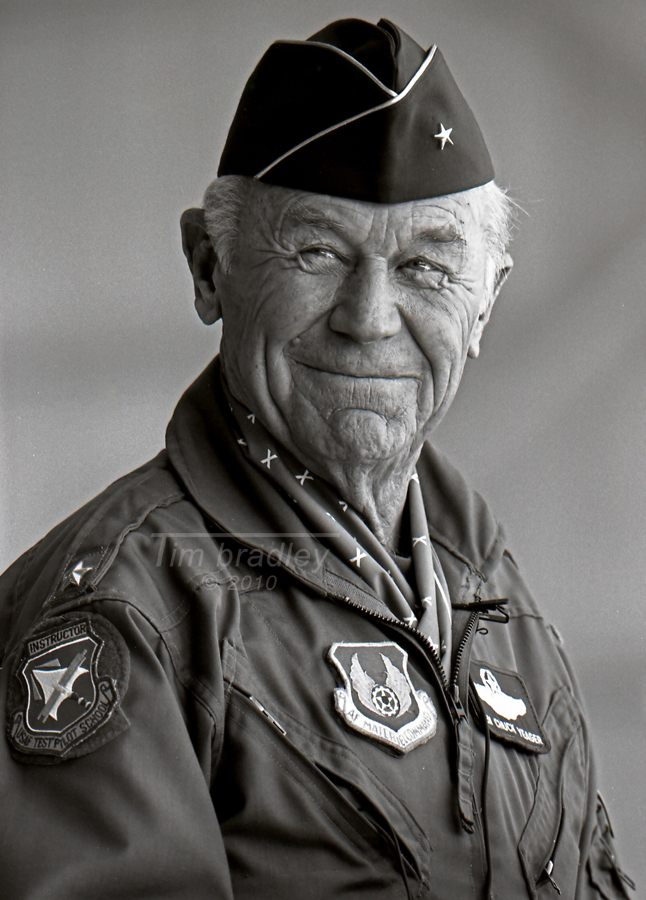 13 February 1923: Brigadier General Charles Elwood Yeager, United States Air Force (Retired), was born at Myra, West Virginia.
"Who is the greatest pilot I ever saw? Well, uh. . . Well, let me tell you. . . ."
The following is from the official U.S. Air Force biography: (Photographs from various sources)
"The world's first man-made sonic boom told the story. On Oct. 14, 1947, over dry Rogers Lake in California, Chuck Yeager rode the X-1, attached to the belly of a B-29 bomber, to an altitude of 25,000 feet. After releasing from the B-29, he rocketed to an altitude of 40,000 feet. Moments later he became the first person to break the sound barrier, safely taking the X-1 he called Glamorous Glennis to a speed of 662 mph, faster than the speed of sound at that altitude. His first words after the flight were, 'I'm still wearing my ears and nothing else fell off neither.'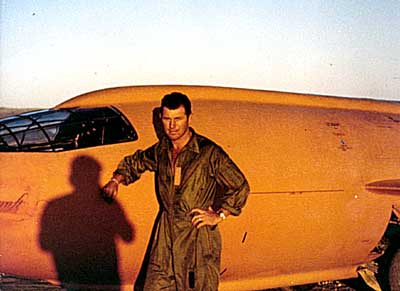 "Yeager was born in February 1923 in Myra, W. V. In September 1941, he enlisted as a private in the Army Air Corps. He was soon accepted for pilot training under the flying sergeant program and received his pilot wings and appointment as a flight officer in March 1943 at Luke Field, Ariz.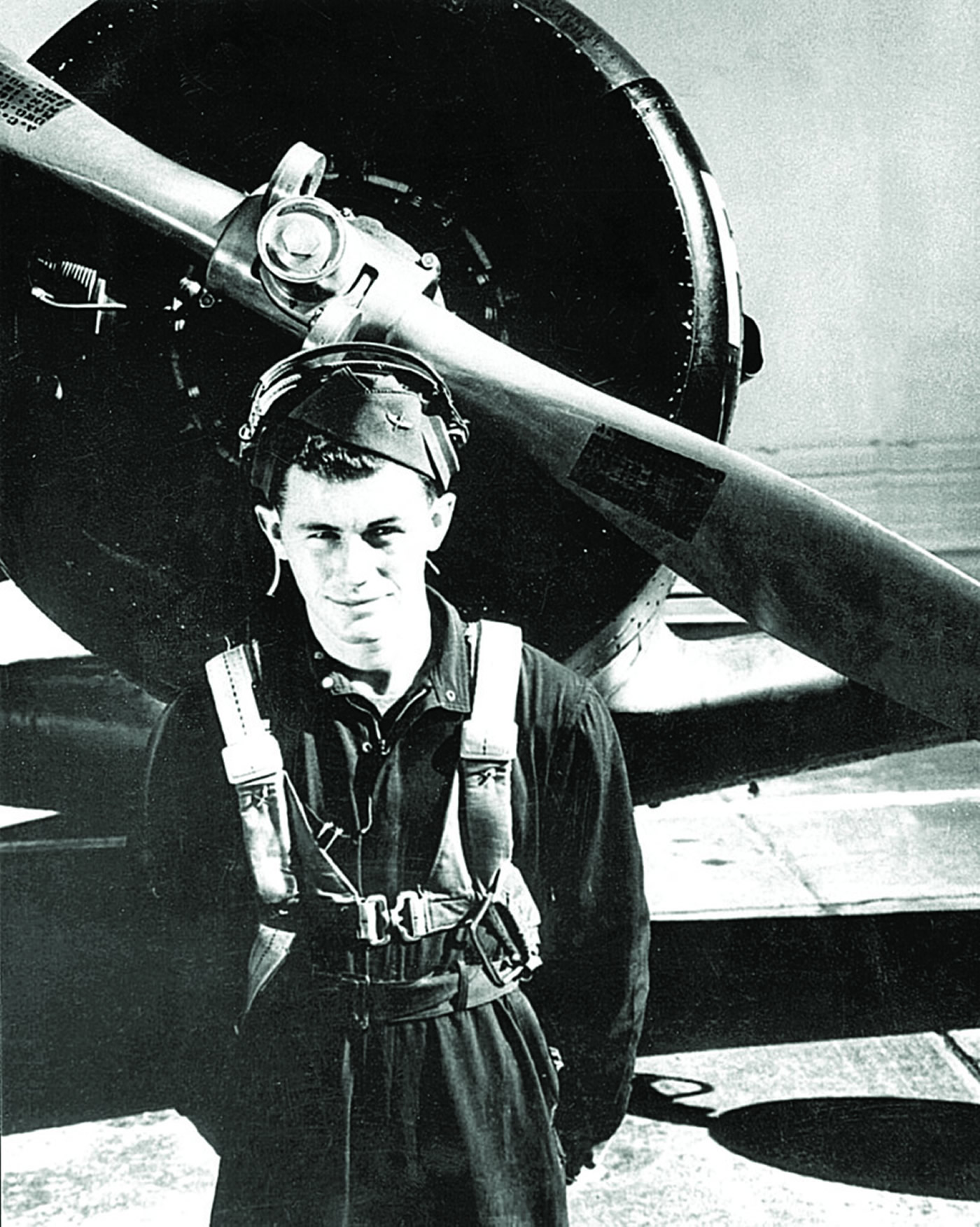 "His first assignment was as a P-39 pilot with the 363rd Fighter Squadron, Tonopah, Nev. He went to England in November 1943 and flew P-51s in combat against the Germans, shooting down one ME-109 and an HE-111K before being shot down on his eighth combat mission over German-occupied France on March 5, 1944. He evaded capture by the enemy when elements of the French Maquis helped him to reach the safety of the Spanish border. That summer, he was released to the British at Gibraltar and returned to England. He returned to his squadron and flew 56 more combat missions, shooting down 11 more enemy aircraft.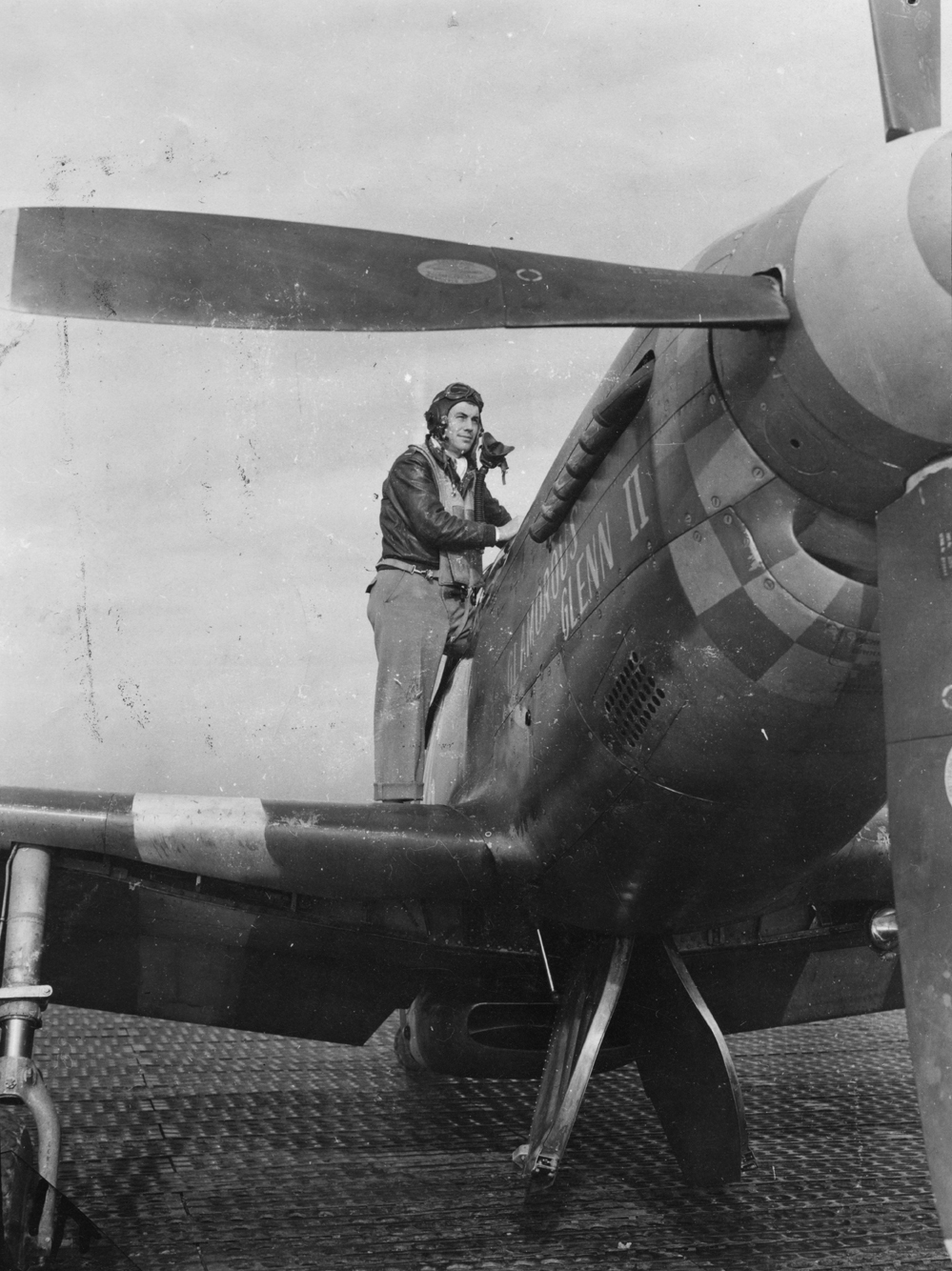 "Returning to stateside, Yeager participated in various test projects, including the P-80 Shooting Star and P-84 Thunderjet. He also evaluated all the German and Japanese fighter aircraft brought back to the United States after the war. This assignment led to his selection as pilot of the nation's first research rocket aircraft, the Bell X-1, at Muroc Army Air Field (now Edwards Air Force Base, Calif.). After breaking the sound barrier in 1947, Yeager flew the X-1 more than 40 times in the next two years, exceeding 1,000 mph and 70,000 feet. He was the first American to make a ground takeoff in a rocket-powered aircraft. In December 1953 he flew the Bell X-1A 1,650 mph, becoming the first man to fly two and one-half times the speed of sound.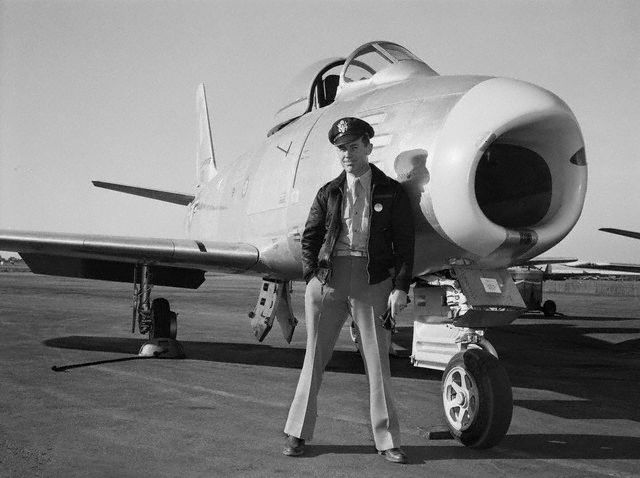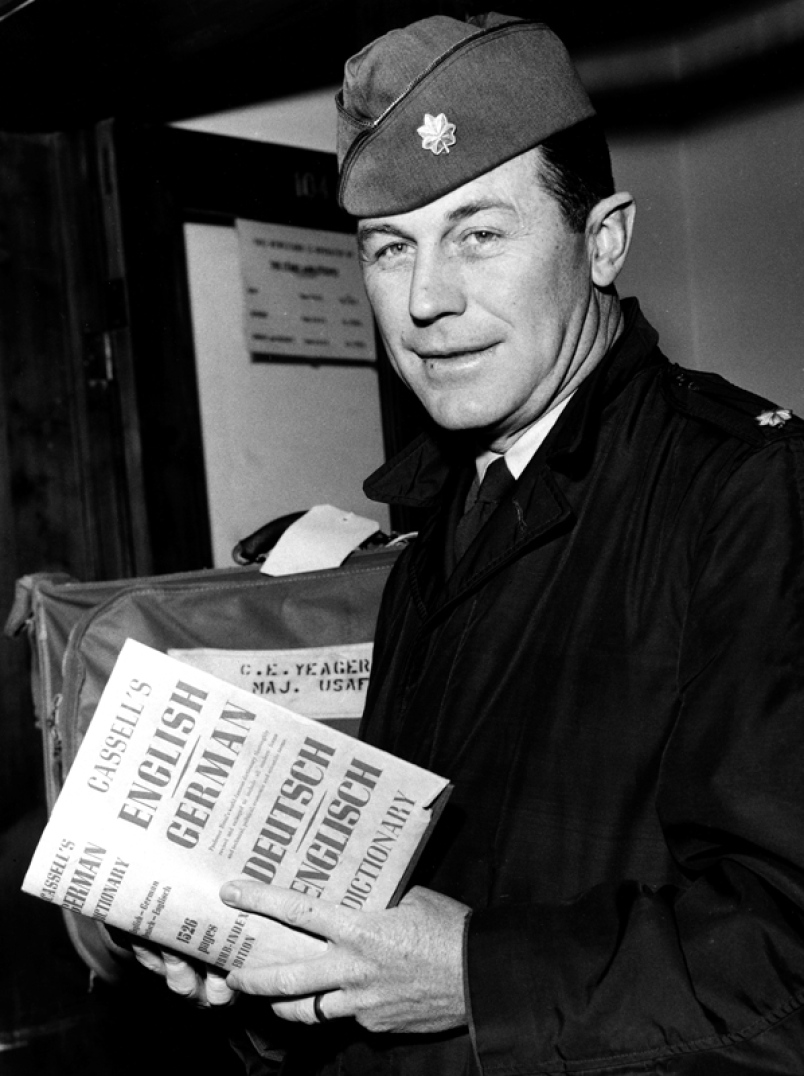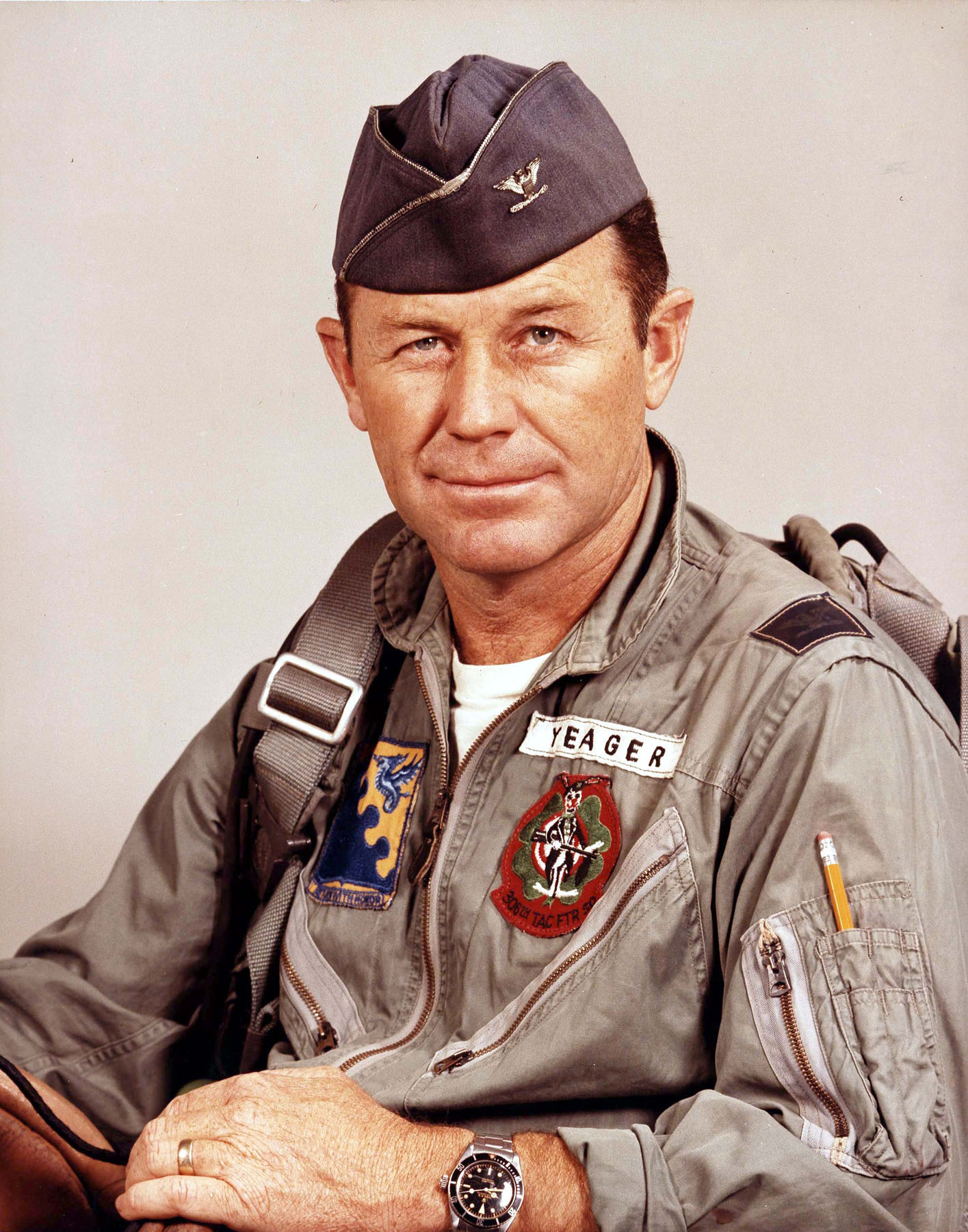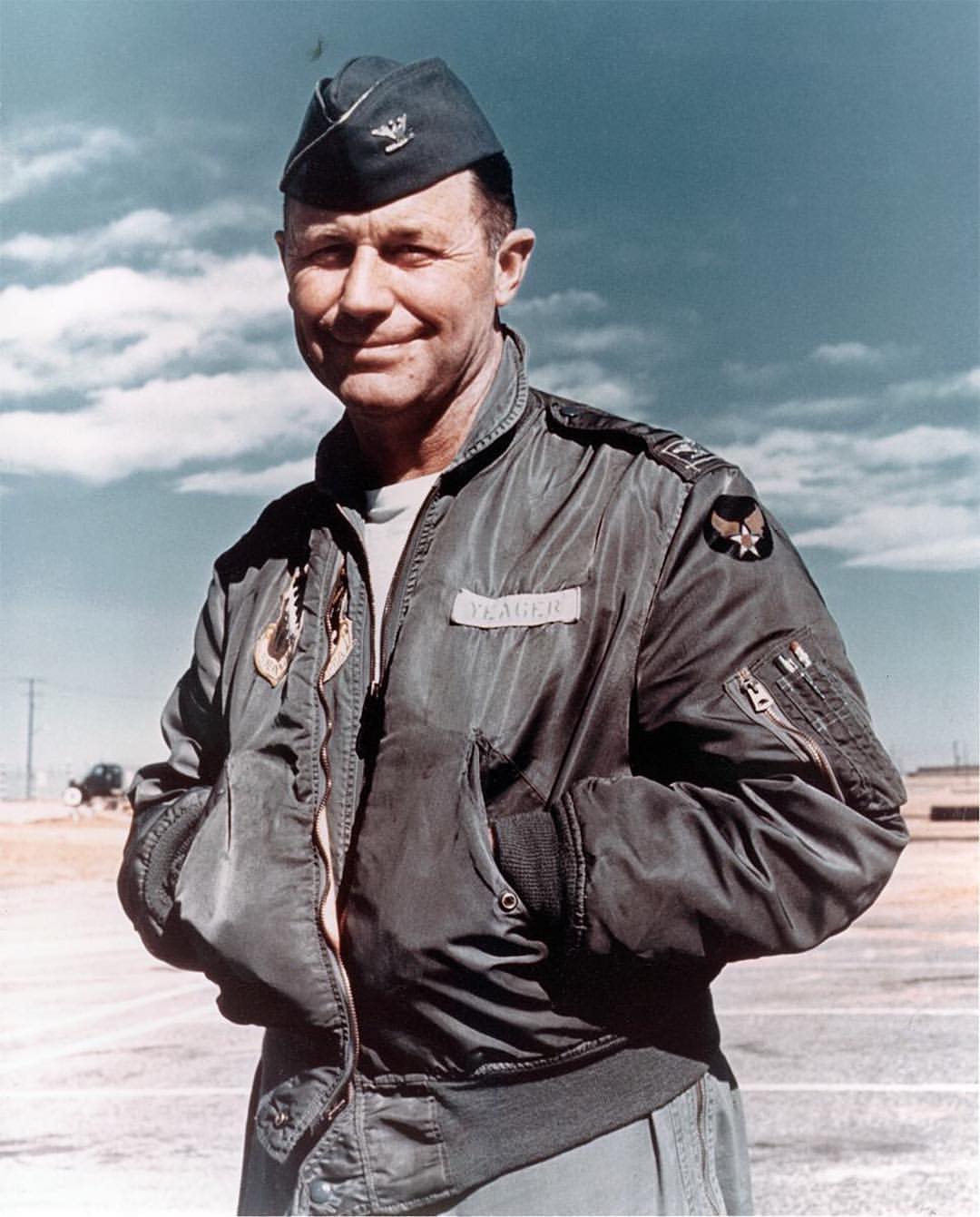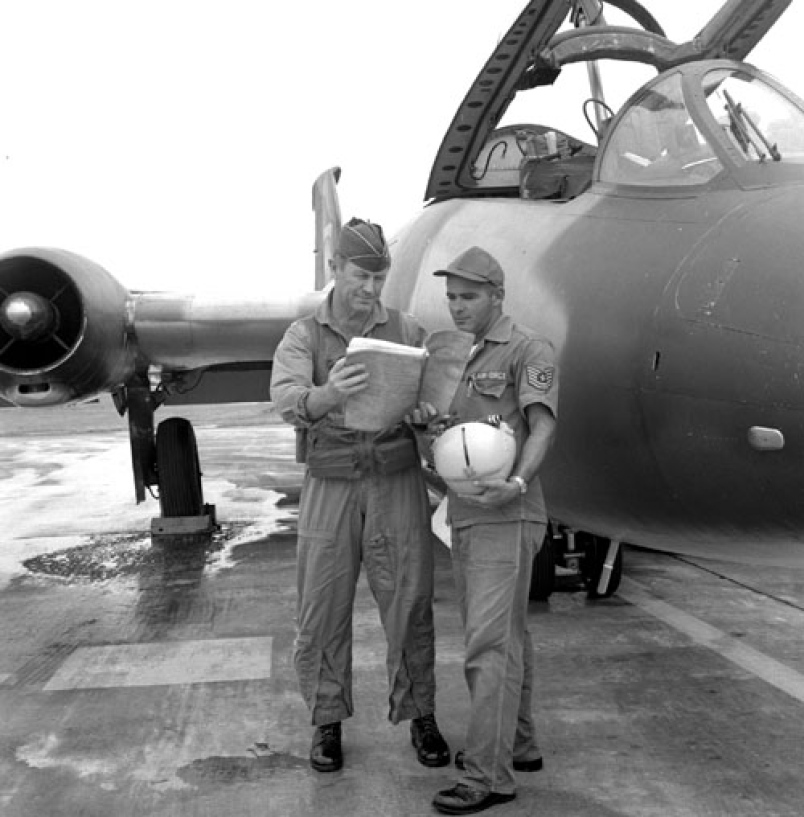 "After a succession of command jobs, Yeager became commandant of the Aerospace Research Pilot School (now the U.S. Air Force Test Pilot School), where all military astronauts were trained.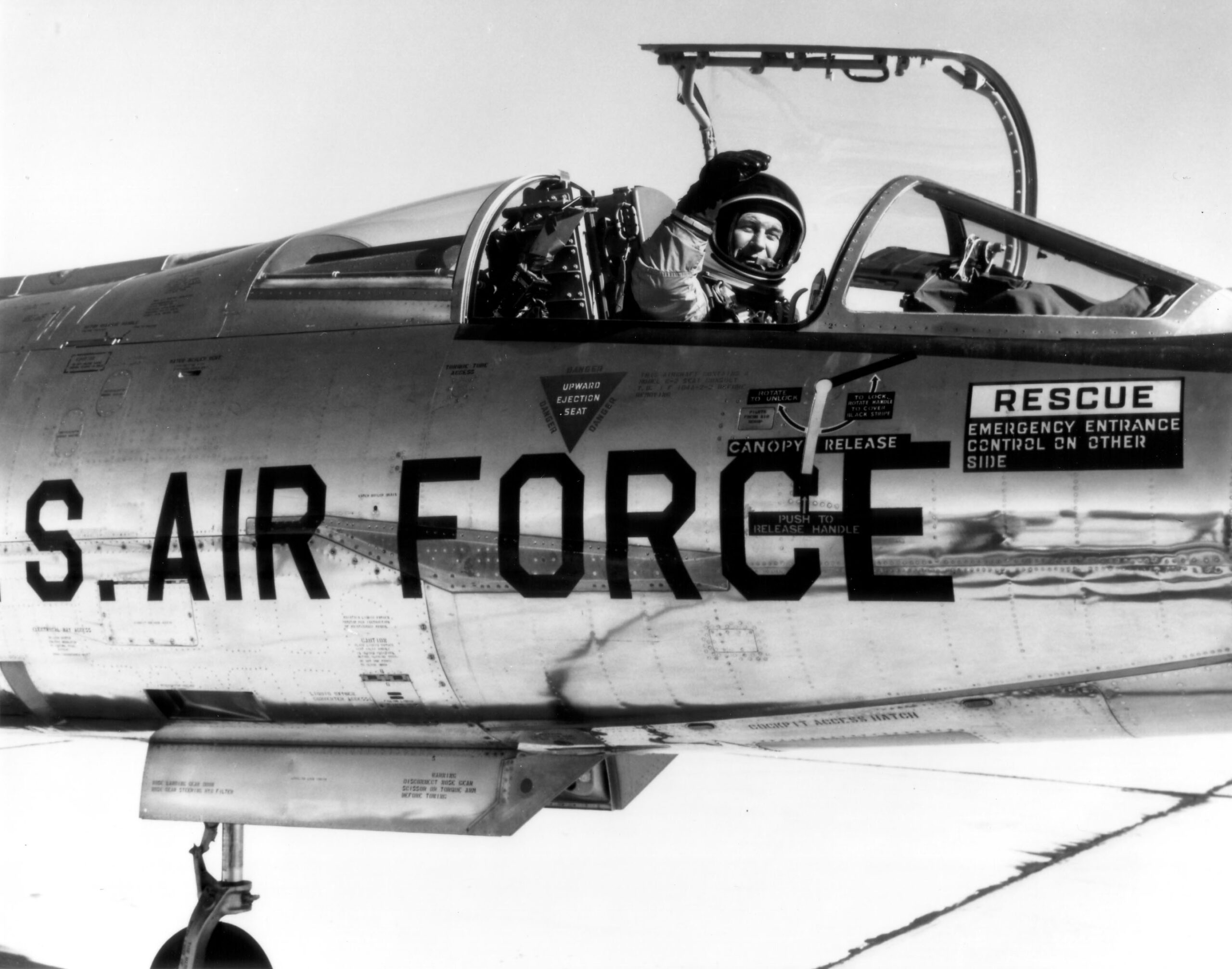 "On Dec. 10, 1963, he narrowly escaped death while testing an NF-104 rocket-augmented aerospace trainer. His aircraft went out of control at 108,700 feet (nearly 21 miles up) and crashed. He parachuted to safety at 8,500 feet after battling to gain control of the powerless aircraft. He thus became the first pilot to make an emergency ejection in the full pressure suit needed for high altitude flights. Yeager has flown more than 200 types of military aircraft and has more than 14,000 hours, with more than 13,000 of them in fighter aircraft.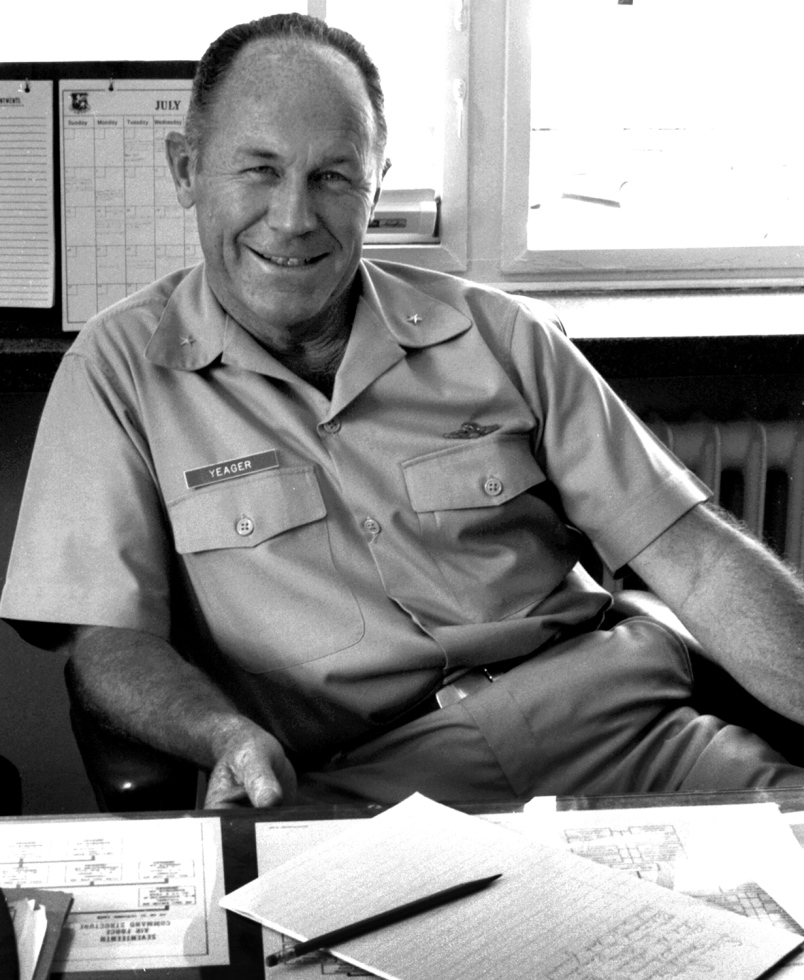 "Yeager retired from active duty in the U. S. Air Force in March 1975, after serving as the United States defense representative to Pakistan and director of the Air Force Inspection and Safety Center, Norton AFB, Calif.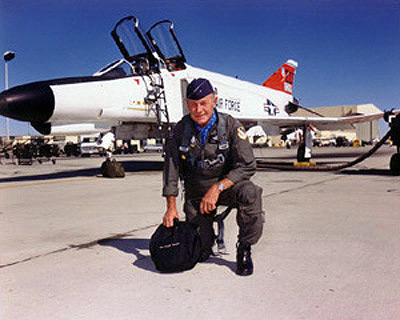 "Retirement was never part of his plans. He remains an active aviation enthusiast, acting as adviser for various films, programs and documentaries on aviation. He has published two books, entitled Yeager, An Autobiography and Press On: Further Adventures in the Good Life."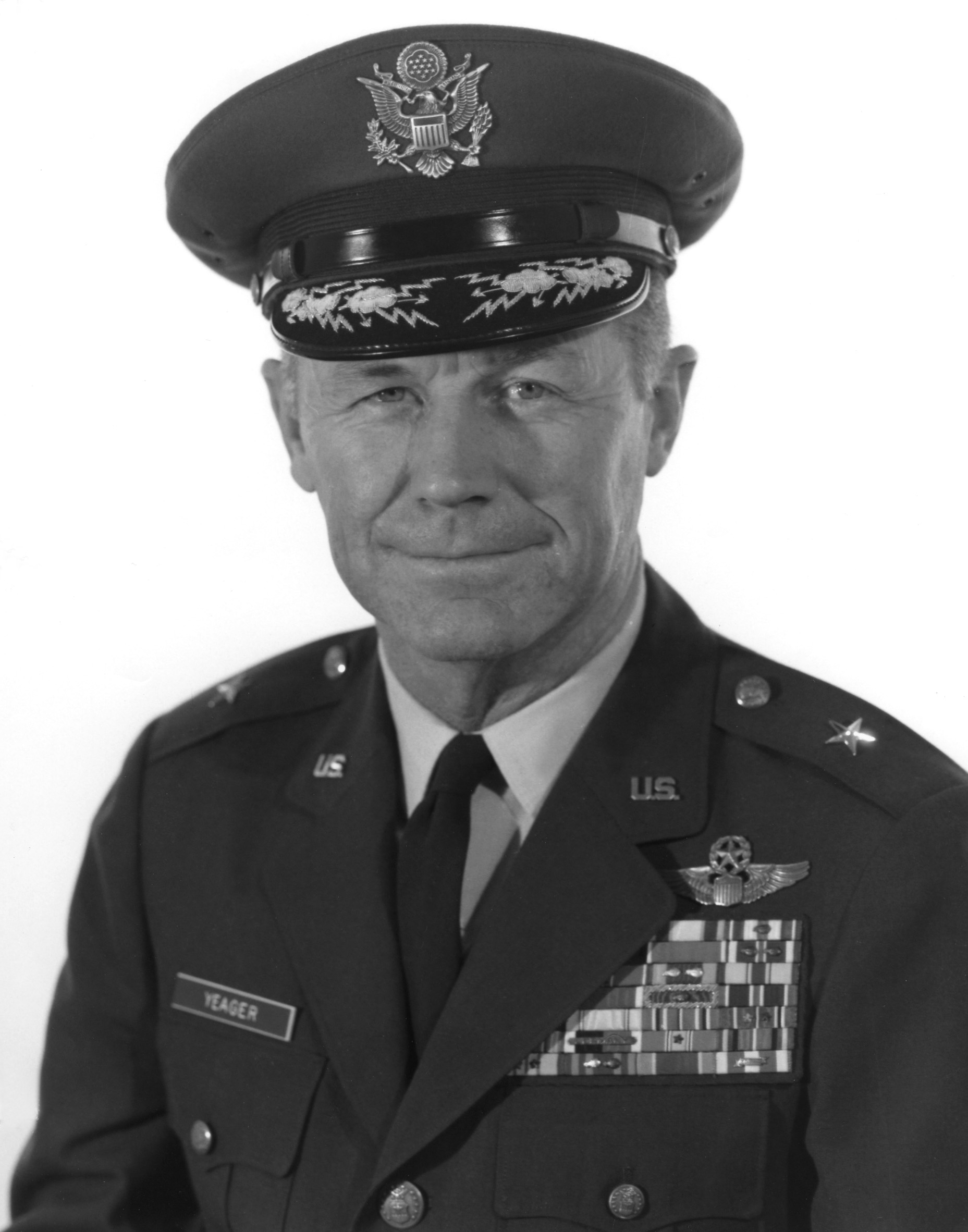 © 2017, Bryan R. Swopes
by