13 September 1935: Flying his Hughes H-1 Special, NR258Y,  Howard Robard Hughes, Jr. set a Fédération Aéronautique Internationale (FAI) World Record for Speed Over a 3 Kilometer Course near Santa Ana, California. Making four passes over the measured course, two in each direction, his average speed was 567.12 kilometers per hour (352.39 miles per hour).¹ This was 61.27 kilometers per hour (38.07 miles per hour) faster than the previous record which had been set by Raymond Delmotte, 24 December 1934.
Just after completing the final pass over the course, the airplane's engine stopped due to fuel starvation. Hughes made a belly landing in a farm field. He was uninjured and the airplane received only minor damage.
The Hughes H-1 (Fedral Aviation Administration records identify the airplane as the Hughes Model 1B, serial number 1) was a single-seat, single-engine low-wing monoplane with retractable landing gear. Emphasis had been placed on an aerodynamically clean design and featured flush riveting on the aluminum skin of the fuselage. The airplane was 27 feet, 0 inches long (8.230 meters) with a wingspan of 25 feet (7.6 meters) and height of 8 feet (2.438 meters). (A second set of wings with a span of 31 feet, 9 inches (9.677 meters) was used on Hughes' transcontinental flight, 19 January 1937). The H-1 has an empty weight of 3,565 pounds (1,617 kilograms) and gross weight of 5,492 pounds (2,491 kilograms).
The H-1 was powered by a air-cooled, supercharged 1,534.943-cubic-inch-displacement (25.153 liter) Pratt & Whitney Twin Wasp Jr. two-row, fourteen-cylinder radial engine. Pratt & Whitney produced 18 civil and 22 military (R-1535) versions of the Twin Wasp Jr., in both direct-drive and geared configurations, rated from 650 to 950 horsepower. It is not known which version powered the H-1, but various sources report that it was rated from 700 to 1,000 horsepower. The engine drove a two-bladed Hamilton Standard controllable pitch propeller.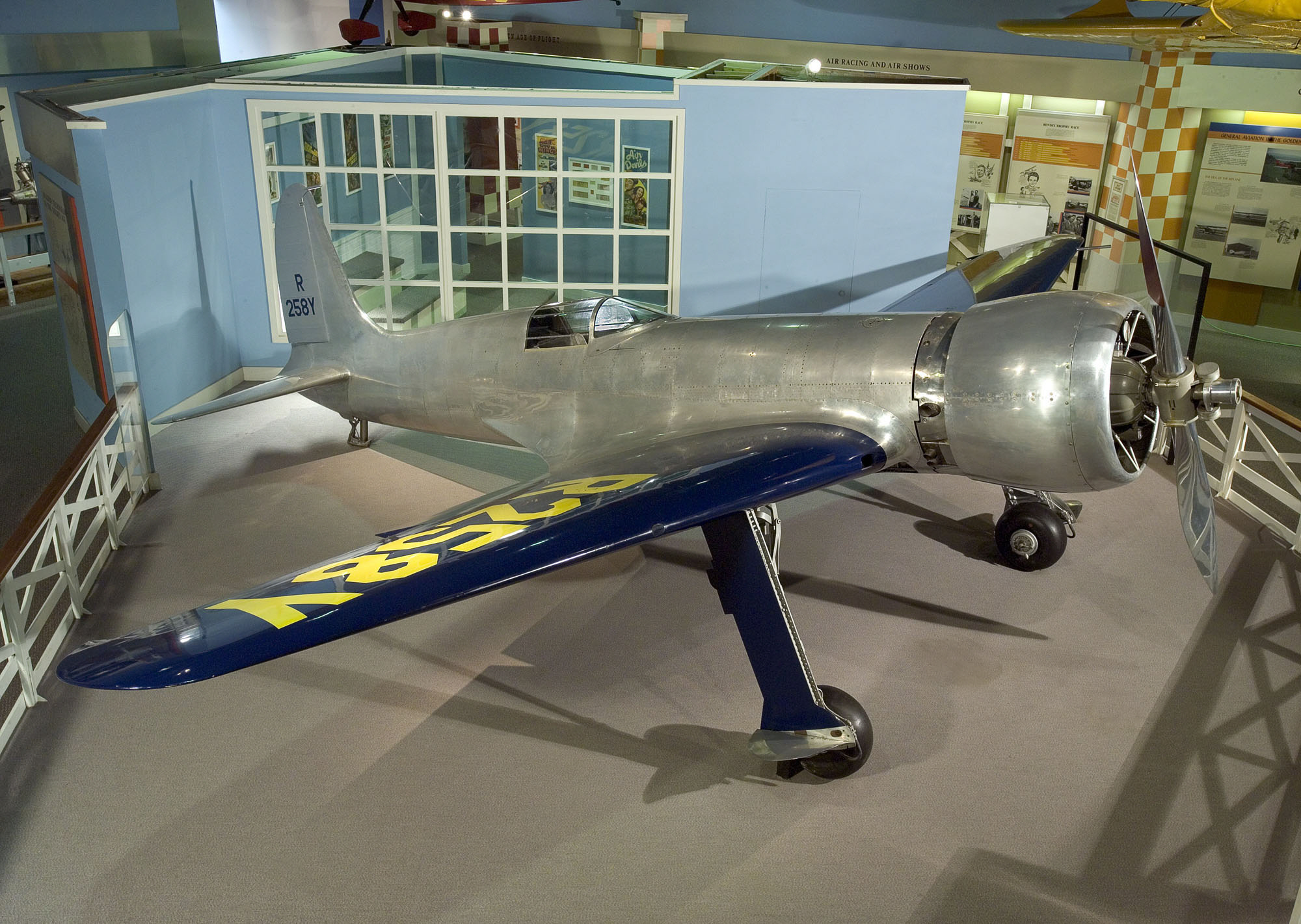 ¹ FAI Record File Number 8748
© 2017, Bryan R. Swopes
by