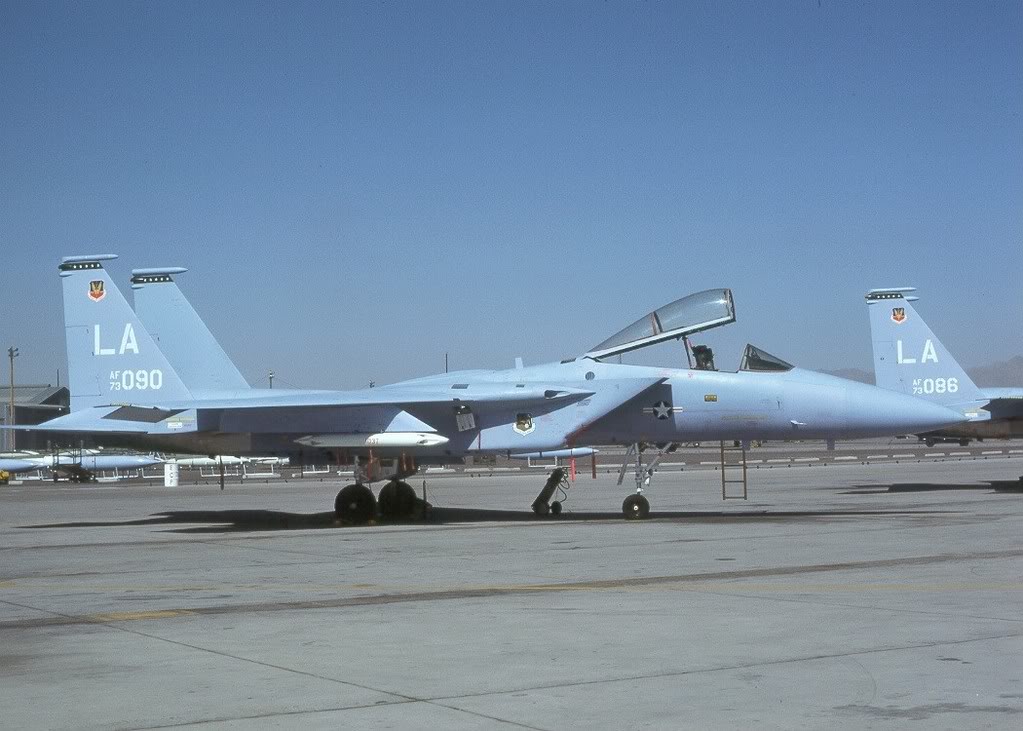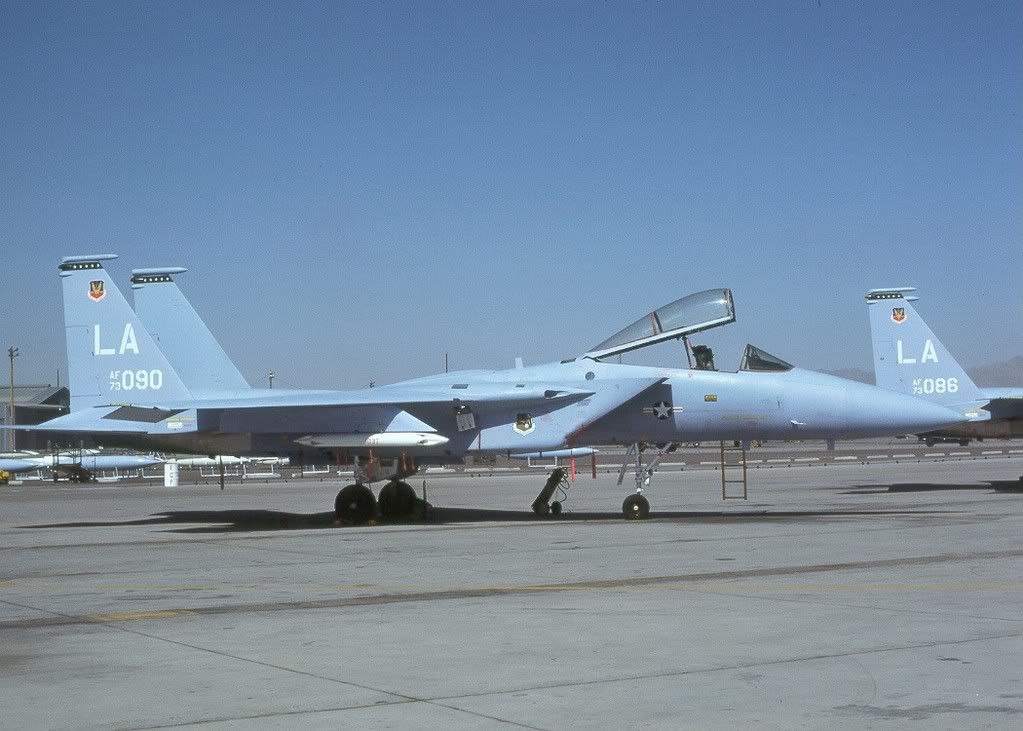 14 November 1974: The very first operational McDonnell Douglas F-15A Eagle air superiority fighters were delivered to the 555th Tactical Training Squadron, 58th Tactical Training Fighter Wing, at Luke Air Force Base, west of Phoenix, Arizona. The acceptance ceremony was presided over by President Gerald R. Ford.
". . . I am here today to underscore to you and to the world that this great aircraft was constructed by the American people in the pursuit of peace. Our only aim with all of this aircraft's new maneuverability, speed, and power is the defense of freedom.
"I would rather walk a thousand miles for peace than to have to take a single step for war.
"I am here to congratulate you: the United States Air Force, McDonnell Douglas, Pratt and Whitney, all of the many contractors and workers who participated in this very, very successful effort, as well as the pilots who have so diligently flight-tested the F-15 Eagle. All of you can underline my feeling that we are still pilgrims on this Earth, and there still is a place for pioneers in America today."
—Gerald R. Ford, Jr., 38th President of the United States of America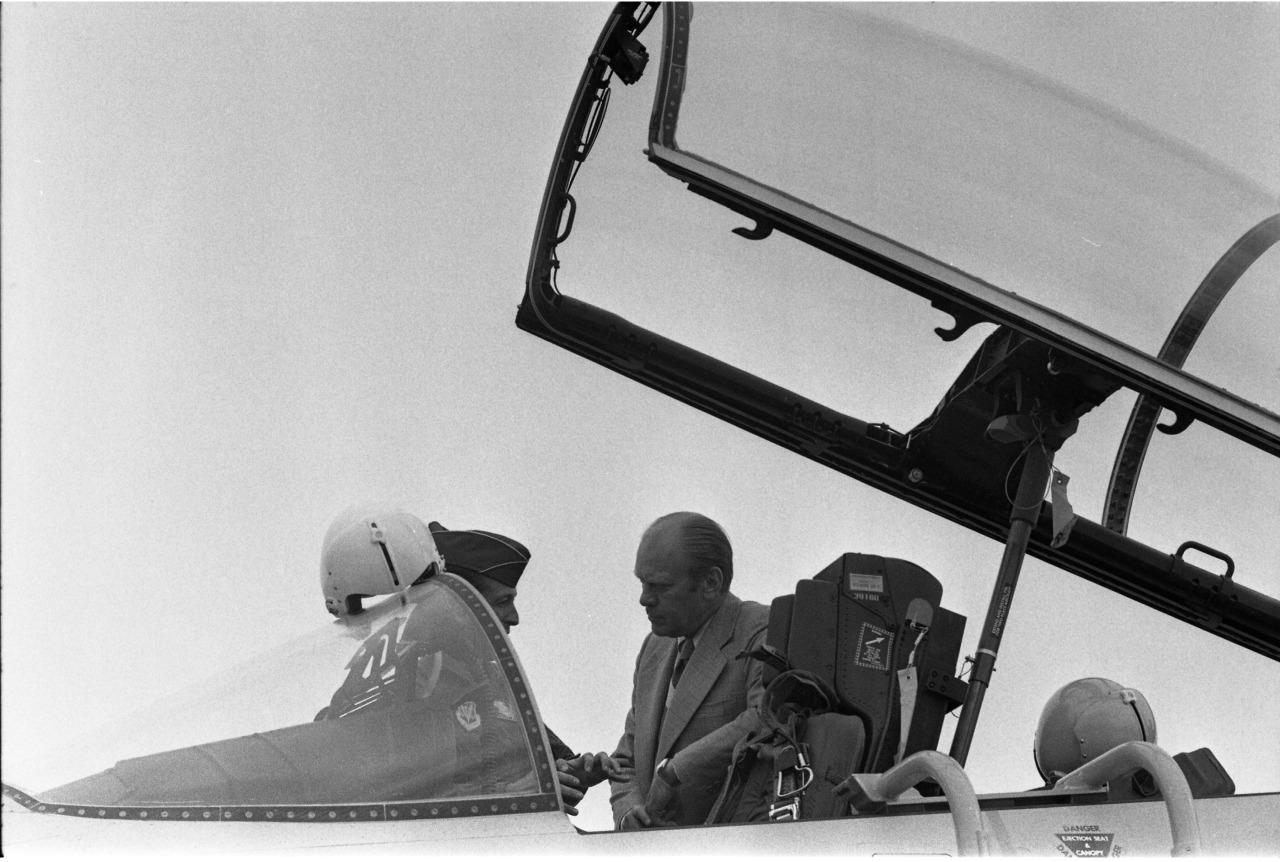 The F-15A Eagle is a Mach 2.5+ fighter with outstanding acceleration and maneuverability. The F-15A was produced by McDonnell Douglas at St. Louis, Missouri, from 1972 to 1979. It is a single-seat, twin-engine, air superiority fighter. The F-15A is 63 feet, 9 inches (19.431 meters) long, with a wingspan of 42 feet, 9½ inches (13.043 meters) and overall height of 18 feet, 5½ inches (5.626 meters). Its total wing area is 608 square feet (56.49 square meters). The F-15A has an empty weight of 25,870 pounds (11,734 kilograms) and its maximum takeoff weight (MTOW) is 66,000 pounds (29,937 kilograms).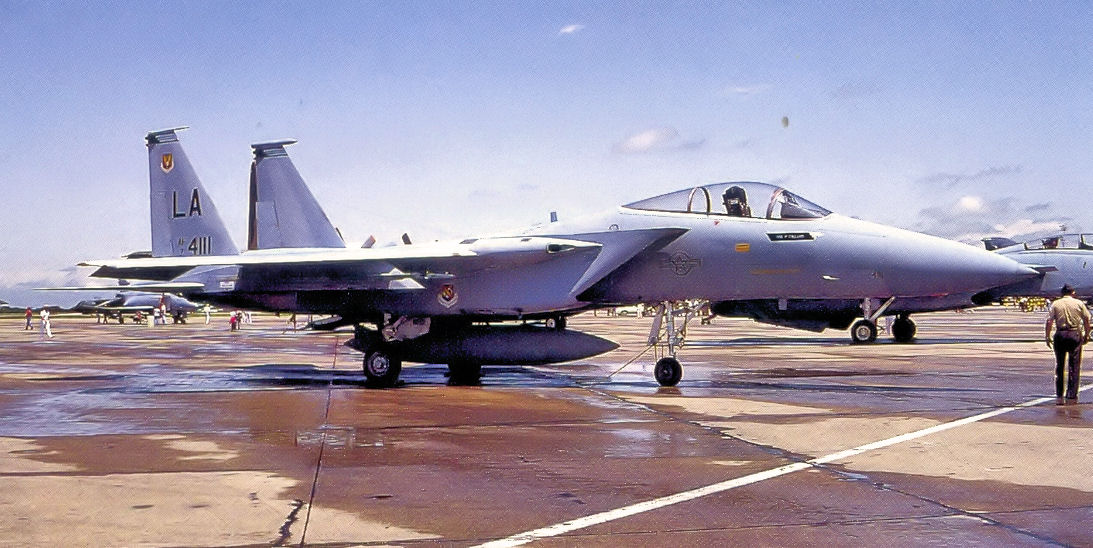 The F-15A is powered by two Pratt & Whitney JTF22A-25A (F100-PW-100) engines. The F100 is a two-spool, axial-flow, afterburning turbofan engine with a 3-stage fan section; 10-stage compressor; single chamber combustion section; and 4-stage turbine (2 low- and 2 high-pressure stages). The F100-PW-100 has a maximum continuous power rating of 12,410 pounds of thrust (55.202 kilonewtons), and an intermediate rating of 14,690 pounds (65.344 kilonewtons) (30-minute limit). The maximum power rating is 23,840 pounds (106.268 kilonewtons), with afterburner (5-minute limit). The F100-PW-100 is 191 inches (4.851 meters) long, 46.5 inches (1.181 meters) in diameter, and weighs 3,035 pounds (1,376.7 kilograms).
The cruise speed of the F-15A Eagle is 502 knots (578 miles per hour/930 kilometers per hour). It has a maximum speed of 893 knots (1,028 miles per hour/1,654 kilometers per hour) at 10,000 feet (3,048 meters), and 1,434 knots (1,650 miles per hour/2,656 kilometers per hour) at 45,000 feet (13,716 meters). The fighter's service ceiling is 63,050 feet (19,218 meters). From Sea Level, the F-15A could climb at 67,250 feet per minute (341.63 meters per second). With a thrust-to-weight ratio of 1.15:1, it could climb straight up. The Eagle's combat radius is 638 nautical miles (734 statute miles/1,182 kilometers). Its ferry range was 2,362 nautical miles (2,718 statute miles/4,374 kilometers).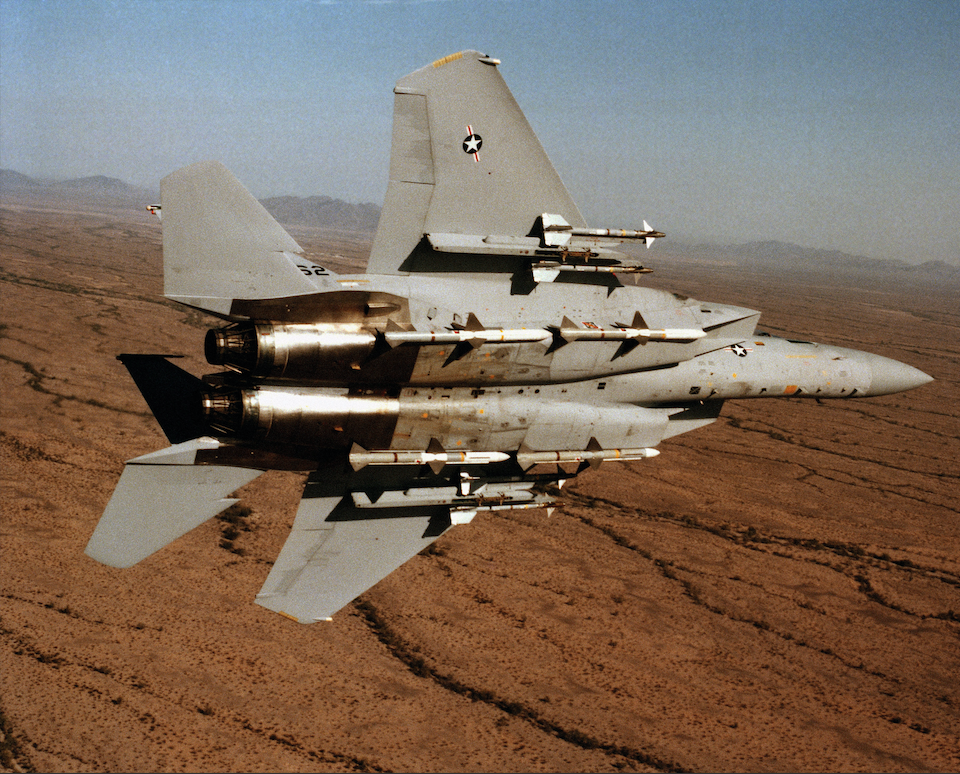 The F-15A is armed with one General Electric M61A1 Vulcan 20mm rotary cannon with 938 rounds of ammunition, four AIM-7F Sparrow radar-guided missiles and four AIM-9 Sidewinder heat-seeking missiles. The fighter can also be armed with a Mk.82 500-pound or Mk. 84 2,000-pound bombs.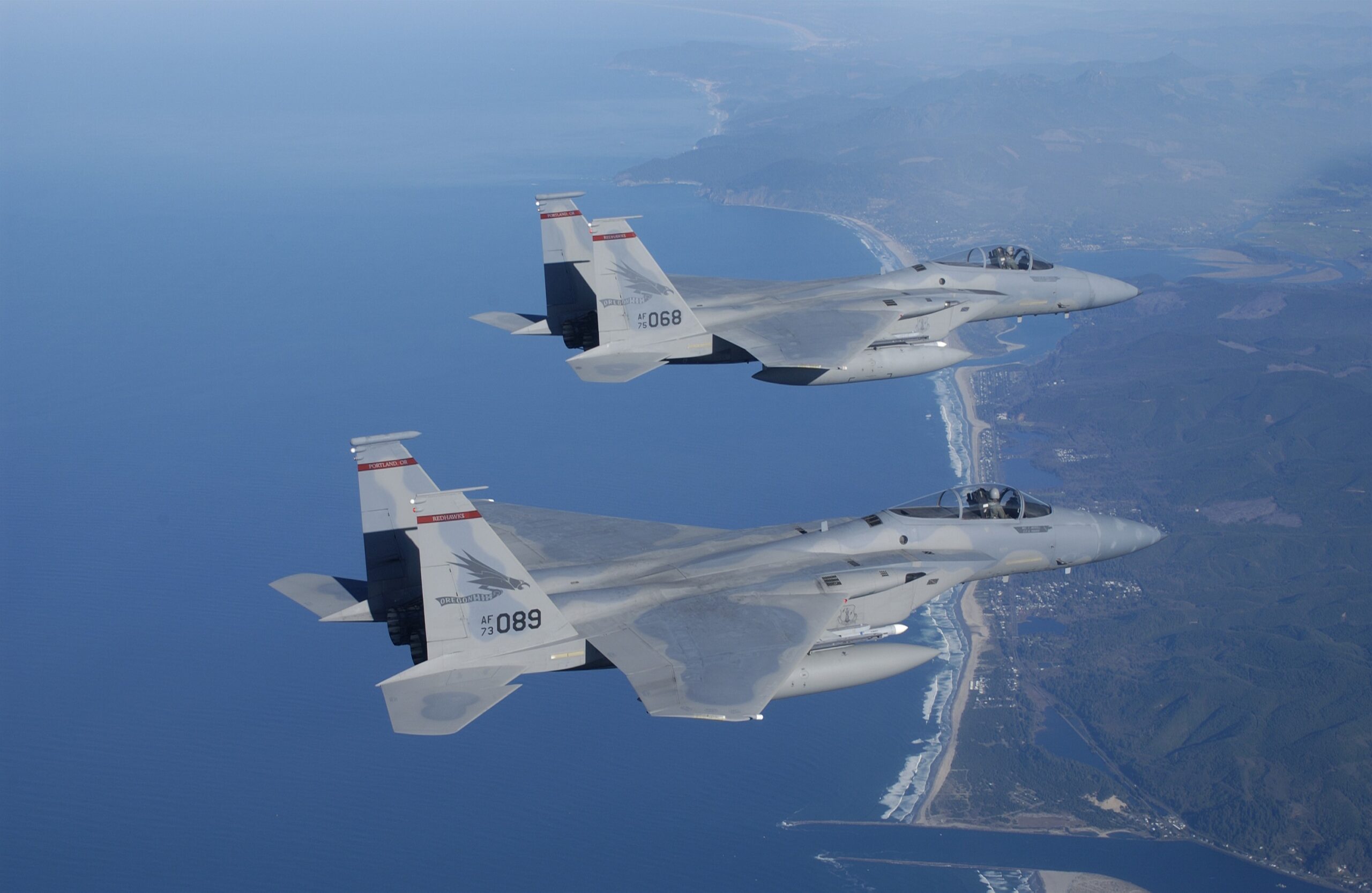 384 F-15A Eagles were built before production shifted to the improved F-15C version. As F-15Cs became operational, the F-15As were transferred to Air National Guard units assigned to defend U.S. continental airspace. The last F-15A was retired from service in 2009.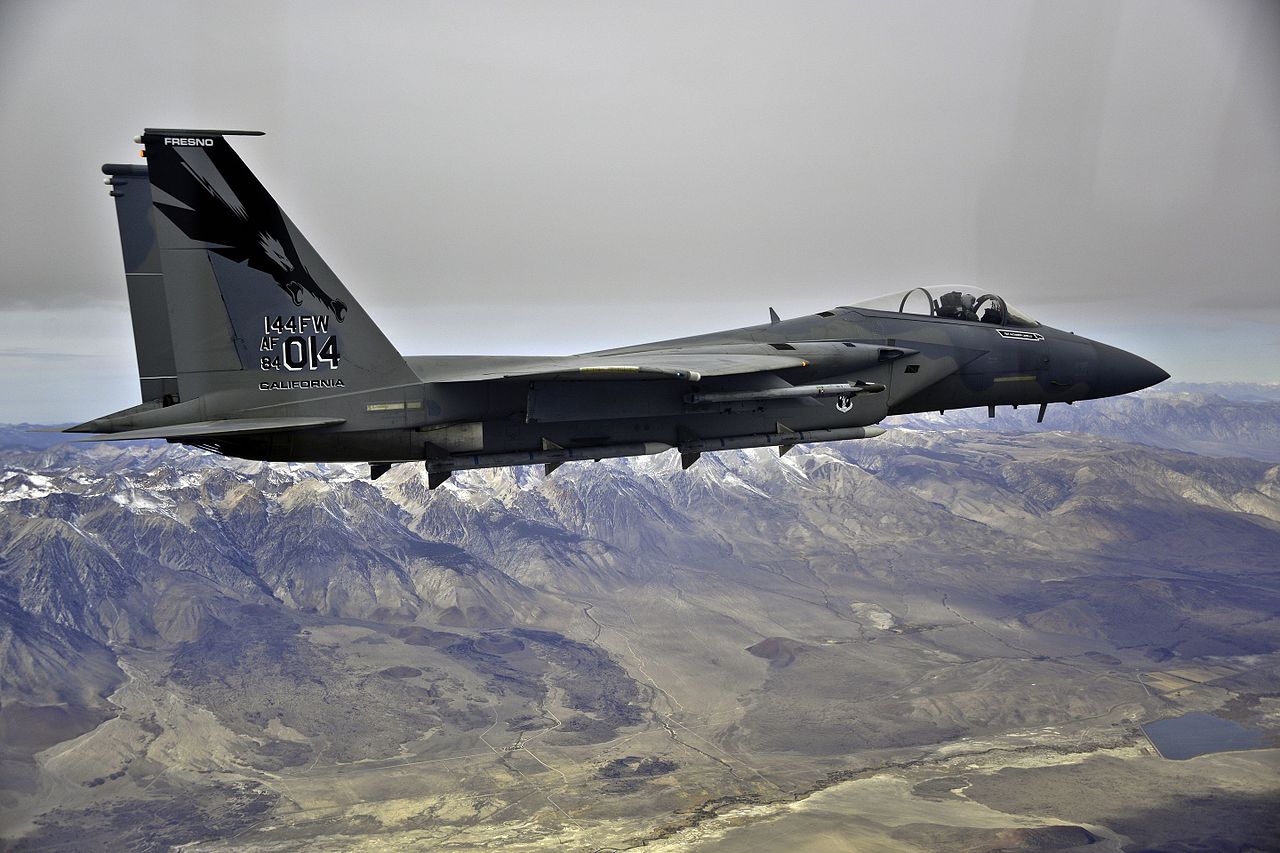 © 2018, Bryan R. Swopes
by