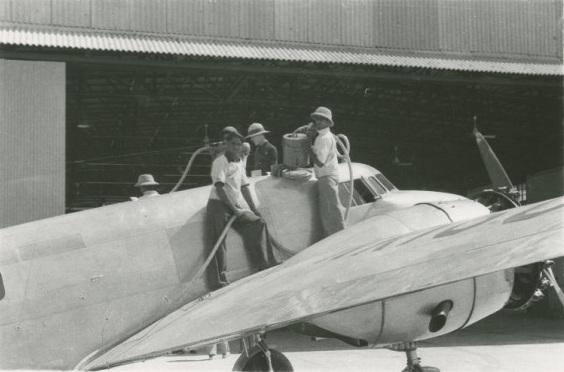 16 June 1937: After flying nearly 2,000 miles (3,220 kilometers) the previous day, Amelia Earhart and Fred Noonan lay over at Karachi, Sindh (now, Pakistan). The Lockheed Electra 10E Special, NR16020, is fueled and serviced in preparation for the next leg of the Around-the-World flight.
Landward from Karachi there is desert. To the north is the thirsty hilly landscape of Kohistan, the limestone spurs of the Kirthir range, breaking down southwards into sandy wastes. Southerly is a monotonous expanse riddled by creeks and mangrove swamps reaching to the coast, and further south the great Indus River, born one thousand miles north in Afghanistan, flows into the Arabian Sea. The city's population is close to 300,000, its seaport serving a huge hinterland which embraces the whole of Sind, Baluchistan, Afghanistan, the Punjab, and beyond. Karachi airdrome is, I think, the largest that I know. It is the main intermediate point on all the traffic from Europe to India and the east. Imperial Airways flies frequent schedules all the way to Australia, and K.L.M. to the Dutch East Indies. In military aviation it is, I suppose, the most important headquarters in India, strategically located in relation to the mountain country of the Northwest Frontier, with its troublesome tribes.
In our hurried scheme of things, with the problems of our own special transport uppermost, most of or time "ashore" was spent in and around hangars. More important far than sightseeing was seeing to it that our faithful sky steed was well groomed and fed, its minute mechanical wants cared for. So the geography of our journey likely will remain most clearly memorized in terms of landing-field environments, of odors of baking metal, gasoline and perspiring ground crews; of the roar of warming motors and the clatter of metal-working tools. Such impressions competed, perforce, with the lovely sights of the new worlds we glimpsed; the delectable perfumes of flowers, spices and fragrant country side the sounds and songs and music of diverse peoples. . . . Of all those things, external to the task at hand, we clutched what we could.
—Amelia Earhart
© 2016, Bryan R. Swopes