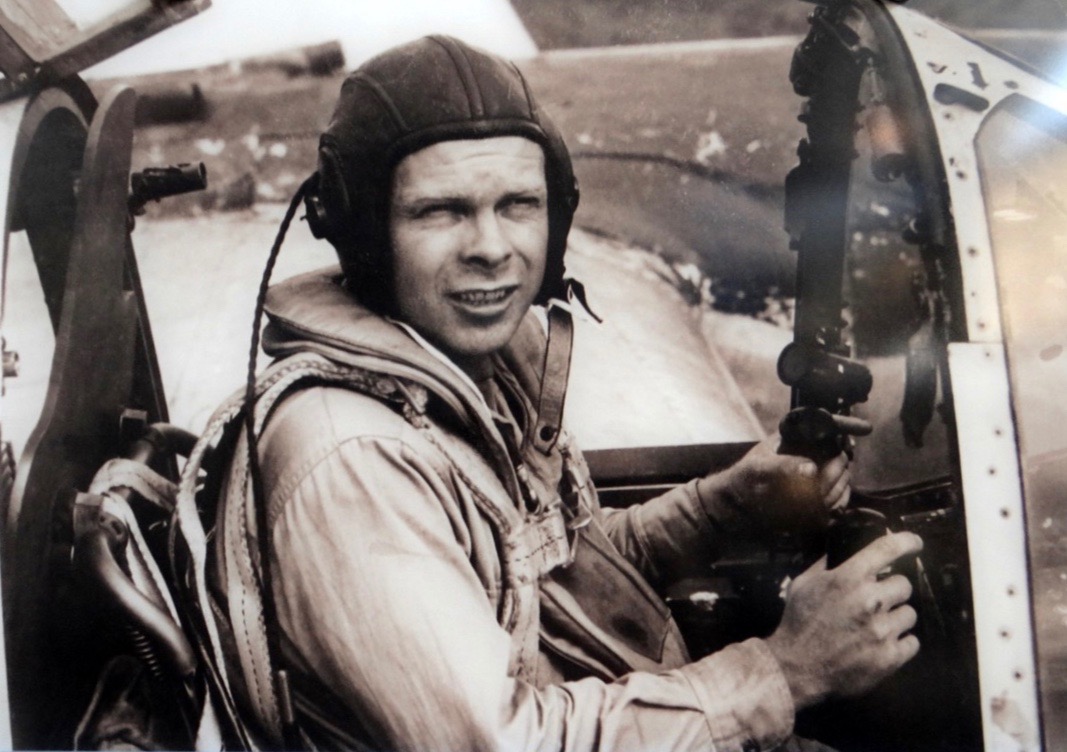 17 December 1944: Captain Richard Ira Bong, United States Army Air Corps, flying a Lockheed P-38 Lighting over San José on the Island of Mindoro, Commonwealth of the Philippines, shot down an enemy Nakajima Ki-43 Hayabusa (Allied reporting name, "Oscar").
This was Bong's 40th confirmed aerial victory and made him the leading American fighter ace of World War II. He is officially credited with 40 aircraft destroyed, 8 probably destroyed and 7 damaged.
Five days earlier, 12 December, during a ceremony at an American airfield on the Island of Leyte, General Douglas MacArthur, United States Army, had presented Major Bong the Medal of Honor.
An Associated Press reporter quoted the General:
"Of all military attributes, that one which arouses the greatest admiration is courage. It is the basis of all successful military ventures. our forces possess it to a high degree and various awards are provided to show the public's appreciation. The Congress of the United States has reserved to itself the honor of decorating those amongst all who stand out as the bravest of the brave. It's this high and noble category, Bong, that you now enter as I pin upon your tunic the Medal of Honor. Wear it as a symbol of the invincible courage you have displayed so often in mortal combat. My dear boy, may a merciful God continue to protect you is the constant prayer of your commander in chief."
[On 18 December 1944, Douglas MacArthur was promoted to General of the Army, a five-star rank held by only nine other U.S. military officers. General MacArthur was the son of a Medal of Honor recipient, and had himself been twice nominated for the Medal for his actions during the occupation of Vera Cruz (1914) and the Meuse-Argonne Offensive (1918). He was awarded the Medal of Honor for his defense of the Philippines, 1941–42.]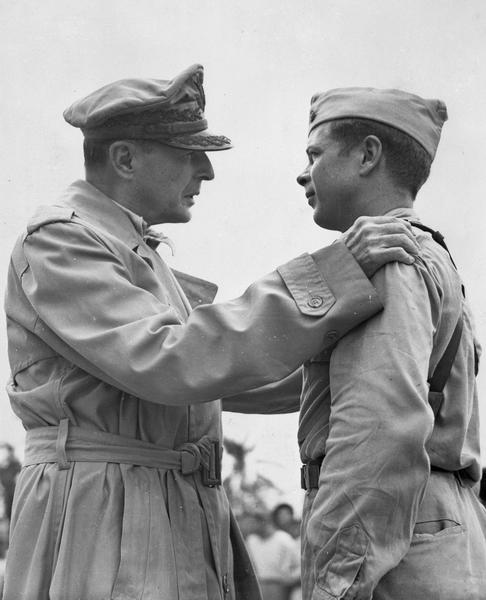 Richard Bong's citation reads:
MEDAL OF HONOR
The President of the United States of America, in the name of Congress, takes pleasure in presenting the Medal of Honor to Major (Air Corps) Richard Ira Bong, United States Army Air Forces, for conspicuous gallantry and intrepidity in action above and beyond the call of duty while serving with the 49th Fighter Group, V Fighter Command, Fifth Air Force, in action in the Southwest Pacific area from 10 October to 15 November 1944.
Though assigned to duty as gunnery instructor and neither required nor expected to perform combat duty, Major Bong voluntarily and at his own urgent request engaged in repeated combat missions, including unusually hazardous sorties over Balikpapan, Borneo, and in the Leyte area of the Philippines. His aggressiveness and daring resulted in his shooting down eight enemy airplanes during this period.
General Orders: War Department, General Orders No. 90, December 8, 1944
Action Date: October 10 – November 15, 1944
Service: Army Air Forces
Rank: Major
Regiment: 49th Fighter Group, V Fighter Command
Division: 5th Air Force.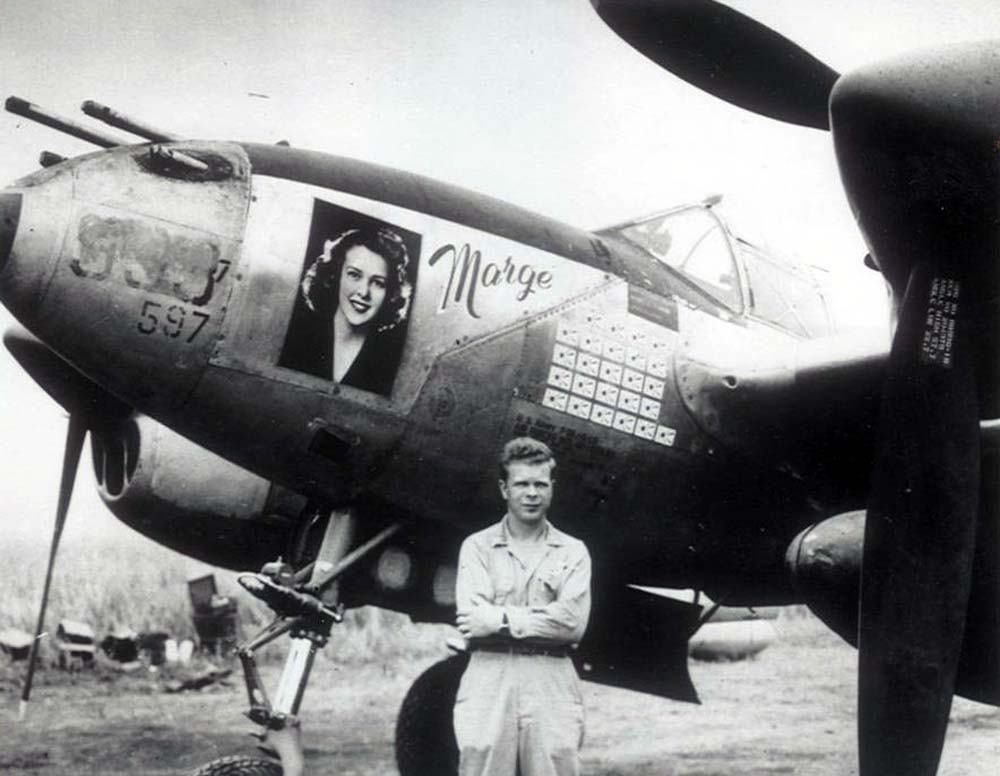 Major Bong flew a number of different Lockheed P-38s in combat. He is most associated, though, with P-38J-15-LO 42-103993, which he named Marge after his fiancée, Miss Marjorie Ann Vattendahl, a school teacher from Poplar, Wisconsin.
Richard Bong had flown 146 combat missions. General George C. Kenney, commanding the Far East Air Forces, relieved him from combat and ordered that he return to the United States. He was assigned to test new production P-80 Shooting Stars jet fighters being built at Lockheed Aircraft Corporation's Burbank, California plant.
On 6 August 1945, the fuel pump of the new P-80 Bong was flying failed just after takeoff. The engine failed from fuel starvation and the airplane crashed into a residential area of North Hollywood, California. Major Richard Ira Bong was killed.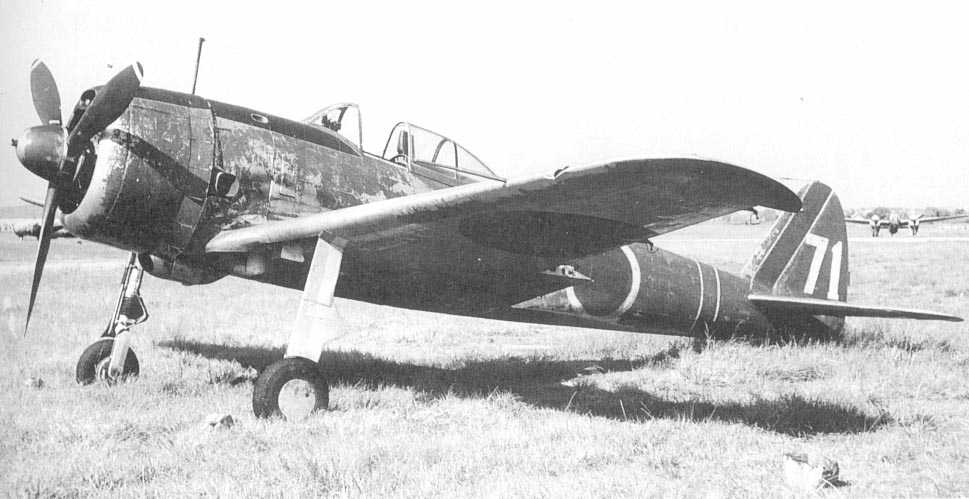 The Oscar was a single-place, single-engine fighter in service with the Imperial Japanese Army Air Service. It was very maneuverable and was a deadly opponent. The Ki-43 Hayabusa shot down more Allied airplanes during World War II than any other Japanese fighter.
The Ki-43 (also referred to as the Army Fighter, Type 1) was powered by an air-cooled, supercharged Nakajima Ha-115 Toku two-row, 14-cylinder radial engine which produced 1,150 horsepower. The engine drove a three-bladed constant-speed propeller.
Compared to American fighters, the Oscar was lightly armed with two synchronized 7.7 mm (.303-caliber) or 12.7 mm (.50-caliber) machine guns, or a combination of one 7.7 mm and one 12.7 mm gun. The 12.7 machine gun could fire explosive ammunition.
The Oscar's maximum speed was 530 kilometers per hour (329 per hour) at an altitude of 4,000 meters (13,123 feet).
The Lockheed P-38 lightning is a single-place, mid-wing, twin-engine fighter. It is an unusual configuration, with the cockpit, weapons and nose landing gear in a central nacelle, and engines, turbochargers, cooling system and main landing gear in outer "booms." The airplane was originally designed by Clarence L. "Kelly" Johnson.
The P-38J is 37 feet, 10 inches (11.532 meters) long, with a wingspan of 52 feet, 0 inches (15.850 meters) and overall height of 9 feet, 9-11/16 inches (2.989 meters). The fighter has an empty weight of 12,700 pounds ( kilograms) and maximum gross weight of 21,600 pounds.
The P-38J was powered by two liquid-cooled, turbosupercharged 1,710.60-cubic-inch displacement (28.032 liter) Allison Engineering Company V-1710-F-17R and -F17L (V-1710-89 and -91, respectively) single overhead cam (SOHC) 60° V-12 engines with a continuous power rating of 1,100 horsepower at 2,600 r,p.m., to 30,000 feet ( meters), and a takeoff/military power rating of 1,425 horsepower at 3,000 r.p.m. The engines turned counter-rotating three-bladed Curtiss Electric full-feathering constant-speed propellers through with a diameter of 11 feet, 6 inches (3.505 meters) through a 2.00:1 gear reduction.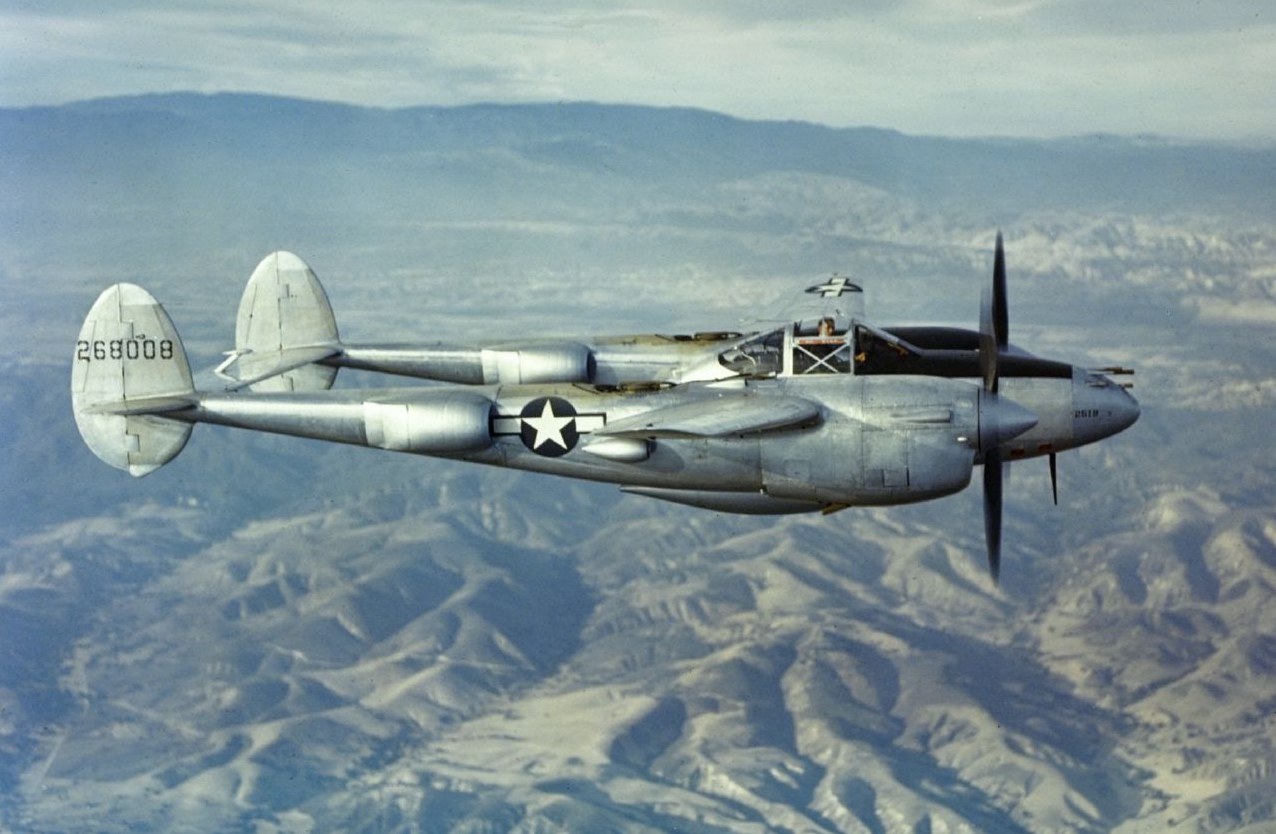 The P-38J had a maximum speed of 420 miles per hour (676 kilometers per hour) at 26,500 feet (8,077 meters). The service ceiling was 44,000 feet (13,411 meters). Carrying external fuel tanks, the Lightning had a maximum range of 2,260 miles (3,637 kilometers).
P-38s were armed with one 20 mm Hispano M2 auto cannon with 150 rounds of ammunition and four air-cooled .50-caliber Browning AN/M2 machine guns with 500 rounds per gun. All guns are grouped close together in the nose and aimed straight ahead.
Between 1939 and 1945, Lockheed Aircraft Corporation built 10,037 P-38 Lightnings at Burbank, California. 2,970 of these were P-38Js.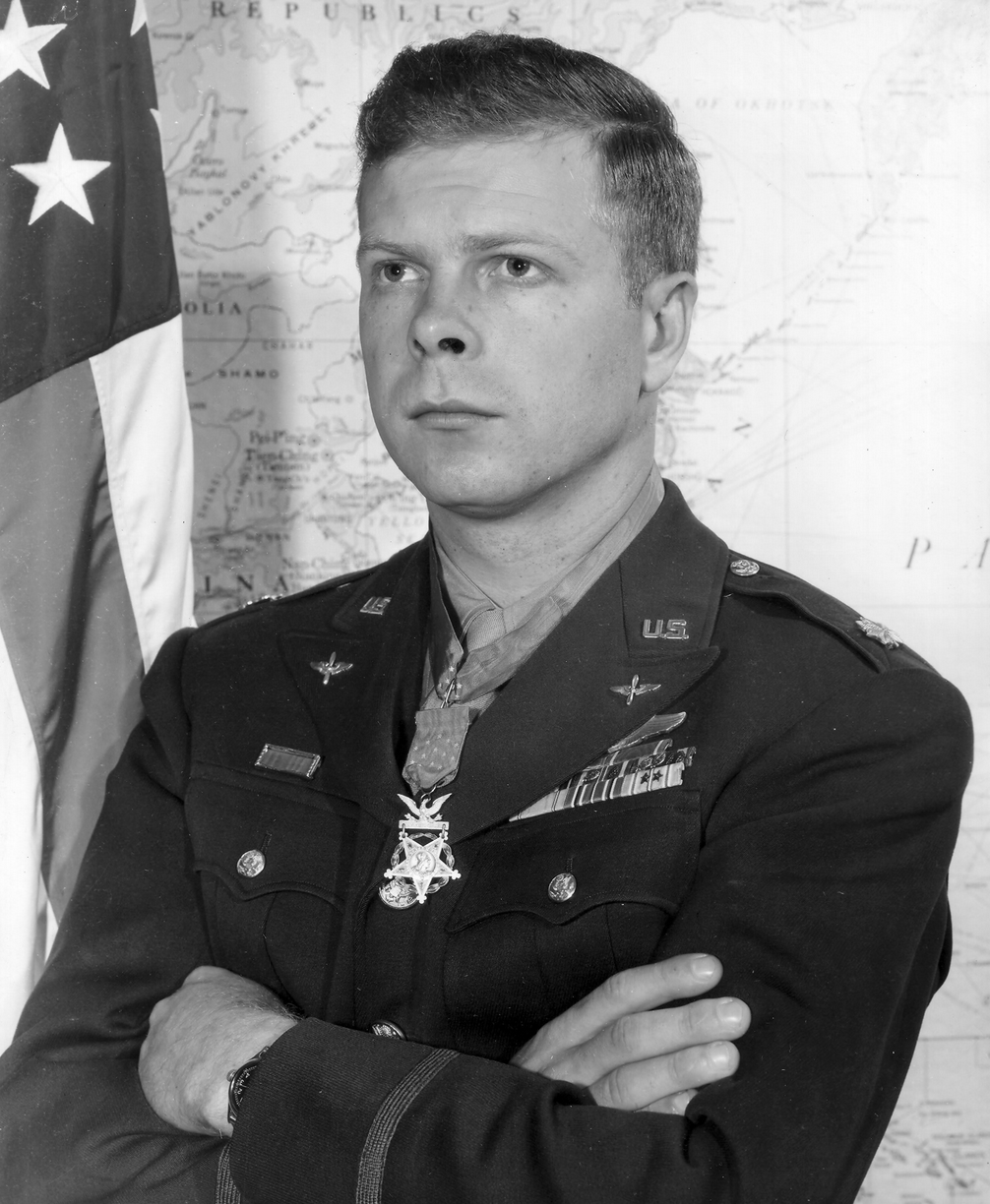 © 2016, Bryan R. Swopes
by