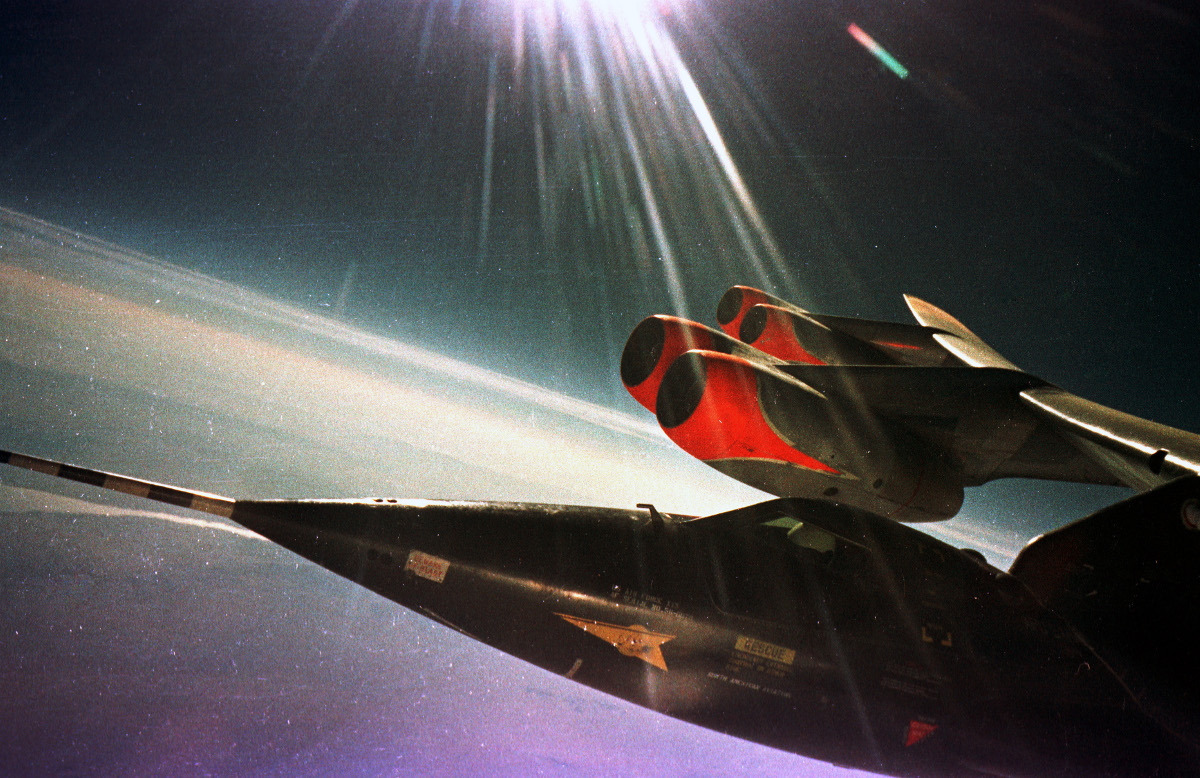 17 September 1959: After previously making one glide flight, North American Aviation Chief Engineering Test Pilot Albert Scott Crossfield made the first powered flight of an X-15 hypersonic research rocket plane.
Carried aloft under the right wing of an eight-engine Boeing NB-52A Stratofortress bomber, USAF serial number 52-003, the first of three North American Aviation X-15s, 56-6670, was airdropped from 35,000 feet (10,668 meters) over Rosamond Dry Lake, west of Edwards Air Force Base. Launch time was 08:08:48.0 a.m., Pacific Daylight Savings Time (15:08.48.0 UTC).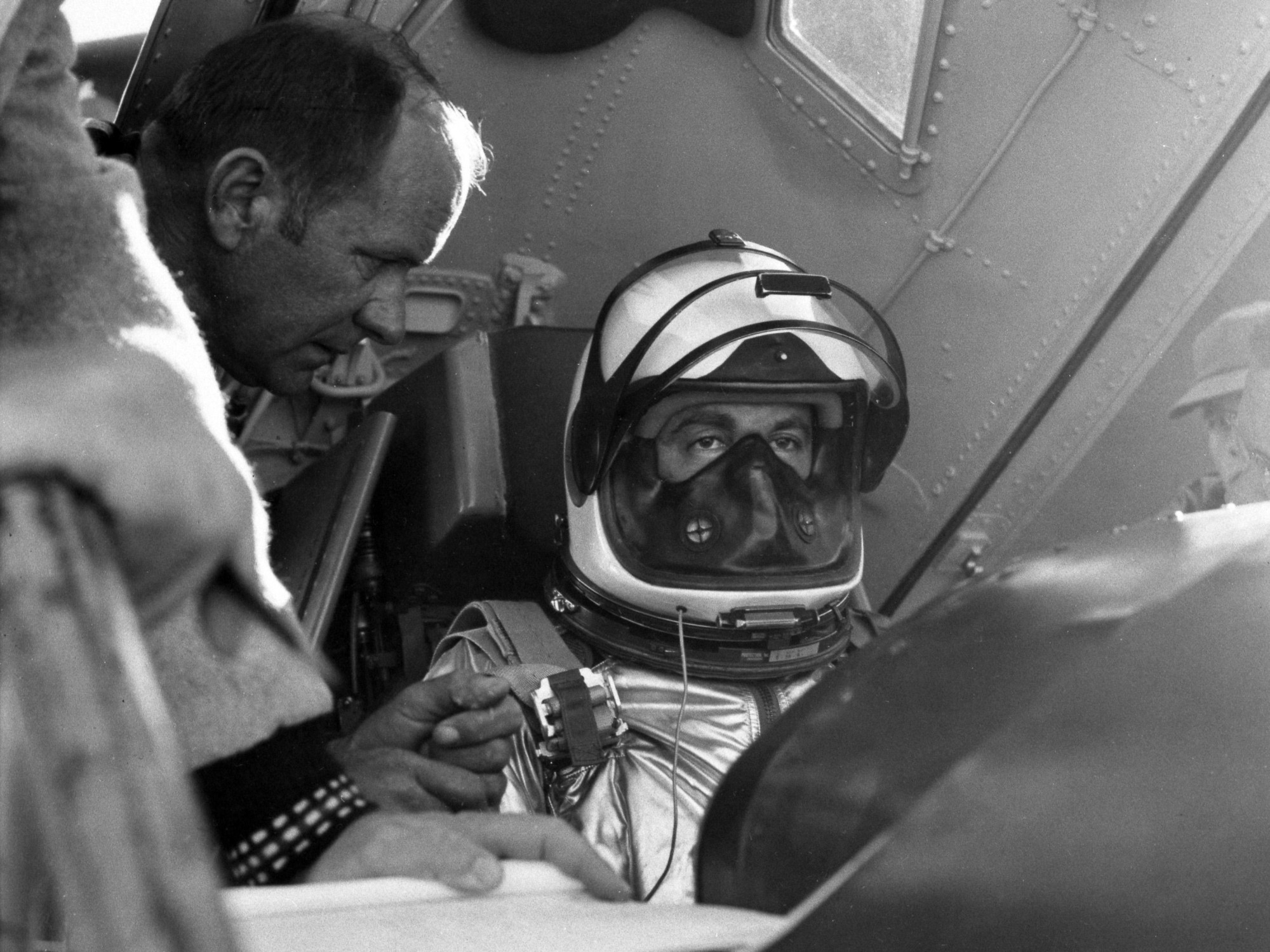 The X-15 was designed to use the Reaction Motors XLR-99 rocket engine, but early in the test program that engine was not yet available so two smaller XLR-11 engines were used. This was engine the same type used in the earlier Bell X-1 rocket plane that first broke the sound barrier in 1948. Though producing just one-fourth the thrust of the XLR-99, it allowed the functional testing of the X-15 to proceed.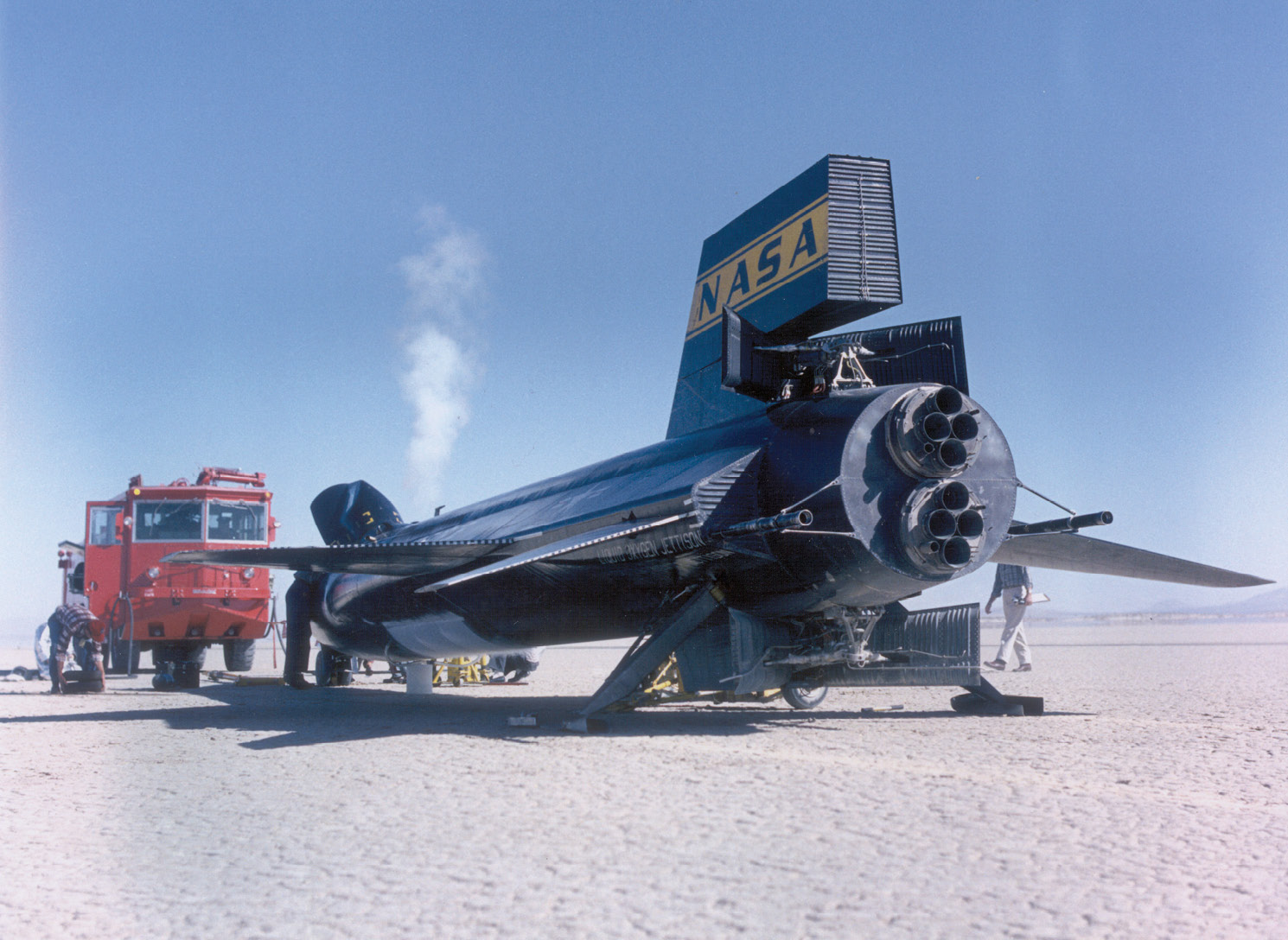 Scott Crossfield wrote: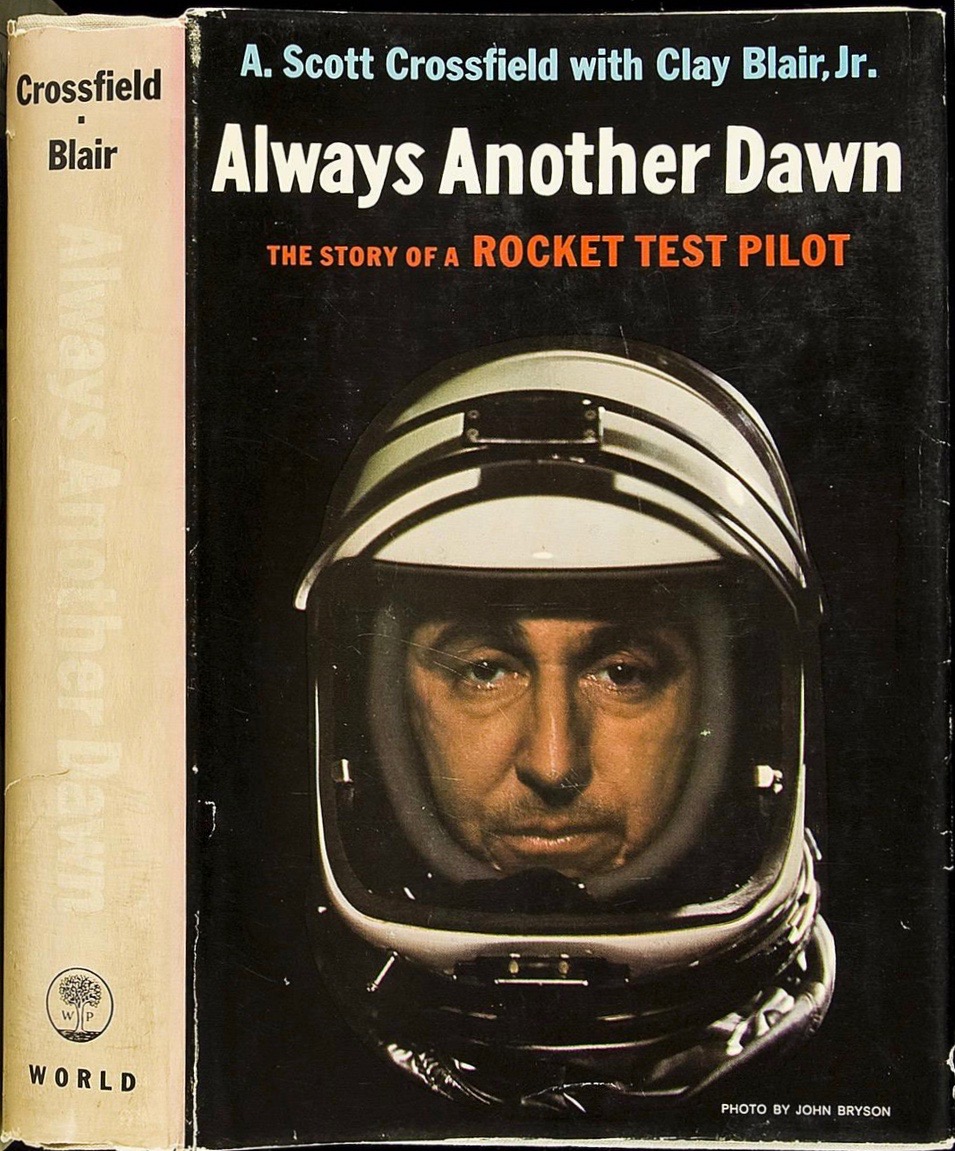 Two minutes after launch I reached 50,000 feet and pushed over in level flight. Then I dropped the nose slightly for a speed run, meanwhile maneuvering the ship through a series of turns and rolls, conscious of a deep rumbling noise of the rocket and a great rush of wind on the fuselage. It was obvious the black bird was in her element at supersonic speeds. She responded beautifully. I stared in fascination at the Mach meter which climbed from 1.5 Mach to 1.8 Mach and then effortlessly to my top speed for this flight of 2.3 Mach or about 1,500 miles and hour. Then, because I was under orders not to take the X-15 wide open, I shut off three of the rocket barrels. As I slowed down, I recalled the agony at Edwards many years before when we had worked for months pushing, calculating, polishing and who knows what else to achieve Mach 2 in the Skyrocket. Now with the X-15 we had reached that speed in three minutes on our first powered flight and I had to throttle back.
—Always Another Dawn, The Story Of A Rocket Test Pilot, by A. Scott Crossfield with Clay Blair, Jr., The World Publishing Company, Cleveland and New York, 1960. Chapter 39 at Pages 362.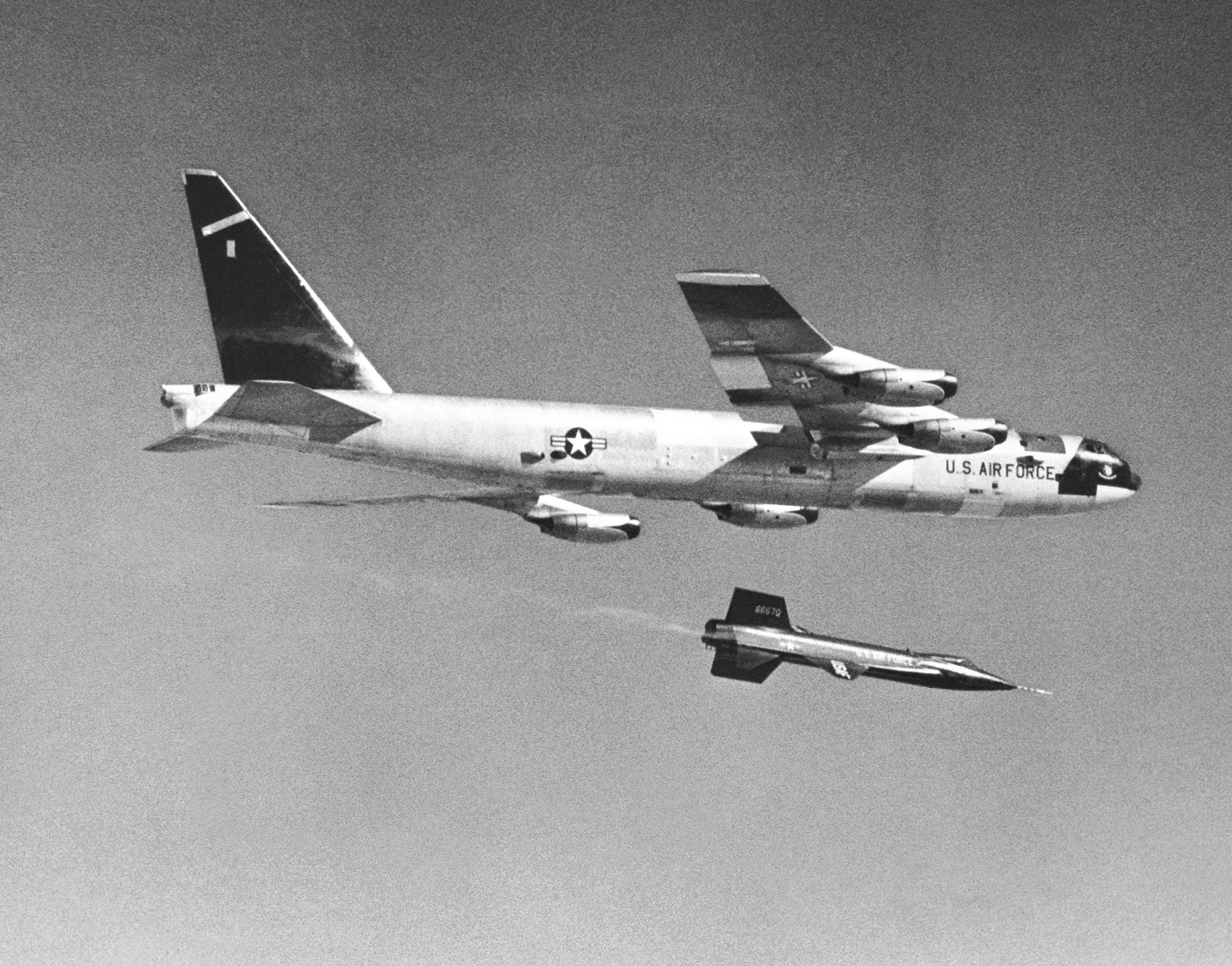 The X-15 dropped 2,000 feet (610 meters) while Scott Crossfield ignited the two XLR-11 engines and then started "going uphill." During the 224.3 seconds burn duration, the X-15 reached Mach 2.11 (1,393 miles per hour/2,242 kilometers per hour) and climbed to 52,300 feet (15,941 meters), both slightly higher than planned.
Problems developed when the rocket engine's turbo pump case failed, and fire broke out in the hydrogen peroxide compartment, engine compartment and in the ventral fin. Crossfield safely landed on Rogers Dry Lake at Edwards Air Force Base. The duration of the flight was 9 minutes, 11.1 seconds. Damage to the rocket plane was extensive but was quickly repaired. 56-6670 flew again 17 October 1959.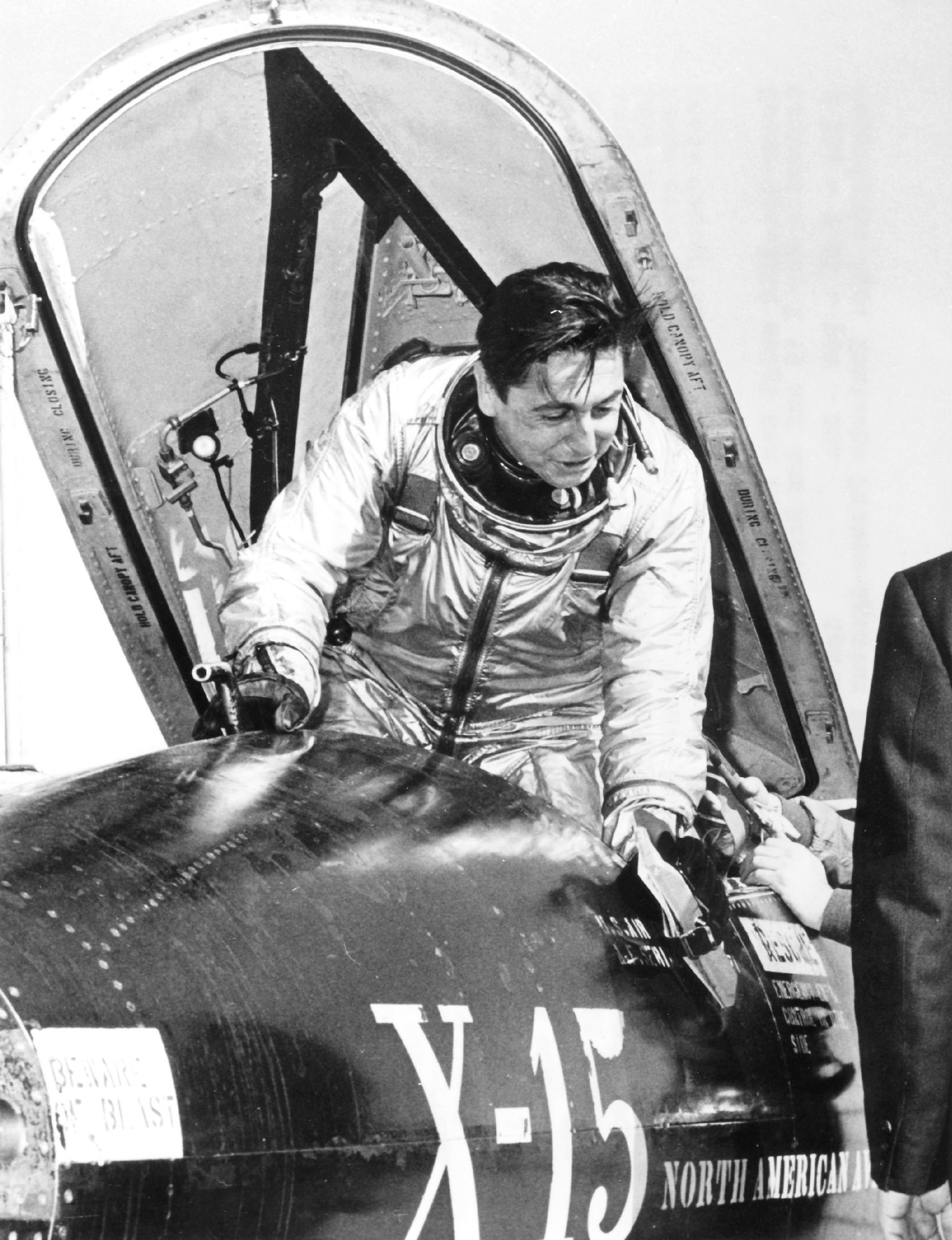 Over the next nine years the three X-15s would make 199 flights, setting speed and altitude records nearly every time they flew, and expanding NASA's understanding of flight in the hypersonic range. The first two X-15s, 56-6670 and 56-6671, survived the program. 670 is at the Smithsonian Institution National Air and Space museum and 671 is at the National Museum of the United States Air Force.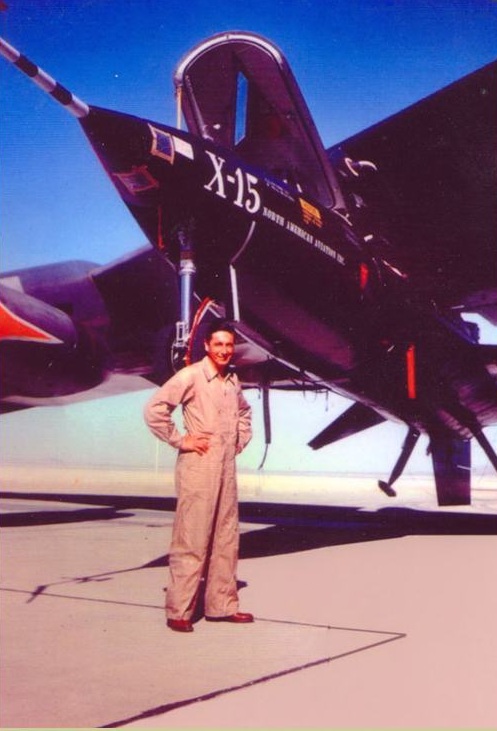 © 2018, Bryan R. Swopes