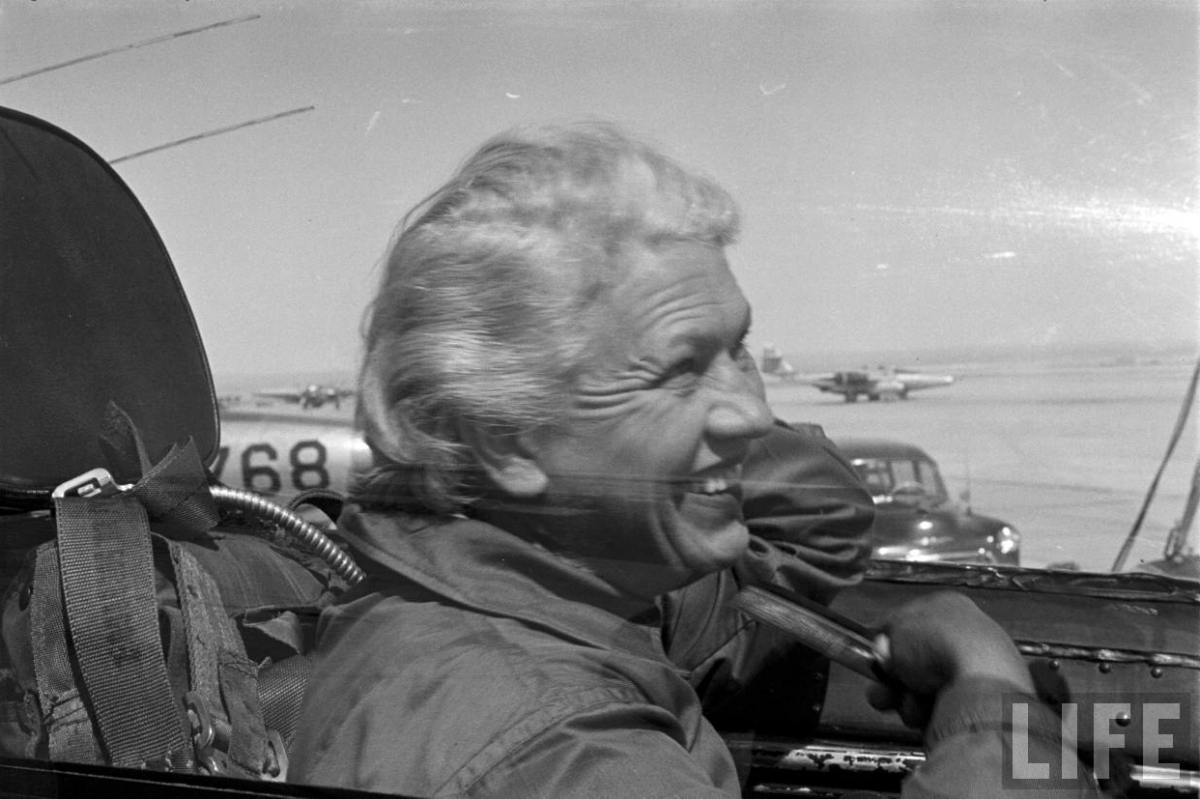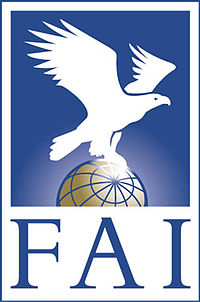 18 May 1953: At Edwards Air Force Base, California, Jacqueline Cochran flew the 100th Canadair Sabre—a Sabre Mk.3, serial number 19200—over a 100 kilometer closed circuit and set two Fédération Aéronautique Internationale (FAI) World Speed Record at 1,050.18 kilometers per hour (652.55 miles per hour).¹
Jackie Cochran talked about it in her autobiography:
". . . In those days you were clocked around pylons, with a judge and a timer at each pylon to clock you with special electronic devices and to make sure you stayed just outside the black smoke markers that rose into the sky. We'd throw a couple of tires on top of each other and then, when all was ready, start a smoky fire in the middle. Twelve towers of smoke marked the 100 kilometer for instance.
"The 100 kilometer course would take in about 63 miles. I'd have to fly only 300 feet off the ground in order for the photographic equipment to catch and record me. But there were hills to one side so I'd be skimming a little up and over them. I'd get two chances—just two—to set my record because that's all the fuel the plane could carry. If all went well, I'd have a margin of two minutes of fuel after two complete passes. But could I hold that plane in a banked position of 30 degrees for a 63-mile circular flight and beat Colonel Ascani's mark of 635 mph? Edwards pilots weren't so sure. Opinions varied. And what about taking the 'G's I'd be experiencing in those sharp turns? One 'G' is the force of gravity, and the turns would offer me more than one.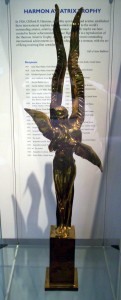 "None of those record runs entail easy flying—100 kilometer, 15, or 3. They're possible when you've been taught by the best."
—Jackie Cochran: An Autobiography, by Jacqueline Cochran and Maryann Bucknum Brinley, Bantam Books, New York 1987, at Pages 274–275.
Part of the speed run was in excess of Mach 1. Jackie Cochran was the first woman to break the sound barrier.
Over the next two weeks, she would set three more world speed records ² and an altitude record ³ with the Canadair Sabre Mk.3. She was awarded the Harmon Trophy for 1953, her fourth.
According to the U.S. Centennial of Flight Commission, during her aviation career, Jackie Cochran set more speed and distance records than any other pilot.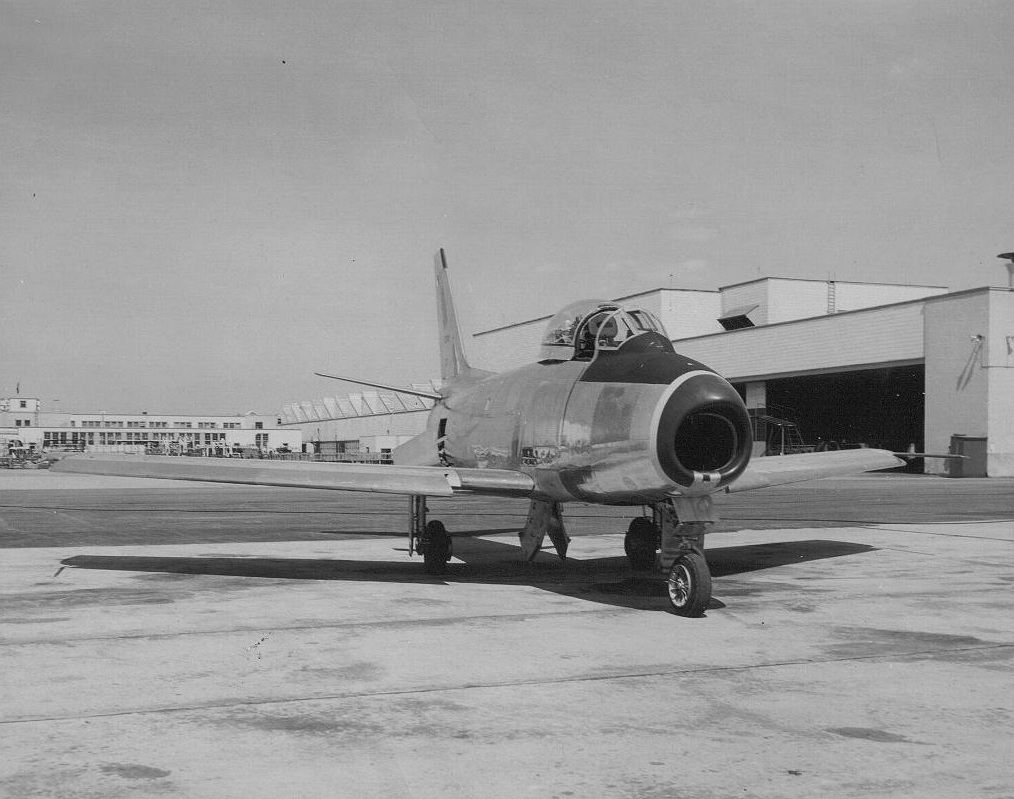 The Canadair Sabre Mk.3 was a one-of-a-kind CL-13 Sabre (an F-86E Sabre manufactured by Canadair Ltd. under license from North American Aviation, Inc.) built to test the prototype Avro Canada Gas Turbine Division Orenda 3 engine. Modifications to the F-86 airframe were required to install the new, larger engine.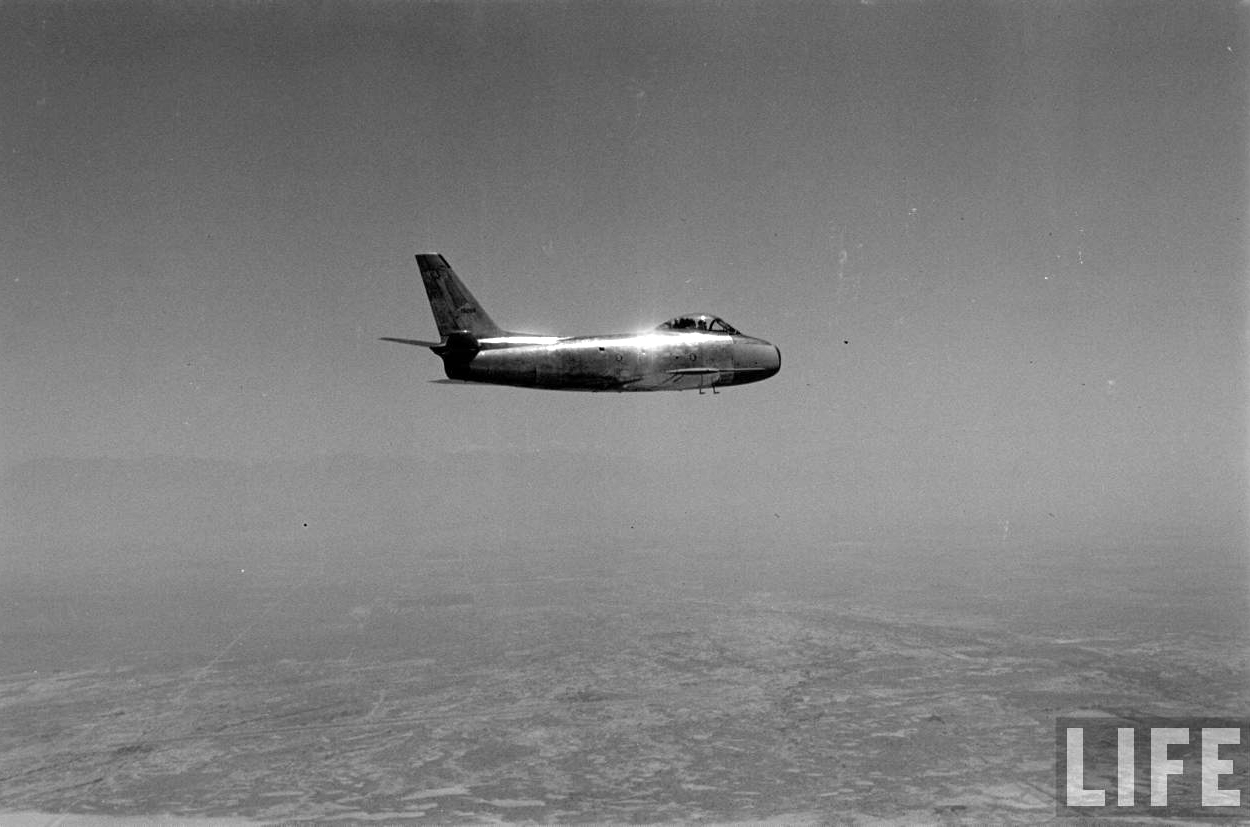 The Orenda 3 was an axial-flow turbojet engine with a 10-stage compressor, six combustion chambers and single-stage turbine. It produced 6,000 pounds of thrust (16.69 kilonewtons), a 15% improvement over the General Electric J47-GE-13 installed in the standard F-86E. The Orenda was 121.3 inches (3.081 meters) long, 42 inches (1.067 meters) in diameter and weighed 2,650 pounds (1,202 kilograms).
Canadair Ltd. was an aircraft manufacturer located at Cartierville, Montreal, Canada, owned by the American submarine builder, Electric Boat Company. Canadair also built licensed versions of the Douglas DC-4 (powered by Rolls-Royce Merlin engines) and the Lockheed T-33 two-place jet trainer. In 1954, the company became a part of General Dynamics.
After the speed records, No. 19200 was sent to North American Aviation for evaluation. Today, it is on static display outdoors at Wetaskiwin Regional General Airport (CEX3), Alberta, Canada.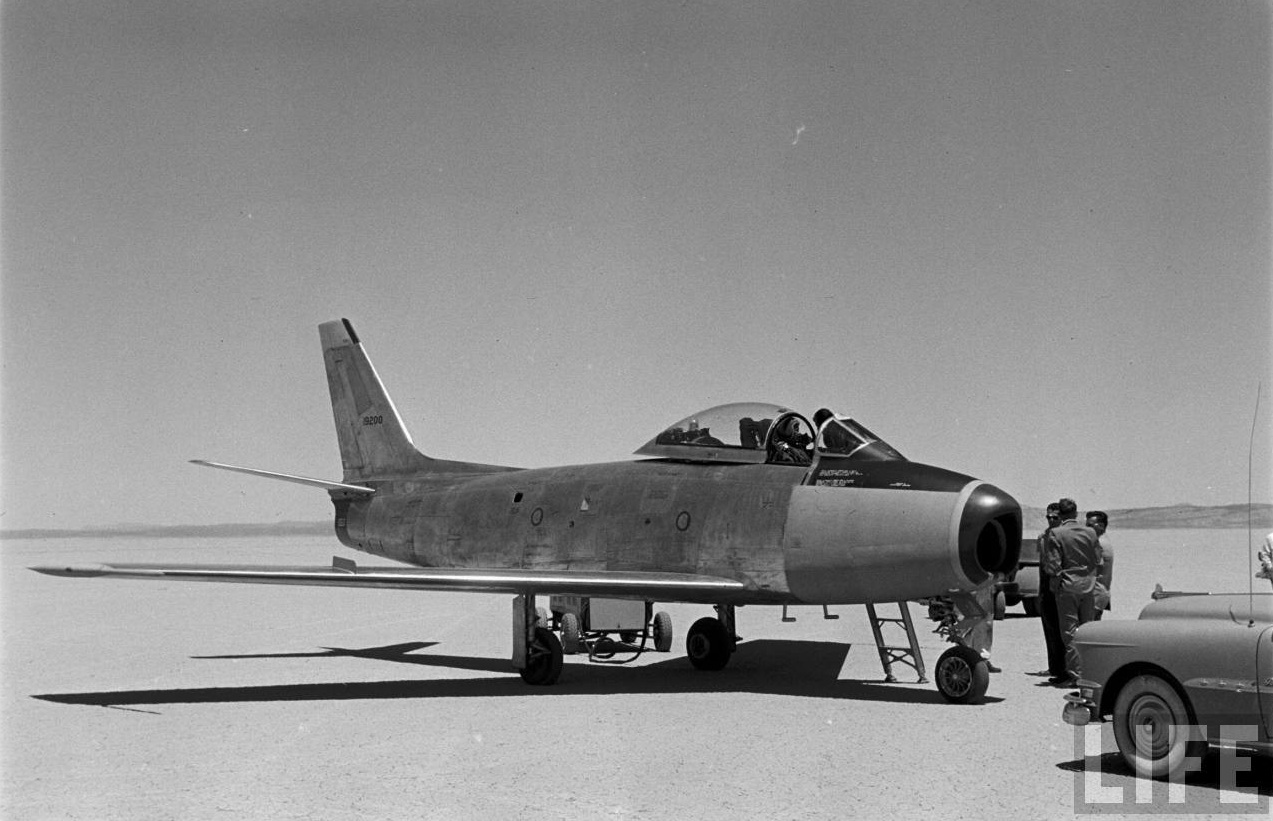 ¹ FAI Record File Numbers 13039, 13040
² FAI Record File Numbers 8870, 9075, 9076
³ FAI Record File Number 12858
© 2019, Bryan R. Swopes