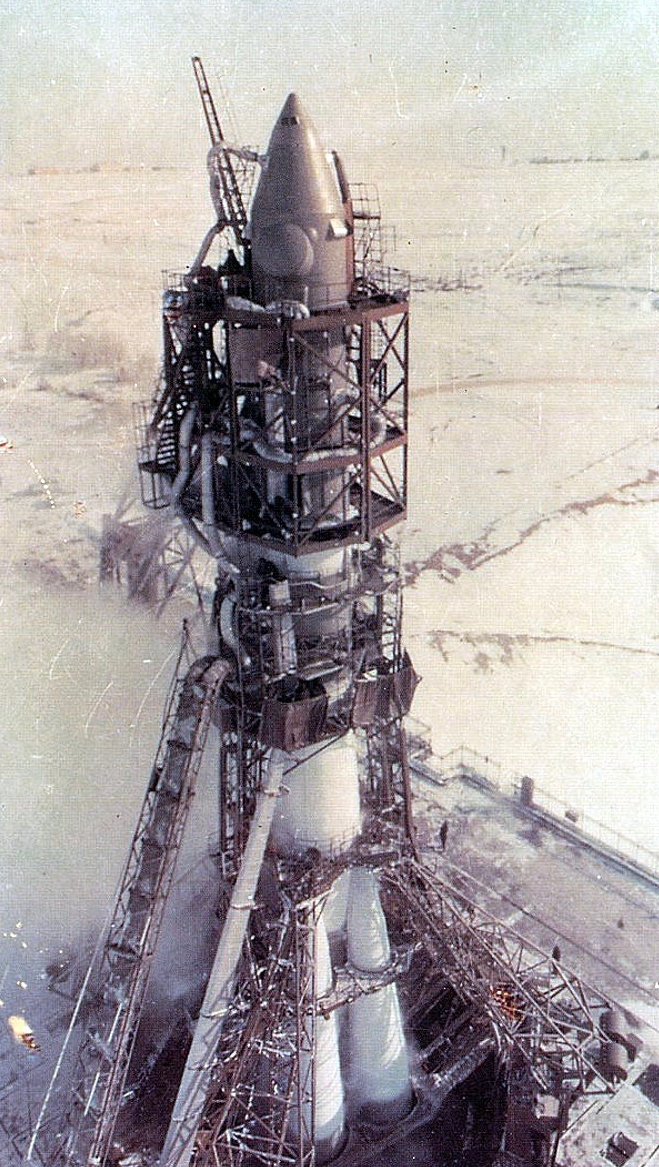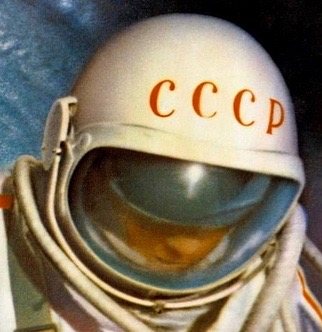 18 March 1965, 07:00:00 UTC (10:00:00 Moscow Time): Cosmonauts Павел Иванович Беляев (Pavel Ivanovich Belyaev) and Алексей Архипович Леонов (Alexey Arkhipovich Leonov) were launched from the Baikonur Cosmodrome aboard a Voskhod-3KD spacecraft, Восход-2 (Voskhod-2). The launch vehicle was a Voskhod 11A57 two-stage liquid-fueled rocket. Voskhod-2 entered a 167 × 475 kilometers (90 × 256 nautical miles) elliptical orbit with a period of 90 minutes, 54 seconds.
As the Voskhod entered its second orbit, co-pilot Major Leonov exited the vehicle. An expandable air lock was used. This was the first time that a human had left a vehicle in space. He floated freely, though remained connected by an umbilical. This would be known as an Extravehicular Activity (an "E-V-A," or "space walk"). Leonov remained outside for 12 minutes, 9 seconds, establishing the first FAI World Record for Extravehicular Duration in Space. ¹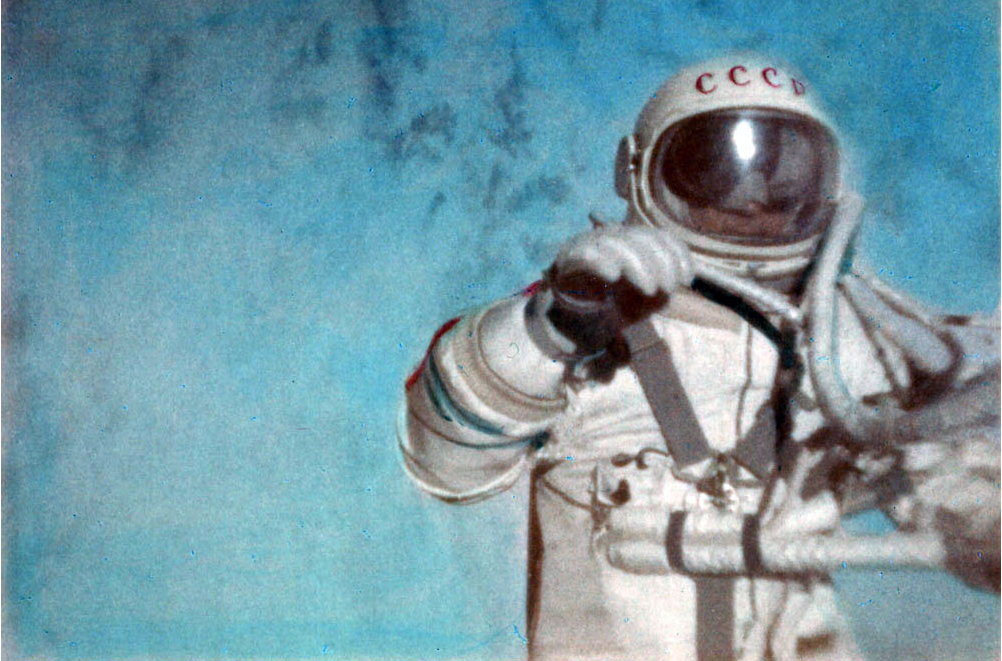 Both cosmonauts wore NPP Zvezda Berkut full-pressure suits (a "space suit") for protection in the vacuum of space. With his suit fully inflated by pressurized air, Leonov was both larger and more rigid than was expected. He had great difficulty re-entering the Voskhod, requiring that he vent the suit pressure.
Leonov wrote about it for Air & Space: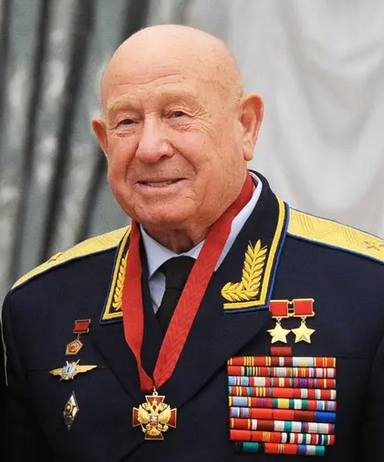 With some reluctance I acknowledged that it was time to reenter the spacecraft. Our orbit would soon take us away from the sun and into darkness. It was then I realized how deformed my stiff spacesuit had become, owing to the lack of atmospheric pressure. My feet had pulled away from my boots and my fingers from the gloves attached to my sleeves, making it impossible to reenter the airlock feet first.
I had to find another way of getting back inside quickly, and the only way I could see to do this was pulling myself into the airlock gradually, head first. Even to do this, I would carefully have to bleed off some of the high-pressure oxygen in my suit, via a valve in its lining. I knew I might be risking oxygen starvation, but I had no choice. If I did not reenter the craft, within the next 40 minutes my life support would be spent anyway.
The only solution was to reduce the pressure in my suit by opening the pressure valve and letting out a little oxygen at a time as I tried to inch inside the airlock. At first I thought of reporting what I planned to do to mission control. But I decided against it. I did not want to create nervousness on the ground. And anyway, I was the only one who could bring the situation under control.
But I could feel my temperature rising dangerously high, with a rush of heat from my feet traveling up my legs and arms, due to the immense physical exertion all the maneuvering involved. It was taking longer than it was supposed to. Even when I at last managed to pull myself entirely into the airlock, I had to perform another almost impossible maneuver. I had to curl my body around in order to close the airlock, so pasha could activate the mechanism to equalize pressure between it and the spacecraft.
Once Pasha was sure the hatch was closed and the pressure had equalized, he triggered the inner hatch open and I scrambled back into the spacecraft, drenched with sweat, my heart racing.

—"The Nightmare of Voskhod," by Alexey Leonov, Air & Space Smithsonian, January 2005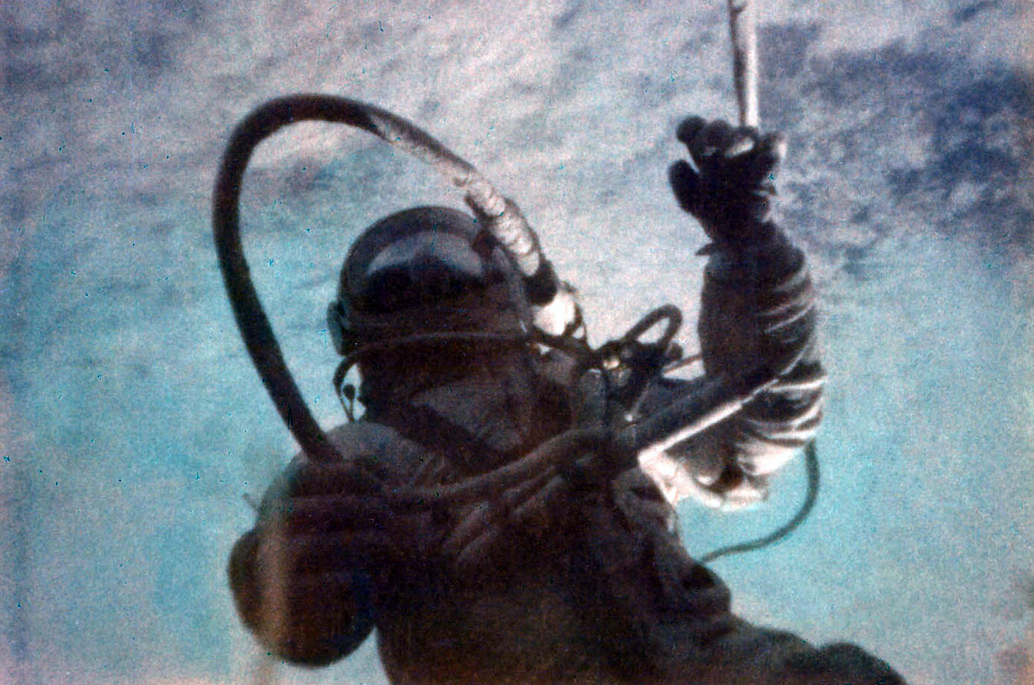 On 19 March, Voshkod-2's apogee set a Fédération Aéronautique Internationale (FAI) World Record for Altitude in Elliptical Orbit of 497,7 kilometers (268.7 nautical miles/309.3 statute miles). ²
The space craft began to lose pressure, with it's oxygen tanks dropping by two-thirds during Orbit 13. It was thought that the mission might have to be cut short.
It was planned for Voskhod-2 to reenter on the 16th orbit, however the automatic landing system failed to fire the spacecraft's retrorockets. Using the Voskhod's primary engine, a manual reentry was initiated during the 18th orbit. The crew also had to orient the spacecraft manually, and this caused them a delay of 46 seconds before initiating reentry. They overshot their expected landing point by approximately 2,000 kilometers (1,250 miles).
Voshkod-2 landed in remote area of Perm Krai at 09:02:17 UTC on 19 March. The duration of the flight was 1 day, 2 hours, 2 minutes, 17 seconds.
Having landed in a dense forest hundreds of miles from the nearest recovery teams, Belyaev and Leonov were were located about four hours later and a rescue team arrived the next day. A landing zone was cut in the forest and the cosmonauts were flown out by helicopter on 21 March.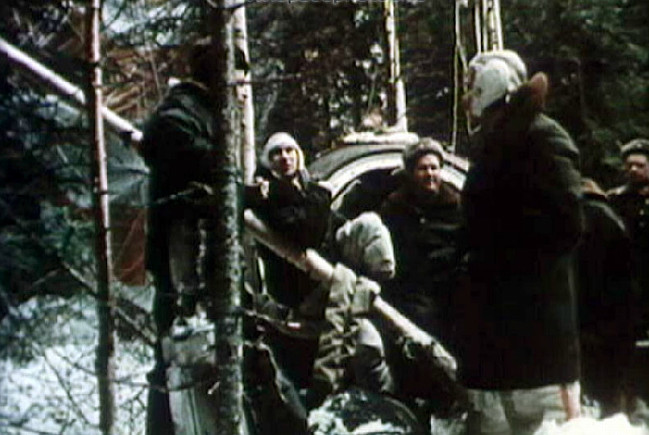 ¹ FAI Record File Number 9336
² FAI Record File Number 9335
© 2019, Bryan R. Swopes