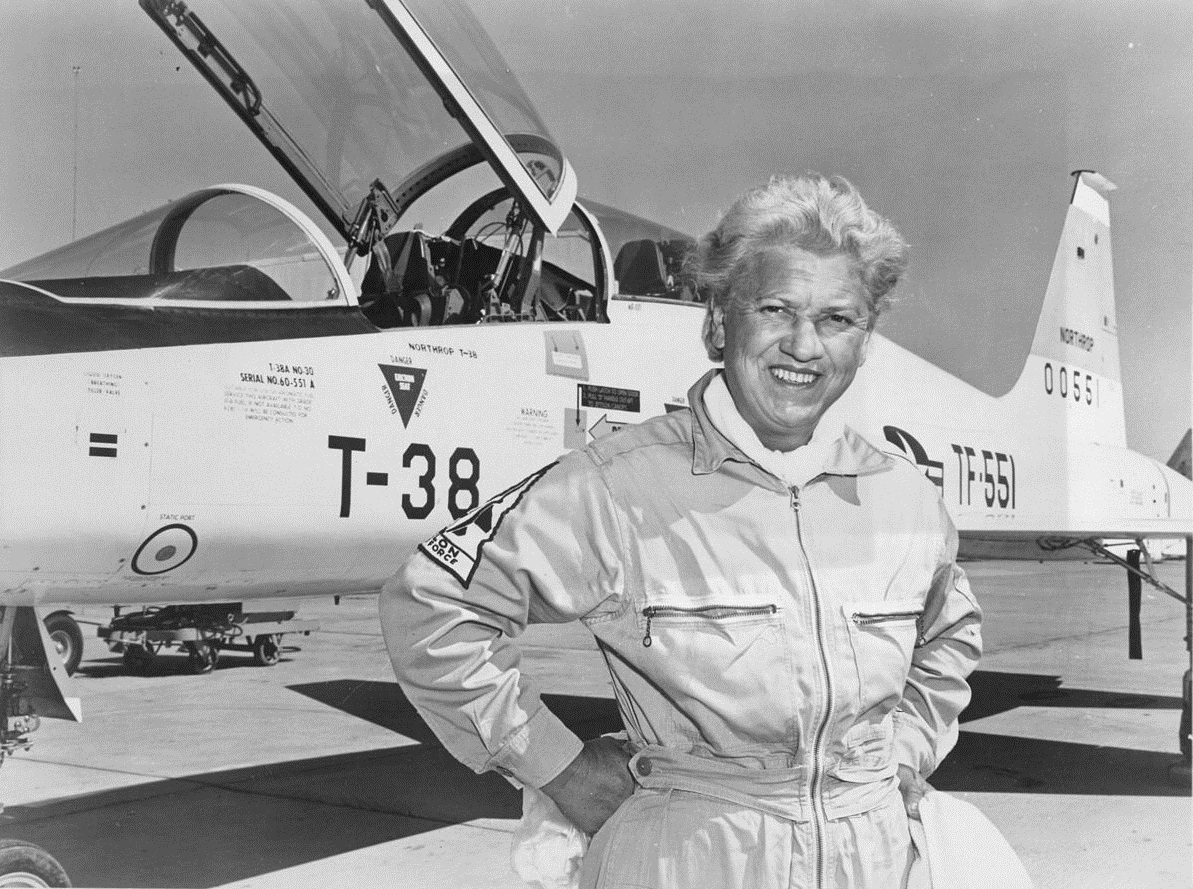 18 September 1961: Jackie Cochran, acting as a test pilot and consultant for Northrop Corporation, set a Fédération Aéronautique Internationale (FAI) World Record for Distance when she flew the Northrop T-38A-30-NO Talon, 60-0551, from Palmdale, California, to Minneapolis, Minnesota, a distance of 2,401.780 kilometers (1,492.397 miles).¹
Jackie's friend, famed Air Force test pilot Colonel Chuck Yeager, kept notes during the series of record attempts:
September 18: Jackie took off from Palmdale at 10:00 am for attempt to set records from points to points. I took off from Edwards with 275-gallon [1,041 liter] drop tanks. During climb Jackie reported rough engine and poor performance. Also the fuel flow was inoperative. Jackie returned to the field where I finally found her takeoff flaps were still down. Also her navigation lights and beacon were on. I was rather disappointed. She's a little cocky in the airplane. She landed back there at Palmdale with 1500 pounds [680 kilograms] of fuel in each side and made a good heavy-weight landing. The aircraft refueled and another takeoff was made at 12:30 pm. Everything went smooth this flight. We ran into clouds at the edge of Utah which lasted until Cheyenne, Wyo. Clear the rest of the way. Jackie landed with 250 pounds of fuel in each side. Made a beautiful landing and turned off after a 4000 foot [1,220 meters] ground roll. Bob White returned the F-100 to Edwards.
—  Brigadier General Charles Elwood ("Chuck") Yeager, U.S. Air Force, quoted in Jackie Cochran: An Autobiography, by Jacqueline Cochran and Maryann Bucknum Brinley, Bantam Books, New York, 1987, Pages 306.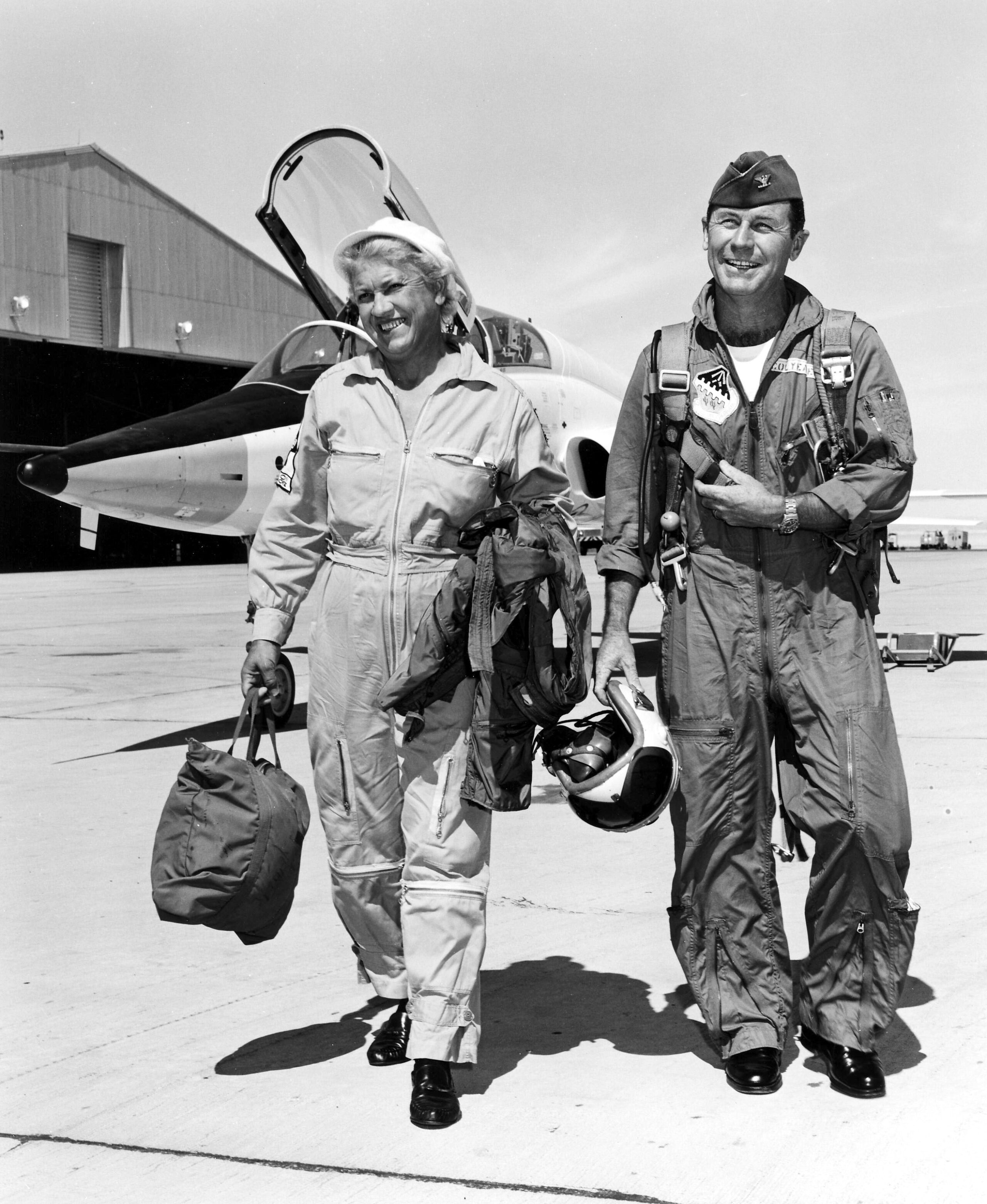 The Northrop T-38A Talon is a two-place, twin-engine jet trainer capable of supersonic speed. It is 46 feet, 4 inches (14.122 meters) long with a wingspan of 25 feet, 3 inches (7.696 meters) and overall height of 12 feet, 10 inches (3.912 meters). The trainer's empty weight is 7,200 pounds (3,266 kilograms) and the maximum takeoff weight is 12,093 pounds (5,485 kilograms).
The T-38A is powered by two General Electric J85-GE-5 turbojet engines. The J85 is a single-shaft axial-flow turbojet engine with an 8-stage compressor section and 2-stage turbine. The J85-GE-5 is rated at 2,680 pounds of thrust (11.921 kilonewtons), and 3,850 pounds (17.126 kilonewtons) with afterburner. It is 108.1 inches (2.746 meters) long, 22.0 inches (0.559 meters) in diameter and weighs 584 pounds (265 kilograms).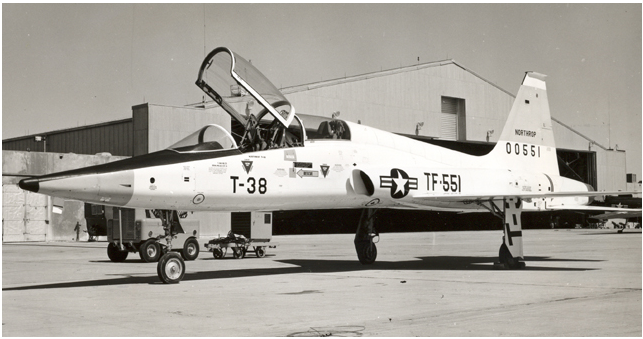 It has a maximum speed of Mach 1.08 (822 miles per hour, 1,323 kilometers per hour) at Sea Level. The Talon's service ceiling of 55,000 feet (16,764 meters) and it has a maximum range of 1,093 miles (1,759 kilometers).
In production from 1961 to 1972, Northrop has produced nearly 1,200 T-38s. As of January 2014, the U.S. Air Force had 546 T-38A Talons in the active inventory. It also remains in service with the U.S. Navy, and the National Aeronautics and Space Administration.
Jackie Cochran's record-setting T-38 is in the collection of the Smithsonian Institution, National Air and Space Museum.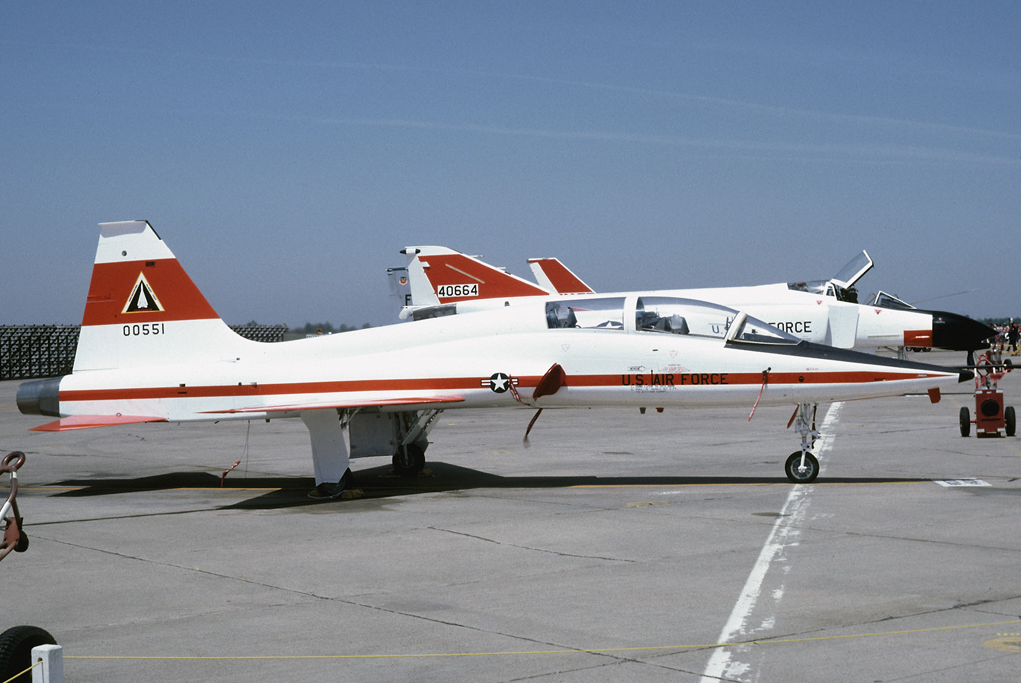 ¹ FAI Record File Number 12383
© 2017, Bryan R. Swopes