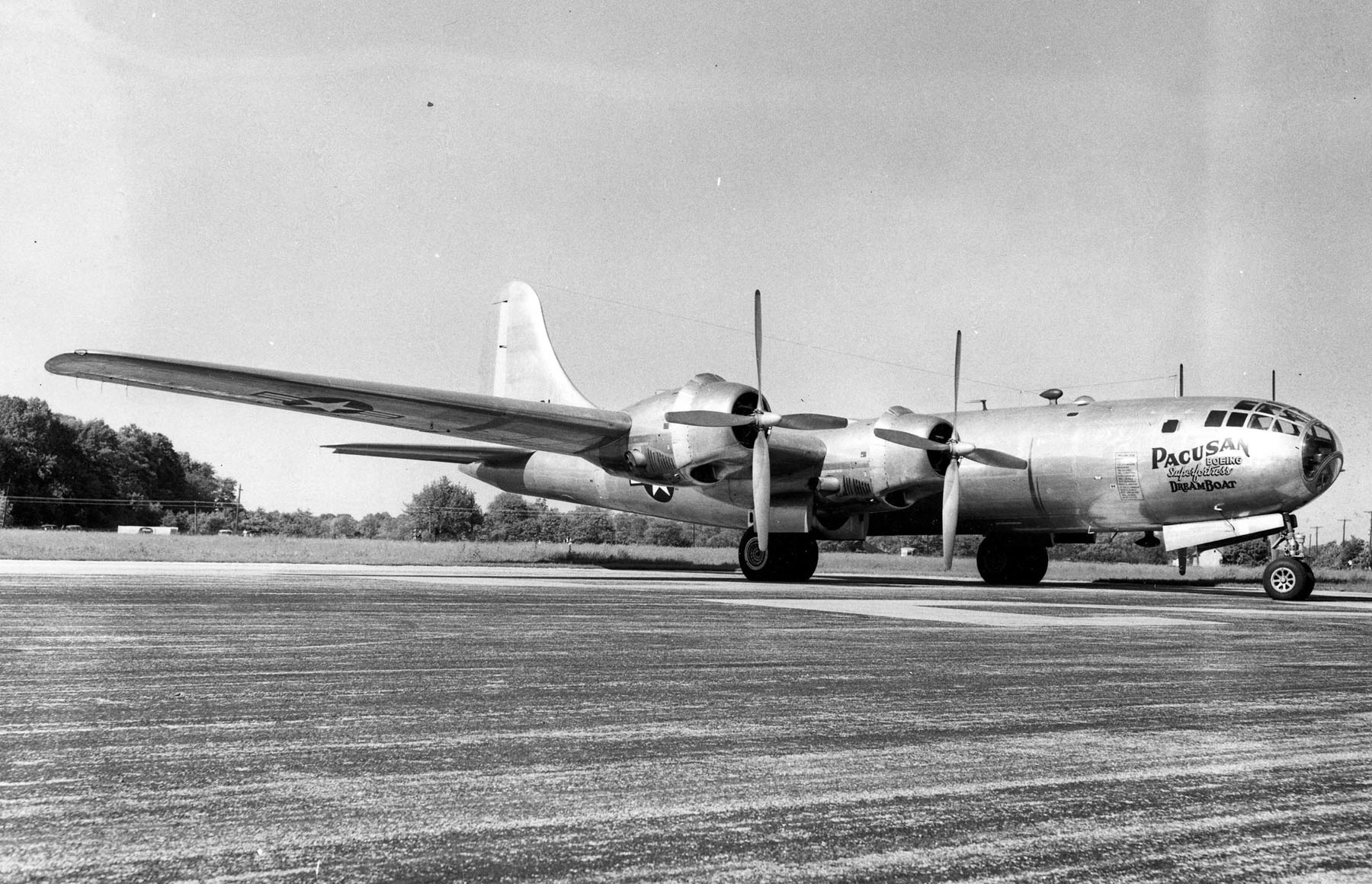 19–20 November 1945: A Bell-Atlanta B-29B-60-BA Superfortress, 44-84061, named Pacusan Dreamboat, piloted by Colonel Clarence Shortridge Irvine and Lieutenant Colonel G.R. Stanley, flew non-stop and unrefueled from Guam, the largest and southernmost island in the Mariana Islands of the Western Pacific, to Washington, D.C. The four-engine heavy bomber covered the 8,198 miles (13,193 kilometers) in 35 hours, 5 minutes. It set a Fédération Aéronautique Internationale (FAI) record for Distance in a Straight Line:  12,739.59 kilometers (7,916.01 miles).¹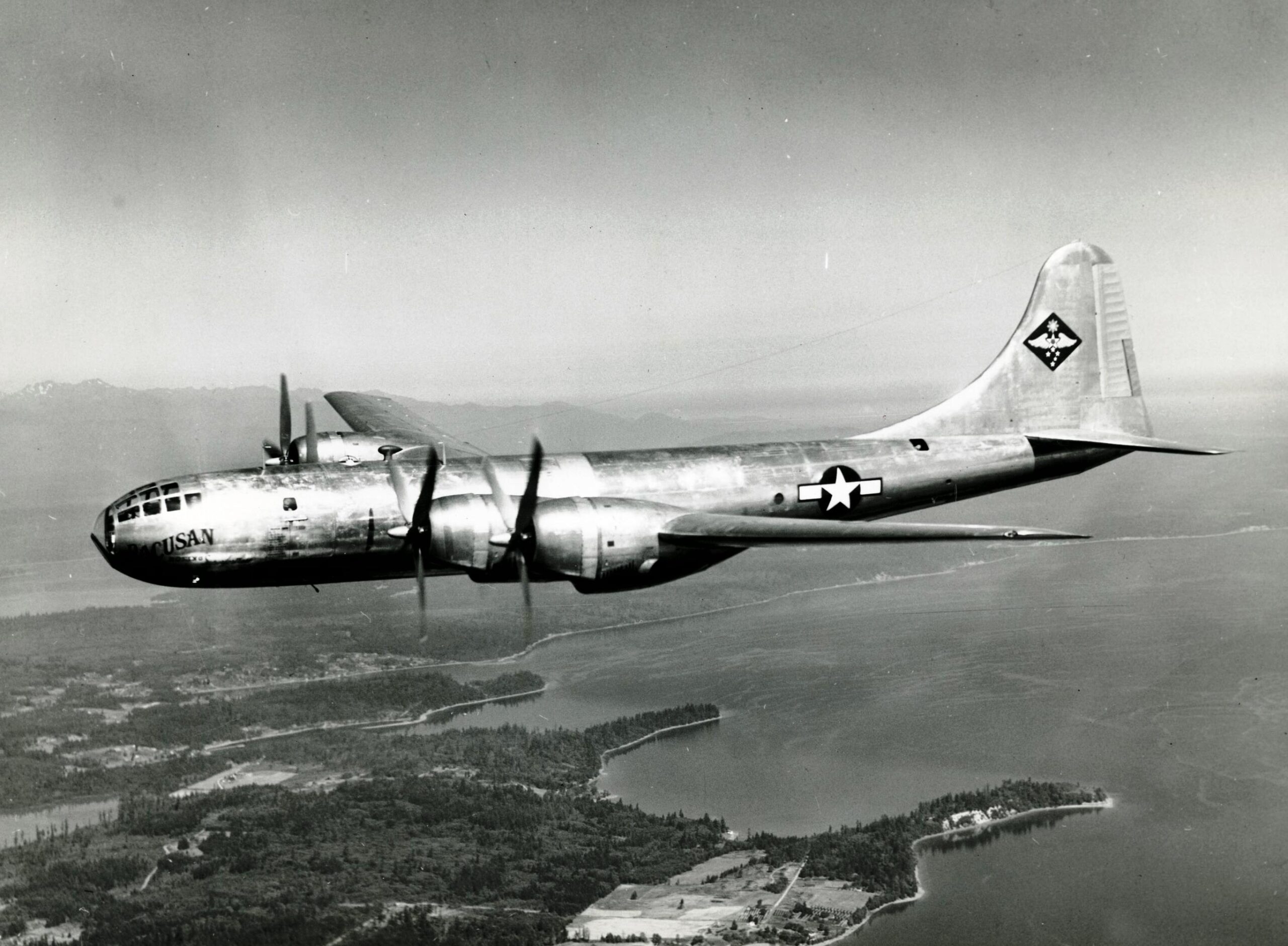 Pacusan Dreamboat was modified specifically for a series of long-distance flights. A standard production B-29B, a light-weight variant of the Boeing B-29 Superfortress, it did not have the four power gun turrets with their .50-caliber machine guns. A radar-directed 20 mm cannon and two .50-caliber machine guns in the tail were the only defensive weapons. Much of the standard armor plate was also deleted. It weighed 69,000 pounds (31,298 kilograms) empty and 137,000 pounds (62,142 kilograms) fully loaded. Pacusan Dreamboat was further lightened. The tail guns were removed and the tail reshaped. It had an empty weight of 66,000 pounds (29,937 kilograms). Its takeoff weight on this flight was 151,000 pounds (68,492 kilograms).
Pacusan Dreamboat carried a 12-man crew and 10,000 gallons (37,854 liters) of gasoline.
Pacusan Dreamboat set a number of distance and speed records, including Honolulu, Hawaii to Cairo, Egypt and Burbank to New York in 5 hours, 27 minutes, averaging 451.9 miles per hour (727.26 kilometers per hour).
The Pacusan Dreamboat was stricken from the Air Force inventory 8 August 1954 and reclaimed at Tinker Air Force Base, Oklahoma City, Oklahoma.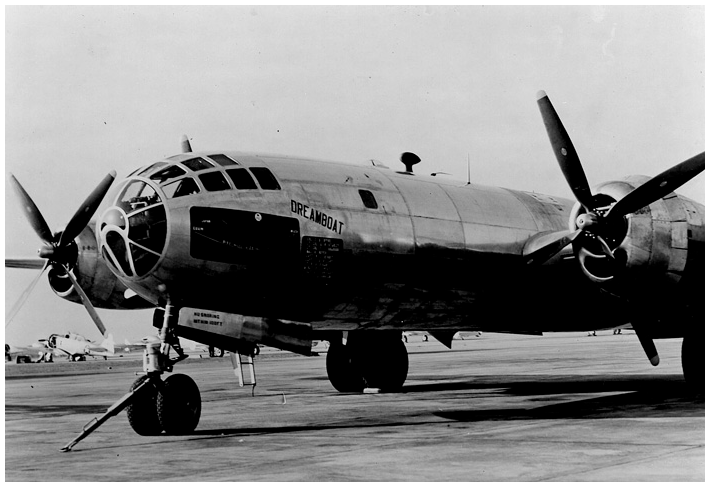 ¹ FAI Record File Number 9277
© 2017, Bryan R. Swopes