19 October 1908: From the grounds of the Château de Bagatelle, Paris, France, Eugène Welferinger made the first flight of the Société d'aviation Antoinette monoplane, the Antoinette IV.
A single-placed single-engine airplane, the Antoinette IV was one the first successful monoplanes. American Machinist described it as a "purely racing machine."
The airplane and its V-8 engine were designed by Léon Levavasseur. It was modified a number of times, as was its sister ship, the Antoinette V.
Augustus Post, Secretary of the Aero Club of America, wrote in the weekly technical publication, American Machinist:
     M. Lavavasseur considered that the monoplane offered the advantages of simplicity of form, natural stability, and was easier to construct; that is to say, that the thrust of the motor required for flight was less under the same conditions of speed and weight.
     The "Antoinette" is particularly interesting on account of the manner in which the problems have been studied and the great amount of thought that has been given to them. The machine is perhaps without question the most finely finished of those in its class, shows the most careful workmanship in its most minute detail, and presents more new and original features than any of the other machines which may be compared with it. It also provides a comfortable cockpit for the aviator, a distinct advantage in long and trying flights.
—American Machinist, Hill Publishing Company, New York, 7 October 1909, Page 608 at Column 2
Technical details from various sources are contradictory. The Antoinette IV was approximately 40 feet (12.2 meters) long with a wingspan of about 42 feet (12.8 meters). The weight was 1,012 pounds (459 kilograms) with one hour of fuel. and it was capable of reaching 52 miles per hour (84 kilometers per hour).
The airplane was described in contemporary reports as "beautiful" and often mentioned was the very narrow triangular cross section of its fuselage. Different configurations of landing gear were tried, with combinations of skids and wheels, wheels in tandem, and side-by-side. Directional control was created through "wing-warping" as had been used by the Wright Brothers. The tail surfaces were cruciform, with two triangular rudders located above and below the triangular elevator. Flight controls were four hand wheels and two pedals which connected to the control surfaces by cables.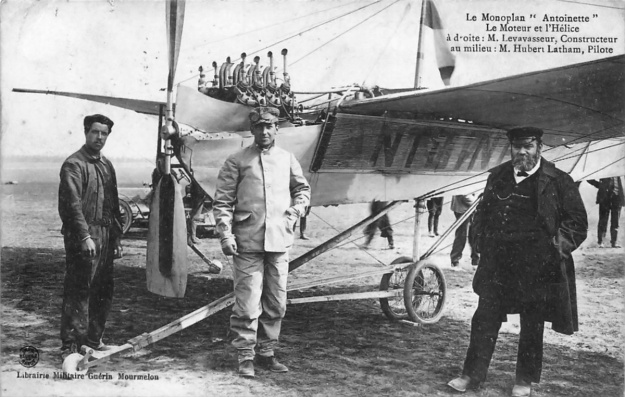 As originally built, the Antoinette IV was powered by a steam-cooled, direct-injected, 7.983 liter (487.14 cubic inch displacement) Antoinette 8V 90° overhead valve V-8 engine which produced approximately 50 horsepower at 1,400 r.p.m. The 8V was a direct-drive engine which turned a propeller with two aluminum blades which were riveted to a steel tube that attached to the engine's output shaft. The propeller had a diameter of 2.20 meters (7 feet, 2.6 inches). The engine was 1.120 meters (3 feet, 8 inches) long, 0.630 meters (2 feet, 1 inch) wide and (0.540 meters (1 foot, 9 inches) high. It weighed 95 kilograms (209 pounds).
Antoinette airplanes could be purchased for ₣25,000, or about $5,000 U.S.
On 19 July 1909, Arthur Louis Hubert Latham, who had been taught to fly by Welféringer, attempted to fly the Antoinette IV across the English Channel, but an engine failure forced it down about 8 miles off the French coast.
The airplane remained afloat and Latham was rescued by the French torpedo boat destroyer FS Harpon, but the airplane was severely damaged during the recovery.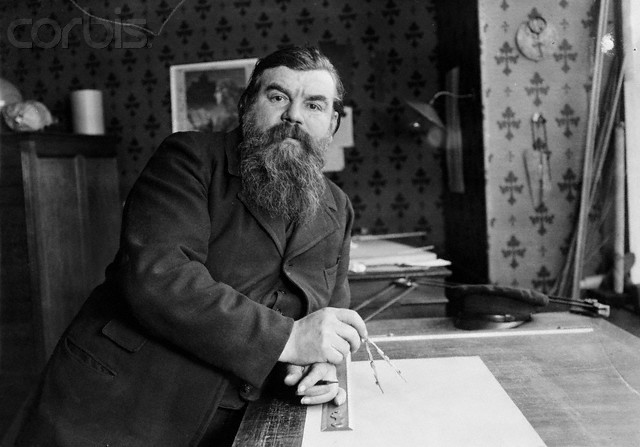 Léon Levavasseur was a French engineer, born at Cherbourg in 1863. He invented the 90° V-8 engine, which he patented in 1902. He specialized in lightweight engines, using compnents designed to be only as strong as was required by their specific use. He developed direct fuel injection and evaporative cooling for internal combustion engines. His company, Société d'aviation Antoinette, and its products, were named for the daughter of his business partner, Jules Gastambide. The company initially produced lightweight engines for other airplane builders, but began to construct complete airplanes in 1906. Both Levavasseur and Gastambide left Antoinette in 1909 following a disagreement with the board of directors, but they returned five months later. The company failed in 1911. Levavasseur died in 1922 at the age of 59 years.
Recommended: An excellent article about Léon Levavasseur's Antoinette engines can be found at Old Machine Press:
Antoinette (Levavasseur) Aircraft Engines
© 2016, Bryan R. Swopes
by