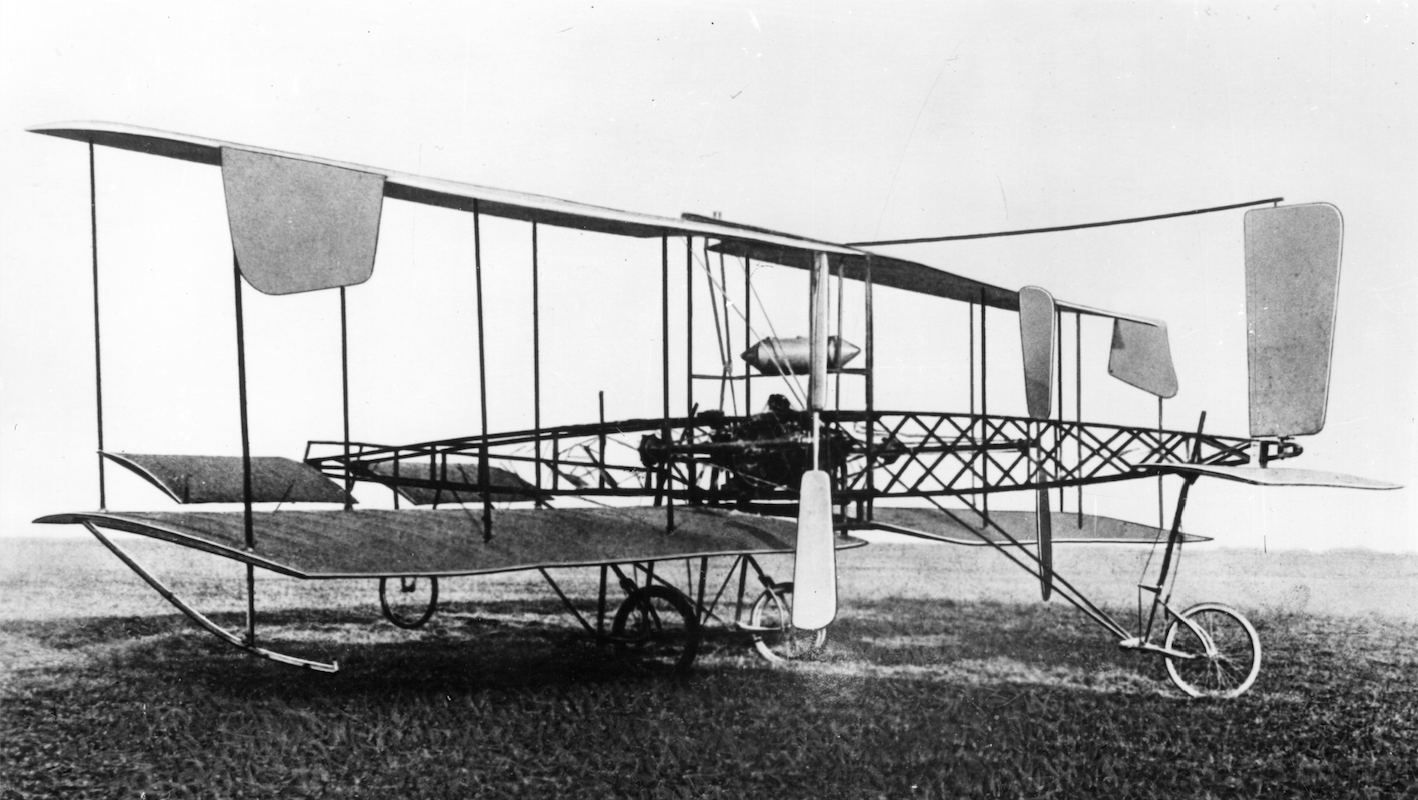 History has forgotten the actual date—perhaps because he was no one of  any importance at the time—but one day in the Fall or Winter of 1909, Geoffrey de Havilland, an automotive engineer, took off from Seven Barrows, Hampshire, England, in an airplane of his own design. Today, that airplane is known as the de Havilland No. 1.
De Havilland had borrowed £1,000 from his grandfather, and together with fellow engineer Francis Trounson Hearle, built an airplane.
The de Havilland No. 1 was a single-engine, single-place, three-bay biplane in a pusher configuration. It had a forward elevator (canard), and an aft-mounted rudder and adjustable horizontal stabilizer. Ailerons were mounted on the upper wing.
The structure of the airplane was built of American white wood (which proved to be a poor choice) and was braced with steel wires. The fuselage was an open girder tapered at each end. It was built of 1½″ × 1½″ (3.81 × 3.81 centimeters) longitudinals with 1¼″ × ¼″ (3.175 × 0.635 centimeter) cross braces from the engine aft. It had a cross section at the widest point of 2′4″ x 2′0″ (0.711 × 0.610 meters). The lower longitudinals were reinforced with angled steel beneath the engine
The de Havilland was 29 feet, 0 inches (8.839 meters) long with a wingspan of 36 feet, 0 inches (10.973 meters). Both wings had a chord of 6 feet, 0 inches (1.829 meters) and the vertical gap was also 6 feet, 0 inches. The wings were not staggered. The airplane weighed 850 pounds ( kilograms).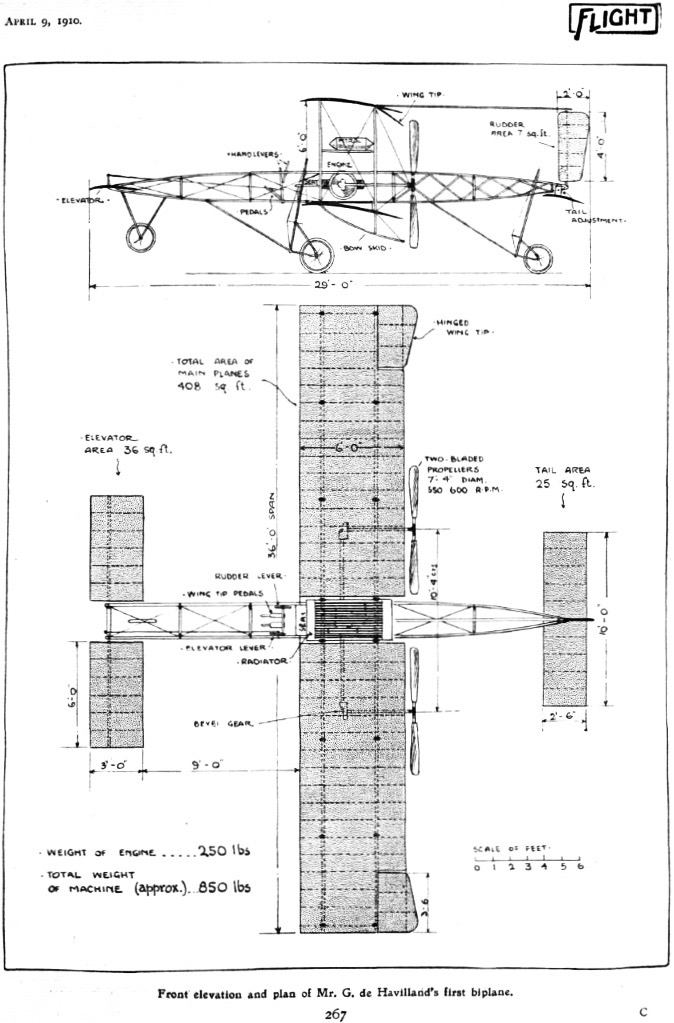 The DH.1 was powered by a single water-cooled, normally-aspirated, 302.18 cu in (4.95 liters) de Havilland-Iris four-cylinder horizontally-opposed overhead valve engine, designed by Geoffrey de Havilland and built by the Iris Motor Co., Willesden, London. The engine produced 40 horsepower at 1,050 r.p.m., and 52 horsepower at 1,500 r.p.m. In running condition, it weighed 230 pounds (104 kilograms) including a 30 pound (14 kilogram) flywheel. The de Havilland-Iris used cast iron cylinders with a copper water jacket. The two-throw crankshaft was prone to failures after a only few hours of operation.
The engine was mounted in the airframe with its crankshaft at a right angle to the direction of flight. It drove two 7 foot, 4 inch (2.235 meter) diameter counter-rotating propellers made of aluminum. The paddle-type blades could be adjusted for pitch before flight. Tubular shafts drove through 90° bevel gears and turned the propellers at 550–600 r.p.m.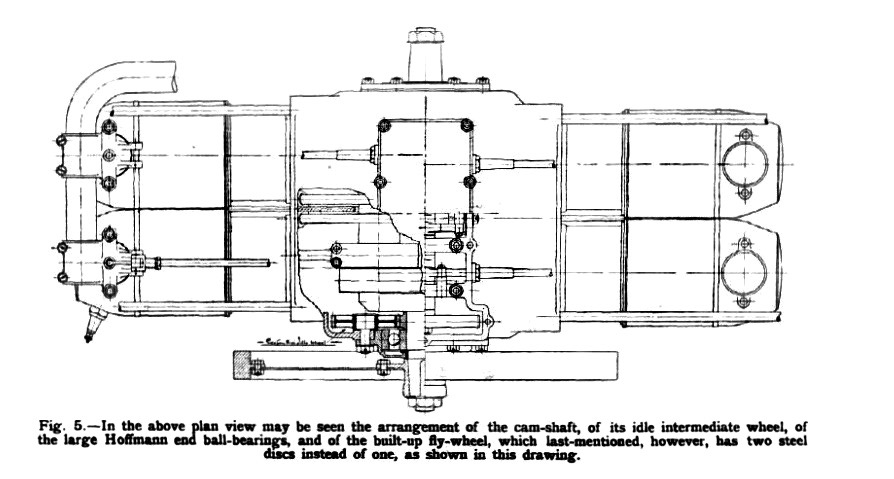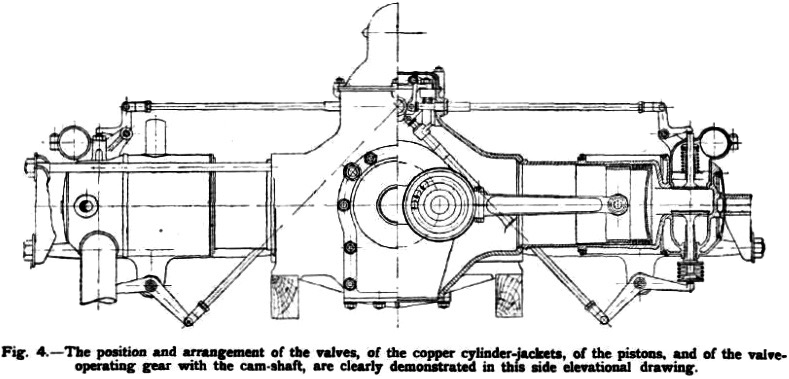 And it should be added that the past tense has advisably been used in the foregoing paragraph, inasmuch as the first free flight of the machine terminated in almost complete wreckage. The first time that it left the ground it did so after travelling some 40 yards on a downward slope under its own power; it then rose at a rather steep angle, which was corrected by the pilot; and almost immediately afterwards—about 35 yards from the take-off—the left main plane doubled up, causing the machine to fall heavily forward and to the left. Luckily, Mr. de Havilland himself was not hurt, but it will be observed from some of the photographs which we reproduce that the machine as such, apart from the propelling mechanism, the rudder, and the tail, was, for all practical purposes, virtually annihilated by the fall.
—FLIGHT, No. 67 (Vol. II, No. 15), 9 April 1910, Page 266, Column 1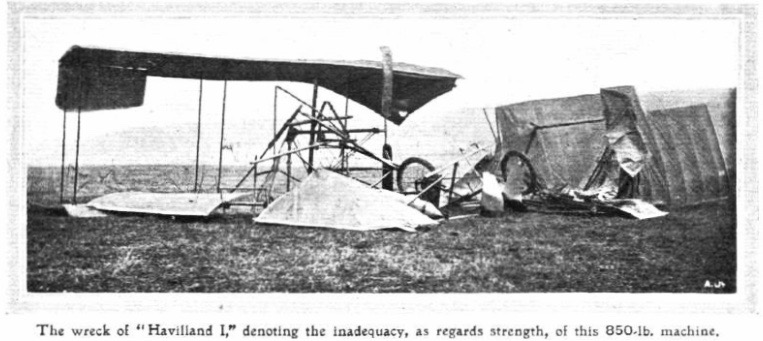 The airplane's engine was salvaged and reused in de Havilland No. 2.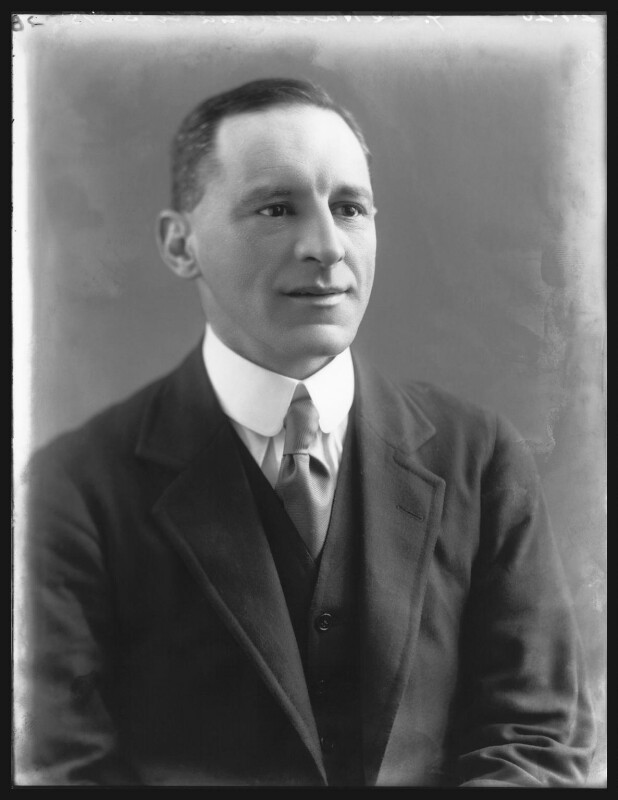 © 2019, Bryan R. Swopes