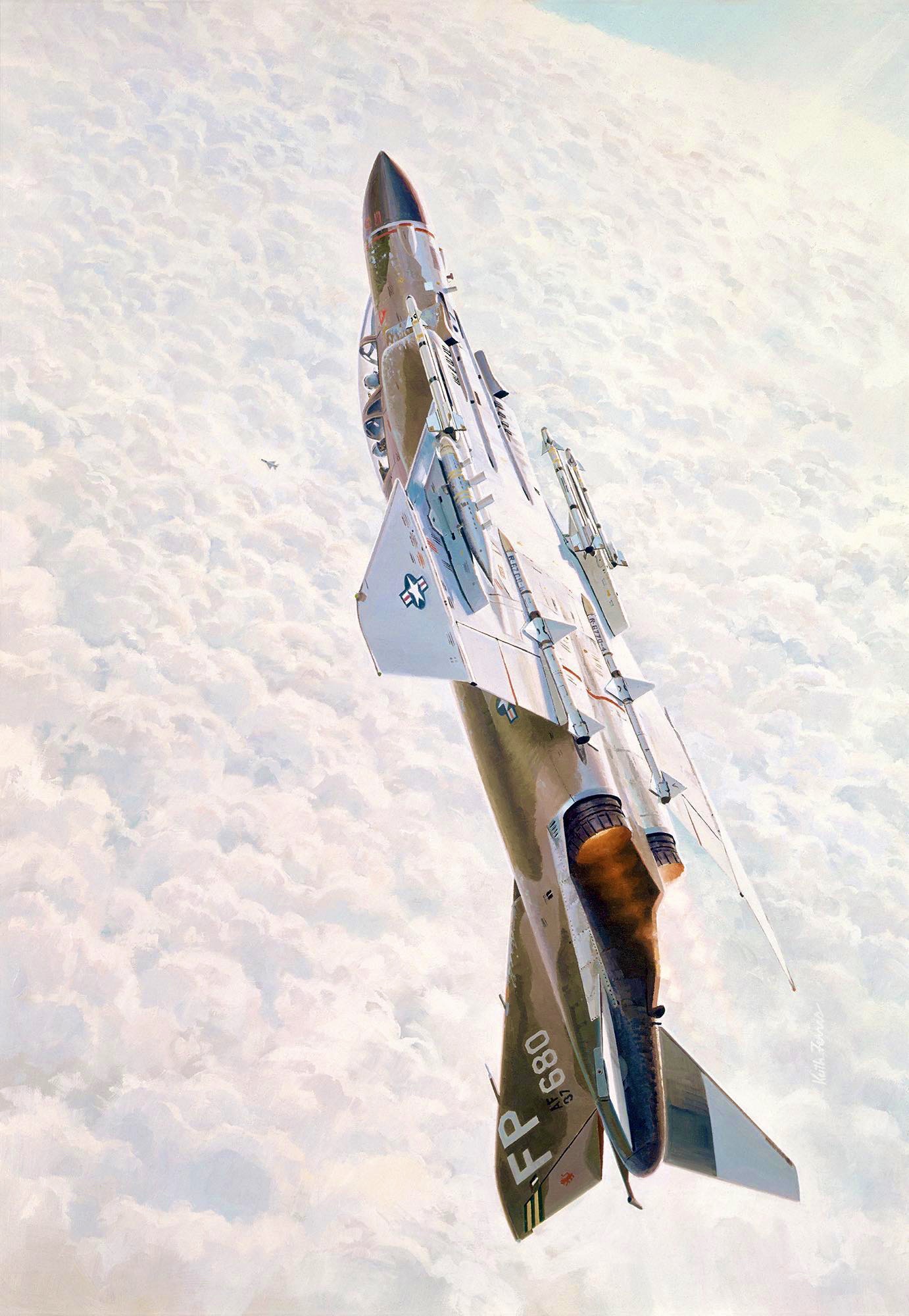 2 January 1967: This painting, MiG Sweep, by aviation artist Keith Ferris, depicts "Olds 01" during OPERATION BOLO. The twin-engine all-weather jet fighter, a McDonnell F-4C -21-MC Phantom II, serial number 63-7680, was flown by Colonel Robin Olds, USAF, with First Lieutenant Charles C. Clifton, USAF, as the Weapons System Operator.
The Phantom is  shown inverted as Colonel Olds maneuvers to fire an AIM-9B Sidewinder heat-seeking missile at a North Vietnamese Mikoyan-Gurevich MiG-21 over Hanoi. Robin Olds was the only U.S. Air Force ace with victories in both World War II and Vietnam.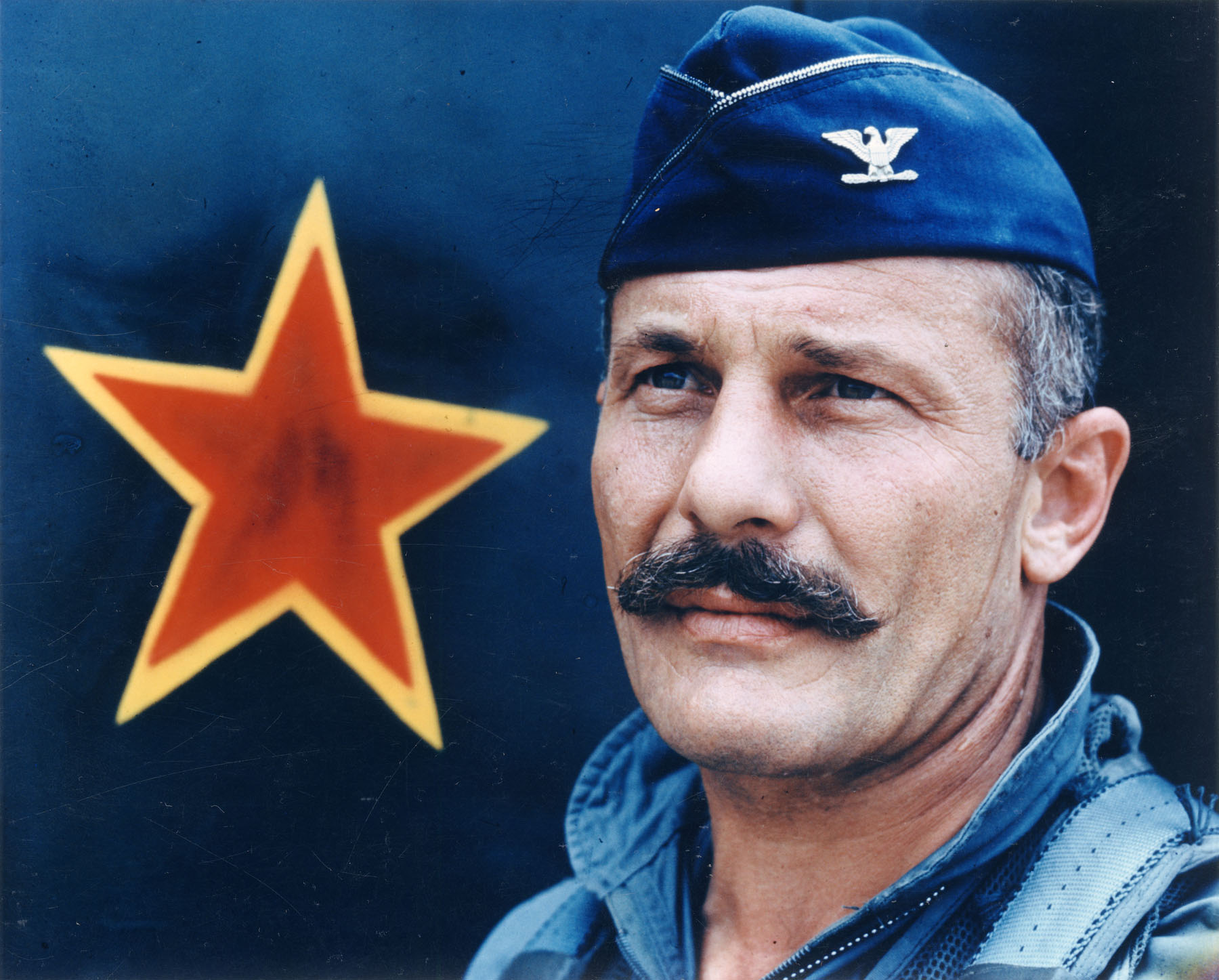 The area around Hanoi, North Vietnam, was the most heavily defended target area ever encountered by the United States Air Force. A combination of radar-directed anti-aircraft artillery, surface-to-air guided missiles, and fighter interceptors made every mission very dangerous. Republic F-105 Thunderchief fighter bombers were taking heavy losses to the Soviet-built Mikoyan-Gurevich MiG-21PFL fighters. When escorting F-4C Phantoms would try to engage the MiGs, they would return to their bases which were safe from attack under the American rules of engagement.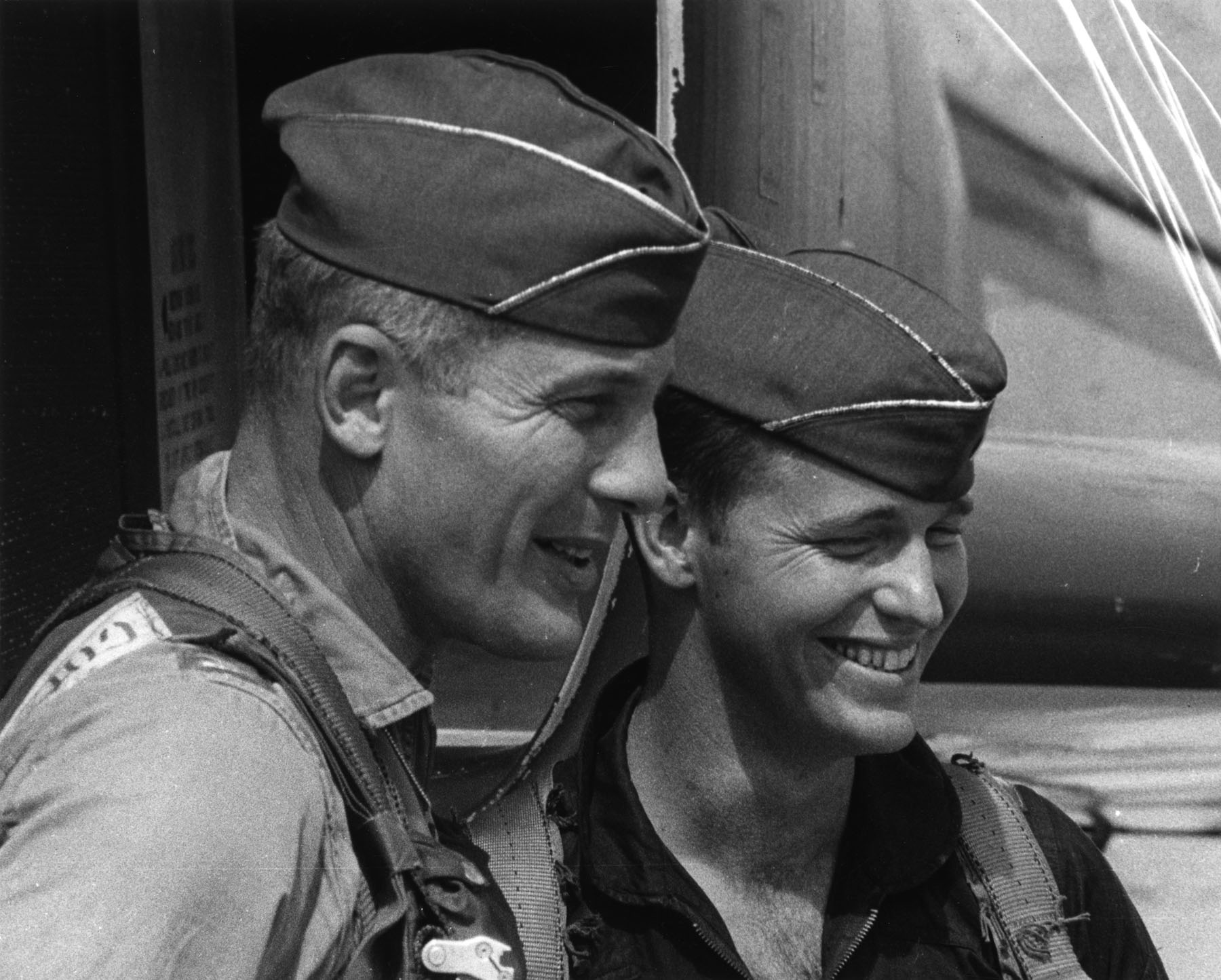 OPERATION BOLO was a complex plan to lure the ground-controlled MiG 21s into an air battle by having the Phantoms simulate a Thunderchief attack. Colonel Olds led 48 McDonnell F-4Cs of the 8th and 366th Tactical Fighter Wings on the same type of attack that would have been used by the Thunderchiefs, but rather than carrying a full load of bombs, the F-4s were armed with AIM-7E Sparrow radar-guided missiles and AIM-9B Sidewinder heat-seeking missiles. (The F-4C was not armed with a gun.)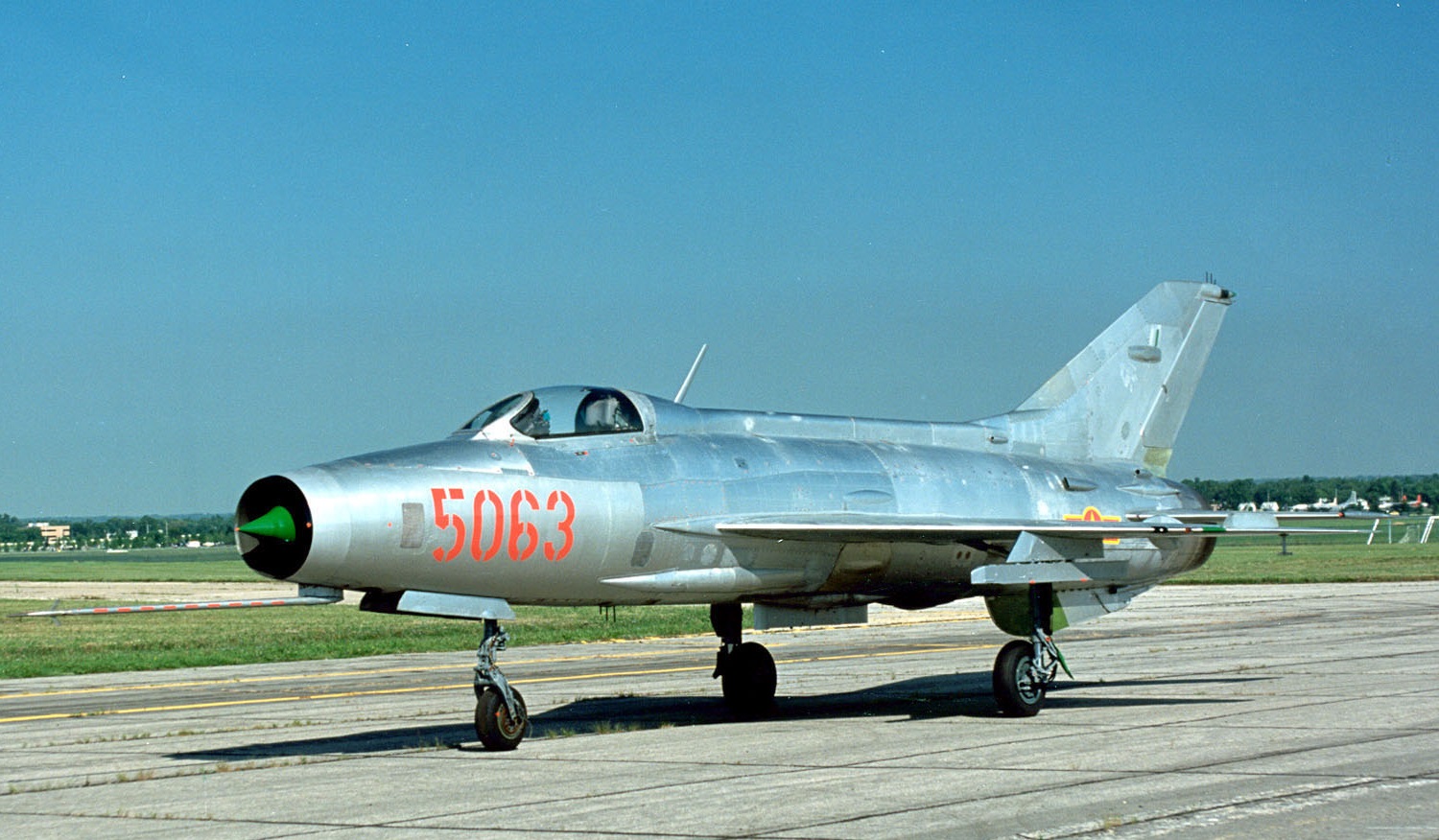 As the Mach 2+ MiG 21s started coming up through the clouds, their pilots quickly realized that instead of the vulnerable targets of F-105s on a bomb run, they were faced with air superiority fighters.
In the official after action report, Colonel Olds said,
At the onset of this battle, the MiGs popped up out of the clouds. Unfortunately, the first one to pop through came up at my 6 o'clock position. I think this was more by chance than by design. As it turned out, within the next few moments, many others popped out of the clouds in varying positions around the clock.
This one was just lucky. He was called out by the second flight that had entered the area, they were looking down on my flight and saw the MiG-21 appear. I broke left, turning just hard enough to throw off his deflection, waiting for my three and four men to slice in on him. At the same time I saw another MiG pop out of the clouds in a wide turn about my 11 o'clock position, a mile and a half away. I went after him and ignored the one behind me. I fired missiles at him just as he disappeared into the clouds.
I'd seen another pop out in my 10 o'clock position, going from my right to left; in other words, just about across the circle from me. When the first MiG I fired at disappeared, I slammed full afterburner and pulled in hard to gain position on this second MiG. I pulled the nose up high about 45 degrees, inside his circle. Mind you, he was turning around to the left so I pulled the nose up high and rolled to the right. This is known as a vector roll. I got on top of him and half upside down, hung there, and waited for him to complete more of his turn and I timed it so that as I continued to roll down behind him, I'd be about 20 degrees angle off and about 4,500 to 5,000 feet behind him. That's exactly what happened. Frankly, I'm not sure he ever saw me. When I got down low and behind, and he was outlined by the sun against a brilliant blue sky, I let him have two Sidewinders, one of which hit and blew his right wing off.
—Aces and Aerial Victories: The United States Air Force in Southeast Asia 1965–1973, by R. Frank Futrell, William H. Greenhalgh, Carl Grubb, Gerard E. Hasselwander, Robert F. Jakob and Charles A. Ravenstein, Office of Air Force History, Headquarters USAF, 1976, Chapter II at Page 39.
The F-4Cs succeeded in shooting down seven MiG 21s, with another two probably destroyed. This accounted for about half of the VPAF's MiG 21 complement.
With another flight crew, the Phantom flown by Robin Olds on 2 January 1967, McDonnell F-4C-21-MC 63-7680, shot down a MiG 17 on 13 May 1967. It was itself shot down by antiaircraft fire while attacking a SAM site, 20 November 1967. The Weapons System Officer, 1st Lieutenant James L. Badley, bailed out and was rescued, but the pilot, Captain John M. Martin, was not seen to leave the aircraft and is listed as Missing in Action.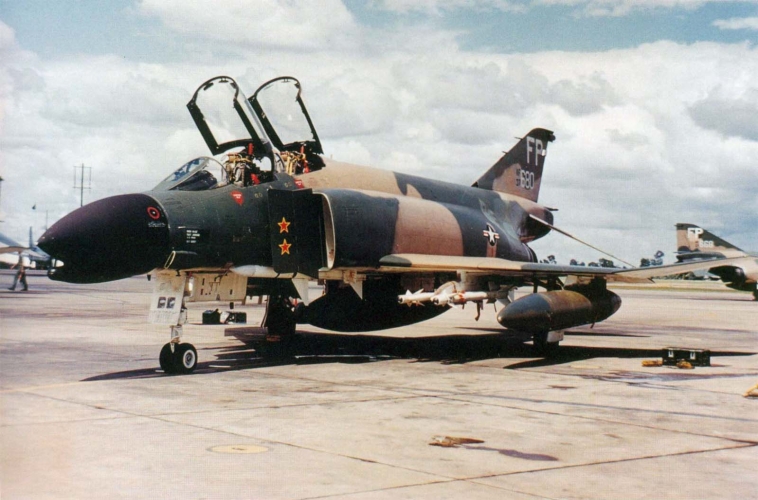 © 2019, Bryan R. Swopes