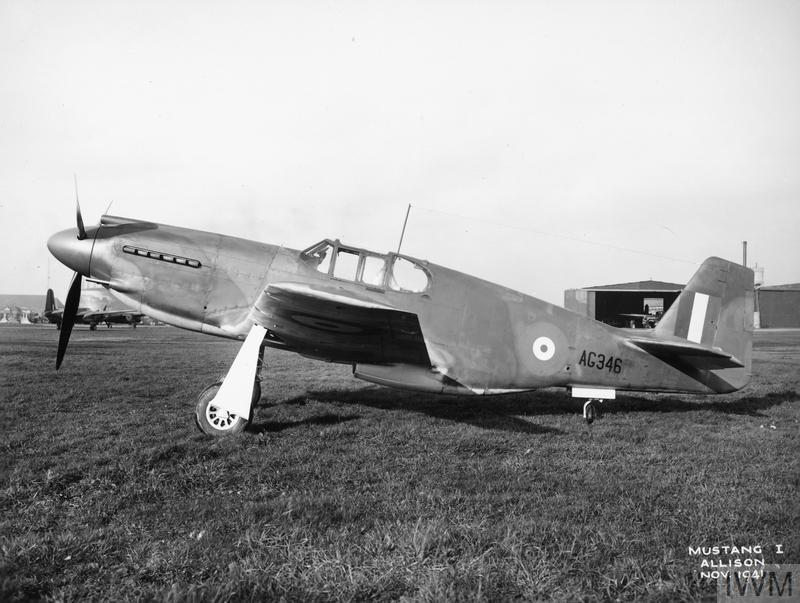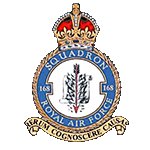 20 August 1944: Mustang Mk.I AG346, while flying with No. 168 Squadron, Second Tactical Air Force, Royal Air Force, from a forward airfield at Sainte-Honorine-des-Pertes, Normandy, France, was shot down near Gacé by antiaircraft fire.
The very first operational North American Mustang, AG346 (North American serial number 73-3099) was the second airplane to come off the assembly line at Inglewood, California.
After flight testing by North American's test pilots and Royal Air Force fighter pilots Chris Clarkson and Michael "Red Knight" Crossley, AG346 was crated and then shipped to England, arriving at Liverpool, 24 October 1941. It was taken to the Lockheed facility at Speke Aerodrome (now, Liverpool John Lennon Airport, LPL) where it was reassembled and put through additional performance and flight tests.
AG346 was then assigned to an operational RAF fighter squadron. It served with Nos. 225, 63 and 26 Squadrons before being assigned to No. 41 Operations Training Unit. AG346 was returned to operations with No. 16 Squadron, and finally, No. 168 Squadron.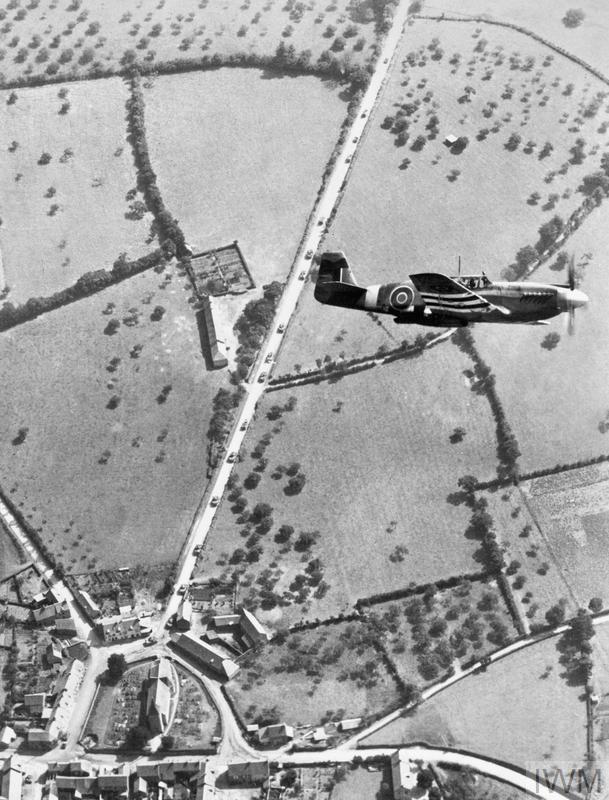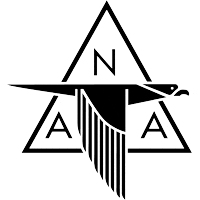 The Mustang Mk.I was a new fighter built by North American Aviation, Inc., for the Royal Air Force. The RAF had contracted with NAA to design and build a fighter with a liquid-cooled Allison V-1710 12-cylinder engine. The first order from the British Purchasing Commission was for 320 airplanes, and a second order for another 300 soon followed.
The Mustang Mk.I (NAA Model NA-73) was a single-place, single-engine fighter primarily of metal construction with fabric control surfaces. It was 32 feet, 3 inches (9.830 meters) long with a wingspan of 37 feet, 5/16-inches (11.373 meters) and height of 12 feet, 2½ inches (3.721 meters). The airplane's empty weight was 6,280 pounds (2,849 kilograms) and loaded weight was 8,400 pounds (3,810 kilograms).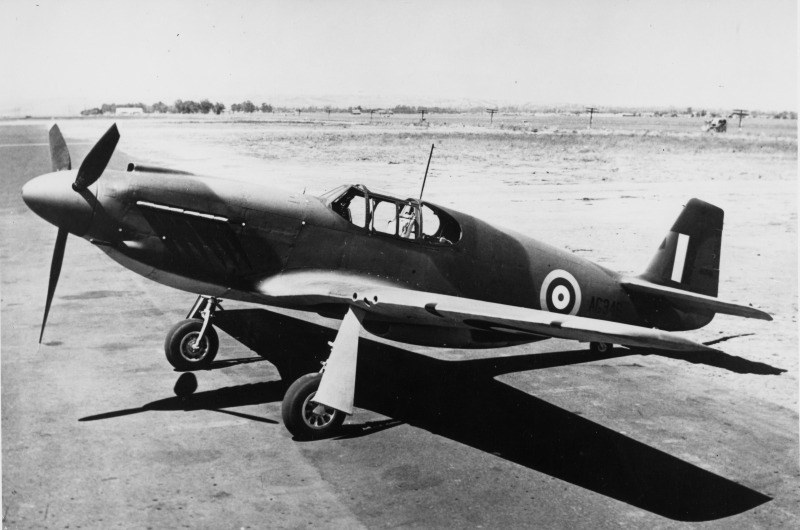 The Mustang Mk.I was powered by a liquid-cooled, supercharged 1,710.597-cubic-inch-displacement (28.032 liter) Allison Engineering Company V-1710-F3R (V-1710-39) single overhead camshaft (SOHC) 60° V-12 engine with four valves per cylinder and a compression ratio of 6.65:1. The engine had a takeoff rating of 1,150 horsepower at 3,000 r.p.m. at Sea Level with 45.5 inches of manifold pressure (1.51 Bar), and a war emergency rating of 1,490 horsepower with 56 inches of manifold pressure (1.90 Bar). The Allison drove a 10 foot, 9 inch (3.277 meter) diameter, three-bladed, Curtiss Electric constant-speed propeller through a 2.00:1 gear reduction. The V-1710-39 was 7 feet, 4.38 inches (2.245 meters) long, 3 feet, 0.54 inches (0.928 meters) high, and 2 feet, 5.29 inches (0.744 meters) wide. It weighed 1,310 pounds (594 kilograms).
This engine gave the Mustang Mk.I a maximum speed of 382 miles per hour (615 kilometers per hour) and cruise speed of 300 miles per hour (483 kilometers per hour). The service ceiling was 30,800 feet (9,388 meters) and range was 750 miles (1,207 kilometers).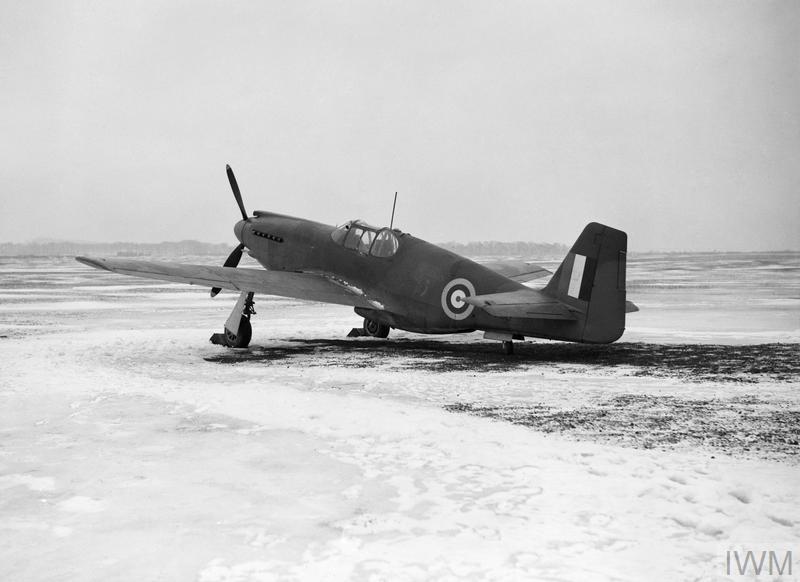 The Mustang Mk.I was equipped with four Browning .303 Mk.II machine guns, two in each wing, and four Browning AN-M2 .50-caliber machine guns, with one in each wing and two mounted in the nose under the engine.
The British would recommend that the Allison be replaced by the Rolls Royce Merlin V-12. This became the Mustang Mk.III and the U.S.A.A.F. P-51B. Eventually, over 15,000 Mustangs were built, and it was a highly successful combat aircraft. Today, after 71 years, the Mustang is one of the most recognizable of all airplanes.
AG346 was the first one to go to war.
No. 168 Squadron was a reconnaissance unit. Its motto was Rerum cognoscere causas ("To know the cause of things")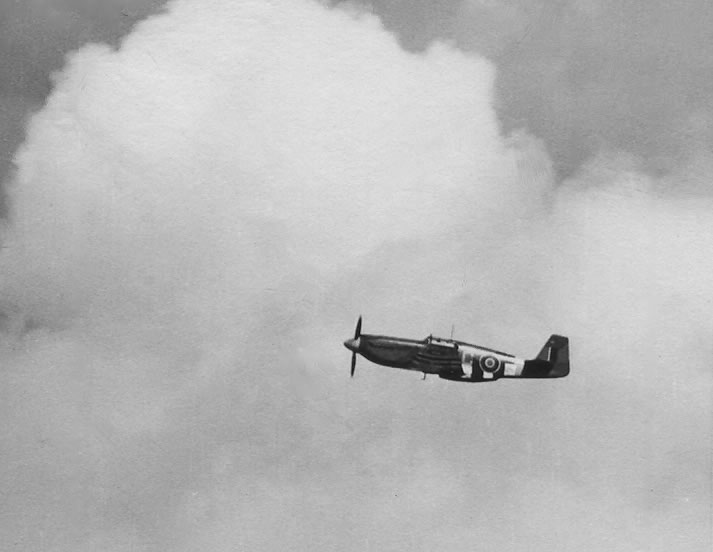 © 2018, Bryan R. Swopes