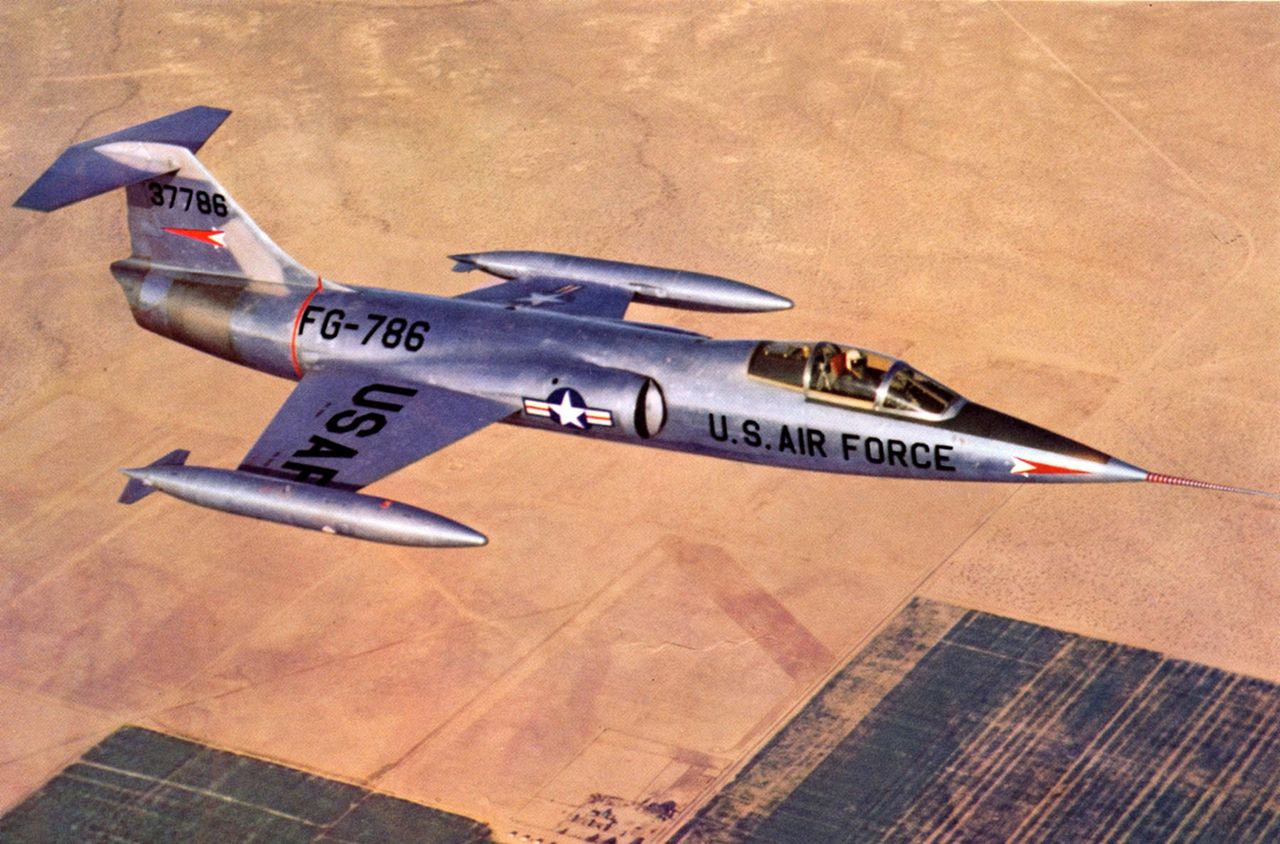 4 March 1954: Lockheed test pilot Anthony W. LeVier takes the prototype XF-104 Starfighter, 53-7786, for its first flight at Edwards Air Force Base in the high desert of southern California. The airplane's landing gear remained extended throughout the flight, which lasted about twenty minutes.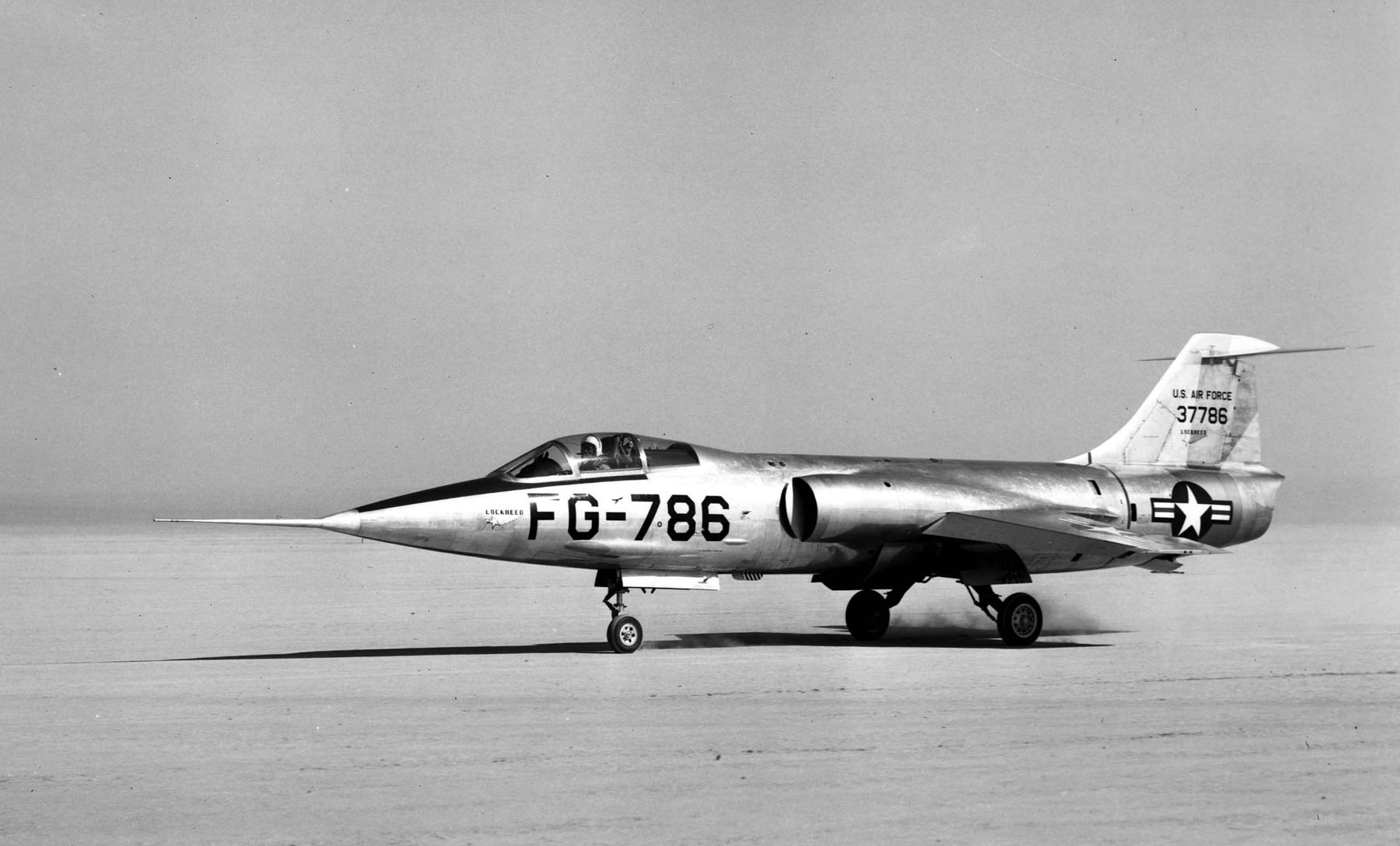 Designed by the legendary Kelly Johnson, the XF-104 was a prototype Mach 2+ interceptor and was known in the news media of the time as "the missile with a man in it."
Tony LeVier was a friend of my mother's family and a frequent visitor to their home in Whittier, California.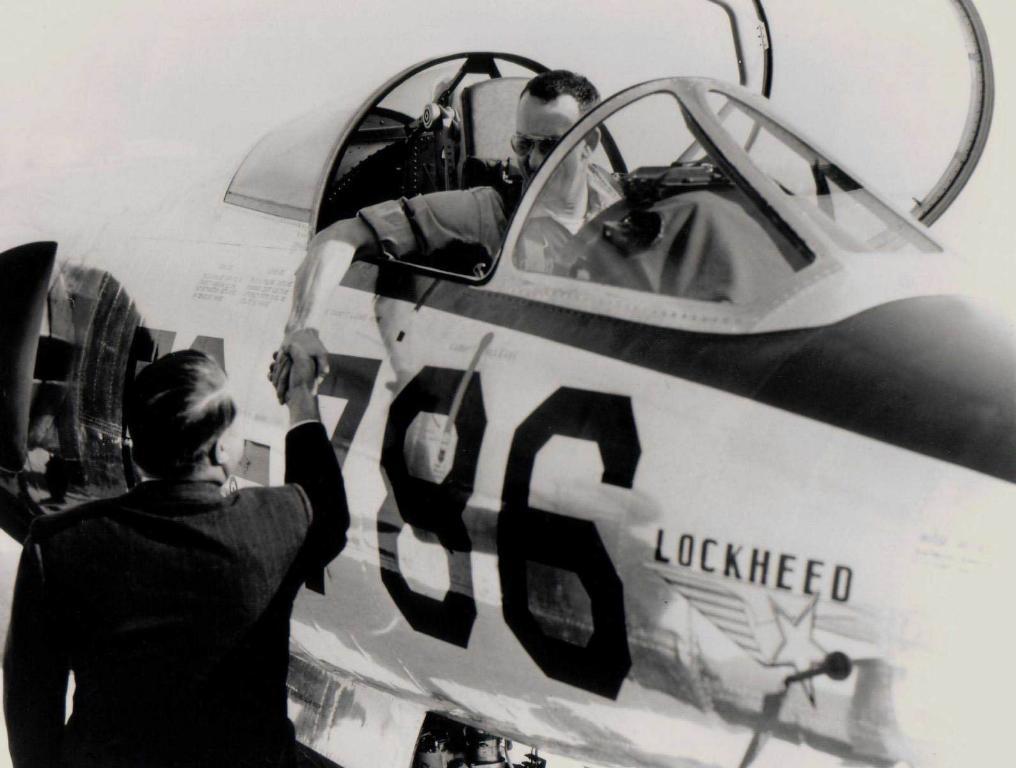 There were two Lockheed XF-104 prototypes. Initial flight testing was performed with 083-1001 (USAF serial number 53-7786). The second prototype, 083-1002 (53-7787) was the armament test aircraft. Both were single-seat, single-engine supersonic interceptor prototypes.
The XF-104 was 49 feet, 2 inches (14.986 meters) long with a wingspan of 21 feet, 11 inches (6.680 meters) and overall height of 13 feet, 6 inches (4.115 meters). The prototypes had an empty weight of 11,500 pounds (5,216 kilograms) and maximum takeoff weight of 15,700 pounds (7,121 kilograms).
The production aircraft was planned for a General Electric J79 afterburning turbojet but that engine would not be ready soon enough, so both prototypes were designed to use a Buick-built J65-B-3, a licensed version of the British Armstrong Siddeley Sapphire turbojet engine. The J65-B-3 was a single-shaft axial-flow turbojet with a 13-stage compressor section and 2 stage turbine. It produced 7,200 pounds of thrust (32.03 kilonewtons) at 8,200 r.p.m. The J65-B-3 was 9 feet, 7.0 inches (2.921 meters) long, 3 feet, 1.5 inches (0.953 meters) in diameter, and weighed 2,696 pounds (1,223 kilograms).
The XF-104 had a maximum speed of 1,324 miles per hour (2,131 kilometers per hour), a service ceiling of 50,500 feet (15,392 meters) and a range of 800 miles (1,287 kilometers).
XF-104 53-7786 was destroyed 11 July 1957 when the vertical fin was ripped off by uncontrollable flutter. The pilot, William C. Park, safely ejected.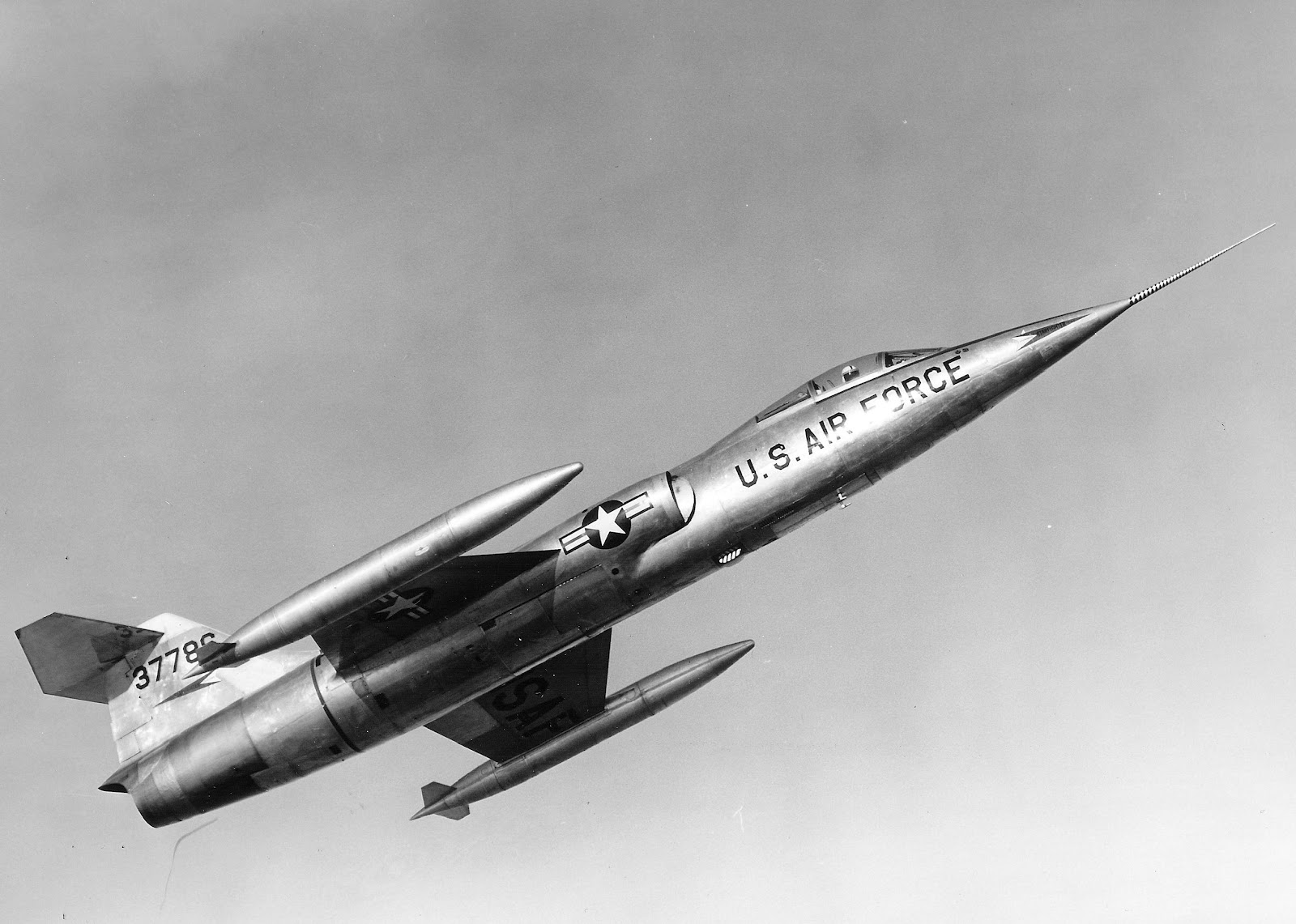 Lockheed Martin has an excellent color video of the XF-104 first flight on their web site at:
http://www.lockheedmartin.com/us/100years/stories/f-104.html
© 2017, Bryan R. Swopes
by