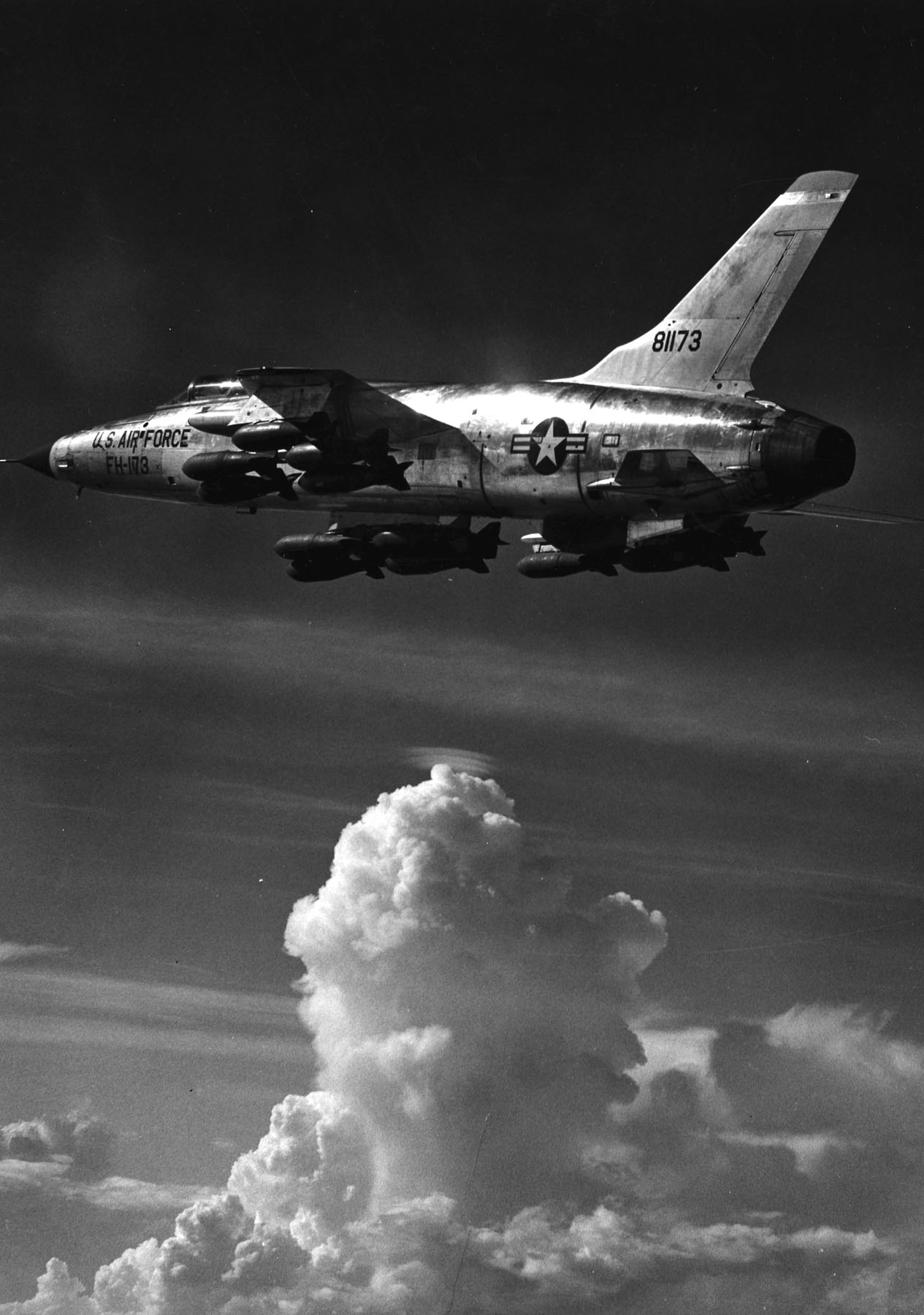 10 August 1961: A Republic F-105 Thunderchief lifted the largest load ever carried aloft by a single-engine aircraft when it carried a payload of over 14,000 pounds (6,350.3 kilograms) during a test.
In this photograph, F-105D-5-RE Thunderchief 58-1173 is loaded with sixteen 750-pound M117 general purpose bombs, which actually weigh approximately 820 pounds (372 kilograms) each.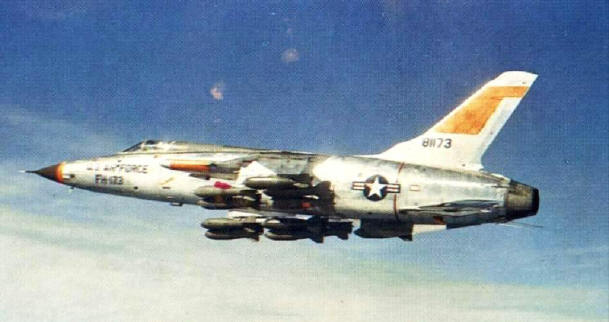 The Thunderchief is the largest single seat, single engine aircraft ever built. It was a Mach 2 fighter-bomber, designed for NATO defensive tactical nuclear strikes with a nuclear bomb carried in an internal bomb bay. It is best known, though, as a fighter bomber used in the Vietnam War. Because of its very high speed it was employed as a "Wild Weasel", attacking surface-to-air missile sites.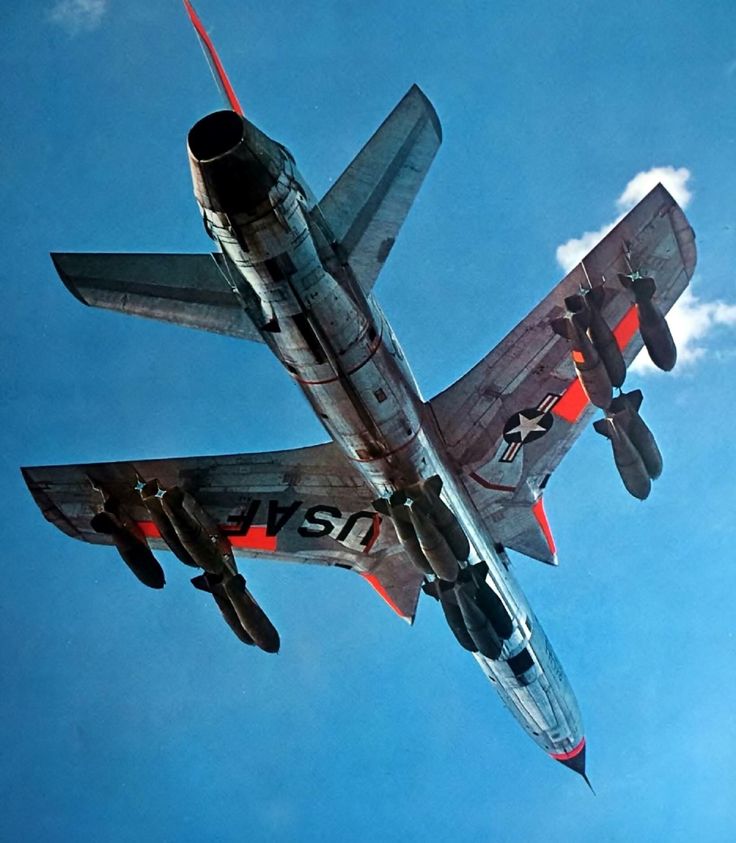 Republic Aviation Corporation built 833 F-105 Thunderchief fighter bombers at its Farmingdale, New York factory. 610 of those were single-seat F-105Ds. The F-105D Thunderchief is 64 feet, 3 inches (19.583 meters) long with a wingspan of 34 feet, 11 inches (10.643 meters) and overall height of 19 feet, 8 inches (5.994 meters). It has an empty weight of 27,500 pounds (12,473.79 kilograms) and a maximum takeoff weight of 52,546 pounds (23,834.47 kilograms).
The Thunderchief was powered by one Pratt & Whitney J75-P-19W engine. The J75 is a two-spool axial-flow afterburning turbojet with water injection. It has a 15-stage compressor section (8 low- and and 7 high-pressure stages) and 3-stage turbine section (1 high- and 2 low-pressure stages.) The J75-P-19W is rated at 17,200 pounds of thrust (76.51 kilonewtons), and 26,500 pounds (117.88 kilonewtons) with afterburner. It is 20 feet (6.1 meters) long, 3 feet, 7.0 inches (1.092 meters) in diameter, and weighs 5,960 pounds (2,703 kilograms).
The maximum speed of the F-105D is 836 miles per hour (1,345 kilometers per hour)—Mach 1.1—at Sea level and Mach 2.15 (1,420 miles per hour, 2,285 kilometers per hour) at 38,000 feet (11,582 meters). The combat ceiling is 48,500 feet (14,782.8 meters) and combat range is 778 miles (1,252.07 kilometers).
The F-105D is armed with one 20 mm M61A1 Vulcan rotary cannon and 1,028 rounds of ammunition. It has an internal bomb bay and can carry bombs, missiles or fuel tanks on under wing and centerline hardpoints. The maximum bomb load consisted of sixteen 750-pound (340 kilogram) bombs.
The F-105 Thunderchief was designed as a supersonic tactical fighter bomber rather than an air superiority fighter. Still, during the Vietnam War F-105s shot down 27 enemy MiG fighters. 24 of those were shot down with the Thunderchief's Vulcan cannon.
Of the 833 F-105s, 395 were lost during the Vietnam War. 334 were shot down, mostly by antiaircraft guns or missiles, and 17 by enemy fighters. Another 61 were lost due to accidents. The 40% combat loss is indicative of the extreme danger of the missions these airplanes were engaged in.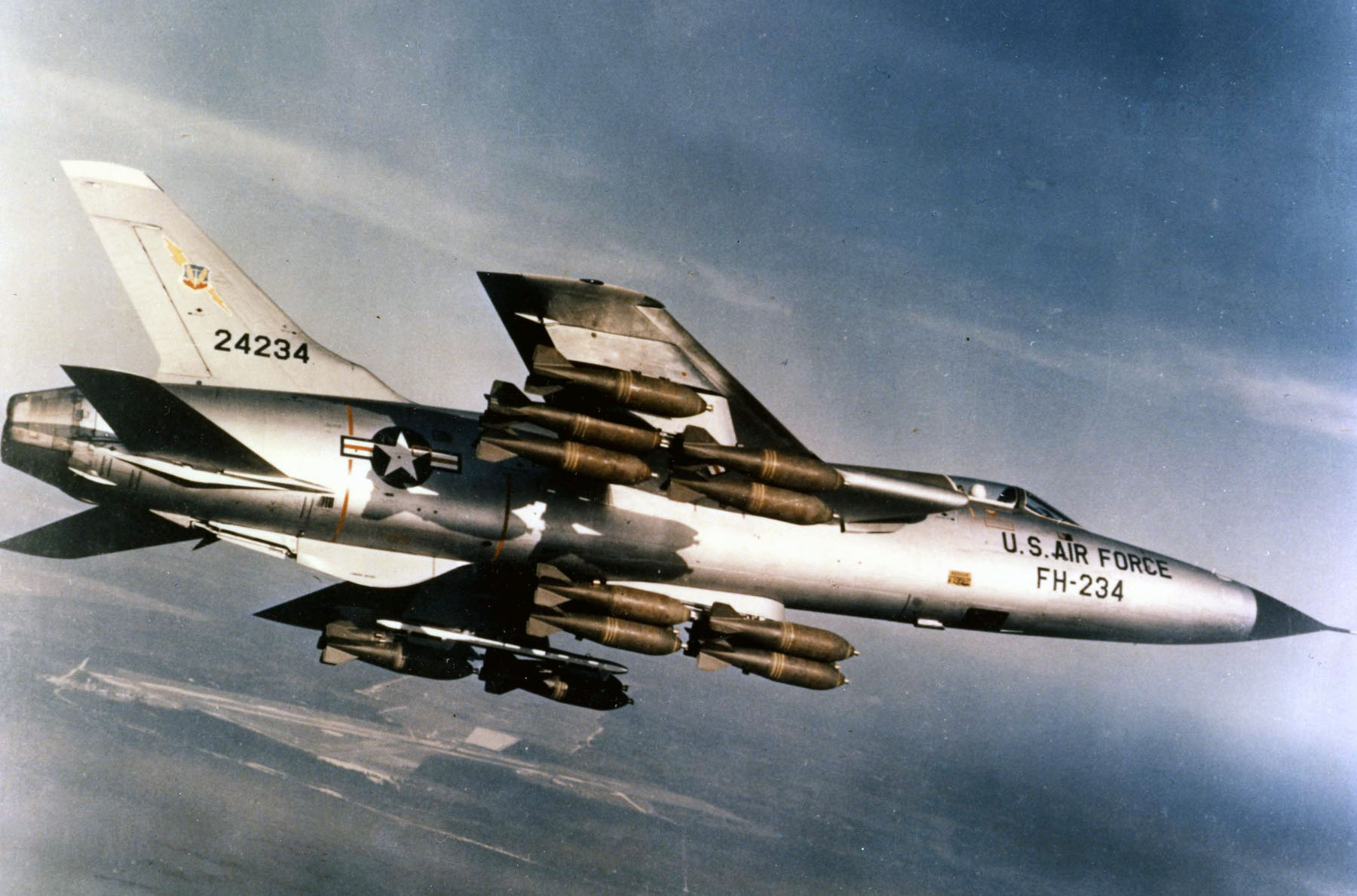 © 2017, Bryan R. Swopes
by