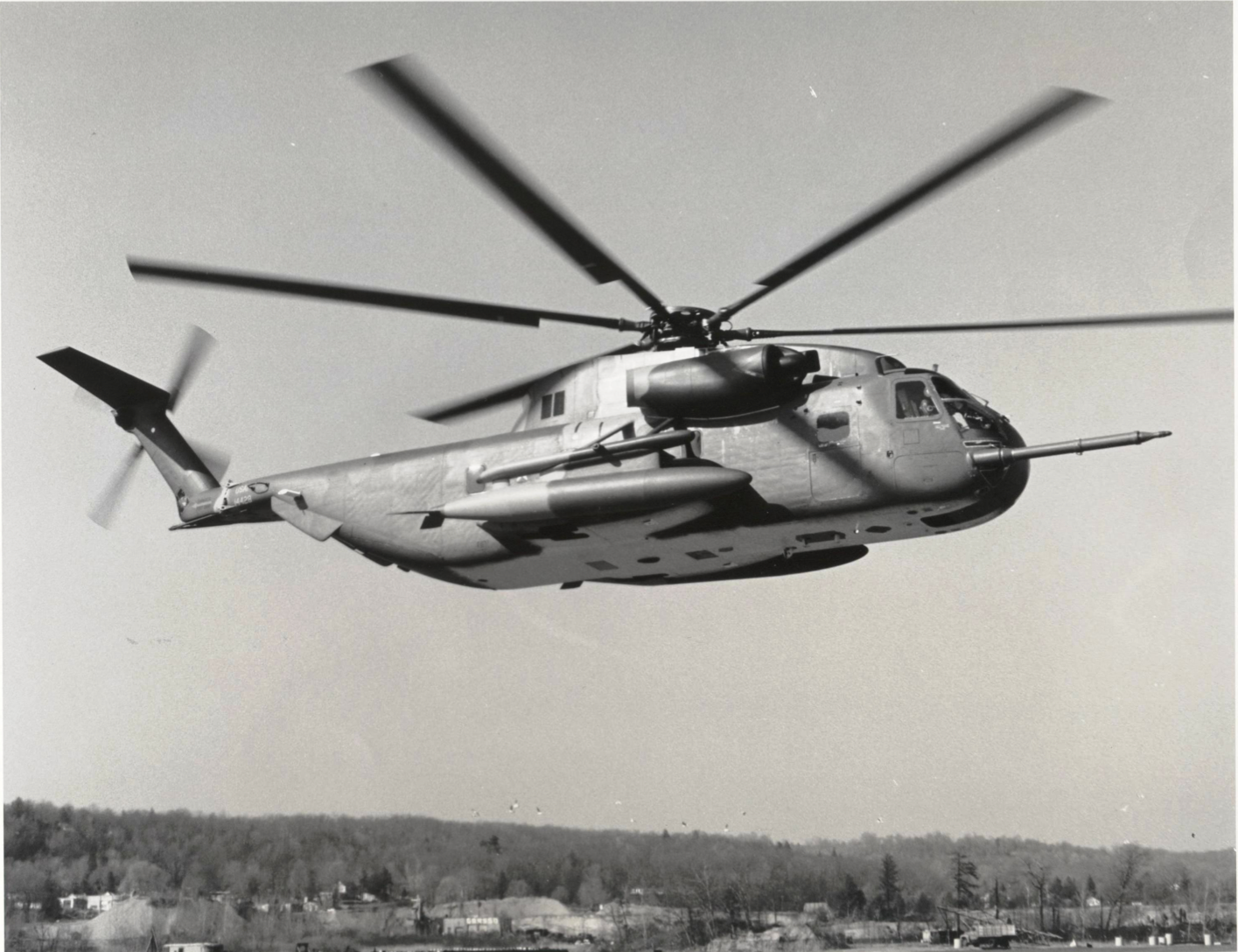 15 March 1967: The first Sikorsky HH-53B, 66-14428, made its maiden flight at Stratford, Connecticut. At the controls was Sikorsky test pilot James R. ("Dick") Wright. The helicopter would be called the "Super Jolly Green Giant."
A variant of the United States Navy/Marine Corps CH-53A Sea Stallion, the Super Jolly Green Giant was the largest, most powerful, and fastest helicopter in the United States Air Force inventory. Configured for combat search and rescue (CSAR) and special operations, the HH-53B was equipped for inflight refueling and was armed with three General Electric GAU/2A 7.62 mm miniguns or .50-caliber Browning machine guns. Over the decades, 428 was upgraded to HH-53H, then Pave Low II, HH-53J Pave Low III and finally to MH-53J Pave Low III Enhanced configuration.
The HH-53B Super Jolly Green Giant was flown by two pilots and was crewed by a flight engineer/gunner, and two pararescue jumpers ("PJs"). It has an overall length of 88 feet, 2.4 inches (26.833 meters) with rotors turning. With the refueling boom extended the total length of the helicopter is 91 feet, 11.34 inches (28.025 meters). The fuselage is 67 feet, 2.4 inches (20.483 meters) long and 8 feet (2.438 meters) wide. The HH-53B had an overall height of 24 feet, 10.8 inches (7.590 meters).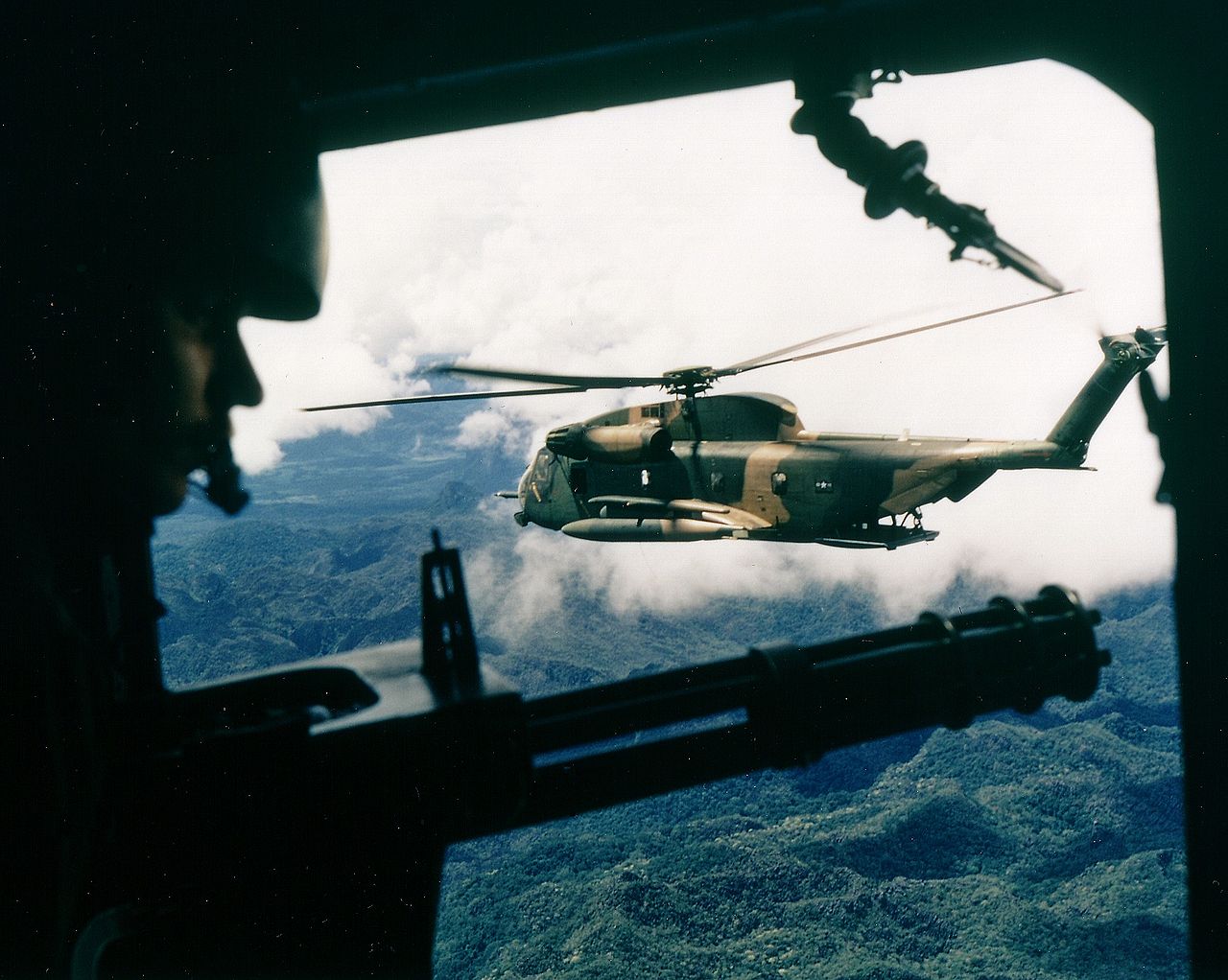 The HH-53B's six-bladed main rotor had a diameter of 72 feet, 2.7 inches (22.014 meters) and turns counter-clockwise, seen from above. (The advancing blade is on the helicopter's right side.) At 100% NR, the rotor turns 185 r.p.m. The tail rotor has four blades and a diameter of 16 feet, 0 inches (4.877 meters). It is positioned on the left side of a vertical pylon, or fin, in a pusher configuration. The tail rotor turns clockwise at 792 r.p.m., as seen from the helicopter's left side. (The advancing blade is below the axis of rotation.)
The HH-53B had an empty weight of 26,500 pounds (12,020 kilograms). Its maximum takeoff weight was 42,000 pounds (19,051 kilograms). HH-53B was originally equipped with two General Electric T64-GE-3 turboshaft engines, producing 3,080-shaft horsepower, each. The helicopter has a maximum speed (VNE) of 130 nautical miles per hour (150 miles per hour, 241 kilometers per hour). The service ceiling is 16,750 feet (5,105 meters). It's range is 540 nautical miles (621 miles, 1,000 kilometers) and is capable of inflight refueling.
The Air Force ordered eight HH-53B and 58 improved HH-53C Super Jolly Green Giants. The first HH-53B was delivered to the Air Force on 12 November 1967. The HH-53B can be visually identified by the two diagonal sponson support struts on each side of the fuselage.
66-14428 was sent to The Boneyard at Davis-Monthan Air Force Base, Tucson, Arizona, 7 January 2007 after nearly 40 years of service.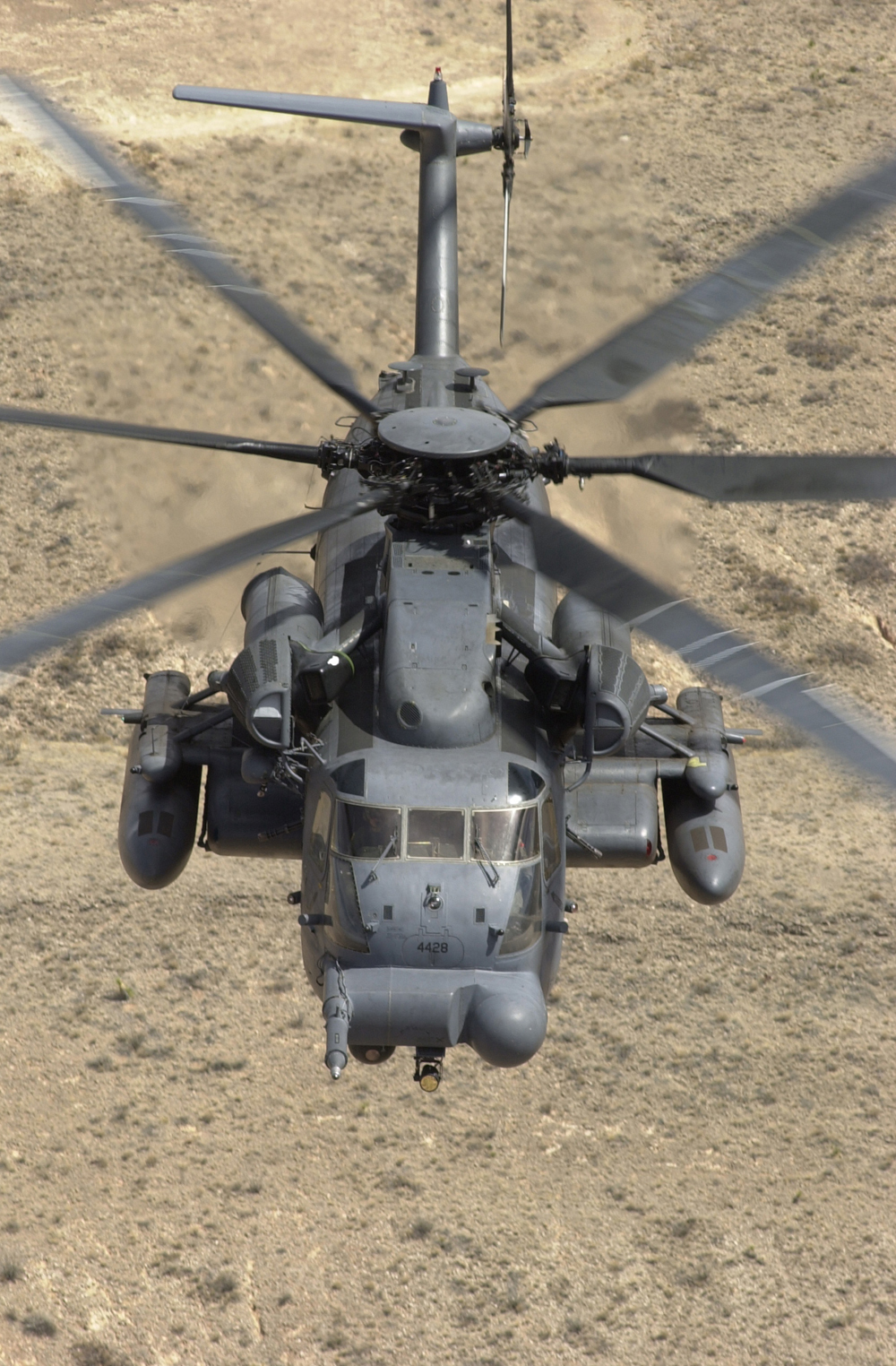 © 2016, Bryan R. Swopes
by