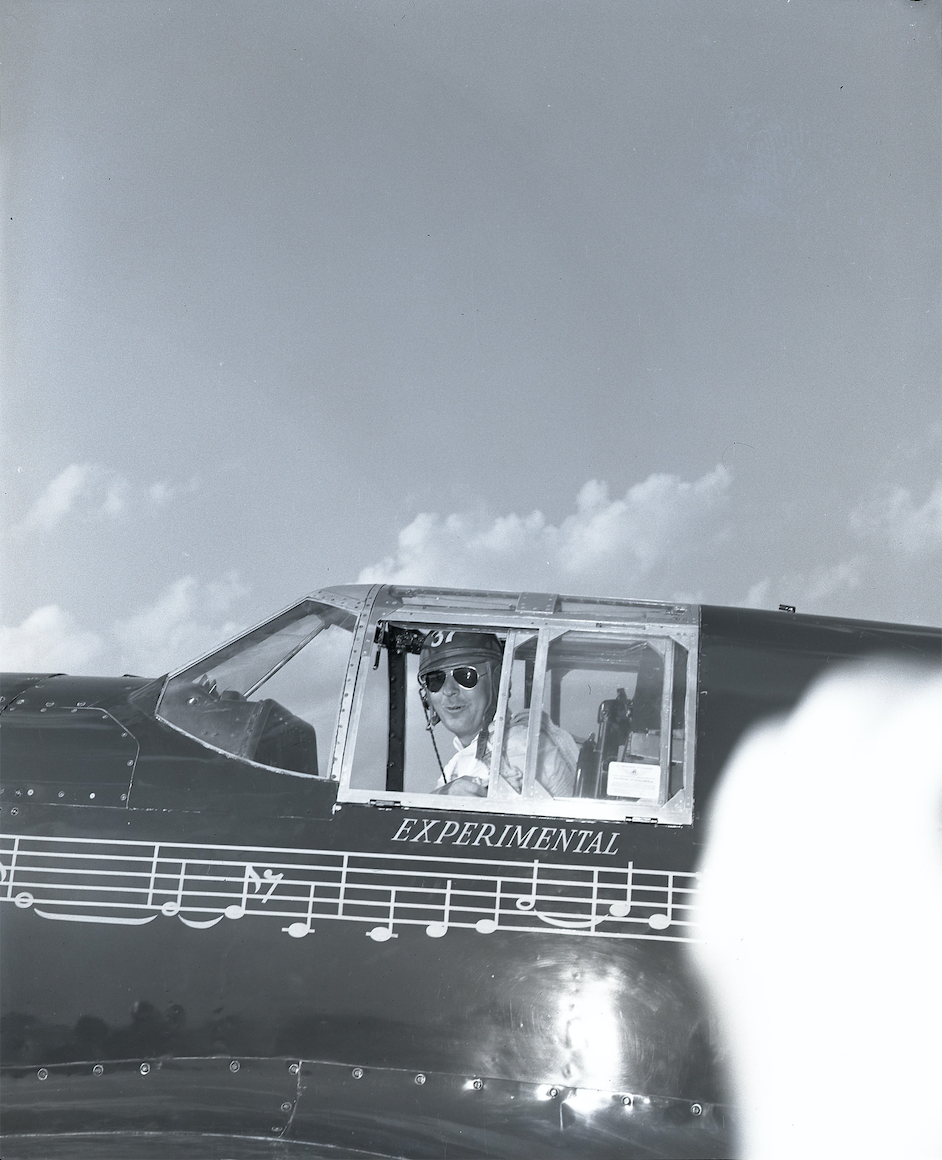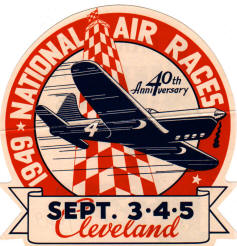 5 September 1949: The 1949 National Air Races were a three-day event held at the Cleveland Municipal Airport, southwest of Cleveland, Ohio, over the three-day Labor Day holiday weekend, 3–5 September 1949. This was the twelfth time that the races had taken place at the airport since they began in 1929. More than 170,000 people attended the races over the three days, and at least 72,000 paid spectators were present on Monday, the 5th.
The day's major event was the Thompson Trophy Race. This was a 15-lap race around a 7-turn,  15-mile course (225 statute miles/362 kilometers), marked by a tall pylon at the airport, and barrage balloons at the other turns. Before World War II, the Thompson race was flown with specially-built air racers, but this was no longer practical. Since 1946, the competitors flew military fighter aircraft, some of which had been heavily modified from their original configurations.
The 1949 race had two divisions. The J Division, for military jet fighters, was flown first, with a scheduled start time of 2:35 p.m., Eastern Standard Time. The R Division, for reciprocating-engine aircraft, was scheduled an hour later.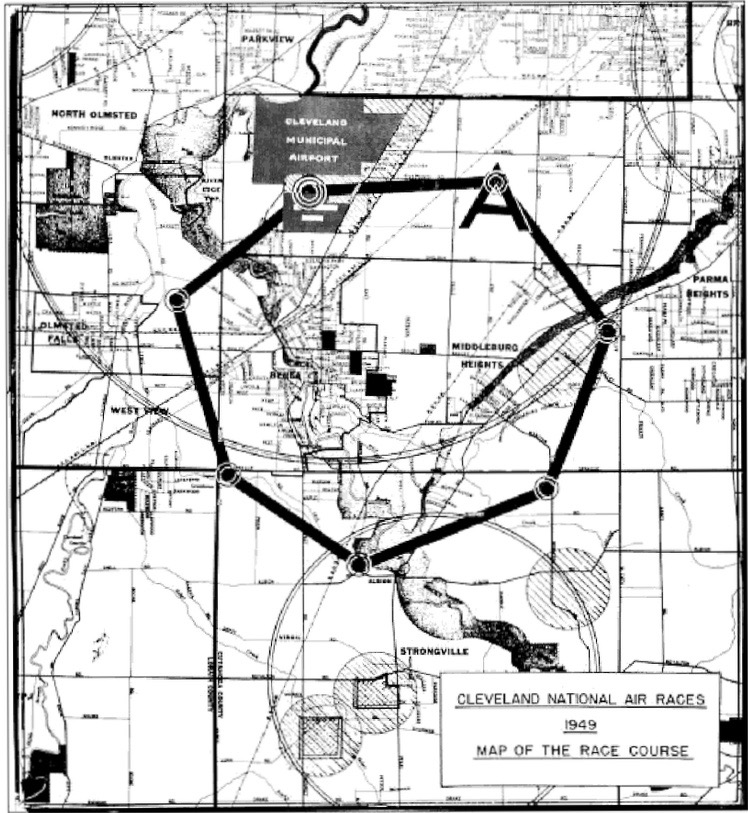 The R-Division had ten entrants, which included three Goodyear-built F2G-1 Corsairs, one Bell Aircraft Corporation P-63 King Cobra, and six North American Aviation P-51 Mustangs. The race winner would be awarded $16,000 in prize money, and another $2,000 if he beat the race speed which had been set in 1947.
One of the air racers was William Paul ("Bill") Odom, flying a radically-modified North American Aviation P-51C Mustang which was owned by the world-famous aviatrix, Jacqueline ("Jackie") Cochran. Ms. Cochran was the holder of many world records for speed and altitude. She had won the trans-continental Bendix Trophy Race in 1938, and placed second in 1946 with her "Lucky Strike Green" P-51B Mustang, NX28388.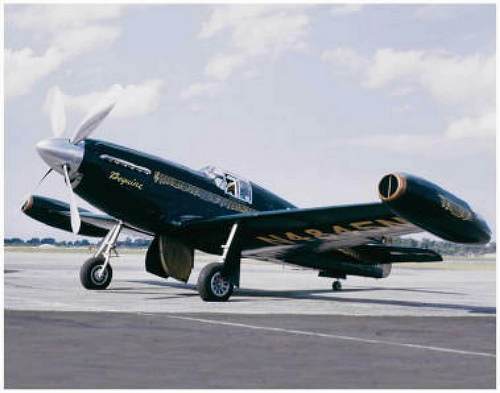 Odom had not flown in a pylon race before, but had gained public attention for a number of long-distance record flights, including a 78 hour, 55 minute, 6 second around-the-world flight in a Douglas A-26 Invader, Reynolds Bombshell, 12–16 April 1947.
With these records and record attempts, Bill Odom persuaded Jackie Cochran to buy a radically-modified P-51C Mustang named Beguine (NX4845N) for him to fly at the 1949 National Air Races at Cleveland Municipal Airport, Ohio.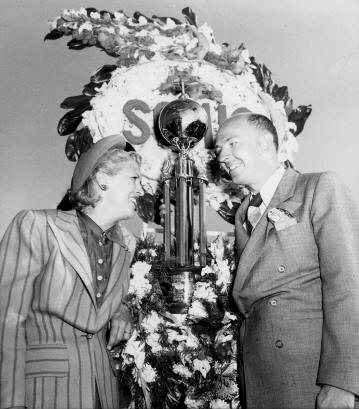 Cochran purchased NX4845N from J.D. Reed Co., Inc., of Houston, Texas, on 22 August 1949. (She submitted an Application for Registration to the Civil Aeronautics Administration, but it does not appear that a new Certificate of Registration was ever issued.)
Ms. Cochran also planned to fly Beguine in the 1950 Bendix Trophy Race.
During 1948–1949, 42-103757 was radically modified as an Unlimited Class air racer. The lower portion of the P-51's fuselage was removed and faired over. The radiator and engine oil cooler which had been enclosed in the Mustang's characteristic belly scoop were relocated to the wingtips. (The Air Force had experimented with a ramjet-powered P-51D, 44-63528. A Marquardt XRJ-30-MA ramjet was placed on each wingtip. The cooling pods on 42-103757 resemble these, though another source says that the pods were made from modified FJ-1 Fury fuel tanks.) No reports of these modifications are found in the airplane's records at the Federal Aviation Administration, however.
The  former owner, J.D. Reed, named the racer Beguine after a popular song of the time, Cole Porter's "Begin the Beguine." The music from the song was painted in gold along the Mustang's fuselage, along with the race number 7.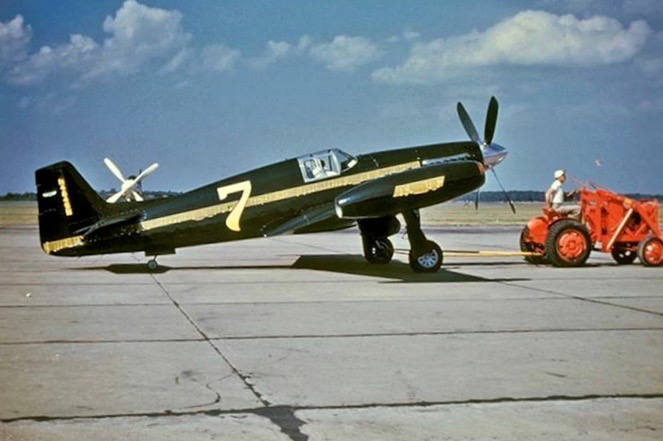 Though he had never before flown in a pylon race, Odom qualified Beguine for the 105-mile (167 kilometer) Sohio Trophy Race, which was held on Saturday, 3 September. He won the race with the average speed of 388.393 miles per hour (625.058 kilometers per hour), and was awarded $19,100 in prize money.
He had also entered the Thompson Trophy Race, qualifying with a speed of 405.565 miles per hour (652.694 kilometers per hour.)
At the start of the Thompson race, Odom quickly took the lead. But on the second lap, things went wrong. As it approached Pylon 4, Beguine rolled upside down and then crashed into a house near the airport, setting it on fire.
Air racer Steven Calhoun Beville, flying P-51D Mustang # 77 in the Thompson Race, the closest pilot to Beguine, said that Odom had cut inside Pylon No. 3 and was correcting toward Pylon 4 when the airplane rolled inverted.
[Beville's Mustang, The Galloping Ghost, NX79111, is the same airplane involved in the catastrophic crash at the National Championship Air Races, Reno, Nevada, 16 September 2011.]
Newspapers reported the crash:
Beville, who finished third in the race, was the closest to Odom when he got in trouble.
     "Bill was out too far on the third pylon," Beville said, "and was trying to correct position too quickly. He turned over in the air and flew along on his back for a short distance, then dived right into a house."
—The San Bernardino Daily Sun, Vol. LVI, No. 5, Tuesday, 6 September 1949, at Page 2, Column 7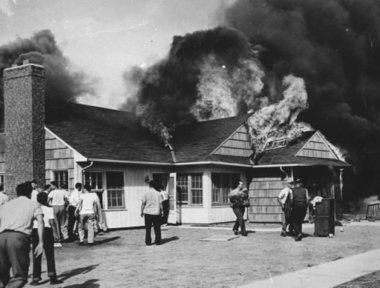 "The house" was a brand new single-family home, located at 429 West Street, Berea, Ohio. The owners, Mr. and Mrs. Bradley C. Laird, had moved in just four days earlier, along with their 5-year-old son, David. Their 13-month-old, Craig, had remained with Mrs. Laird's parents, but her father, Benjamin J. Hoffman, had brought him to the house in Berea two days earlier.
Jeanne Laird was inside the house when Beguine crashed. She was killed instantly. Mr. Laird, Mr. Hoffman and David were outside watching the airplanes fly overhead, and Craig was in a playpen in the driveway. When the house exploded in flames, Mr. Hoffman rescued Craig, suffering severe burns in doing so. The infant was critically burned, and though Mr. Hoffman drove him to Berea Community Hospital, Craig Hamilton Laird died several hours later.
Bill Odom's body was so badly burned that it could only be identified by his wristwatch.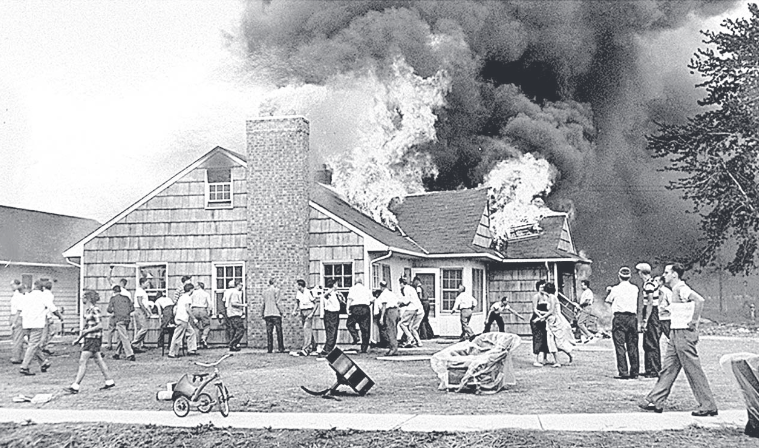 Despite Odom's crash, the Thompson Trophy Race continued. Cook Cleland, flying his clipped-wing F2G Corsair, # 94, won the race. When interviewed afterwards about the crash, Cleland said,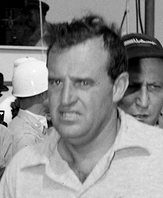 ". . . I don't think he should have been in the Thompson Trophy Race at all. Not only I, but some of the other pilots will tell you the same thing.
     "He was a Bendix (the cross-country speed dash) pilot, not a closed course speed pilot. It takes two different kinds of temperament. Odom made an excellent cross-country flyer, but I guess the ship he flew today was just too much for him.
     "It's just too bad he had to race today. Anson Johnson said he thought it was the first time Odom had flown that type of plane.
     "No one was worried about his plane. It was about as good a piece of equipment as anyone could buy. It made our ships look mangy in comparison.
     "I had just met Odom and he seemed like a nice guy. There is no doubt that he was a good pilot. Just that he was in the wrong race. Too bad it had to happen. . . ."
—San Francisco Examiner, Vol. CLXXXXI, No. 68, Tuesday, 6 September 1949, at Page 5, Columns 1 and 2
In her autobiography, Jackie Cochran wrote,
I was in the judges' stand handling telephone reports from the back of the stands' pylons when the flash came through that Bill had crashed. I jumped into a helicopter that was just in front of me on the field and went out to the spot of the accident hoping that something could be done. I found the house on fire, with Bill and the plane, as well as some of the occupants, buried in the wreckage. Some news photographer snapped a picture of me standing there close by. I am in that picture the personification of abject desolation. For three days I stayed in Cleveland doing all that I could to honor Bill Odom's memory.
— The Stars At Noon, by Jacqueline Cochran, Little, Brown and Company, Boston, 1954, Chapter V at Page 96.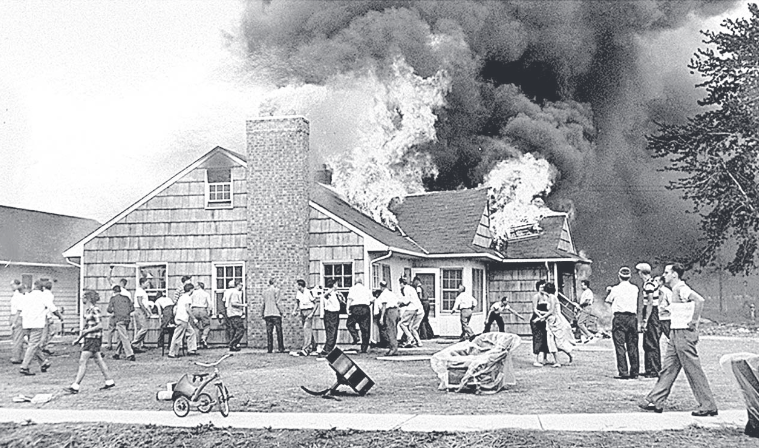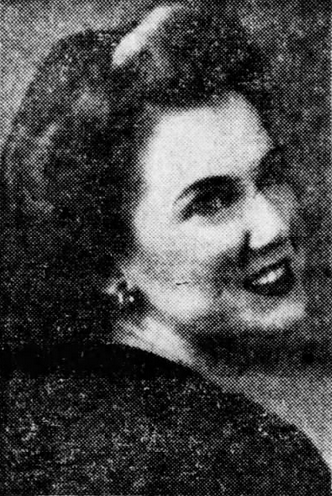 Jeanne Marian Hoffman was born 18 September 1925, in Minneapolis, Minnesota. She was the third child of Benjamin John Hoffman, a stationary engineer, and Vergie Effie Hamilton Hoffman.
Jeanne attended Marshall High School, and after graduation, was employed as a model for The Dayton Company, a department store company with its headquarters in Minneapolis.
Miss Hoffman married 2nd Lieutenant Bradley Clayton Laird, United States Army, 13 November 1943. The ceremony was performed by Dr. Arnold S. Lowe, and took place at the Westminster Presbyterian Church in downtown Minneapolis. The newlyweds then traveled to Fort Bliss, Texas, where Lieutenant Laird was assigned for training.
Following World War II, Mr. and  Mrs. Laird settled in Kalamazoo, Michigan. Their first son, David, was born there
Mrs. Laird's remains were interred at the Lakewood Cemetery, Minneapolis, Minnesota.
Craig Hamilton Laird was born 30 July 1948 in Kalamazoo, Michigan. His remains were interred with those of his mother.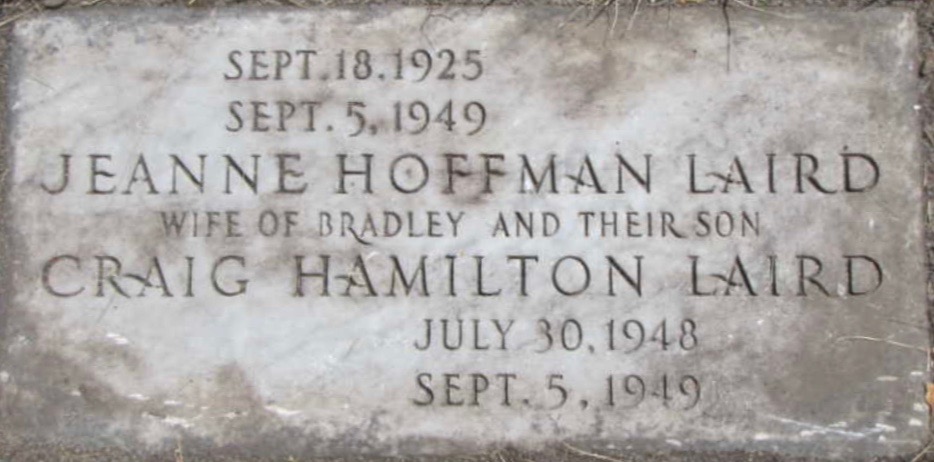 William Paul Odom was born at Raymore, Missouri, 21 October 1919, He was the first of three children of Dennis Paul Odom, a farmer, and Ethel E. Powers Odom.
Odom, then an airport radio operator, married Miss Dorothy Mae Wroe at Brentwood, Pennsylvania, 3 December 1939. Two children. Divorced September 1948
Odom flew for the Chinese National Aviation Corporation (CNAC) from 1944 to 1945, flying "The Hump," the air route over the Himalayas from India to China.
William P. Odom had flown a Douglas A-26B Invader, NX67834, named Reynolds Bombshell, around the world in 3 days, 6 hours 55 minutes, 56 seconds, 12–16 April 1947. He made a second around the world flight, 7–11 August 1947, again flying the A-26. The duration of this second trip was 3 days, 1 hour, 5 minutes, 11 seconds. (Neither flight was recognized as a record by the FAI.)
In April 1948, Odom flew a Consolidated C-87A-CF Liberator Express transport for the Reynolds Boston Museum China Expedition.
Odom had made another FAI World Record flight with Waikiki Beech, from from Honolulu, to Oakland, California, an official distance of 3,873.48 kilometers (2,406.87 miles).²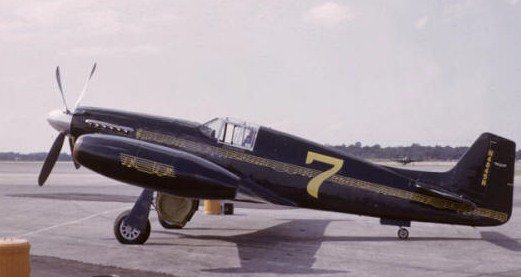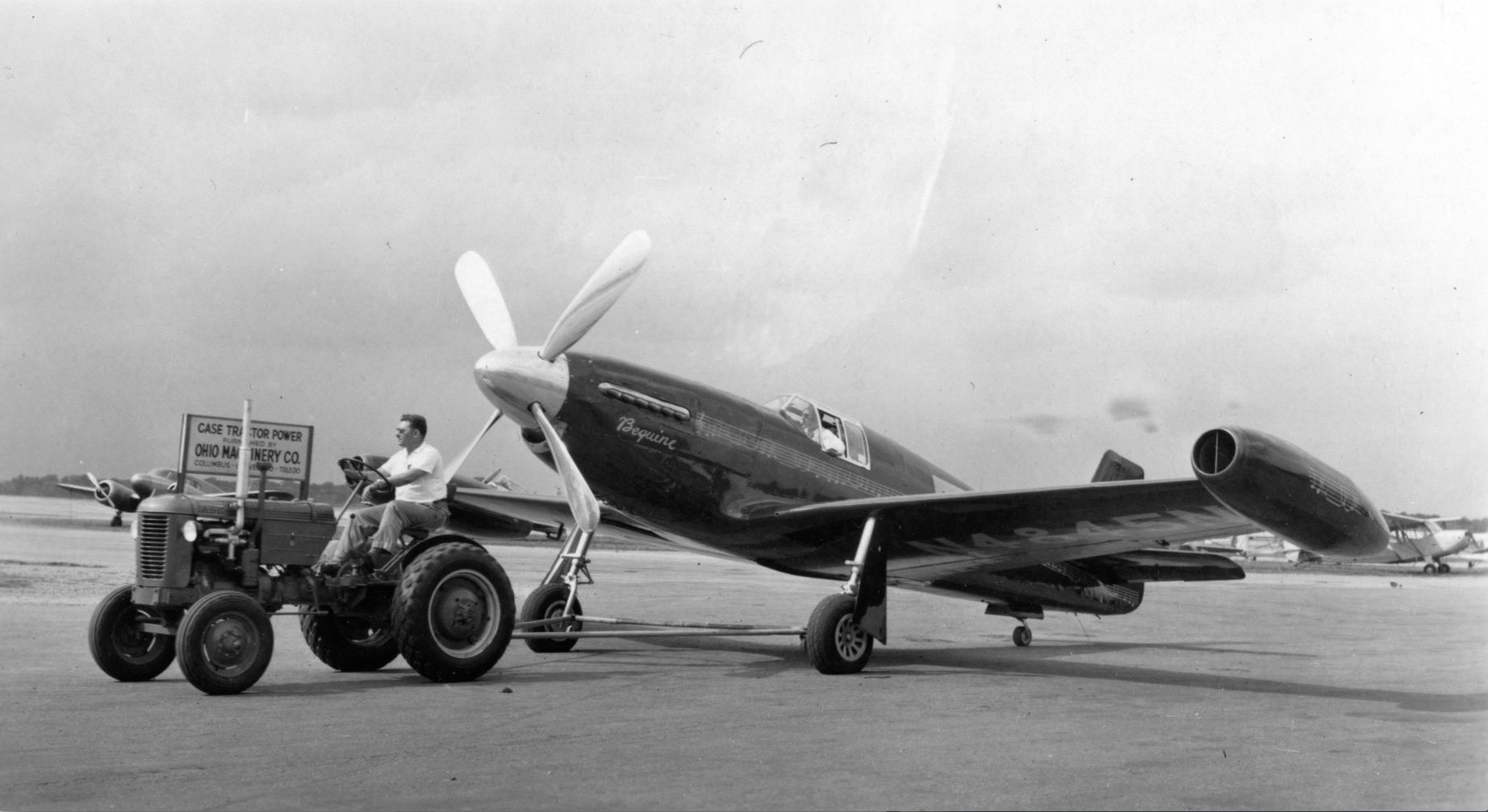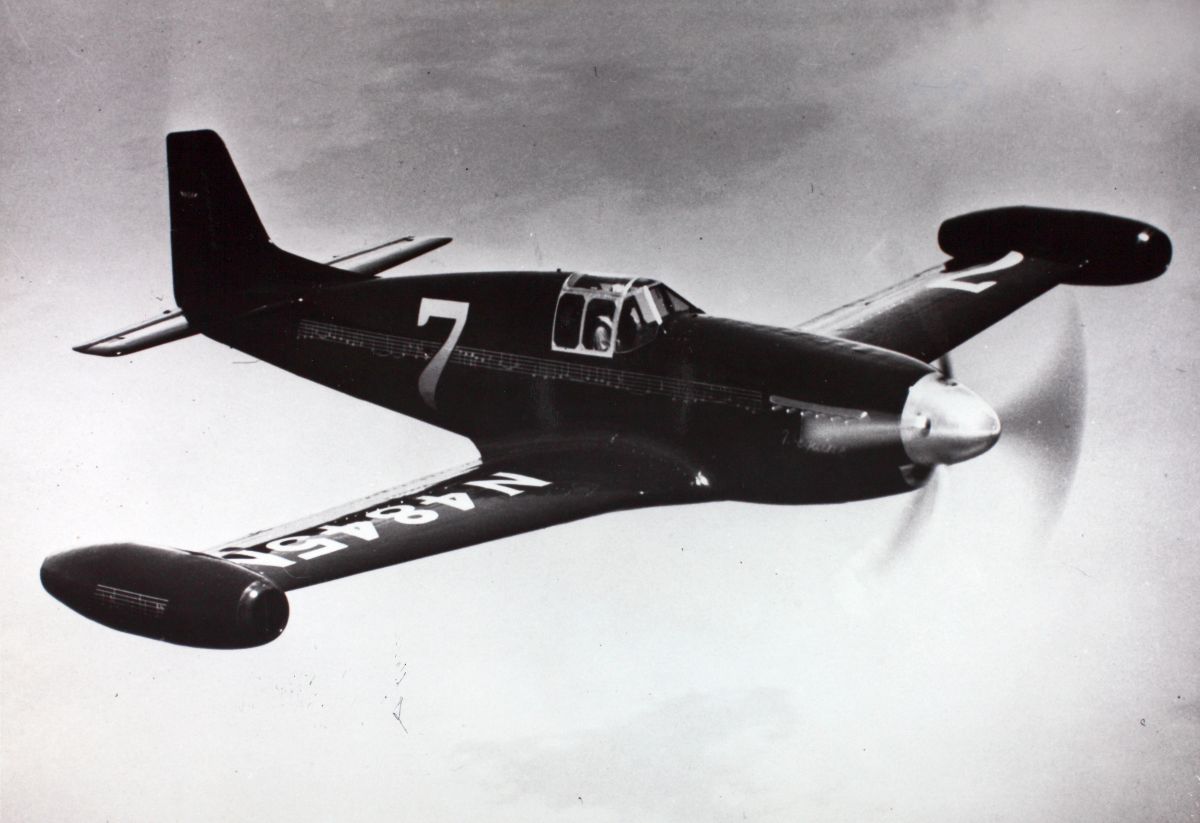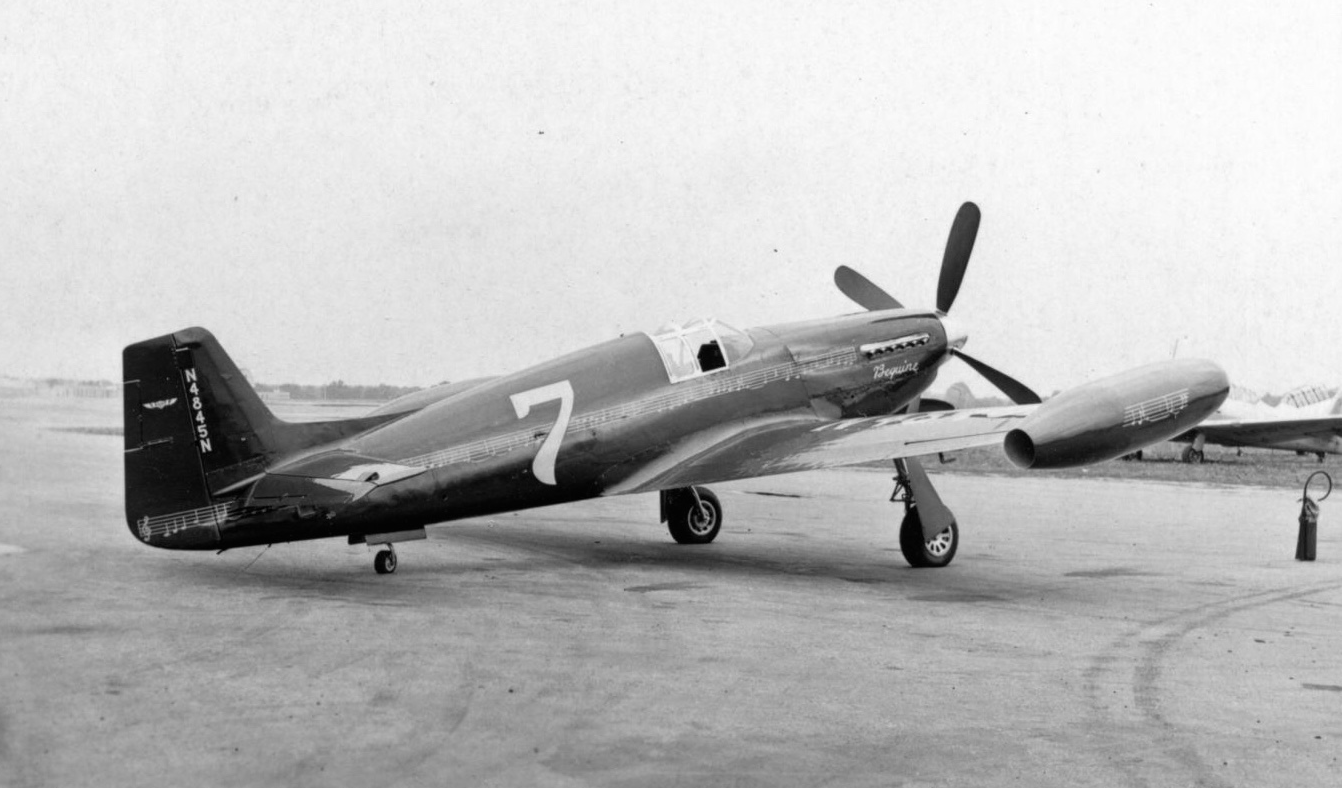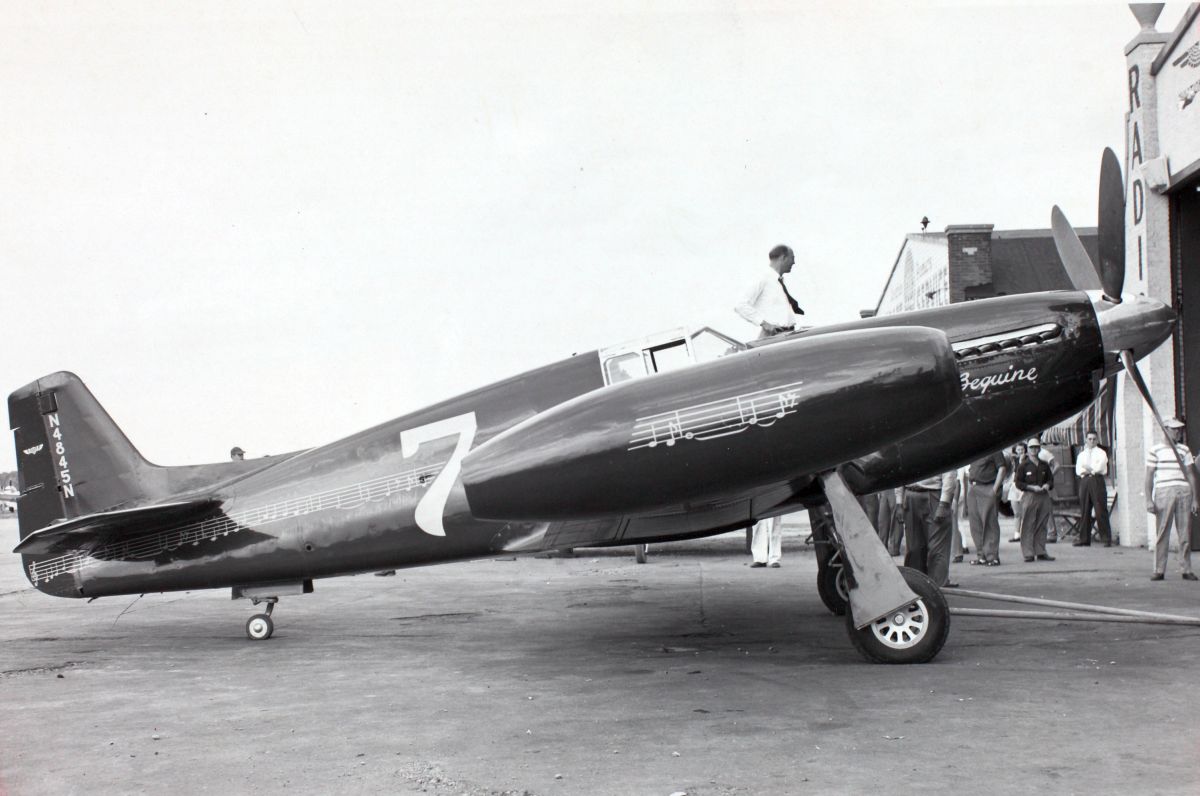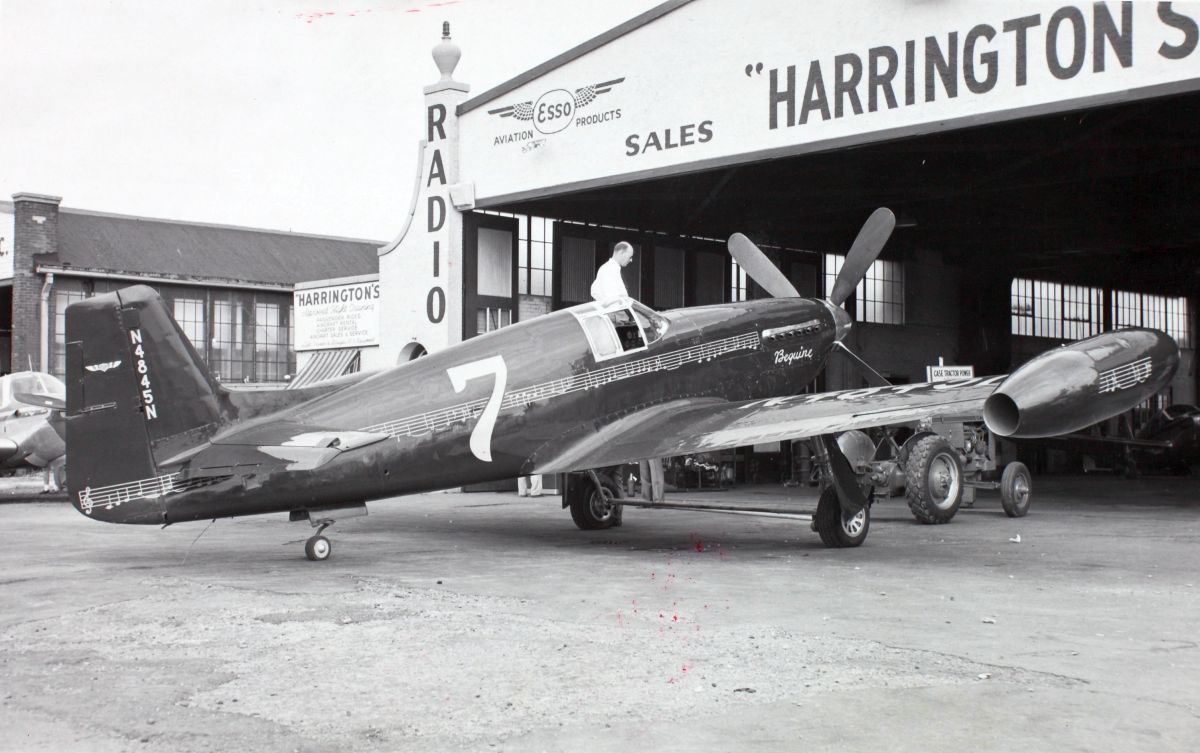 William Paul Odom's remains were buried at the Friendship Cemetery, Columbus, Mississippi.
© 2020, Bryan R. Swopes