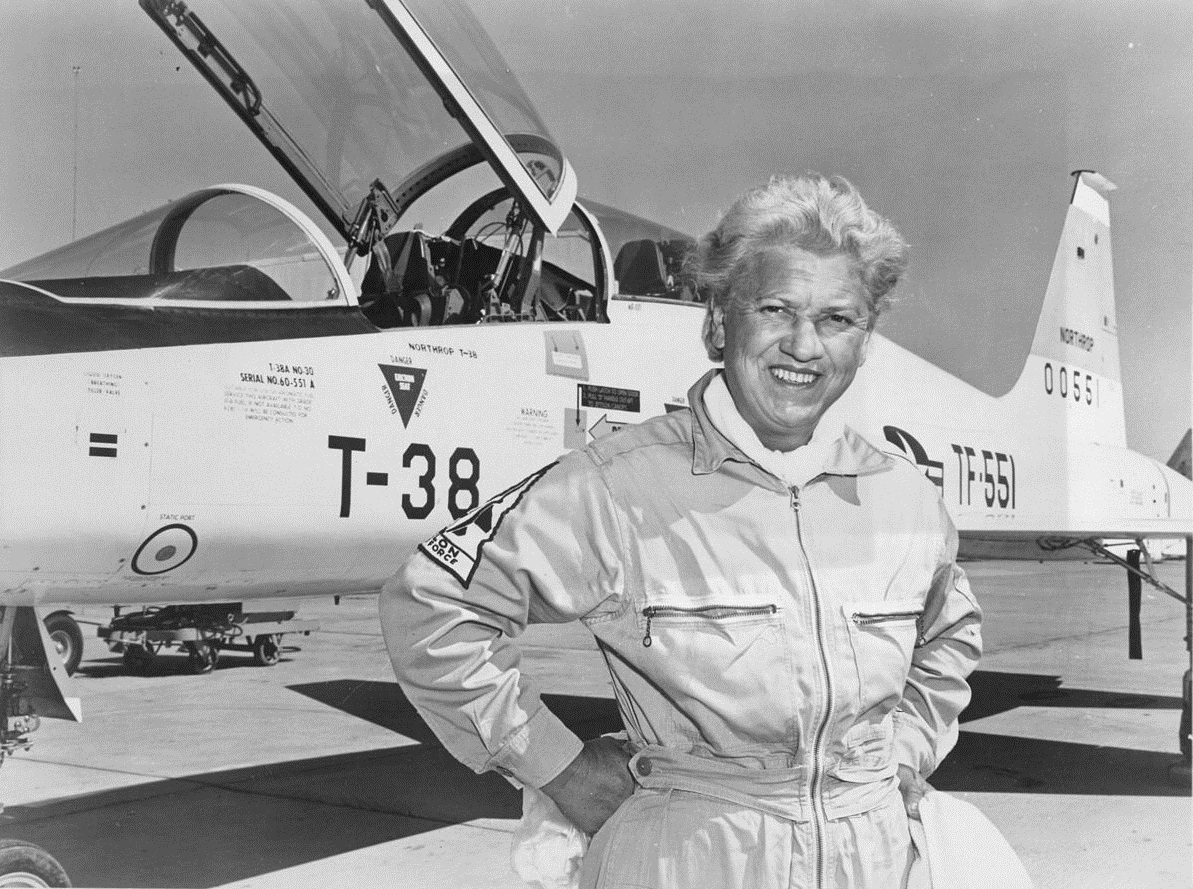 15 September 1961: As a consultant to Northrop Corporation, Jackie Cochran flew a T-38A-30-NO Talon to set a Fédération Aéronautique Internationale (FAI) World Record for Distance Over a Closed Course of 2,166.77 kilometers (1,346.37 miles).¹ During August and September 1961, she set series of speed, altitude and distance records with the T-38.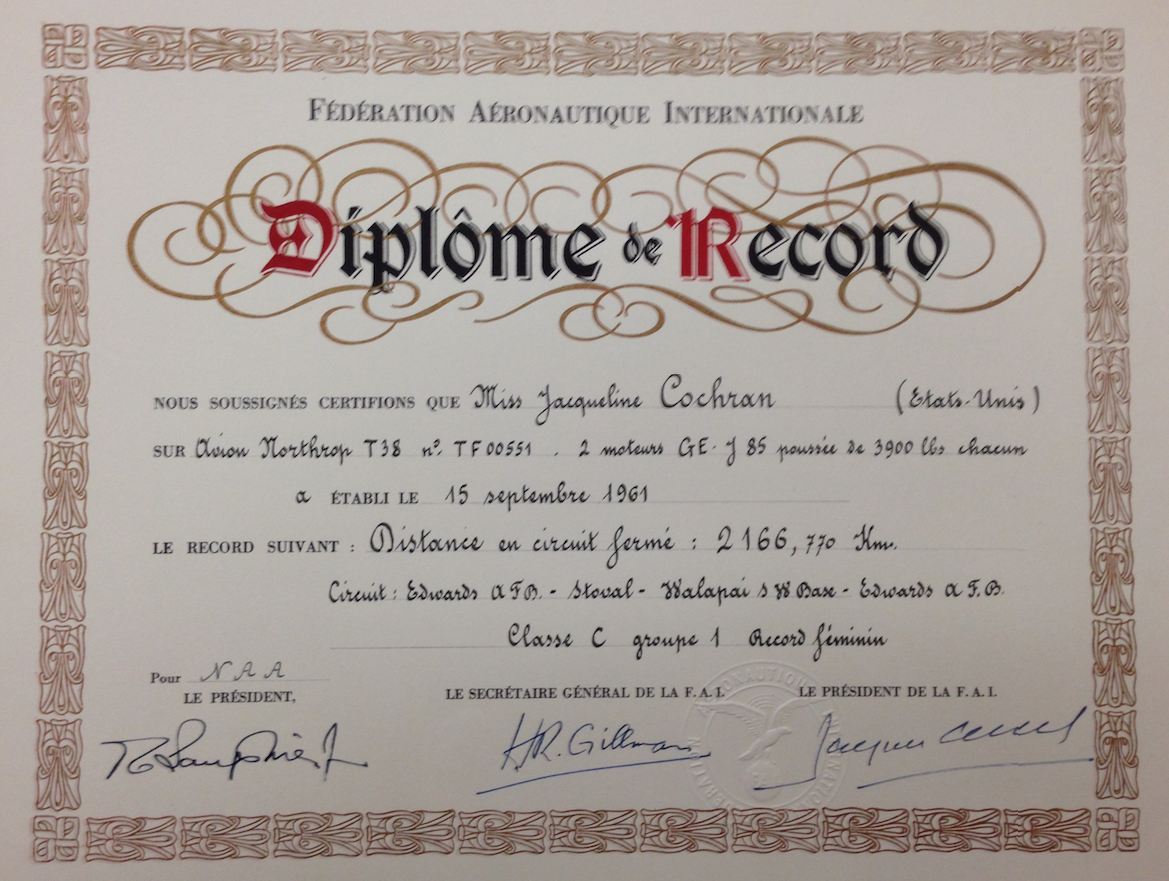 Famed Air Force test pilot Colonel Charles E. ("Chuck") Yeager kept notes during these record runs:
September 13: Jackie landed at 4:15 am. We flew the T-38 on the closed course distance. Takeoff at 2:15 pm and climbed to 40,500 feet [12,344 meters] for initial cruise. Fuel checked out very good. I was amazed at the way Jackie handled the aircraft at high altitude. Everything looked good on the entire flight. Landed a little short of oil in the left engine. Weather was bad over Kingman, Arizona. Cruise climbed at 96% rpm and .87 IMN to 46,500 [14,173 meters] at the end of run. We were in the air 2 ½ hours.
September 14: We tried cold fuel today. It gave us an additional 170 pounds [77 kilograms] at the end. Was a very good flight. We talked with the NAA [National Aeronautic Association] about tomorrow's run.
September 15: Flew closed course distance for record today and had a good run. Jackie did an excellent job even with bad weather. I chased her in an F-100 all the way.
— Brigadier General Charles Elwood ("Chuck") Yeager, U.S. Air Force, quoted in Jackie Cochran: An Autobiography, by Jacqueline Cochran and Maryann Bucknum Brinley, Bantam Books, New York, 1987, Pages 305–306.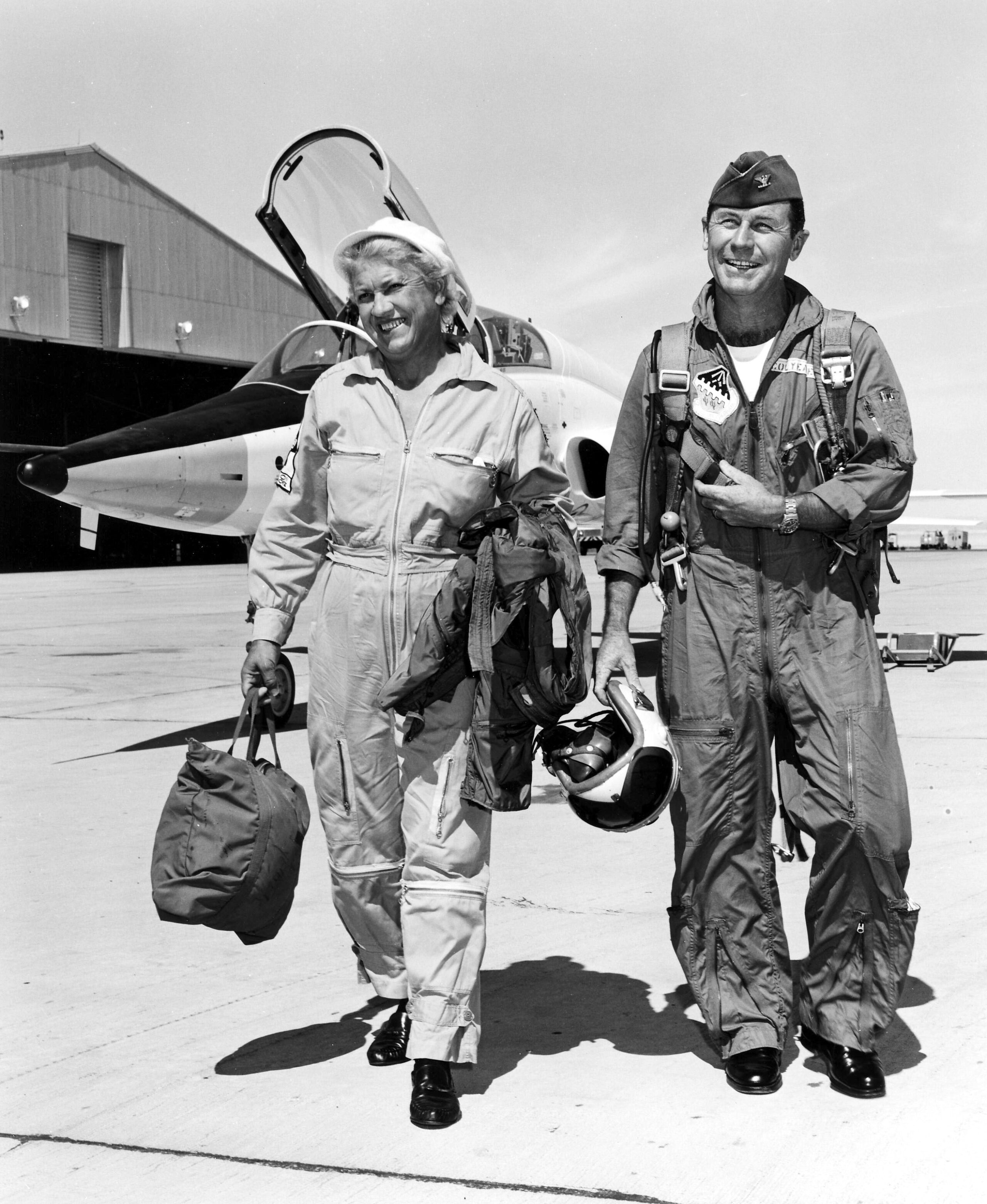 The Northrop T-38A Talon is a two-place, twin-engine jet trainer capable of supersonic speed. It is 46 feet, 4 inches (14.122 meters) long with a wingspan of 25 feet, 3 inches (7.696 meters) and overall height of 12 feet, 10 inches (3.912 meters). The trainer's empty weight is 7,200 pounds (3,266 kilograms) and the maximum takeoff weight is 12,093 pounds (5,485 kilograms).
The T-38A is powered by two General Electric J85-GE-5 turbojet engines. The J85 is a single-shaft axial-flow turbojet engine with an 8-stage compressor section and 2-stage turbine. The J85-GE-5 is rated at 2,680 pounds of thrust (11.921 kilonewtons), and 3,850 pounds (17.126 kilonewtons) with afterburner. It is 108.1 inches (2.746 meters) long, 22.0 inches (0.559 meters) in diameter and weighs 584 pounds (265 kilograms).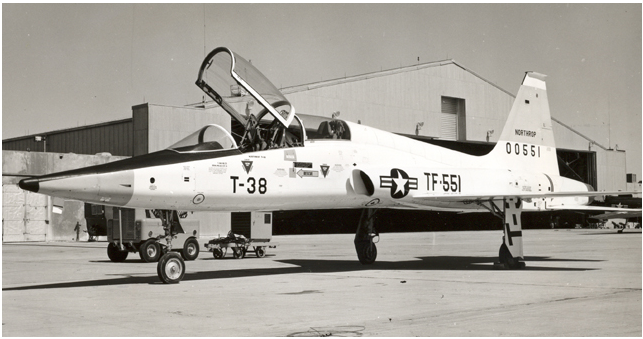 It has a maximum speed of Mach 1.08 (822 miles per hour, 1,323 kilometers per hour) at Sea Level. The Talon's service ceiling of 55,000 feet (16,764 meters) and it has a maximum range of 1,093 miles (1,759 kilometers).
In production from 1961 to 1972, Northrop has produced nearly 1,200 T-38s. As of January 2014, the U.S. Air Force had 546 T-38A Talons in the active inventory. It also remains in service with the U.S. Navy, and the National Aeronautics and Space Administration.
Jackie Cochran's record-setting T-38 is in the collection of the Smithsonian Institution, National Air and Space Museum.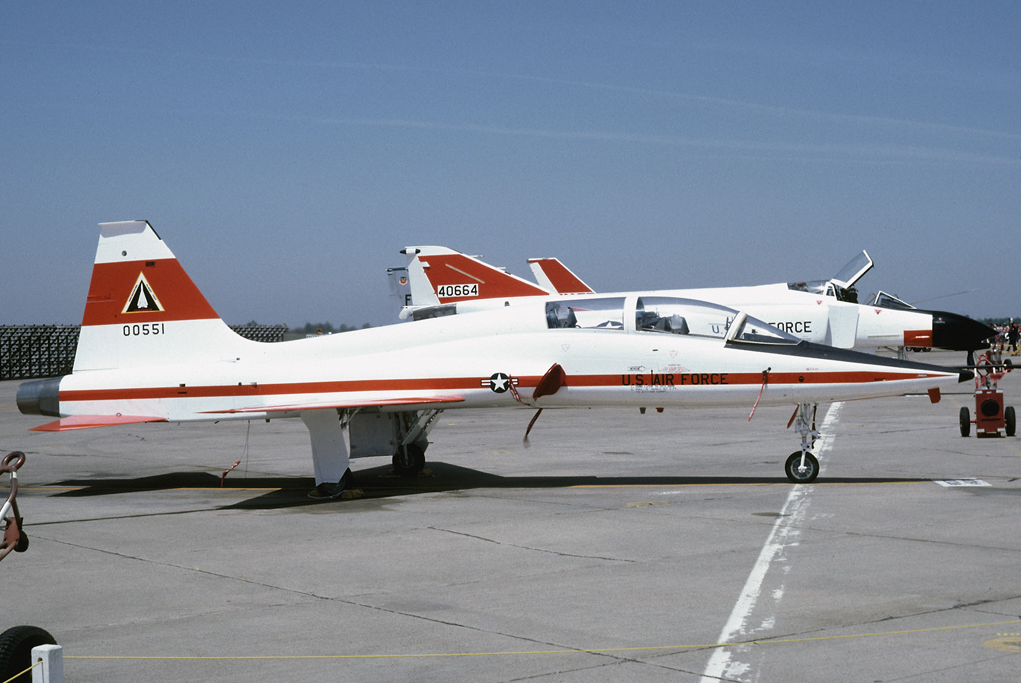 ¹ FAI Record File Number 12384
© 2017, Bryan R. Swopes