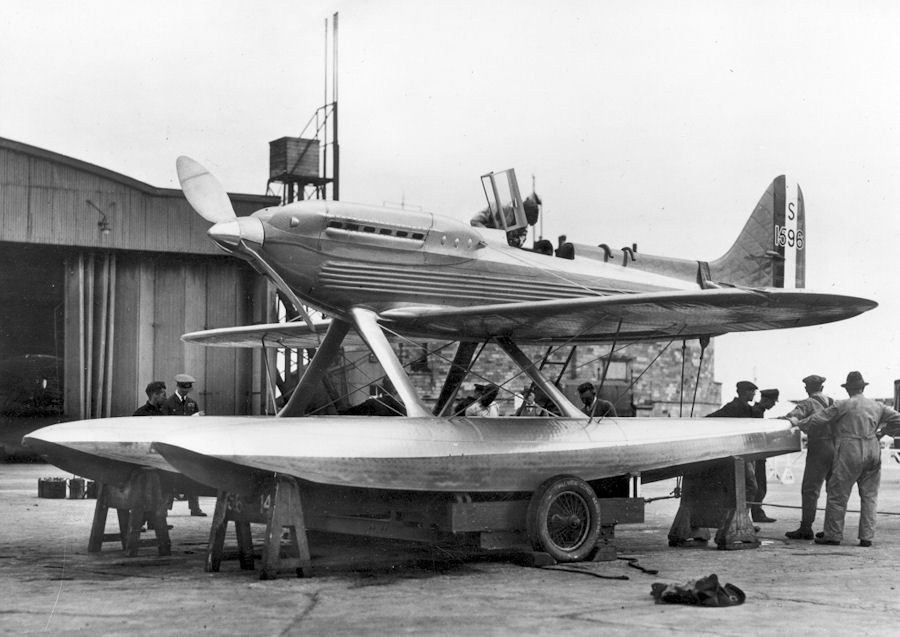 16 September 1931: Flight Lieutenant George Hedley Stainforth of the Royal Air Force High-Speed Flight was flying the second Supermarine S.6B, S.1596, to test an alternate propeller before attempting a 3-kilometer speed record. As he landed on the water following the test flight, his foot became caught in the rudder bar. The S.6B skidded across the surface, and then capsized. Stainforth was able to escape with only minor injuries.
While it was being towed back to the seaplane station at RAF Calshot, the racer sank to the bottom of Southampton Water.
Divers were called in to locate the sunken airplane and to rig it for recovery. The following day, the 17th, a Royal Navy salvage ship recovered the airplane.
The S.6B had sustained damage to one float and the cockpit, but was otherwise in reasonably good condition. It was returned to the Supermarine works for repairs.

S.1596 was the second of two Vickers-Supermarine S.6B Monoplanes, designed by Reginald Joseph Mitchell, who would later design the legendary Supermarine Spitfire fighter of World War II. The racer was developed from Mitchell's earlier S.4, S.5 and S.6 Schneider Cup racers, and was built at the Supermarine Aviation Works (Vickers), Ltd., Southampton, on the south coast of England
The Supermarine S.6B was a single-place, single-engine, low-wing monoplane with two fixed pontoons as an undercarriage. It was of all-metal construction and used a high percentage of duralumin, a very hard alloy of aluminum and copper, as well as other elements. The float plane was 28 feet, 10 inches (8.788 meters) long, with a wingspan of 30 feet, 0 inches (9.144 meters) and height of 12 feet, 3 inches (3.734 meters). The wing area was 145 square feet (13,5 square meters). The S.6B had an empty weight of 4,560 pounds (2,068 kilograms) and gross weight of 5,995 pounds (2,719 kilograms).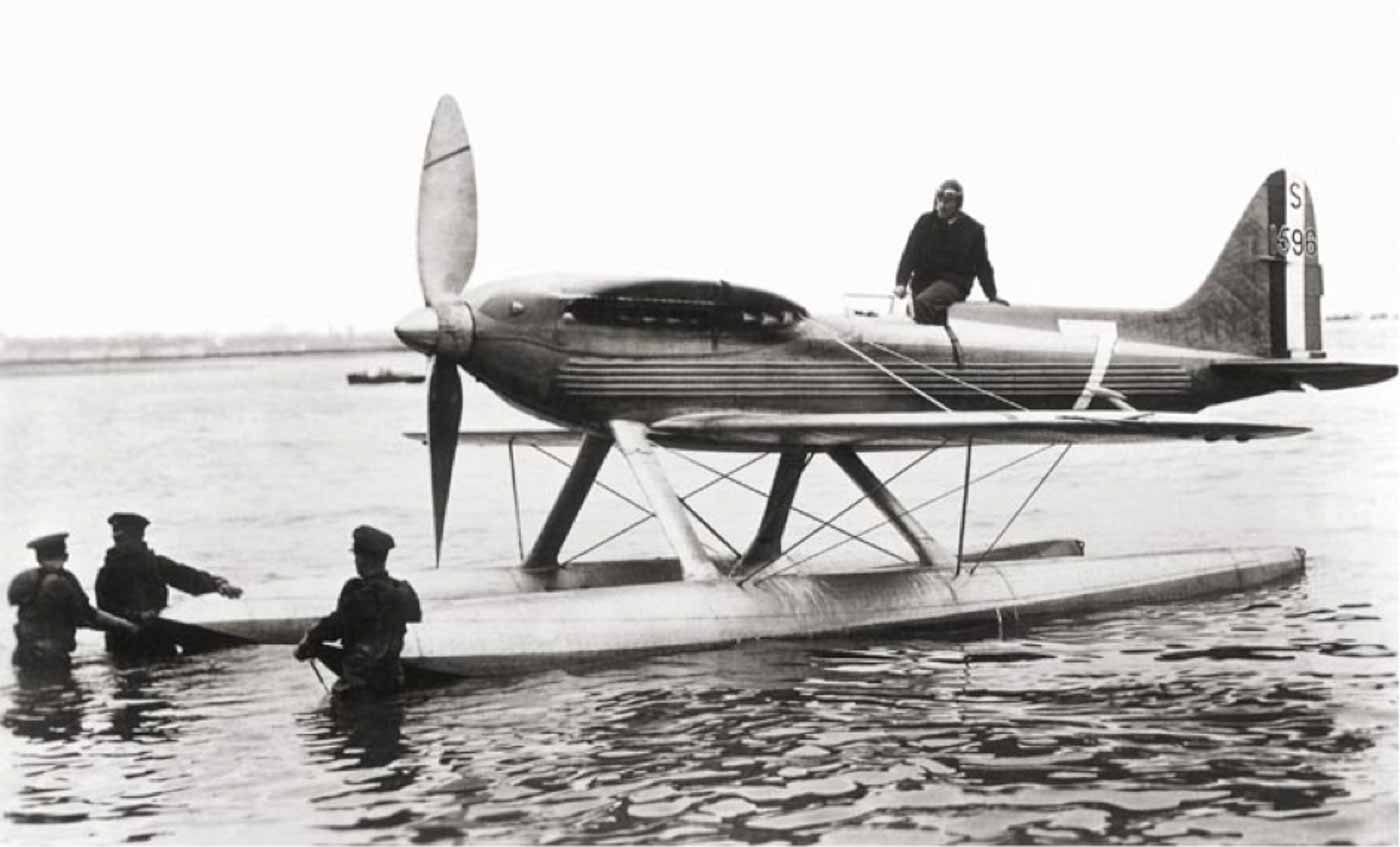 In an effort to achieve the maximum possible speed, aerodynamic drag was eliminated wherever possible. There were no radiator or oil cooler intakes. The wing surfaces were constructed of two thin layers of duralumin with a very small space between them. The engine coolant, a mixture of water and ethylene glycol, was circulated between these layers, which are known as surface radiators. The engine had a high oil consumption rate and the vertical fin was the oil supply tank. The skin panels also served as surface radiators. The fuselage panels were corrugated for strength, and several small parallel passages transferred lubricating oil from the fin tank to the engine, and further cooled the oil.

S.1596 was powered by a liquid-cooled, supercharged, 2,239.327-cubic-inch-displacement (36.696 liter) Rolls-Royce Type R single-overhead-camshaft (SOHC) 60° V-12 engine, number R25. The Type R was a racing engine with 4 valves per cylinder and a compression ration of 6:1. In the 1931 configuration, it produced 2,350 horsepower at 3,200 r.p.m. It used a 0.605:1 reduction gear and turned a Fairey Aviation fixed-pitch airscrew with a diameter of 8 feet, 6 inches (2.591 meters). A special fuel, a mixture of benzol, methanol and acetone with TCP anti-detonation additive, was used. Engine R25 was specially prepared for the 3-kilometer speed runs.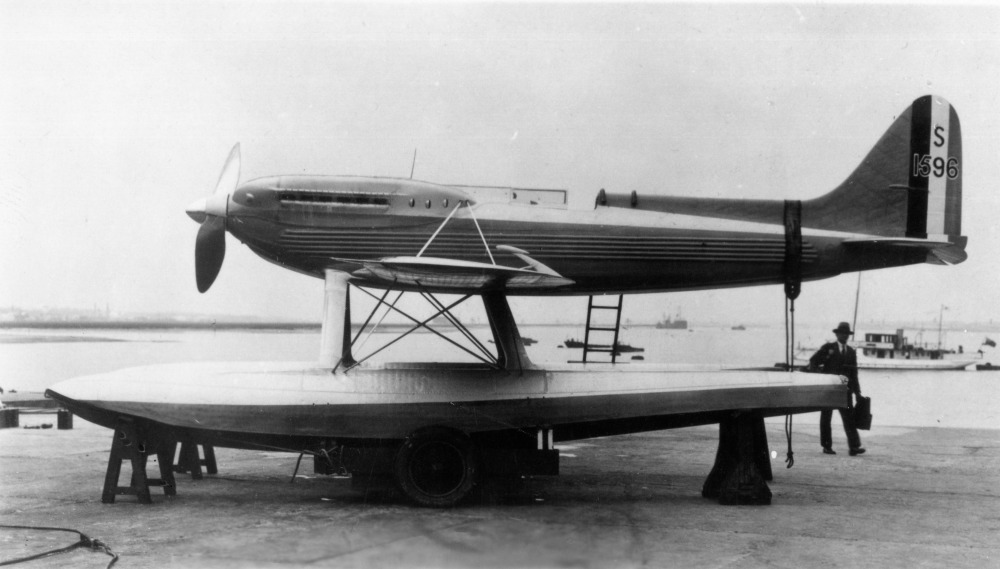 George Hedley Stainforth was born at Bromley, Kent, in 23 March 1899, the son of George Staunton Stainforth, a solicitor, and Mary Ellen Stainforth.
Stainforth was a graduate of the Royal Military Academy Sandhurst. On 11 September 1918, Cadet Stainforth was commissioned a Second Lieutenant of Infantry, East Kent Regiment ("The Buffs"), ³ effective 21 August 1918 and then served in France. On 30 March 1923, Lieutenant Stainforth, R.A.R.O., was granted a short service commission as a Flying Officer, Royal Air Force, effective 15 March 1923.
Flying Officer Stainforth married Miss Gladys Imelda Hendy at St. George's Hanover Square Church, London, in March 1923.
Stainforth was promoted to Flight Lieutenant, 3 July 1928. He was granted a permanent commission in this rank 1 October 1929.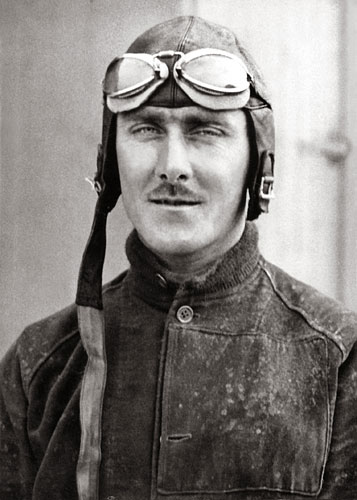 In 1929, Stainforth won the King's Cup Air Race, and on 10 September, set a Fédération Aéronautique Internationale (FAI) World Record for Speed Over a 3 Kilometer Course, averaging 541.10 kilometers per hour (336.22 miles per hour) while flying a Gloster Napier 6 powered by a Napier Lion VIID borad arrow W-12 engine.¹
Stainforth would set another 3-Kilometer world speed record on 29 September 1931, at 655 kilometers per hour (407 miles per hour).² He was the first pilot to fly faster than 400 miles per hour. For this accomplishment, Flight Lieutenant Stainforth was awarded the Air Force Cross, 9 October 1931.
Stainforth was promoted to Squadron Leader with effect from 1 June 1936. On 12 March 1940, he was promoted to the rank of Wing Commander, with effect from 1 March 1940.
During World War II, Wing Commander Stainforth commanded No. 89 Squadron in Egypt. The New York Times reported that he was "the oldest fighter pilot in the Middle East." On the night of 27–28 September 1942, while flying a Bristol Beaufighter near the Gulf of Suez, Wing Commander George Hedley Stainforth, A.F.C., was killed in action. He was buried at the Ismailia War Memorial Cemetery, Egypt.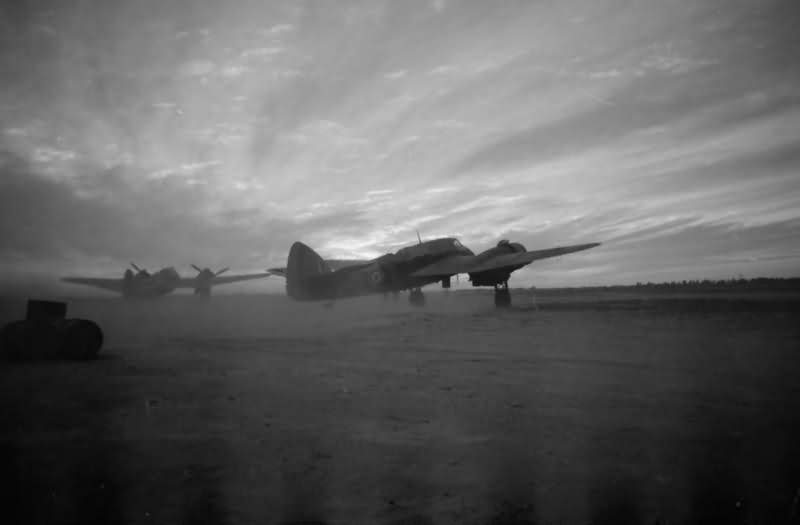 ¹ FAI Record File Number 11829
² FAI Record File Number 11831
³ "The Buffs" is a reference to the regiment's uniform colors during the Austrian War of Succession, circa 1744.
© 2018, Bryan R. Swopes