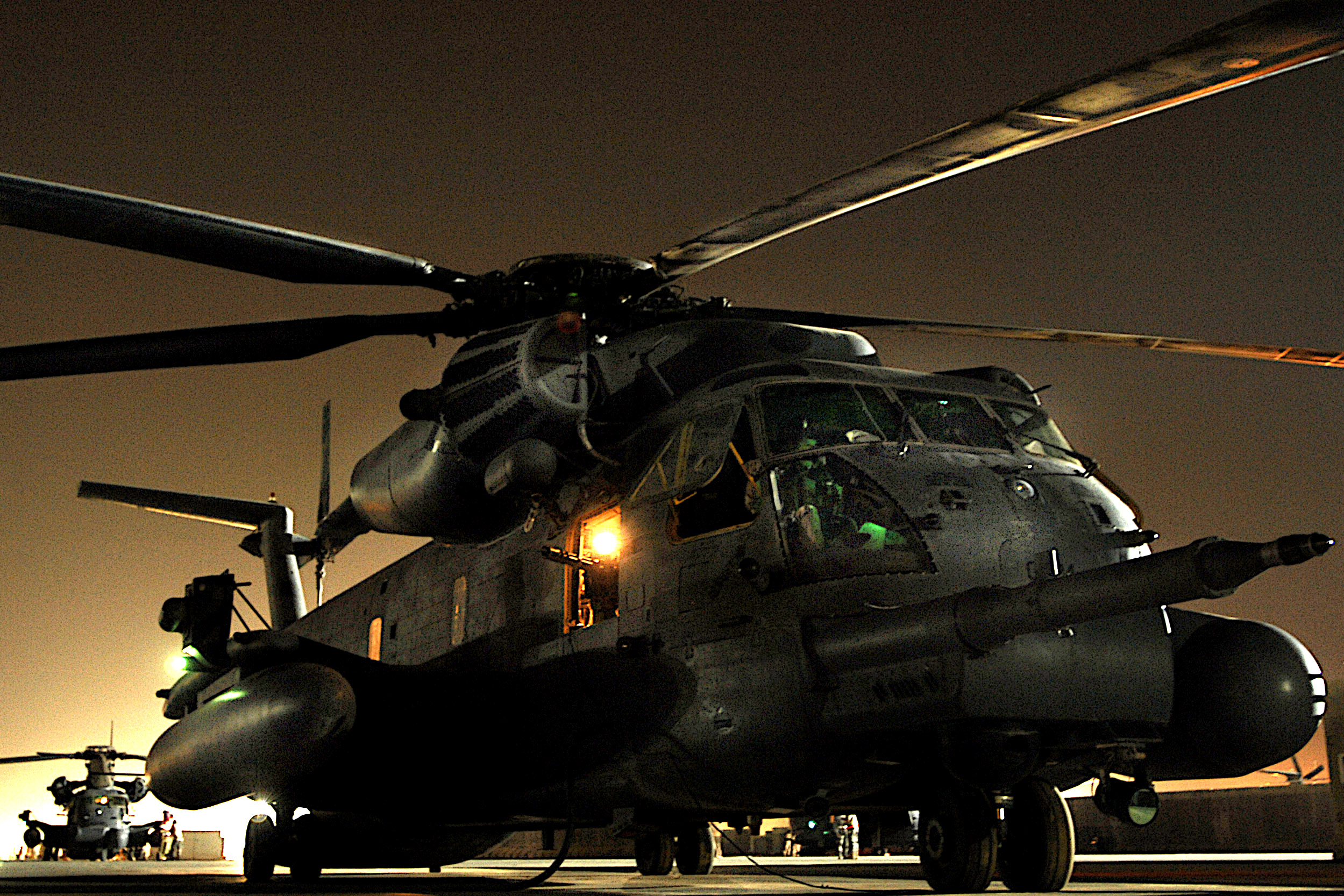 27 September 2008: A United States Air Force Sikorsky MH-53M Pave Low IV special operations helicopter, serial number 68-8284, assigned to the 20th Expeditionary Special Operations Squadron, flew its final combat mission before being withdrawn from service and retired after 40 years and 12,066.6 flight hours.
"Cowboy 26" was flown by Major Philip Cooper, Captain Peter Hettinger, and Colonel Scott Howell, with Technical Sergeant Henry Woodie, Staff Sergeant Shawn Lewis, Senior Airman Eric Harp, and Airman 1st Class Joshua Lucas.
68-8284 was built by the Sikorsky Aircraft Corporation at Bloomfield, Connecticut, as one of 40 HH-53C Super Jolly Green Giants for Combat Search and Rescue (CSAR). It was delivered to the Air Force in August 1968. 68-8284 was assigned to the 40th Air Rescue and Recovery Squadron  at Nakhon Phanom Royal Thai Air Force Base, 1971–1972. It operated as "Jolly Green 55."
On 5 September 1971, with flight crew Major Jerry R. Thompson, Gary L. Gamble (CP),  FE Raymond Duarte and PJs William D. Brinson and Michael D Vogele, it rescued the survivors of "Knife 33," a 21st SOS CH-3E that went down in Laos. On 19 December 1971 (Capt Harold O. Jones (P), David G. Daus (CP), FE Jerrold T. Dearmans, with PJs Leon Fullwood and William D. Brinson, the crew of Falcon 74, a 13th TFS/432 TFW F-4D Phantom II which had gone down shot down 17 December by a SAM near Ban Poung Ban in northeastern Laos. Maj. William T. Stanley, Capt. Lester O'Brien were safely recovered.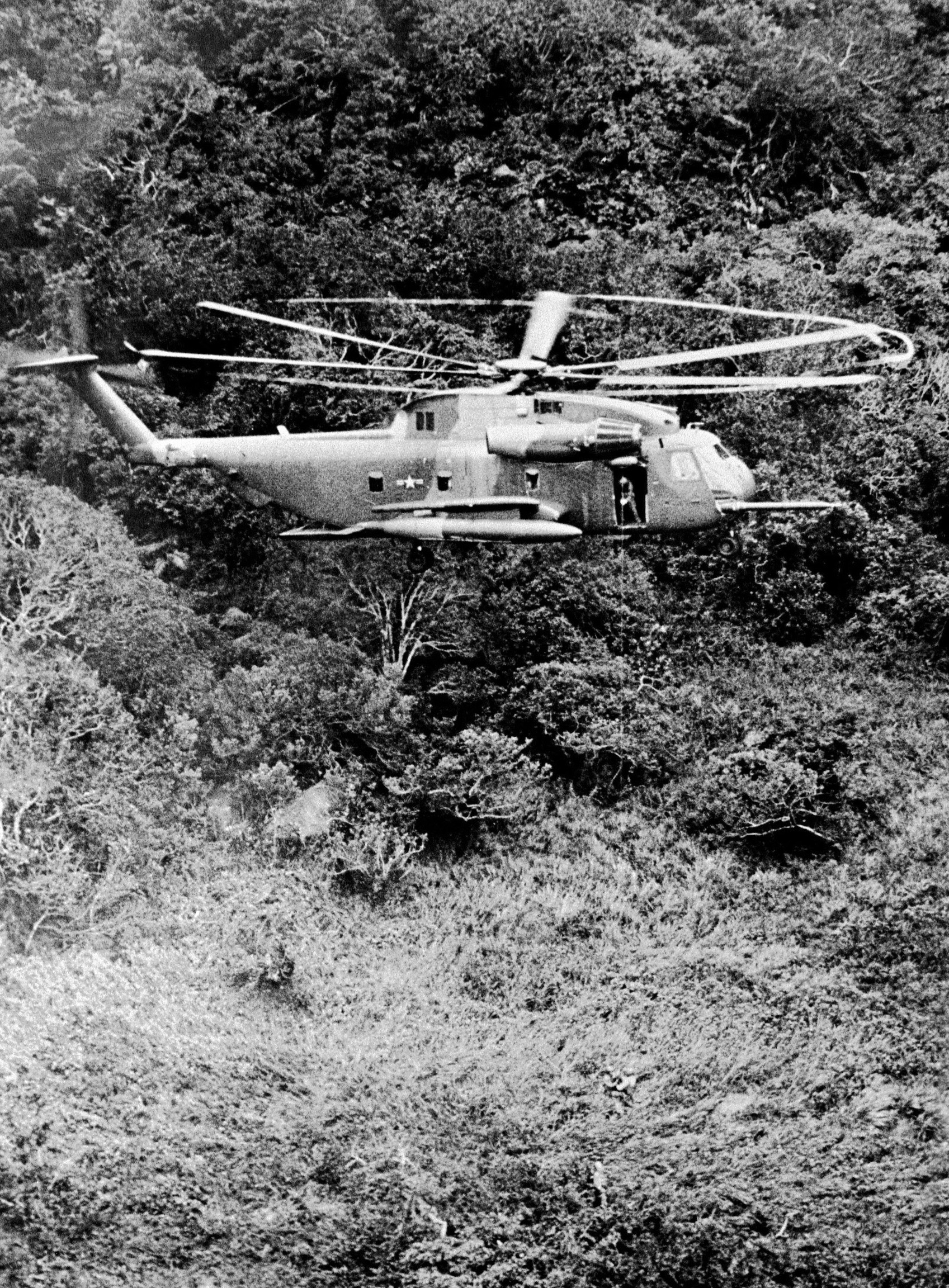 8284 was later assigned to the 67th Aerospace Rescue and Recovery Squadron (39th Aerospace Rescue and Recovery Wing) at RAF Woodbridge, Suffolk, England. 68-8284 has been constantly modernized and upgraded. It was initially converted to the MH-53J Pave Low III/Enhanced configuration by the Naval Air Rework Facility, NAS Pensacola, Florida, in the late 1980s. The helicopter was further modified to the MH-53M Pave Low IV configuration at the Naval Air Depot, MCAS Cherry Point, North Carolina.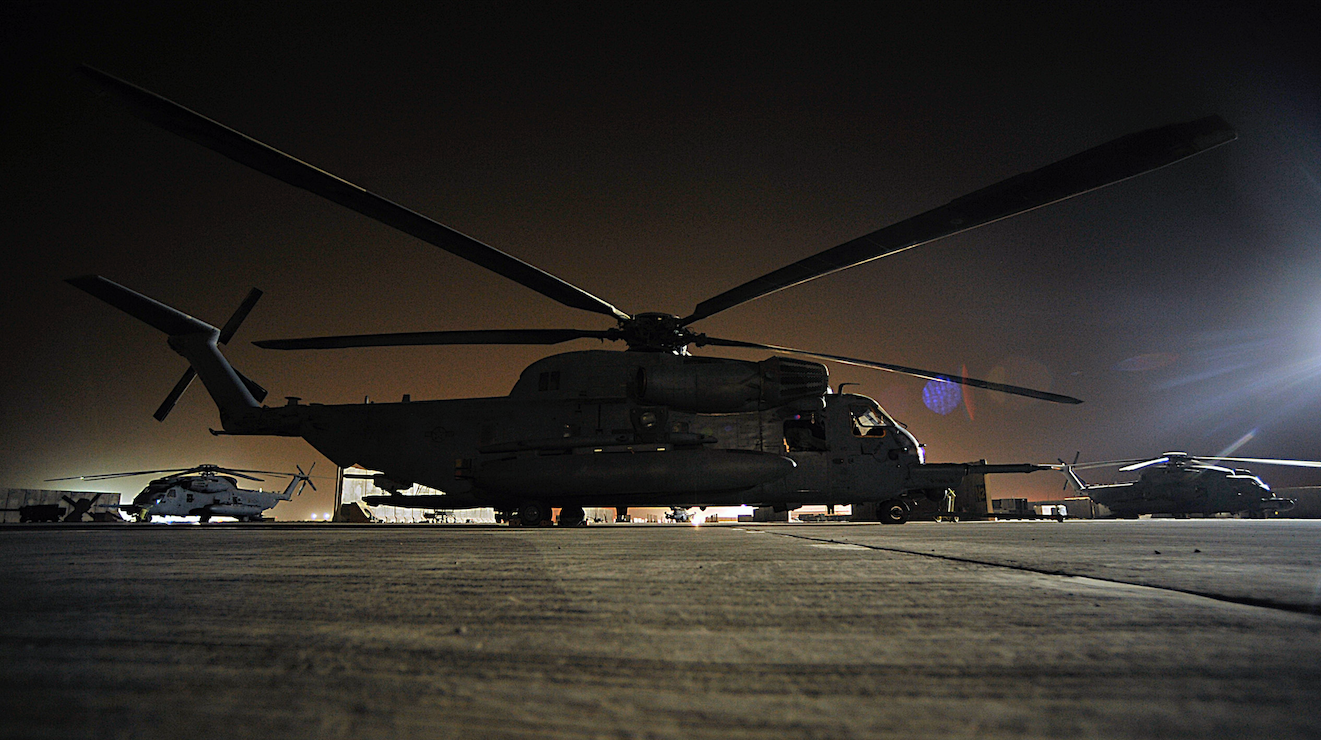 The MH-53M Pave Low IV is a variant of Sikorsky's S-65 heavy-lift military transport helicopter series.  The MH-53M is a single main rotor, single tail rotor, twin-engine helicopter. It has a crew of six: 2 pilots, 2 flight engineers and 2 gunners. The Pave Low IV is equipped with Terrain-Following Radar and Forward Looking Infrared (FLIR) for low-level operations in darkness and low visibility.
The MH-53M fuselage is 67 feet, 2.4 inches (20.483 meters) long, and the helicopter has a maximum length of 91 feet, 11.34 inches (28.025 meters) with rotors turning and the refueling boom extended. The height to the top of the main rotor pylon is 17 feet, 1.68 inches (5.224 meters). The maximum height (rotors turning) is 24 feet, 10.88 inches (7.592 meters).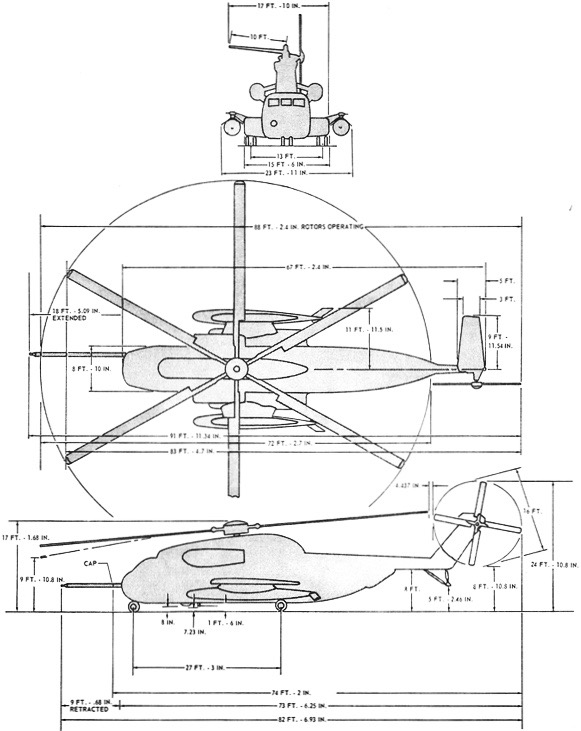 The fully-articulated 6-blade main rotor has a diameter of 72 feet, 2.7 inches (22.014 meters). The main rotor turns counter-clockwise at 185 r.p.m. (100% Nr), as seen from above. (The advancing blade is on the helicopter's right.) The main rotor blades are built with titanium spars and have -16° of twist. The semi-articulated four-blade tail rotor has a diameter of 16 feet, 0 inches (4.877 meters) and is positioned on the left side of the tail pylon. It turns clockwise at 792 r.p.m., as seen from the helicopter's left side. (The advancing blade is below the axis of rotation.) The gap between rotor arcs is just 4.437 inches (11.270 centimeters).
Empty, the MH-53M weighs 32,000 pounds (14,515 kilograms). Its maximum takeoff weight is 46,000 pounds (20,865 kilograms).
Its two General Electric T64-GE-100 axial-flow turboshaft engines have a Normal Continuous Power rating of 3,810 shaft horsepower at 85 °F. (30 °C.), Military Power rating of 4,090 shaft horsepower, and a Maximum Power rating of 4,330 shaft horsepower. The T64-GE-100 is 79 inches (2.007 meters) long, 20 inches (0.508 meters) in diameter and weighs 720 pounds (327 kilograms). Output (100% N2) is 13,600 r.p.m.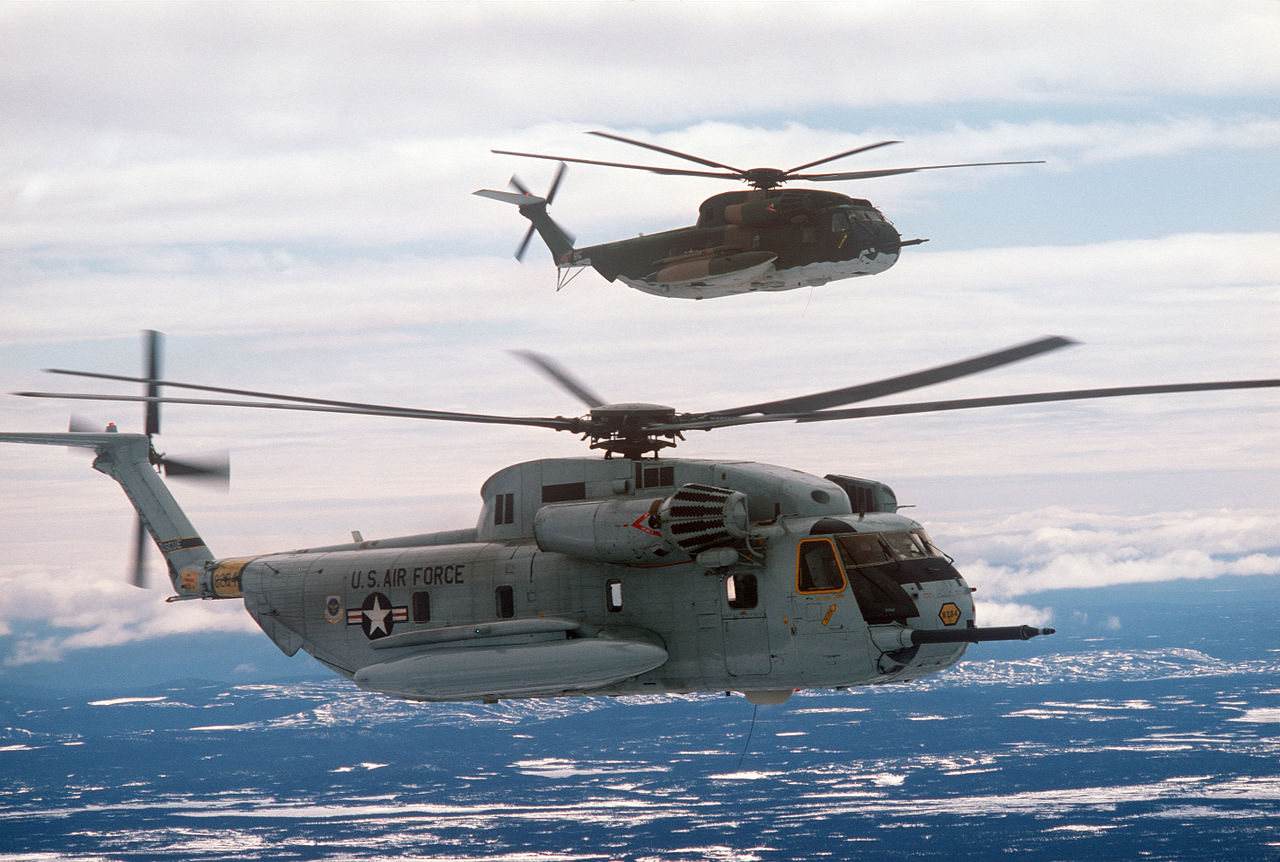 The MH-53M has a maximum speed of 196 miles per hour (315 kilometers per hour) and a service ceiling of 16,000 feet (4877 meters). It carries two 450-gallon (1,703 liter) jettisonable fuel tanks under each sponson.
The MH-53M is armed with two M134 7.62mm miniguns and a GAU-18/A .50 caliber machine gun.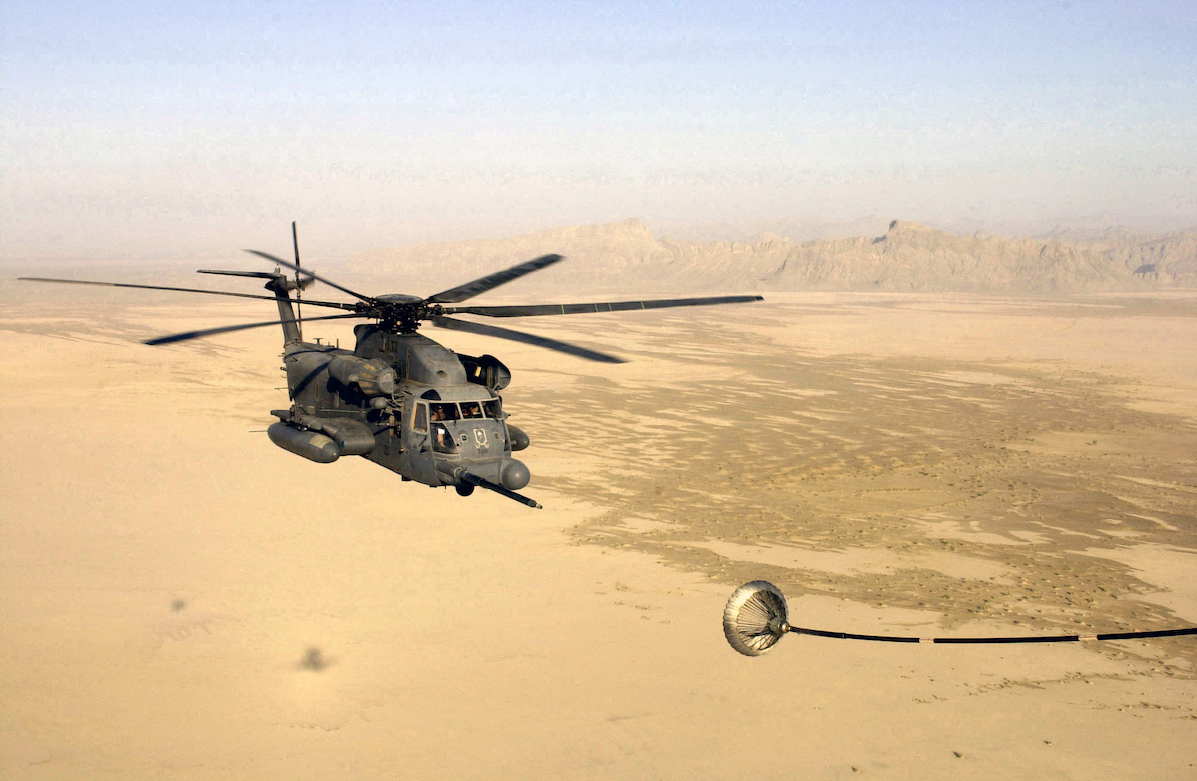 At the time they were retired, the MH-53Ms were the fastest, heaviest, most powerful helicopters in the United States Air Force inventory.
After leaving Iraq, 68-8284 was transported by C-17 Globemaster III to England. It was loaned to the Royal Air Force Museum Cosford, where it is on display.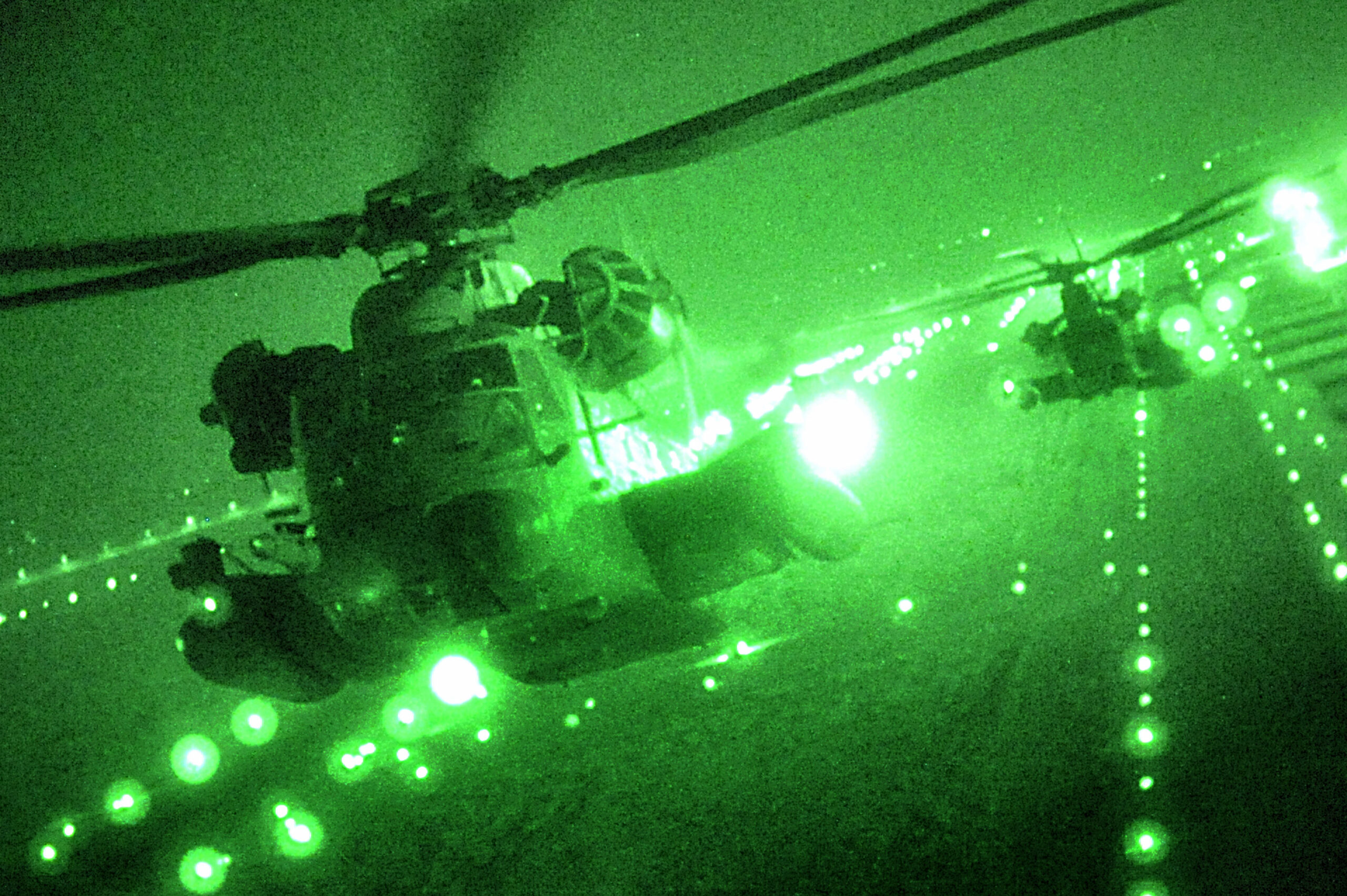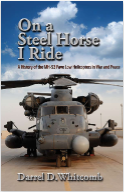 Recommended: On a Steel Horse I Ride: A History of the MH-53 Pave Low Helicopters in War and Peace, by Darrel D. Whitcomb. Air University Press, Air Force Research Institute, Maxwell Air Force Base, Alabama, September 2012.
© 2019, Bryan R. Swopes