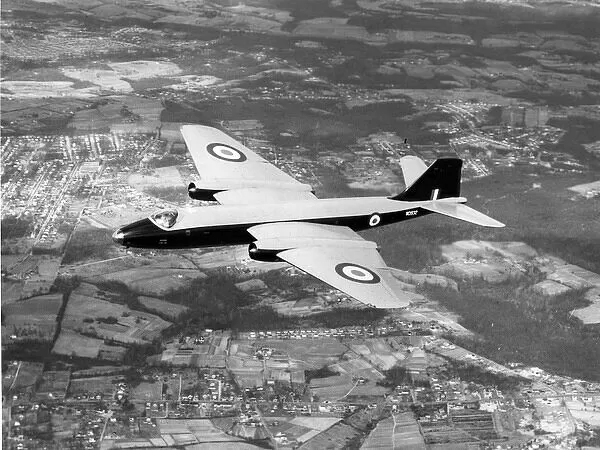 21 February 1951: A Royal Air Force English Electric Canberra B Mk.2 bomber, WD932, under the command of Squadron Leader Arthur Edward Callard, D.F.C., A.F.C, A.R.Ae.S., took off from RAF Aldergrove, Belfast, Northern Ireland, and flew across the North Atlantic to Gander, Newfoundland, Canada. Also aboard were Flight Lieutenant Edward Arthur Joseph Haskett, navigator, and Flight Lieutenant A.G.R. Robson, radio operator. The crew were assigned to the Aeroplane and Armament Experimental Establishment, RAF Boscombe Down.
WD932 departed Aldergrove at 12:43 p.m. local time (12:43 UTC), and arrived at Gander at 11:50 Newfoundland Standard Time (17:20 UTC), for an elapsed time of 4 hours, 37 minutes. Flying at altitudes above 40,000 feet (12,192 meters) they encountered head winds of 90 miles per hour (40 meters per second). The average speed of the flight was 444.042 miles per hour (714.616 kilometers per hour/385.862 knots).
For this flight, WD932 was equipped with jettisonable 250 gallon wing tip fuel tanks, giving the Canberra a total fuel capacity of 1,874 Imperial gallons (2,250 U.S. gallons/8,519 liters).
The flight had been delayed to repair an 8-inch (20 centimeters) hole in the leading edge of the right wing, caused when the airplane struck a seagull on takeoff the previous day.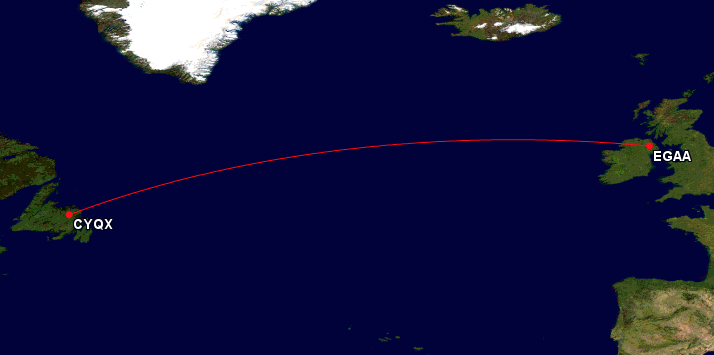 The RAF had not requested observers from Royal Aero Club of the United Kingdom, so no official world record was set by this flight.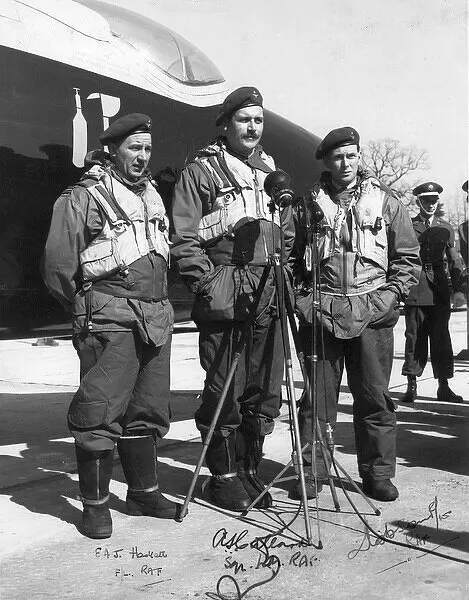 British Jet Flys Atlantic in Record 4 Hours 37 Minutes
     GANDER, N. F., Feb. 21 (UP) — A twin-jet British Canberra bomber, flying at better than seven miles a minute, set a record of four hour and 37 minutes today on a 2050-mile flight from Ireland to Gander.
     The Canberra, piloted by squadron leader Arthur E. Callard, left Aldergrove, Northern Ireland, at 7:43 a.m. E. S. T. and landed here at 12:20 p.m., averaging 444.042 miles an hour despite headwinds of 90 miles an hour.
     A crew of two accompanied Callard on the transatlantic flight, which better by two hours the only comparable record of six hours and 40 minutes set in 1947 by a Pan American Constellation flying here from Shannon Airport, Ireland.
     "It would be hard for anyone to convince us that they had a more pleasant trip than we," Callard said as he stepped from the sleek bomber, claimed by the British to be the fastest plane of its type in the world.
     He described the trip as "perfect from start to finish."
     Callard, Flight Lt. Edward Haskett, the navigator, and Flight Lt. A. J. Robson, radio operator, agreed that they would have completed the flight sooner had it not been for heavy headwinds.
     They declined to give any details of the flight because the performance of the plane is top-secret.
     "But we can say it feels grand," Callard said. "The trip was quiet and one of the things about flying a jet bomber is that'in this case anyway—there was no vibration like you'd find in an old-type plane."
     The Canberra flew most of the distance at altitudes greater than 40,000 feet. The plane roared into sight of this Newfoundland outpost as 12:16 p.m., touching down on the airport seven minutes later.
     The jet bomber will go to Andrews Air Base, Washington, D.C., for tests by the United States Air Force. If the tests are successful, the plane may be mass-produced in the United States for Gen Dwight D. Eisenhower's Atlantic Army Air Force.
—Boston Evening Globe, Vol. CLIX, No 52, Page 1, Columns 5 and 6, Page 10, Columns 5 and 6
WD932 continued to Andrews AFB where it would be demonstrated to the U.S. Air Force, and to be used as a pattern aircraft for the B-57 Canberra, produced by the Glenn L. Martin Co., Middle River, Maryland. It would be assigned the USAF serial number 51-17387.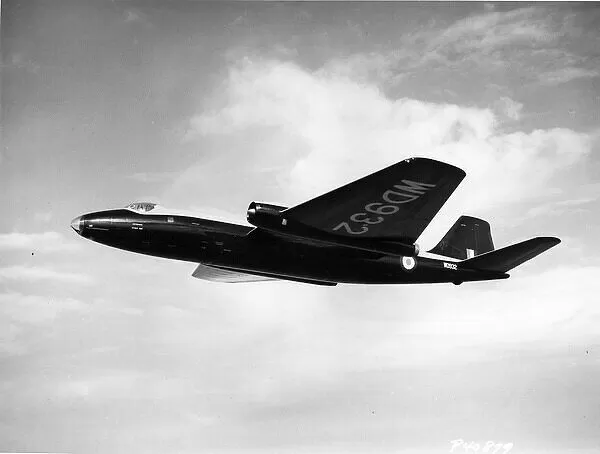 On 2 December 1951, WD932 disintegrated in flight during 4.8g maneuver at 10,000 feet, near Middle River. Major Harry M. Lester and Captain Reid Johns Shaw ejected, though Shaw was killed when his parachute failed to open. The accident was believed to have resulted from a problem with fuel management which caused the airplane's center of gravity to shift aft.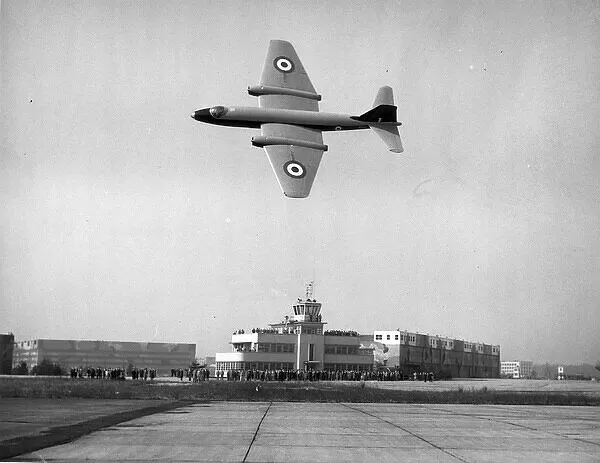 WD932 was the fourth production Canberra B Mk.2, with manufacturer's serial number 71012.

The English Electric Canberra B Mk.2 was the first production variant of a twin-engine, turbojet powered light bomber. The bomber was operated by a pilot, navigator and bombardier. It was designed to operate at very high altitudes. The Canberra B.2 was 65 feet, 6 inches (19.964 meters) long with a wingspan of 64 feet, 0 inches (19.507 meters) and height of 15 feet, 7 inches (4.750 meters). The airplane's maximum takeoff weight was 46,000 pounds (20,865 kilograms).
The wing used a symmetrical airfoil and had 2° angle of incidence. The leading edges of the outer wing panels were swept back 13° 33′, while the trailing edges swept forward 19°53′. The inner wing had 2° dihedral (+/- 10′), and the outer wing, 4° 21′. The total wing area was 960 square feet (89.2 square meters). The variable-incidence tail plane had 10° dihedral.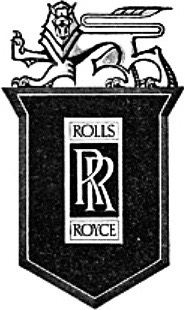 The Canberra B.2 was powered by two Rolls-Royce Avon RA.3 Mk. 101 engines. The RA.3 was a single-spool axial-flow turbojet with a 12-stage compressor section and single-stage turbine. It was rated at 6,500-pounds-thrust (28.91 kilonewtons).
The B.2 had a maximum speed of 450 knots (518 miles per hour/833 kilometers per hour). It was restricted to a maximum 0.75 Mach from Sea Level to 15,000 feet (4,572 meters), and 0.79 Mach from 15,000 to 25,000 feet (7.620 meters). Above that altitude the speed was not restricted, but pilots were warned that they could expect compressibility effects at 0.82 Mach or higher.
The Canberra was produced in bomber, intruder, photo reconnaissance, electronic countermeasures and trainer variants by English Electric, Handley Page, A. V. Roe, and Short Brothers and Harland. In the United States, a licensed version, the B-57A Canberra, was built by the Glenn L. Martin Company. The various versions were operated by nearly 20 nations. The Canberra was the United Kingdom's only jet-powered bomber for four years. The last one in RAF service, a Canberra PR.9, made its final flight on 28 July 2008.
© 2023, Bryan R. Swopes