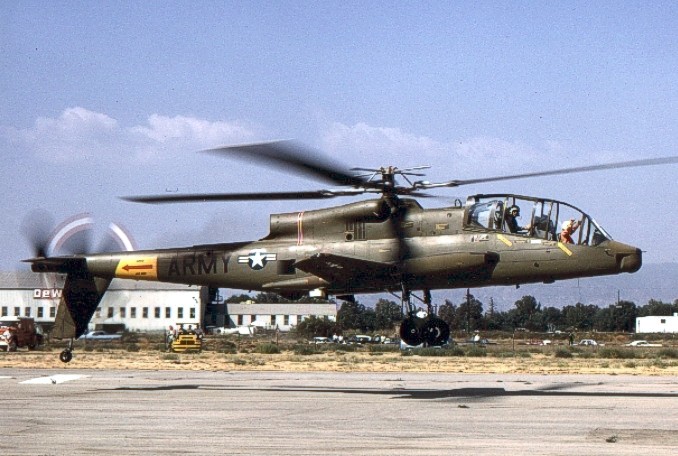 21 September 1967: The Lockheed AH-56A Cheyenne made its first flight at Van Nuys Airport (VNY), Van Nuys, California. In the cockpit was Lockheed test pilot (and former lieutenant colonel, USMC) Donald Riley Segner, Lieutenant Colonel Emil Eldon ("Jack") Kluever, U.S. Army, the Army's project officer.
The Lockheed AH-56A Cheyenne was a prototype armed helicopter. It was a two-place, single-engine, compound helicopter, developed by the Lockheed-California Company for the United States Army. Ten prototypes were built at Lockheed's plant B-9 at Van Nuys Airport. It had a four-bladed rigid main rotor, a stub wing, a four-bladed tail rotor and a three-bladed pusher propeller. The two-place cockpit is tandem, with the pilot-in-command flying from the rear seat. A co-pilot/gunner is seated forward.
The Cheyenne is 54 feet, 8 inches (16.662 meters) long, and 13 feet, 8.5 inches (4.178 meters) high. The main rotor has a diameter of 51 feet, 3 inches (15.621 meters). Its stub wing had a span of The prototype empty weight is 12,215 pounds (5,540.6 kilograms), and maximum takeoff weight is 25,880 pounds (11,739 kilograms).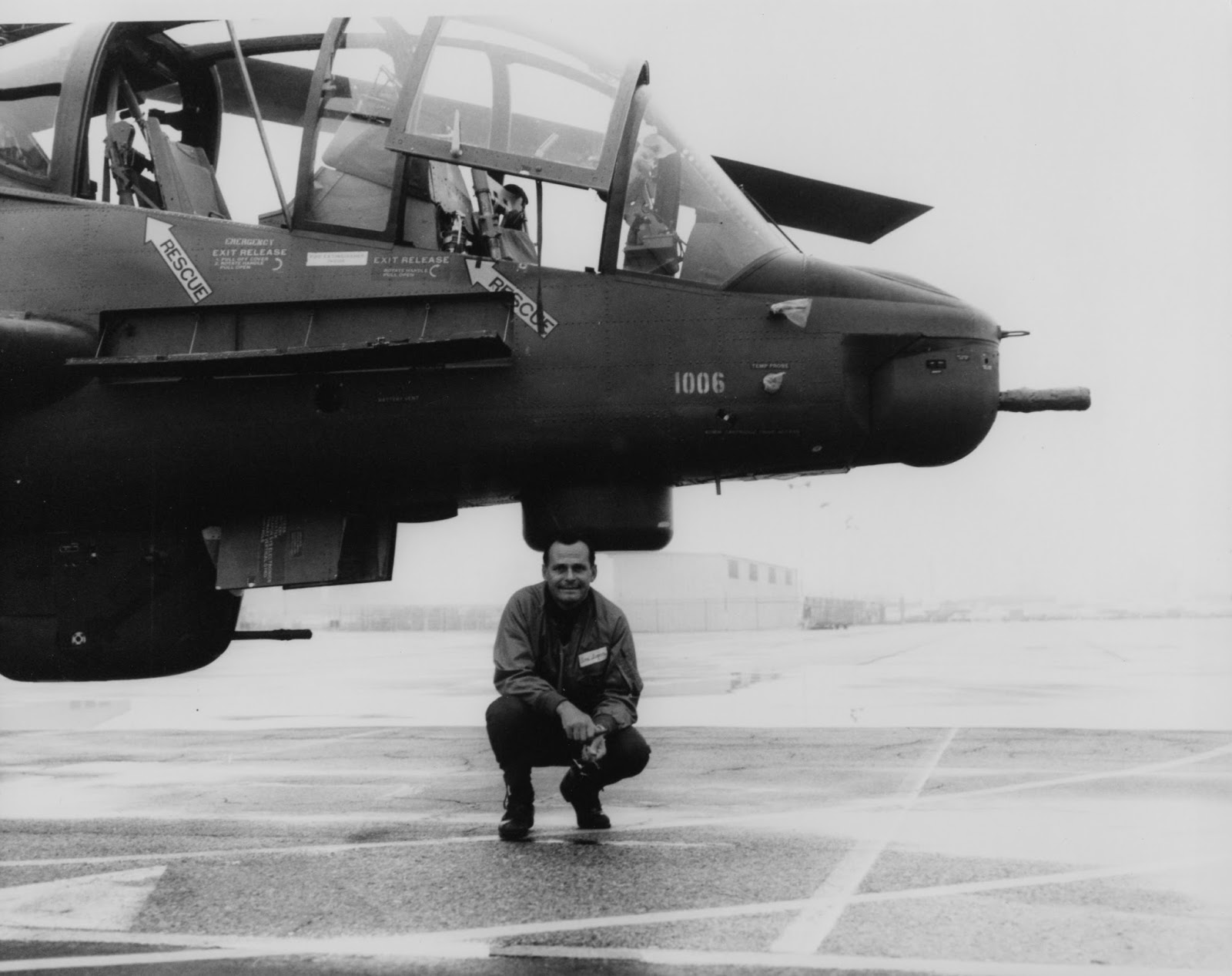 The Cheyenne is powered by a single General Electric T64-GE-16A engine, rated at 3,485 shaft horsepower (2,599 kiloWatts). The T64 is an axial flow free-turbine turboshaft engine. It has a 14-stage compressor and 4-stage turbine (2 high-pressure and 2 low pressure). The turbine shaft is coaxial with the compressor shaft and delivers power forward. The engine is 6 feet, 7.0 inches (2.007 meters) long, 2 feet, 0.2 inches (0.615 meters) in diameter, and weighs 720 pounds (327 kilograms). This engine was also used in the Sikorsky CH-53A.
The Cheyenne had a cruise speed of 195 knots (224 miles per hour/361 kilometers per hour), and maximum speed of 212 knots (244 miles per hour/393 kilometers per hour). It could climb at 3,000 feet per minute (15.24 meters per second) and had a service ceiling of 21,000 feet (6,401 meters). The helicopter's range was 1,063 nautical miles (1,223 statute miles/1,969 kilometers).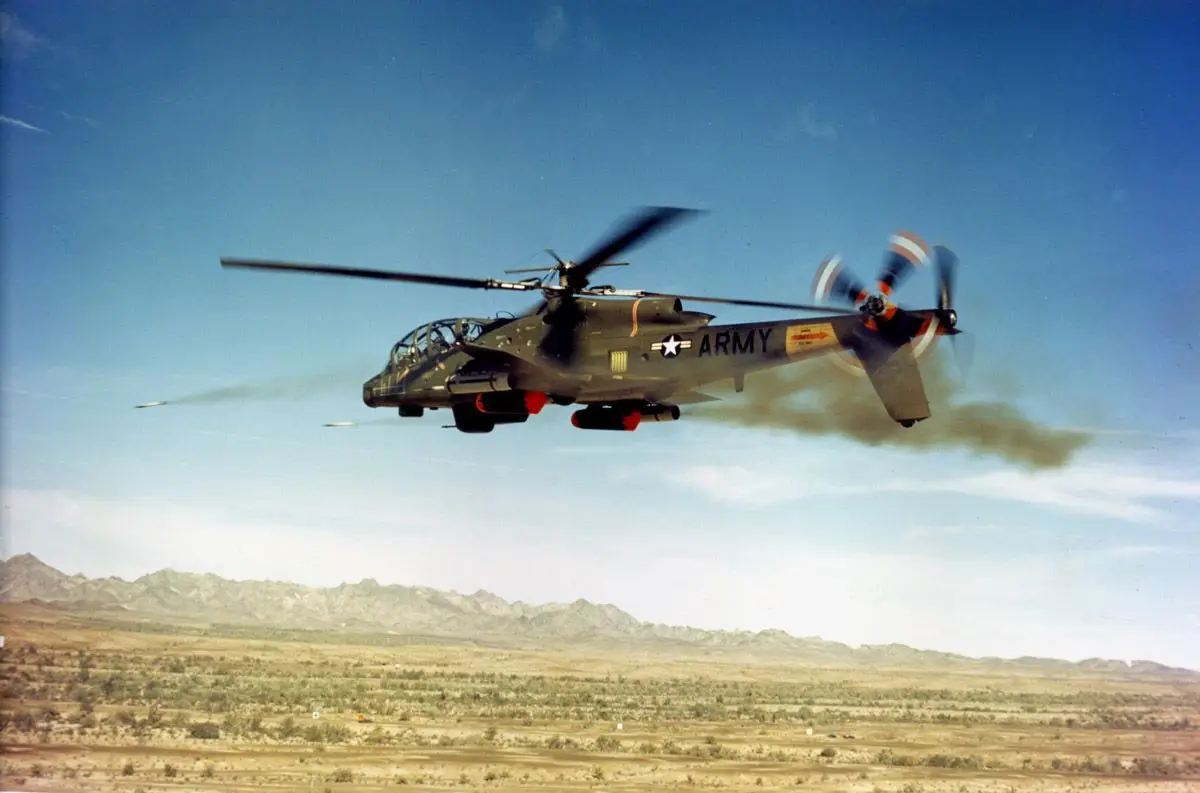 The AH-56A could be armed with a 7.62 mm XM196  six-barrel rotary machine gun ("minigun"), or a 40 mm M129 grenade launcher mounted in a turret at the nose. It had six hard points under the stub wings that could carry 2.75-inch (70 mm) Mk 4 Folding-Fin Aerial Rocket pods or BGM-71 Tube-launched, Optically-tracked, Wire-guided ("TOW") anti-tank missiles.
Lockheed built ten AH-56A Cheyenne helicopters. The third prototype, 66-8828, was destroyed during a test flight, 12 March 1969, when the main rotor struck the fuselage. The test pilot was killed. The tenth prototype, 66-8835, was seriously damaged while being tested in the NASA Ames full-scale wind tunnel, 17 September 1969. Like 66-8828, its main rotor struck the fuselage.
The Cheyenne program was cancelled 9 August 1972.
Lockheed AH-56A Cheyenne 66-8827 is on display at the Fort Polk Military Museum, Fort Polk, Louisiana.
© 2023, Bryan R. Swopes