22 May 1937: Earhart's Lockheed Electra 10E Special, NR16020 was repaired at Tucson, Arizona after its left engine, a Pratt & Whitney Wasp S3H1 nine-cylinder radial, caught fire while restarting after a fuel stop the previous day. Amelia Earhart and her Navigator, Fred Noonan, and two passengers, flew to New Orleans, Louisiana, on the 22nd.
Although she was actually on the third leg of her second around-the-world-flight attempt, no public announcement had yet been made.
The United Press reported:
AMELIA 'JUST FLYING ANYWHERE,' SHE SAYS
(United Press by Radio)
     TUCSON, Ariz., May 22—Amelia Earhart Putnam took off for El Paso, Tex., today in her newly repaired Lockheed Electra plane.
     She said she was "just flying anywhere to check the plane and see that everything is working properly."
     "It's just like new now," she asserted. "I'd like to put at least 50 hours flying time on it before the big flight."
     The "big flight" will be her second attempt to fly around the world along an equatorial route. She hopes to take off soon after June 1, weather permitting, with Honolulu her firsst stop.
     Her plane was smashed at Luke Field in her first attempt.

—The Honolulu Advertiser, Sunday, 23 May 1937 Page 3, Column 5
"The next morning at Tucson a dense sandstorm blocked our way, but despite it we took off, leap-frogging at 8,000 feet over El Paso with a seemingly solid mass of sand billowing below us like a turbulent yellow sea. That night we reached New Orleans. . . ." — Amelia Earhart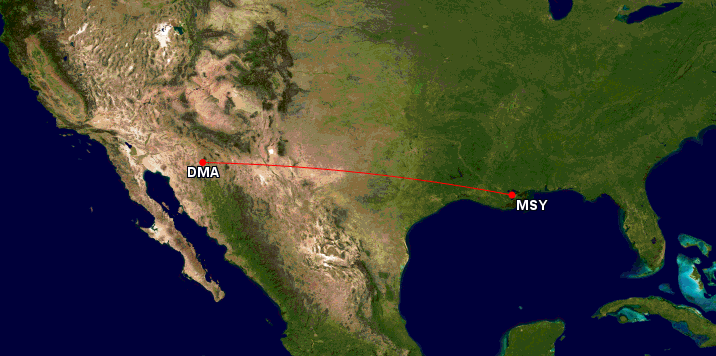 © 2019, Bryan R. Swopes
by