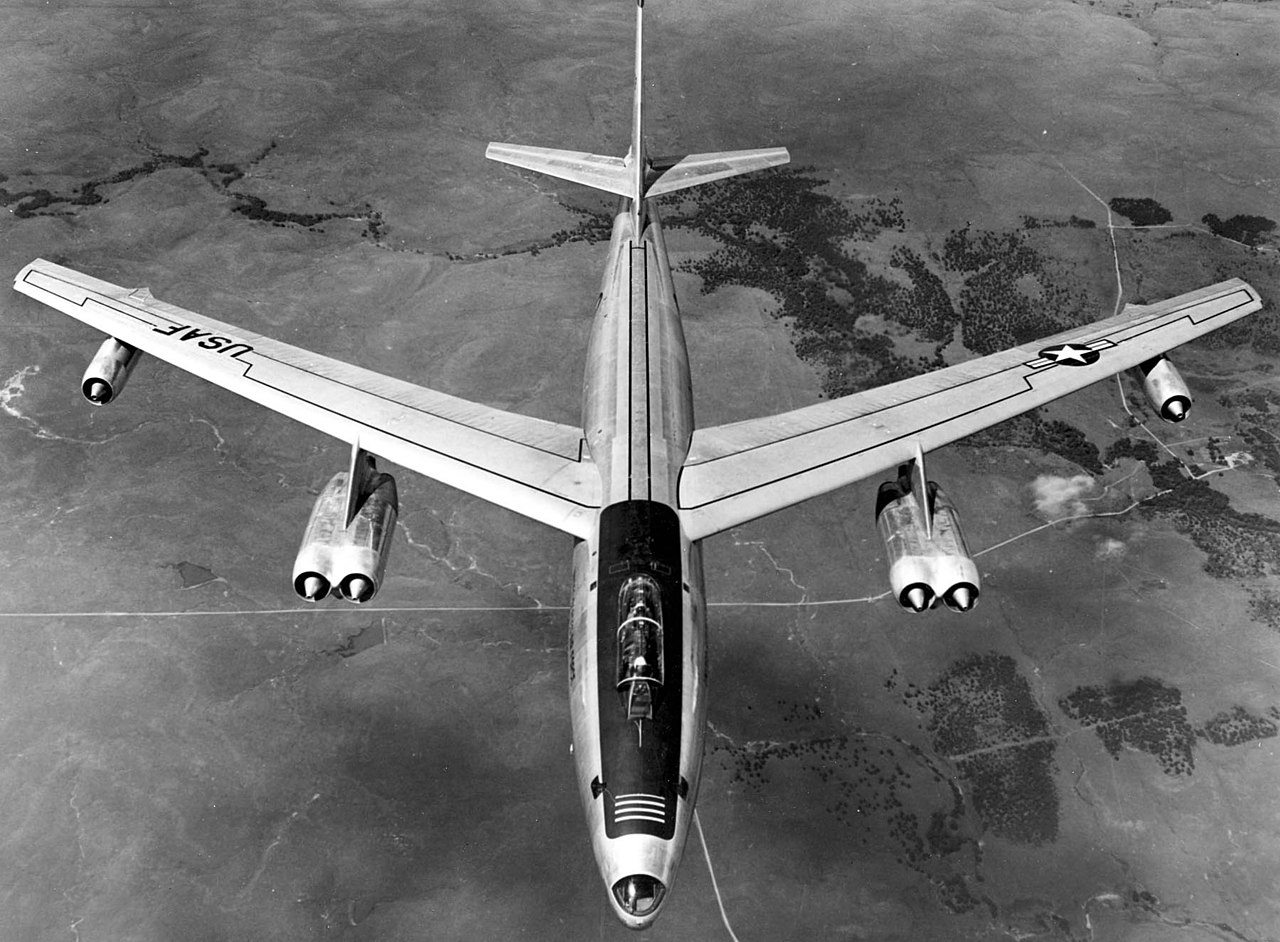 24 April 1959: Captain John Stanley Lappo, United State Air Force, flies a Strategic Air Command Boeing RB-47E Stratojet UNDER the Mackinac Bridge. The suspension bridge spans the Straits of Mackinac, connecting the upper and lower peninsulas of the U.S. state of Michigan. The Straits of Mackinac connect the Great Lakes of Lake Michigan and Lake Huron.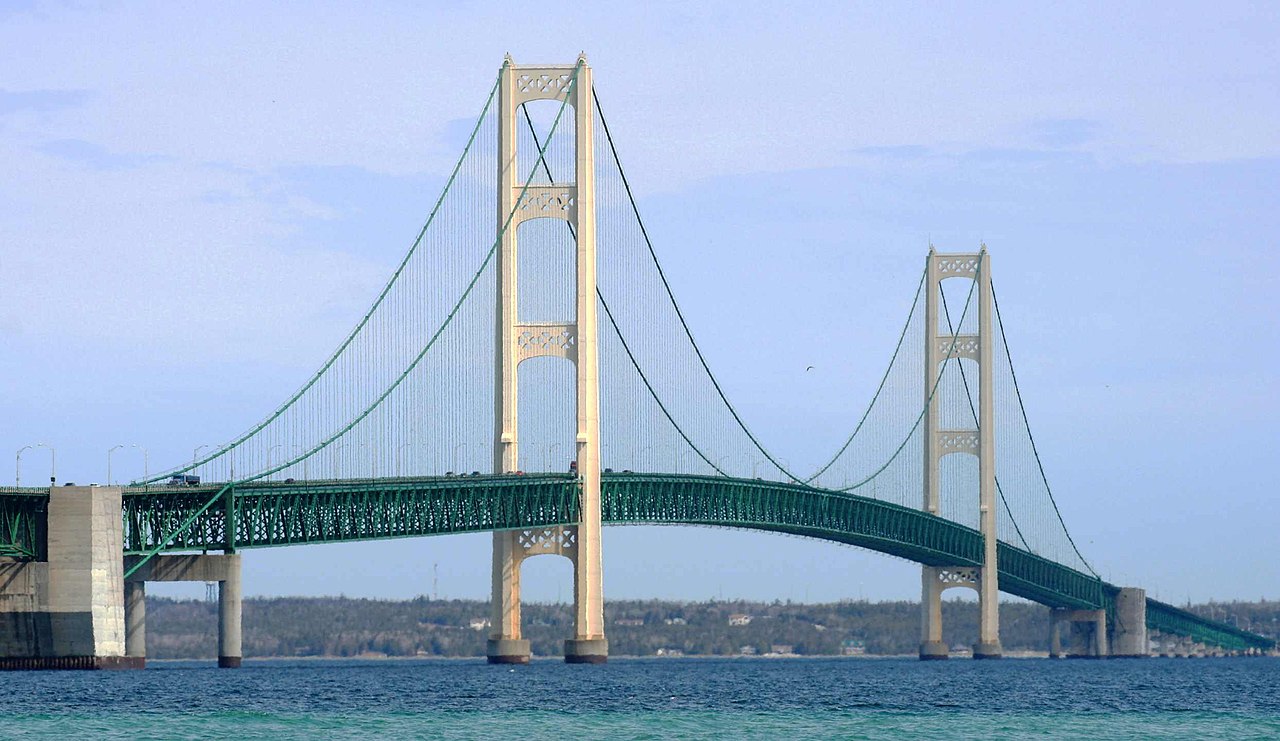 The vertical gap between the highest point on the underside of the bridge's main span is 155 feet (47.2 meters) above the surface of the water. The RB-47E has an overall height of 28 feet (8.5 meters). And Captain Lappo was flying at just 75 feet (23 meters).
Captain Lappo and his crew were returning to Lockbourne Air Force Base, southeast of Columbus, Ohio, following an overnight simulated bombing mission.
When asked why he did it, he answered: "Why do men climb mountains? Or what motivates them to go into space? It's just a sense of adventure that some men have and some don't. . . I've always wanted to fly under a big bridge. I thought it would be the Golden Gate. When I was flying missions to the Far East, I was a co-pilot, and I wanted to fly under the Golden Gate at night. But I couldn't induce the pilot to do it." ¹
Reported by his navigator, Captain Lappo was charged with violating a regulation prohibiting flying an aircraft below 500 feet (152 meters) (AF Reg 60–16). At his court-martial, he pleaded guilty. The court fined him $50.00 per month for six months and he received a reprimand. Based on this, Lieutenant General Walter Campbell Sweeney, Jr., Commanding General, Eighth Air Force, ordered him permanently removed from flight status.
John Lappo had been a highly respected pilot. Several senior officers testified at the court martial as to his skill, dedication and reliability.
John Stanley Lappo had enlisted in the U.S. Army Air Forces 19 February 1943 and was trained as a pilot. On completion of training he was given the warrant officer rank of flight officer. Lappo was commissioned as a second lieutenant in January 1945.
Lieutenant Lappo flew C-46, C-47 and C-54 transports with the 22nd Troop Carrier Squadron, 374th Troop Carrier Group, Fifth Air Force. He was released from active duty in 1948, but remained in the U.S. Air Force Reserve and maintained his flight status.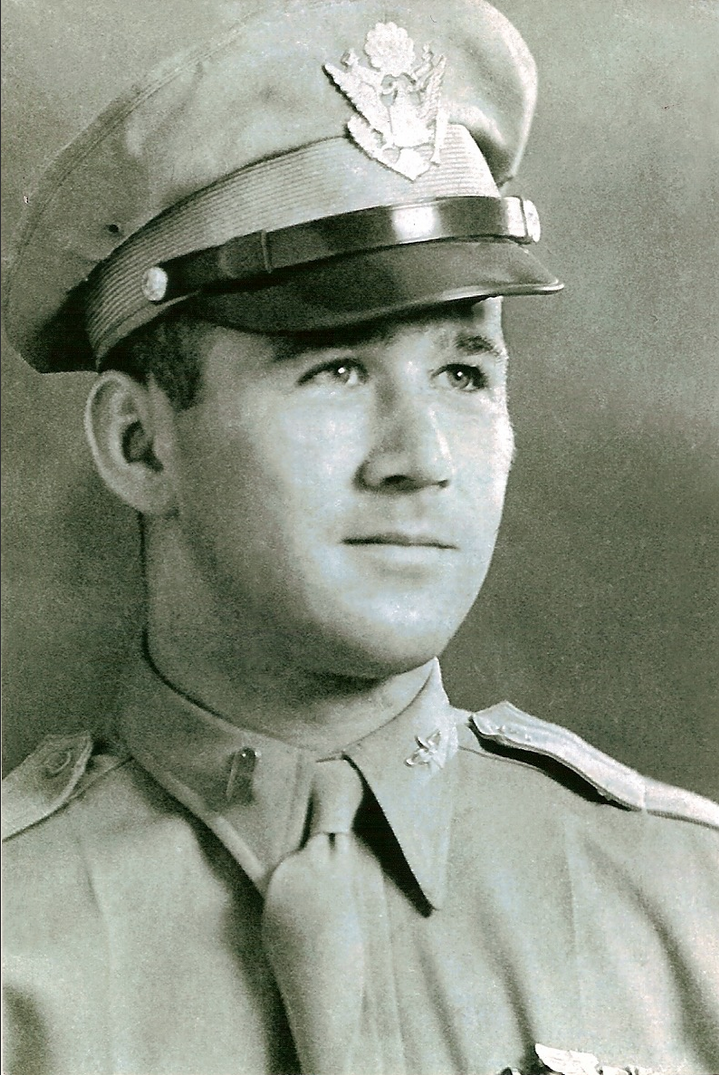 In 1951, Lieutenant Lappo was recalled to active duty for service in the Korean War. He flew 28 bombing missions in the Boeing B-29 Superfortess, including B-29-85-BN 44-87657, Command Decision, one of the best known bombers of the war.
John Stanley Lappo married Miss Olive Kay Robinson, 7 July 1951, at Muskegon, Michigan. He then attended Squadron Officers School at Maxwell AFB, Alabama.
As a B-47 Stratojet pilot, he was assigned to the 10th Strategic Reconnaissance Squadron, 26th Strategic Reconnaissance Wing, at Lockbourne AFB, and later, the 352nd Bombardment Squadron (Medium), 301st Bombardment Wing (Medium), which was also based at Lockbourne.
Captain Lappo was often given the most difficult assignments. As a reconnaissance pilot, he flew clandestine missions over the Union of Soviet Socialist Republics (USSR). For one of these missions he was awarded the Distinguished Flying Cross.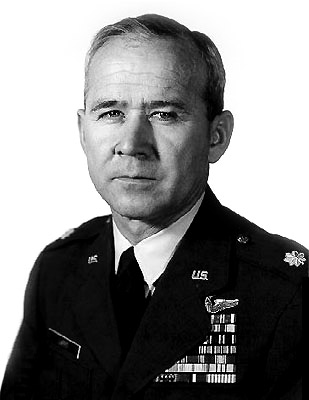 Even though he was permanently removed from flying duties, Lappo remained in the Air Force. He served in Southeast Asia during the Vietnam War, and was later vice commander of Elmendorf Air Force Base in Alaska. He rose to the rank of lieutenant colonel.
Lieutenant Colonel Lappo retired from the Air Force 31 July 1972.
John Stanley Lappo was born 8 January 1920 at Muskegon, Michigan. He was the fifth of seven children of Jan Stanislaw Lappo, a carpenter, and Zofia A. Stankiewicz Lappo.
In 1940 he was employed as a pattern maker at an iron foundry.
Lappo registered for the draft (conscription) 1 July 1941. The registrar's report shows that he had brown hair, blue eyes, was 5 feet, 4½ inches (1.638 meters) tall and weighed 165 pounds (74.8 kilograms).
From 1972 to 1982, John Lappo worked for the state of Alaska as a regional administrator for the health department, then from 1982 to 1990, he operated a trucking company, Arctic Fox Trucking.
John Stanley Lappo died 15 November 2003 at Eagle River, Alaska. His remains are interred at the Fort Richardson National Cemetery, Anchorage, Alaska.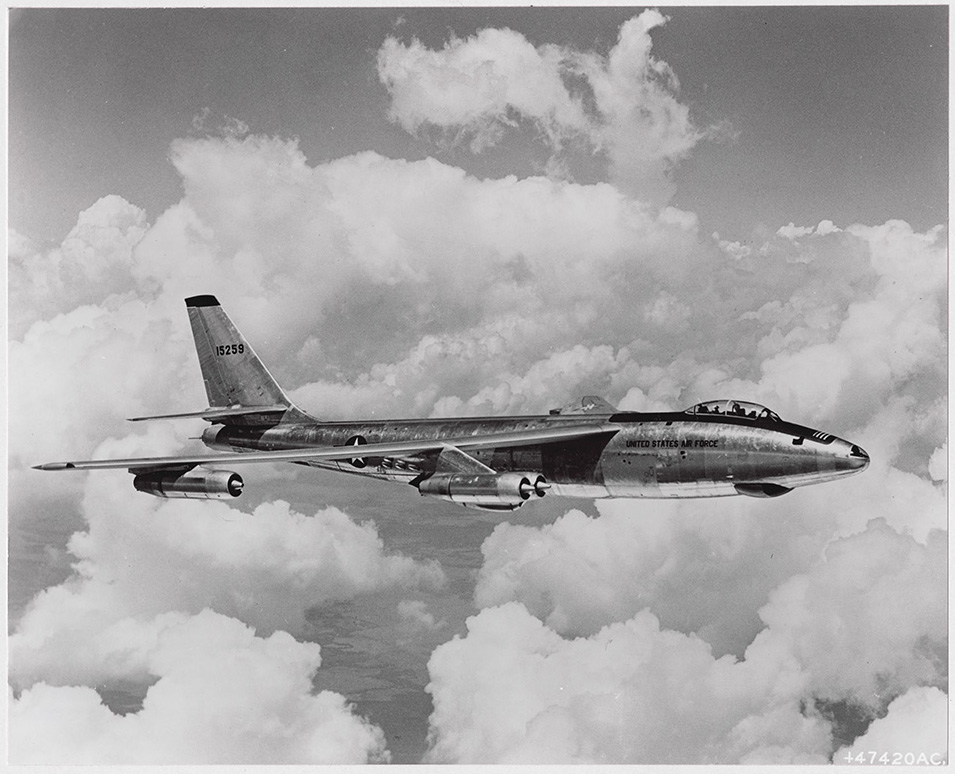 The Boeing RB-47E Stratojet was a reconnaissance variant of the B-47E strategic bomber. All RB-47Es were built by Boeing-Wichita. The type made its first flight 3 July 1953. 240 RB-47Es and 15 RB-47Ks were built, with the last one delivered in August 1955.
Designed by Boeing, the B-47 Stratojet was a high-subsonic speed strategic bomber and reconnaissance aircraft, in service from 1951 until 1977. The B-47 could fly higher and faster than jet fighters of the time, and it was also highly maneuverable. B-47 was flown by a two pilots in a tandem cockpit. A navigator was at a station in the nose. The RB-47E variant (Boeing Model 450-158-36) differed in that bombing equipment was deleted and photographic and electronic reconnaissance equipment installed. Additional fuel tanks were placed in the former bomb bay.

The RB-47E Stratojet is slightly longer than the B-47E. The RB-47E is 109.8 feet (333.467 meters) long with a wingspan of 116.0 feet (35.357 meters), and an overall height of 28.0 feet (8.534 meters). The wings are shoulder-mounted and have a total area of 1,428 square feet (132.67 square meters). The wings' leading edges are swept aft to 36° 37′. The angle of incidence is 2° 45′ and there is 0° dihedral (the wings were very flexible). The RB-47E had an empty weight of 81,100 pounds (36,786 kilograms) and maximum takeoff weight of 200,000 pounds (90,718 kilograms).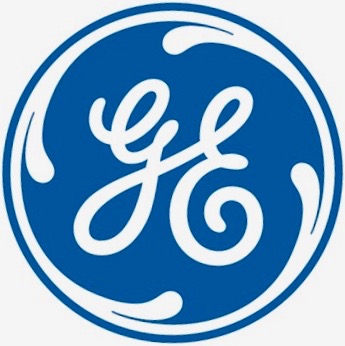 The RB-47E was powered by six General Electric J47-GE-25 turbojet engines in four nacelles mounted on pylons below the wings. This engine has a 12-stage axial-flow compressor, eight combustion chambers, and single-stage turbine. The -25 has a continuous power rating of 5,320 pounds of thrust (23.665 kilonewtons) at 7,630 r.p.m., at Sea Level; Military Power, 5,670 pounds (25.221 kilonewtons) at 7,800 r.p.m. (30 minute limit); and Maximum Power, 7,200 pounds (32.027 kilonewtons) at 7,950 r.p.m. with water/alcohol injection (5 minute limit). The J47-GE-25 has a maximum diameter of 3 feet, 1 inch (0.940 meters) and length of 12 feet, 0 inches (3.658 meters) and weighs 2,653 pounds (1,203 kilograms).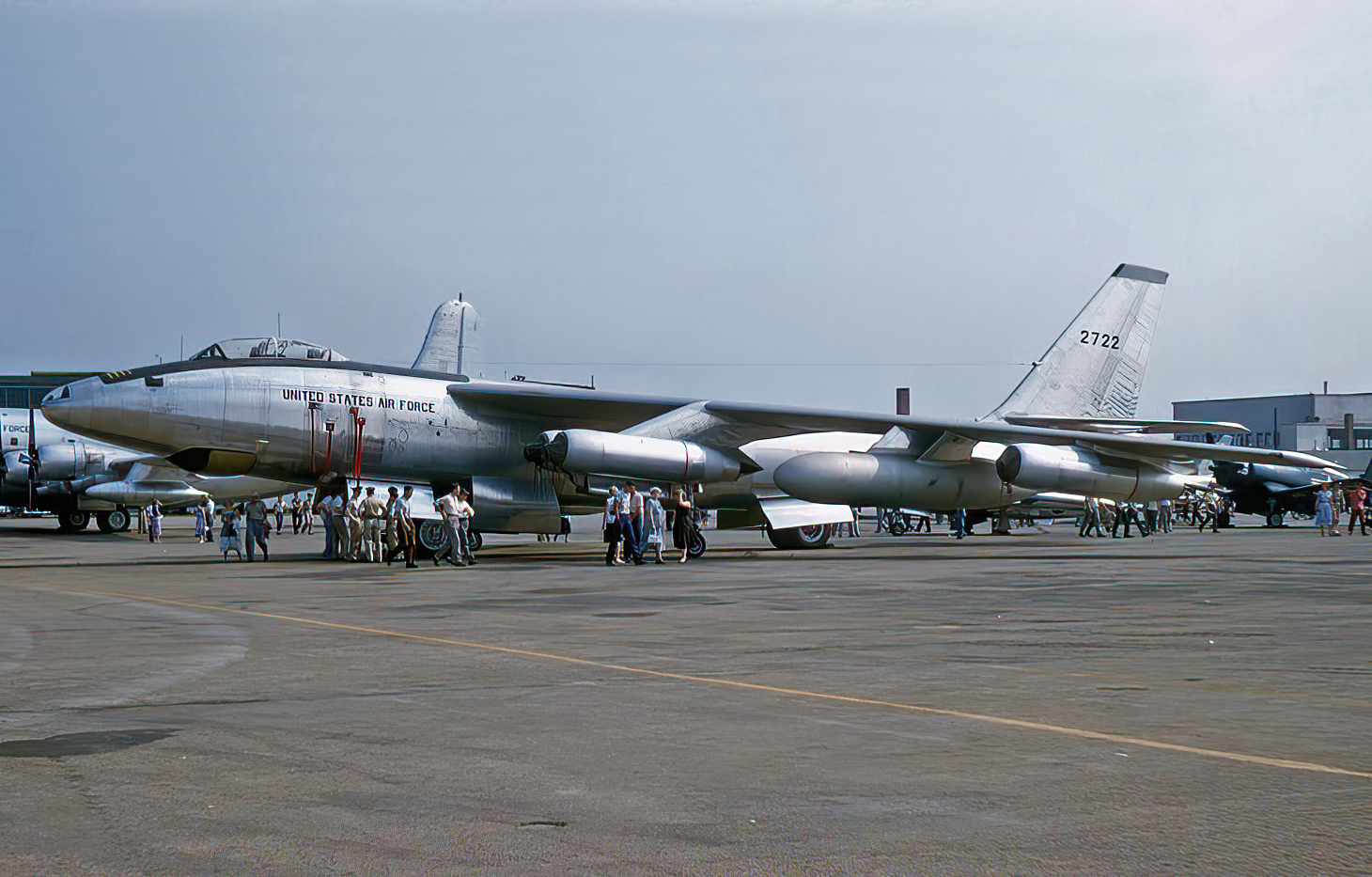 The RB-47E had a cruise speed of 433 knots (498 miles per hour/802 kilometers per hour), and maximum speed of 497 knots (572 miles per hour/920 kilometers per hour) at 20,000 feet (6,096 meters). The service ceiling was 47,800 feet feet (14,569 meters). Its unrefueled range was 3,935 nautical miles (4,528 statute miles/7,288 kilometers). The RB-47E was capable of inflight refueling and had a maximum fuel capacity of 18,280 gallons in six fuselage and two jettisonable wing tanks.
For defense the RB-47E was armed with two M24A1 20 mm autocannons with 350 rounds of ammunition per gun. The remotely-operated tail turret was controlled by the co-pilot through an A-5 fire control system.
A total of 2,032 B-47s were built by a consortium of aircraft manufacturers: Boeing Airplane Company, Wichita, Kansas; Douglas Aircraft Company, Tulsa, Oklahoma; Lockheed Aircraft Company, Marietta, Georgia.
The Stratojet is one of the most influential aircraft designs of all time and its legacy can be seen in almost every jet airliner built since the 1950s: the swept wing with engines suspended below and ahead on pylons. The B-47 served the United States Air Force from 1951 to 1977. From the first flight of the Boeing XB-47 Stratojet prototype, 17 December 1947, to the final flight of B-47E 52-166, was 38 years, 6 months, 1 day.
¹ "John Lappo Story," by Wayland Mayo, at the web site  "B-29s Over Korea," https://www.b-29s-over-korea.com/john-lappo-story/
© 2023, Bryan R. Swopes