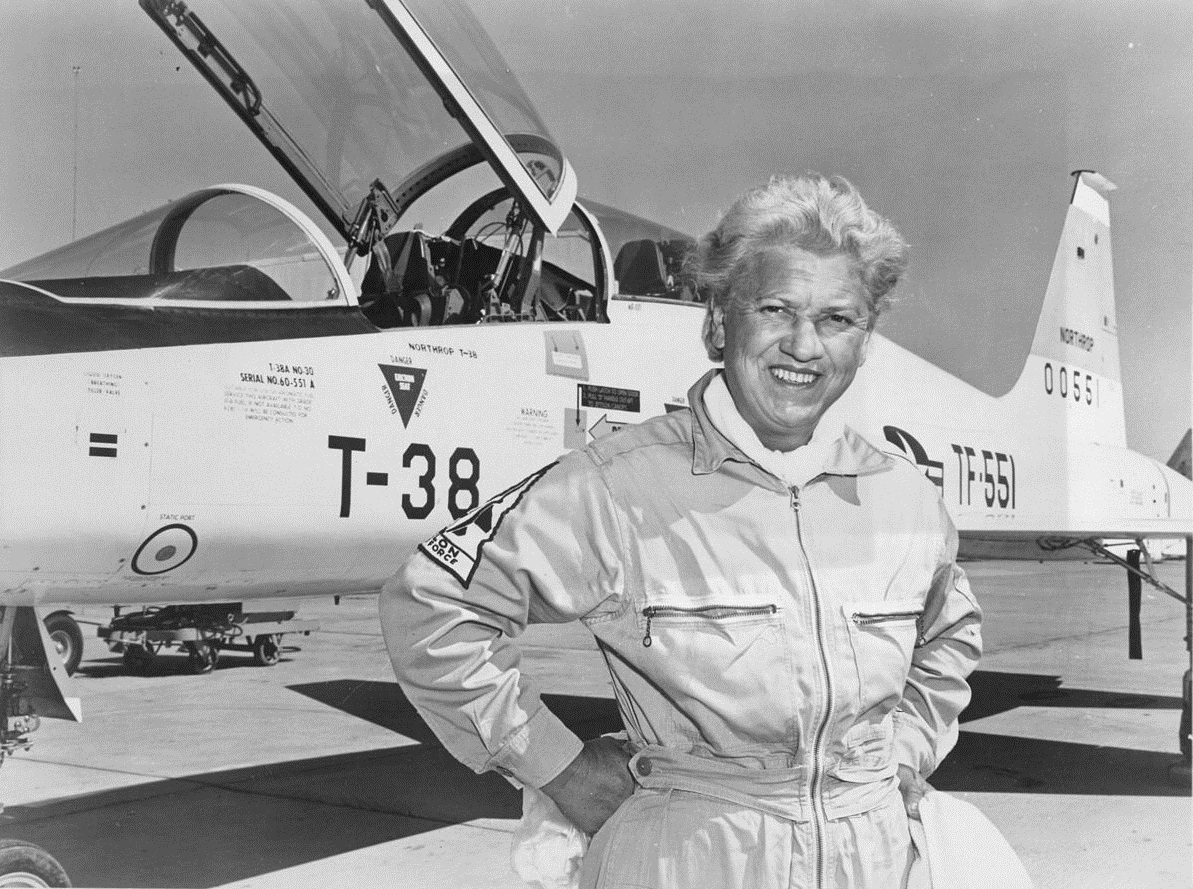 24 August 1961: At Edwards Air Force Base, California, Jacqueline Cochran flew a Northrop/Ryan Aeronautical T-38A-30-NO Talon, 60-0551, to an average speed of 1,358.6 kilometers per hour (844.2 miles per hour) over a straight 15-to-25 kilometer course, setting a Fédération Aéronautique Internationale (FAI) world speed record for women.¹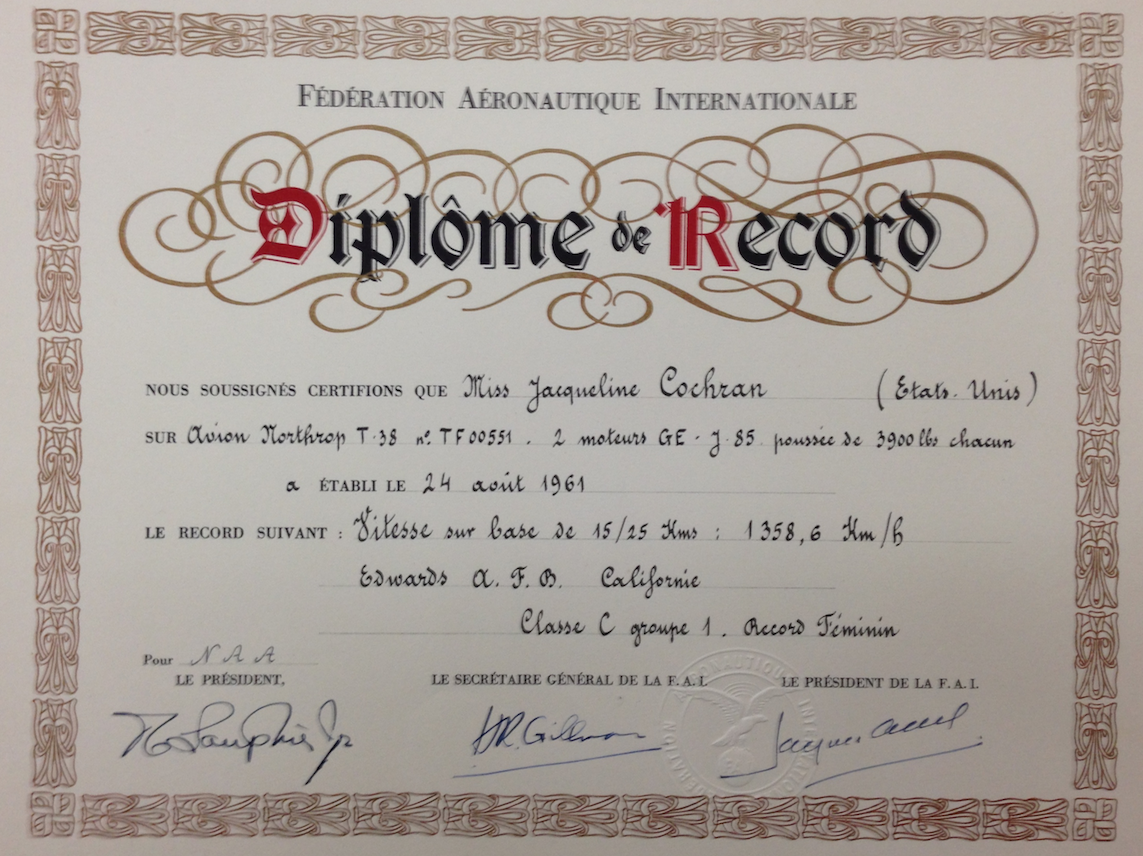 "August 24  Big day! First solo in production. Jackie took off in Northrop T-38 for 15–25 record attempt at 9:00 am. I chased in F-100. Flew good pattern and lit afterburners 50 miles from west outer marker. Jackie held good altitude through trap and made a good procedure turn. Lit afterburner 40 miles out on return run and nailed the altitude down perfect. Average speed was 844 mph. All the officials were pleased and the record was confirmed. One down and nine to go."
— Brigadier General Charles Elwood ("Chuck") Yeager, U.S. Air Force, quoted in Jackie Cochran: An Autobiography, by Jacqueline Cochran and Maryann Bucknum Brinley, Bantam Books, New York, 1987, Pages 301–302.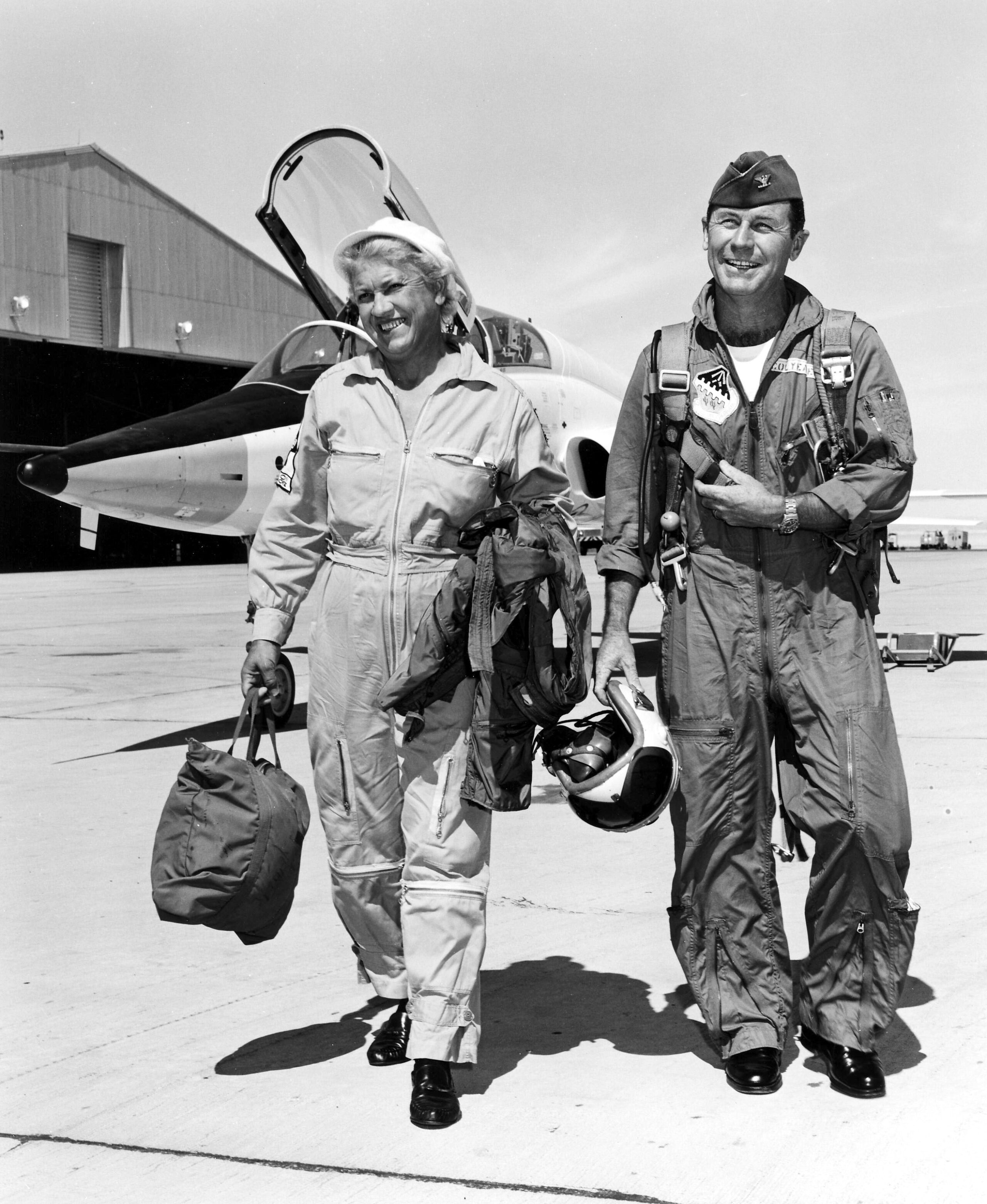 The Northrop T-38A Talon is a two-place, twin-engine jet trainer capable of supersonic speed. It is 46 feet, 4 inches (14.122 meters) long with a wingspan of 25 feet, 3 inches (7.696 meters) and overall height of 12 feet, 11 inches (3.937 meters). The trainer's empty weight is 7,200 pounds (3,266 kilograms) and the maximum takeoff weight is 12,093 pounds (5,485 kilograms).
The T-38A is powered by two General Electric J85-GE-5 turbojet engines. The J85 is a single-shaft axial-flow turbojet engine with an 8-stage compressor section and 2-stage turbine. The J85-GE-5 is rated at 2,680 pounds of thrust (11.921 kilonewtons), and 3,850 pounds (17.126 kilonewtons) with afterburner. It is 108.1 inches (2.746 meters) long, 22.0 inches (0.559 meters) in diameter and weighs 584 pounds (265 kilograms).
It has a maximum speed of Mach 1.08 (822 miles per hour, 1,323 kilometers per hour) at Sea Level. The Talon's service ceiling of 55,000 feet (16,764 meters) and it has a maximum range of 1,093 miles (1,759 kilometers).
In production from 1961 to 1972, Northrop has produced nearly 1,200 T-38s. As of January 2014, the U.S. Air Force had 546 T-38A Talons in the active inventory. It also remains in service with the U.S. Navy, and the National Aeronautics and Space Administration.
Jackie Cochran's record-setting T-38 is in the collection of the Smithsonian Institution, National Air and Space Museum.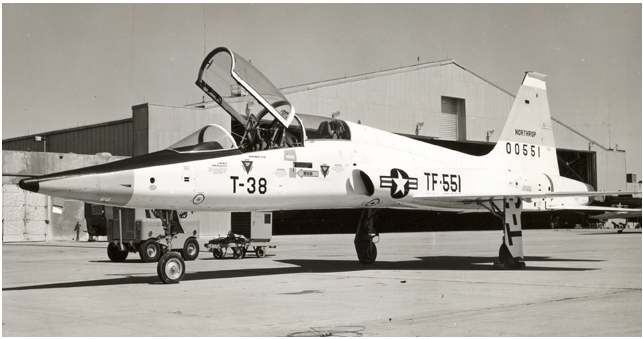 ¹ FAI Record File Number 12937
© 2017, Bryan R. Swopes