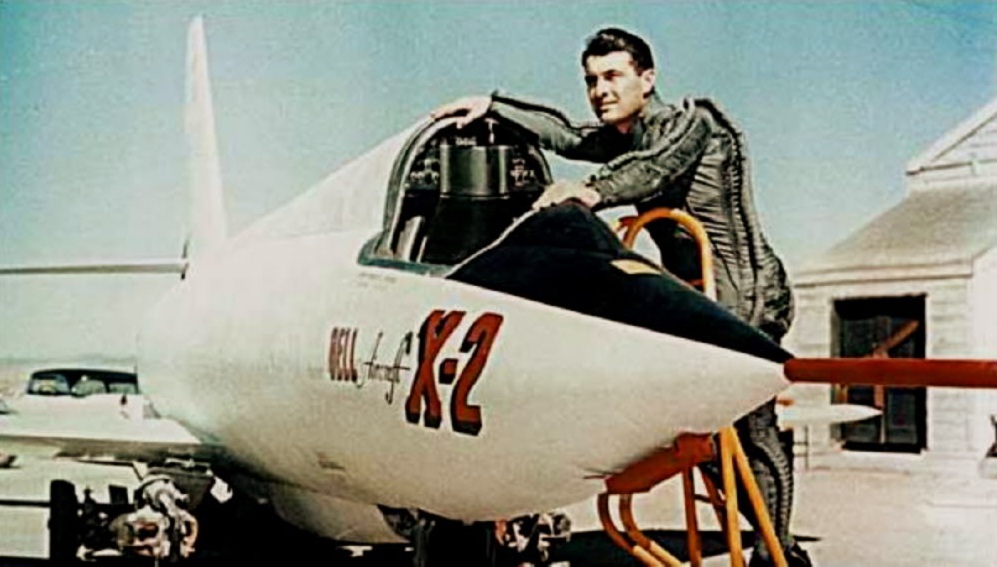 25 April 1956: At Edwards Air Force Base, California, test pilot Lieutenant Colonel Frank Kendall ("Pete") Everest, United States Air Force, was airdropped from a Boeing EB-50D Superfortress in the Bell X-2 supersonic research rocket plane, serial number 46-674. This was the tenth flight of the X-2 program, and only the third powered flight.
For the first time, Everest fired both chambers of the Curtiss-Wright XLR25 rocket engine. On this flight, the X-2 reached Mach 1.40 and 50,000 feet (15,240 meters). It was the first time an X-2 had gone supersonic.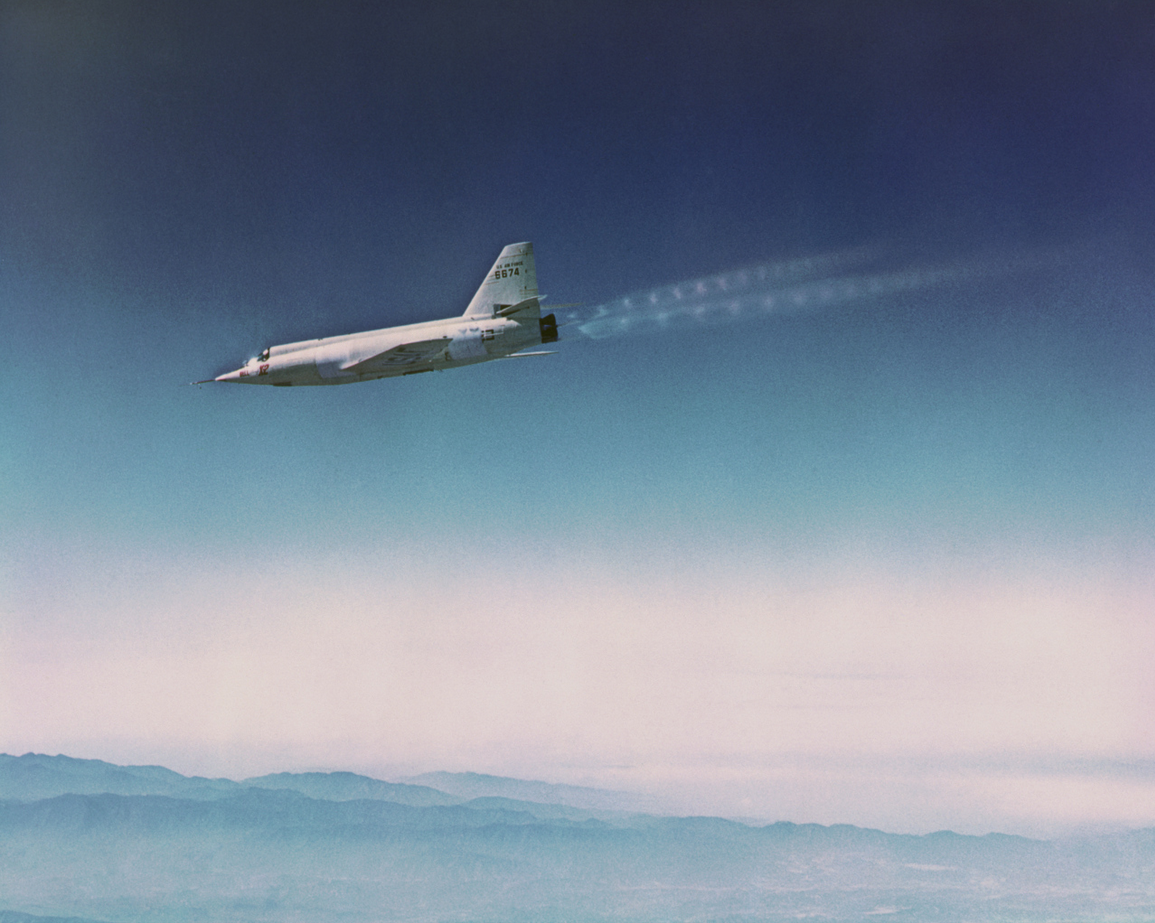 The X-2 was a joint project of the U.S. Air Force and NACA (the National Advisory Committee on Aeronautics, the predecessor of NASA). The rocketplane was designed and built by Bell Aircraft Corporation of Buffalo, New York, to explore supersonic flight at speeds beyond the capabilities of the earlier Bell X-1 and Douglas D-558-II Skyrocket.
In addition to the aerodynamic effects of speeds in the Mach 2.0–Mach 3.0 range, engineers knew that the high temperatures created by aerodynamic friction would be a problem, so the aircraft was built from stainless steel and K-Monel, a copper-nickel alloy.
The Bell Aircraft Corporation X-2 was 37 feet, 10 inches (11.532 meters) long with a wingspan of 32 feet, 3 inches (9.830 meters) and height of 11 feet, 10 inches (3.607 meters). Its empty weight was 12,375 pounds (5,613 kilograms) and loaded weight was 24,910 pounds (11,299 kilograms).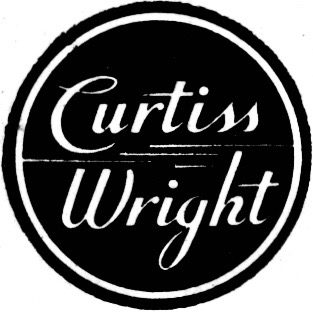 The X-2 was powered by a throttleable two-chamber Curtiss-Wright XLR25-CW-1 rocket engine that produced 2,500–15,000 pounds of thrust (11.12–66.72 kilonewtons).
Rather than use its limited fuel capacity to take off and climb to altitude, the X-2 was dropped from a modified heavy bomber as had been the earlier rocketplanes. A four-engine Boeing B-50D-95-BO Superfortress bomber, serial number 48-096, was modified as the drop ship and redesignated EB-50D.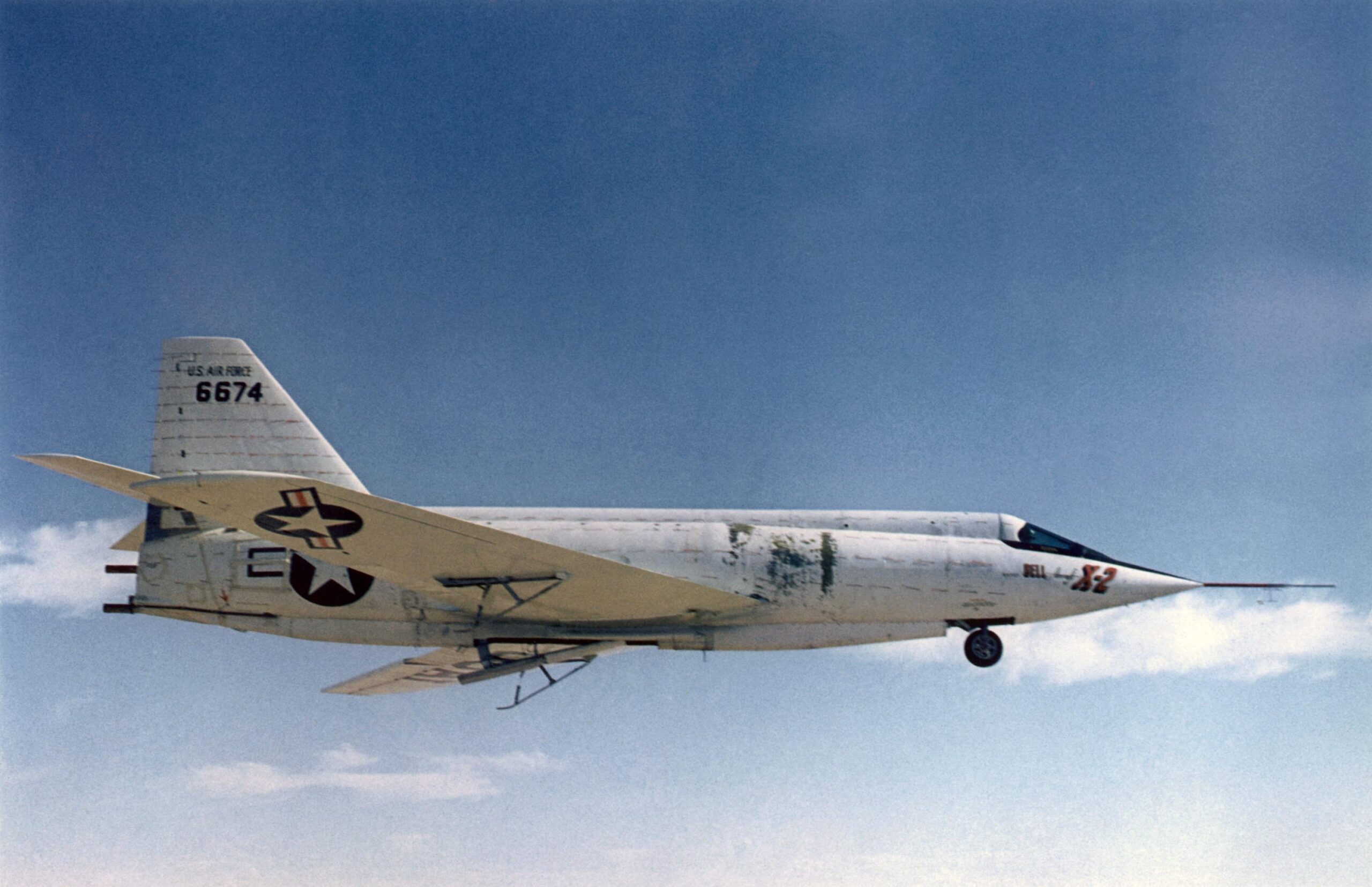 The launch altitude was 30,000 feet (9,144 meters). After the fuel was exhausted, the X-2 glided to a touchdown on Rogers Dry Lake at Edwards Air Force Base.
Two X-2 rocketplanes were built. The second X-2, 46-675, was destroyed during a captive flight, 12 May 1953. The explosion killed Bell test pilot Skip Ziegler and Frank Wolko, an engineer aboard the B-50A mothership. The B-50 made an emergency landing but was so badly damaged that it never flew again.
The X-2 reached a maximum speed of Mach 3.196 (2,094 miles per hour/3,370 kilometers per hour) and maximum altitude of 126,200 feet (38,466 meters).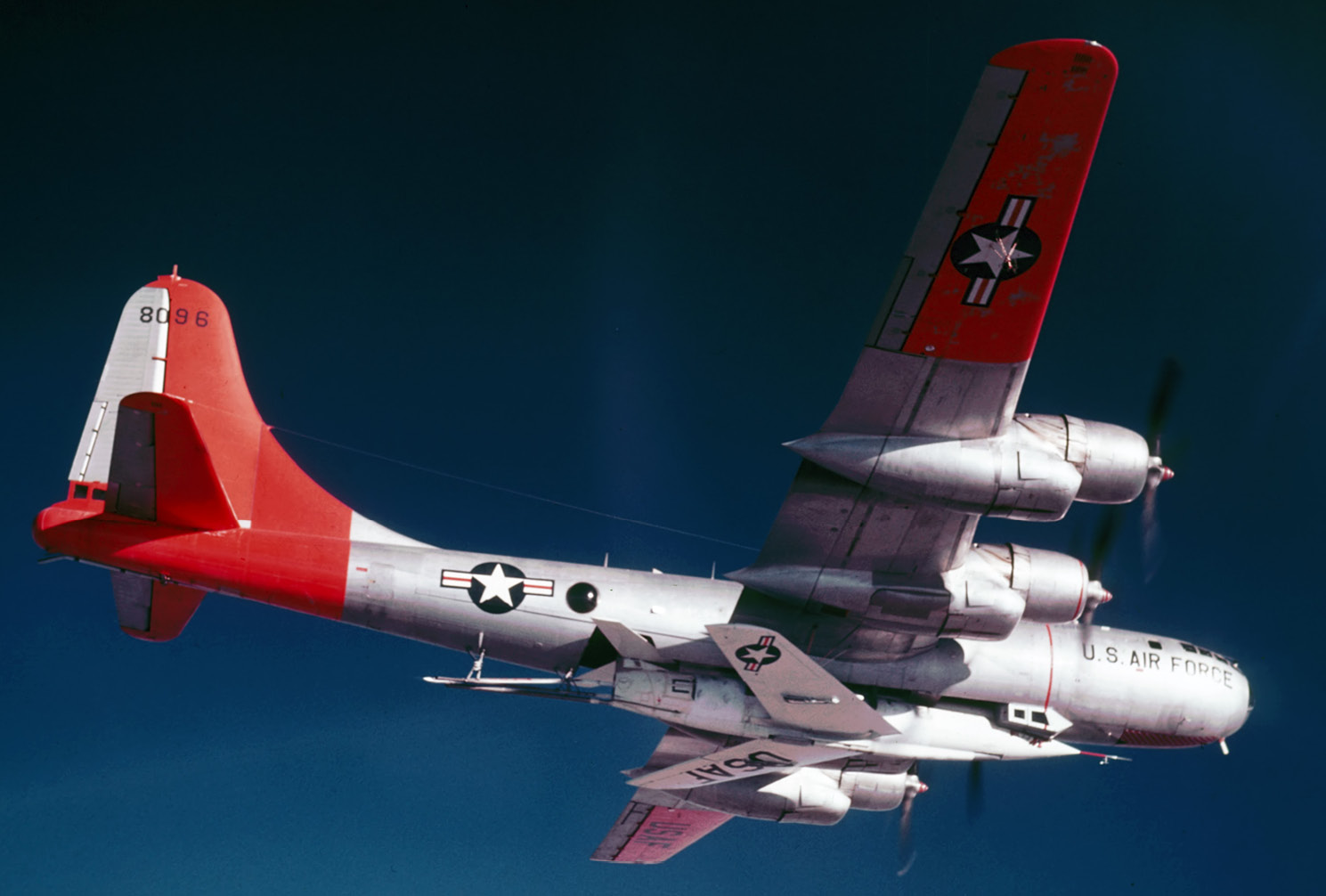 The EB-50D was a highly modified four-engine Boeing B-50D-95-BO Superfortress long range heavy bomber, engineered to carry research aircraft to high altitudes before releasing them for a test flight. The B-50 was an improved version of the World War II B-29A Superfortress.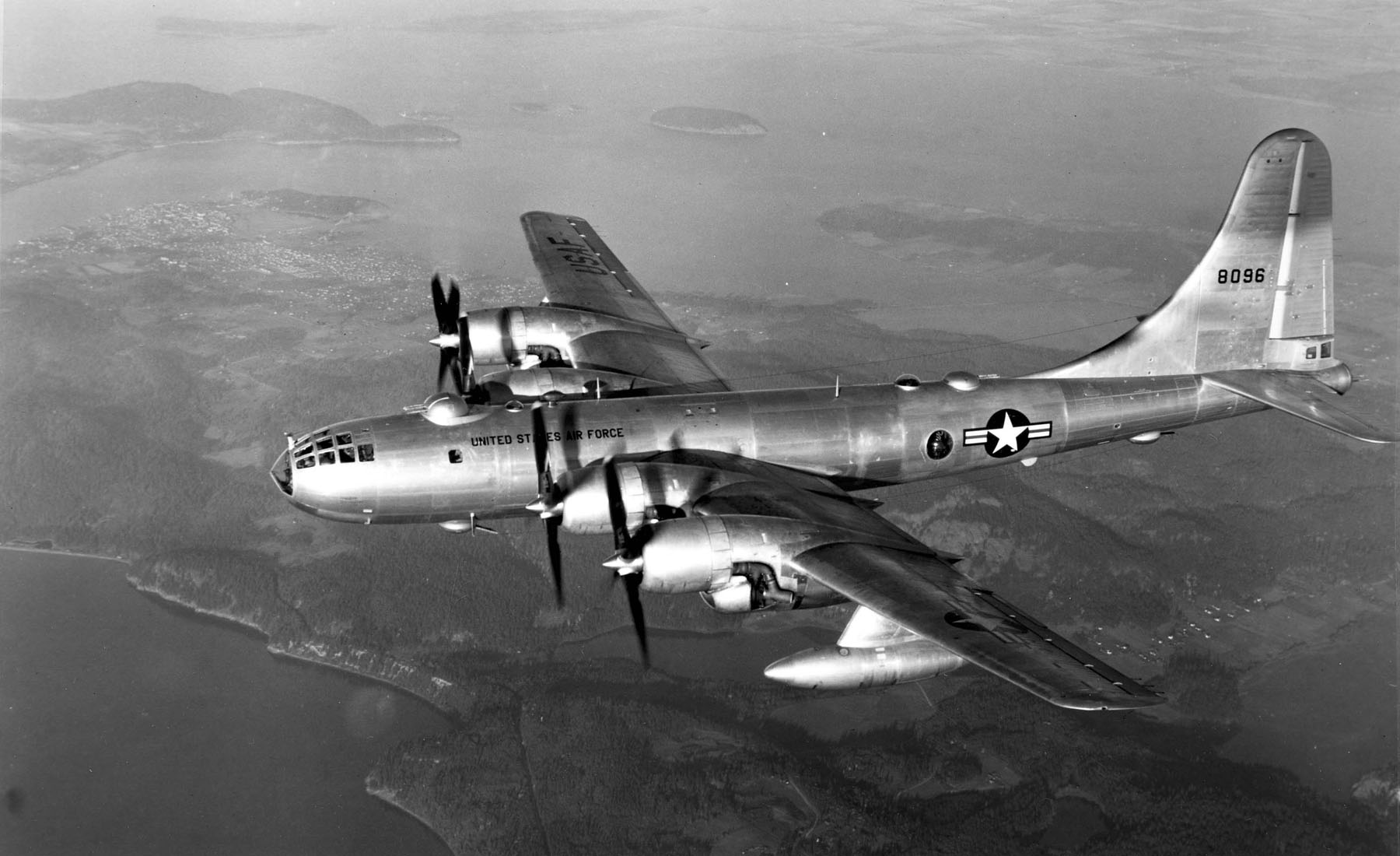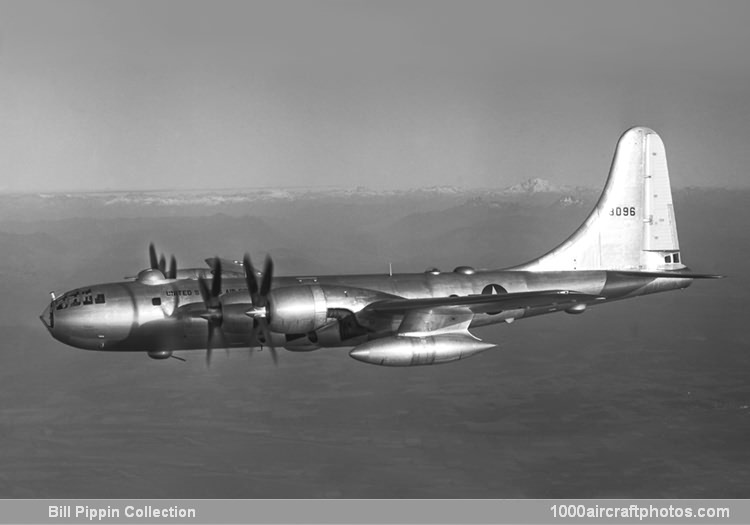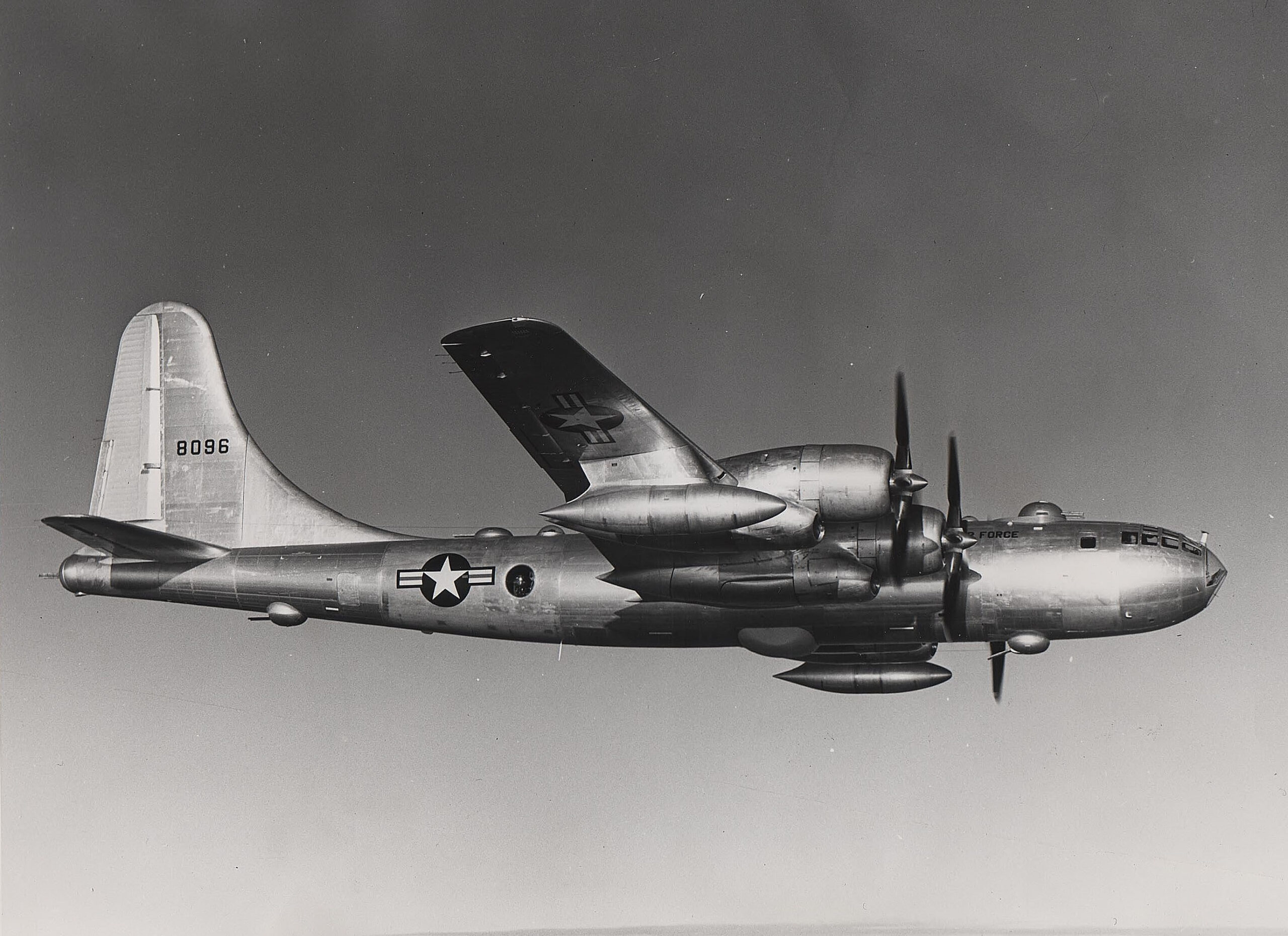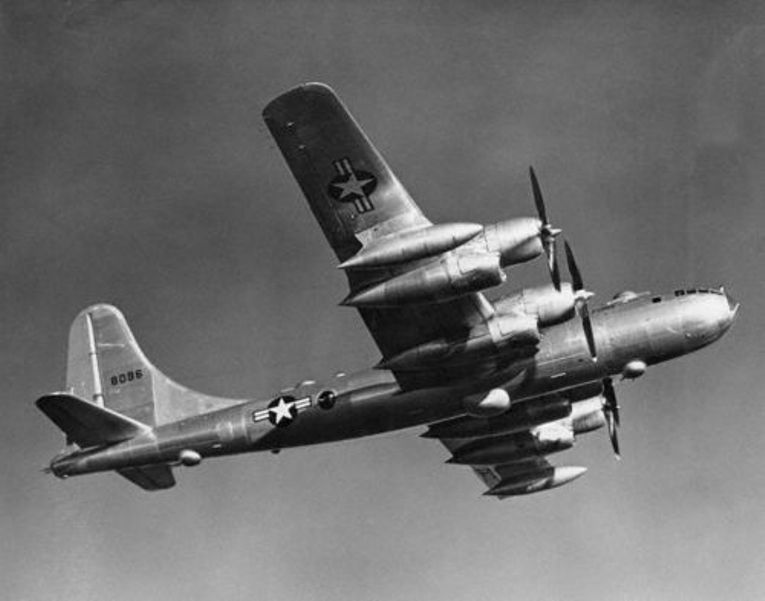 Frank Kendall ("Pete") Everest, Jr., was born 10 Aug 1920, at Fairmont, Marion County, West Virginia. He was the first of two children of Frank Kendall Everest, an electrical contractor, and Phyllis Gail Walker Everest. Attended Fairmont Senior High School, Fairmont, West Virginia, graduating in 1939. He studied at Fairmont State Teachers College, also in Fairmont, West Virginia, and then studied engineering at teh University of Wesst Virginia in Morgantown.
Pete Everest enlisted as an aviation cadet in the United States Army Air Corps at Fort Hayes, Columbus, Ohio, 7 November 1941, shortly before the United States entered World War II. His enlistment records indicate that he was 5 feet, 7 inches (1.703 meters) tall and weighed 132 pounds (59.9 kilograms). He graduated from pilot training and was commissioned as a second lieutenant, Air Reserve, 3 July 1942.
Everest married Miss Avis June Mason in Marion, West Virginia, in 1942.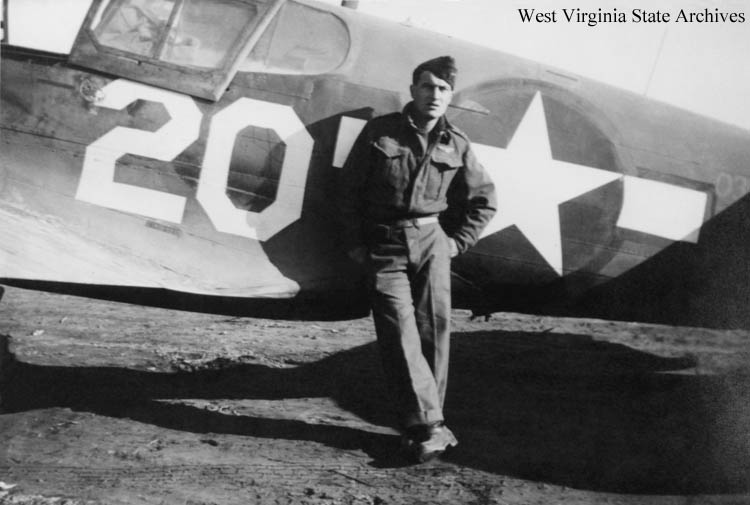 He was promoted to 1st Lieutenant, Army of the United States, 11 November 1942. He was assigned as a Curtiss-Wright P-40 Warhawk pilot, flying 94 combat missions in North Africa, Sicily and Italy. He was credited with shooting down two German airplanes and damaging a third. Everest was promoted to the rank of Captain, 17 August 1943.
In 1944, Everest was returned to the United States to serve as a flight instructor. He requested a return to combat and was then sent to the China-Burma-India theater of operations where he flew 67 missions and shot down four Japanese airplanes. He was himself shot down by ground fire in May 1945. Everest was captured by the Japanese and suffered torture and inhumane conditions before being freed at the end of the war. He was promoted to the rank of major, 1 July 1945. He was returned to the United States military 3 October 1945.
After the war, Everest was assigned as a test pilot at Wright-Patterson Air Force Base, Ohio, before going west to the Air Force Flight Test Center at Edwards Air Force Base, California.
Everest was returned to the permanent rank of first lieutenant, Air Corps, 19 June 1947, with date of rank retroactive to 3 July 1945.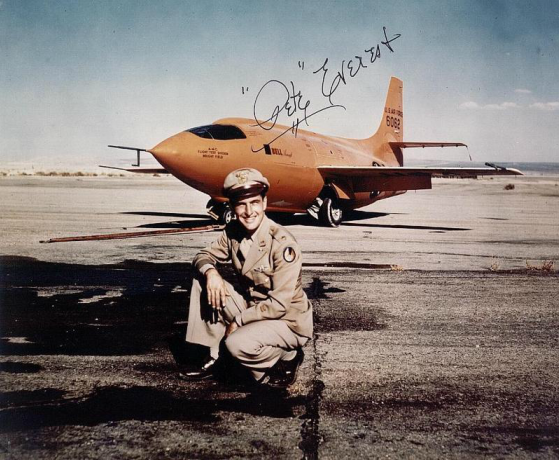 At Edwards, he was involved in nearly every flight test program, flying the F-88, F-92, F-100, F-101, F-102, F-104 and F-105 fighters, the XB-51, YB-52, B-57 and B-66 bombers. He also flew the pure research aircraft, the "X planes:" the X-1, X-1B, X-2, X-3, X-4 and X-5. Pete Everest flew the X-1B to Mach 2.3, and he set a world speed record with the X-2 at Mach 2.9 (1,957 miles per hour, 3,149.5 kilometers per hour) which earned him the title, "The Fastest Man Alive." He was the test pilot on thirteen of the twenty X-2 flights.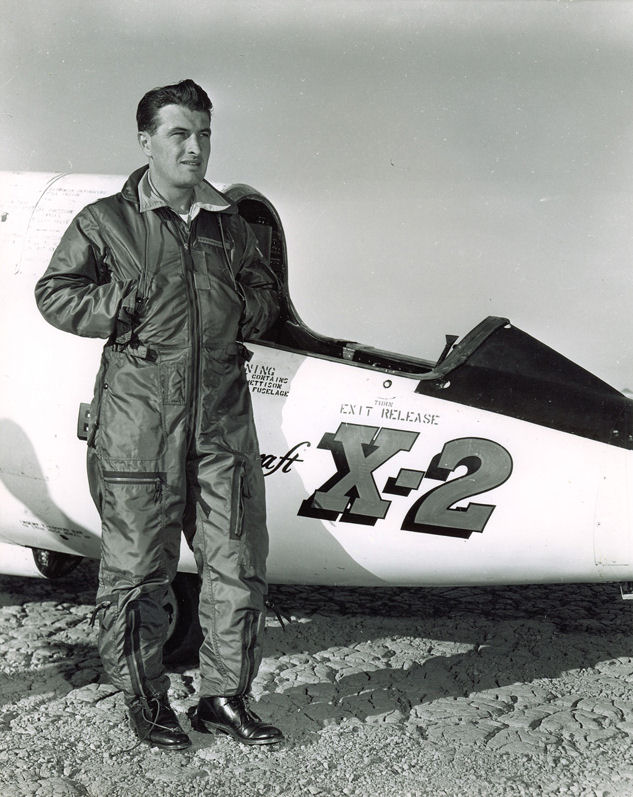 Frank Everest returned to operational assignments and commanded a fighter squadron, two combat crew training wings, and was assigned staff positions at the Pentagon. On 20 November 1963, Colonel Everest, commanding the 4453rd Combat Crew Training Squadron, flew one of the first two operational McDonnell F-4C Phantom II fighters from the factory in St. Louis to MacDill Air Force Base.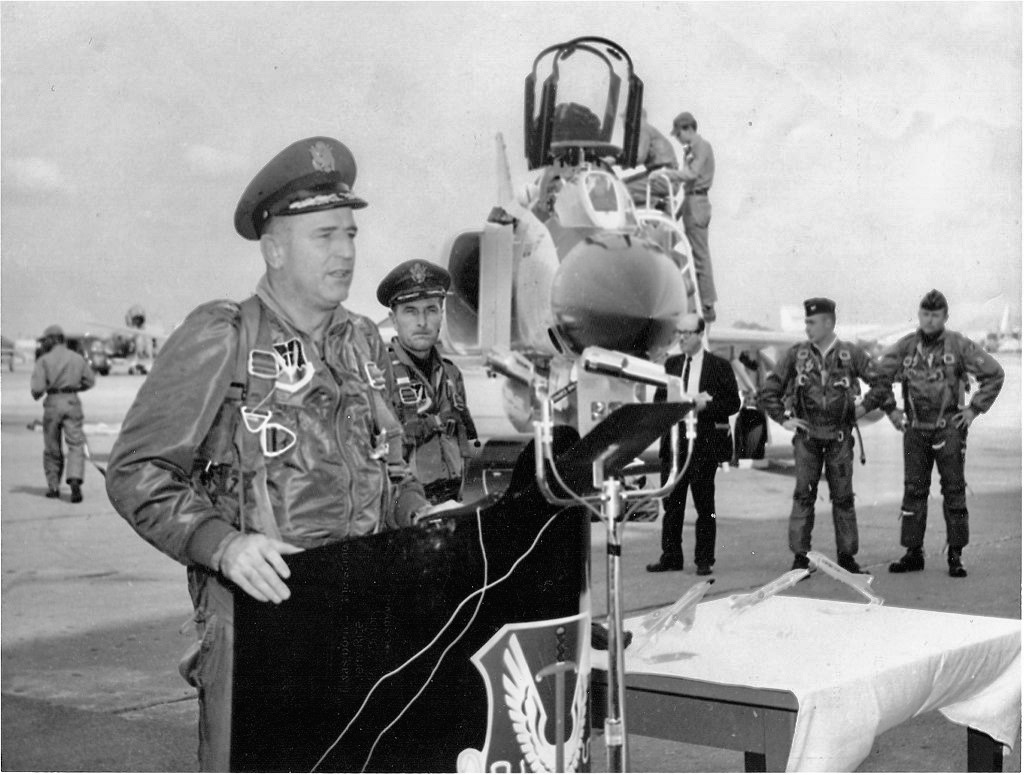 In 1965, Pete Everest was promoted to the rank of brigadier general. He was commander of the Aerospace Rescue and Recovery Service. He retired from the Air Force in 1973 after 33 years of service. He later worked as a test pilot for Sikorsky Aircraft.
During his military career General Everest was awarded the Air Force Distinguished Service Medal; Legion of Merit with two oak leaf clusters (three awards); Distinguished Flying Cross with two oak leaf clusters (three awards); Purple Heart; Air Medal with one silver and two bronze oak leaf clusters (seven awards); Air Force Commendation Medal with one oak leaf cluster (two awards); Presidential Unit Citation with two bronze oak leaf clusters (three awards); Air Force Gallant Unit Citation; Prisoner of War Medal; American Campaign Medal; European-African-Middle Eastern Campaign medal with four bronze stars; Asiatic-Pacific campaign Medal with two bronze stars; World War II Victory Medal; National Defense Service Medal; Armed Forces Expeditionary Medal; Vietnam Service Medal; Air Force Longevity Service Award with one silver and two bronze oak leaf clusters (seven awards); Air Force Small Arms Expert Marksmanship Ribbon; and the Republic of Vietnam Campaign Medal with 1960– device. General Everest was rated as a Command Pilot, and a Basic Parachutist.
Brigadier General Frank Kendall Everest, Jr. United States Air Force (Retired), died at Tucson, Arizona, 1 October 2004 at the age of 84 years.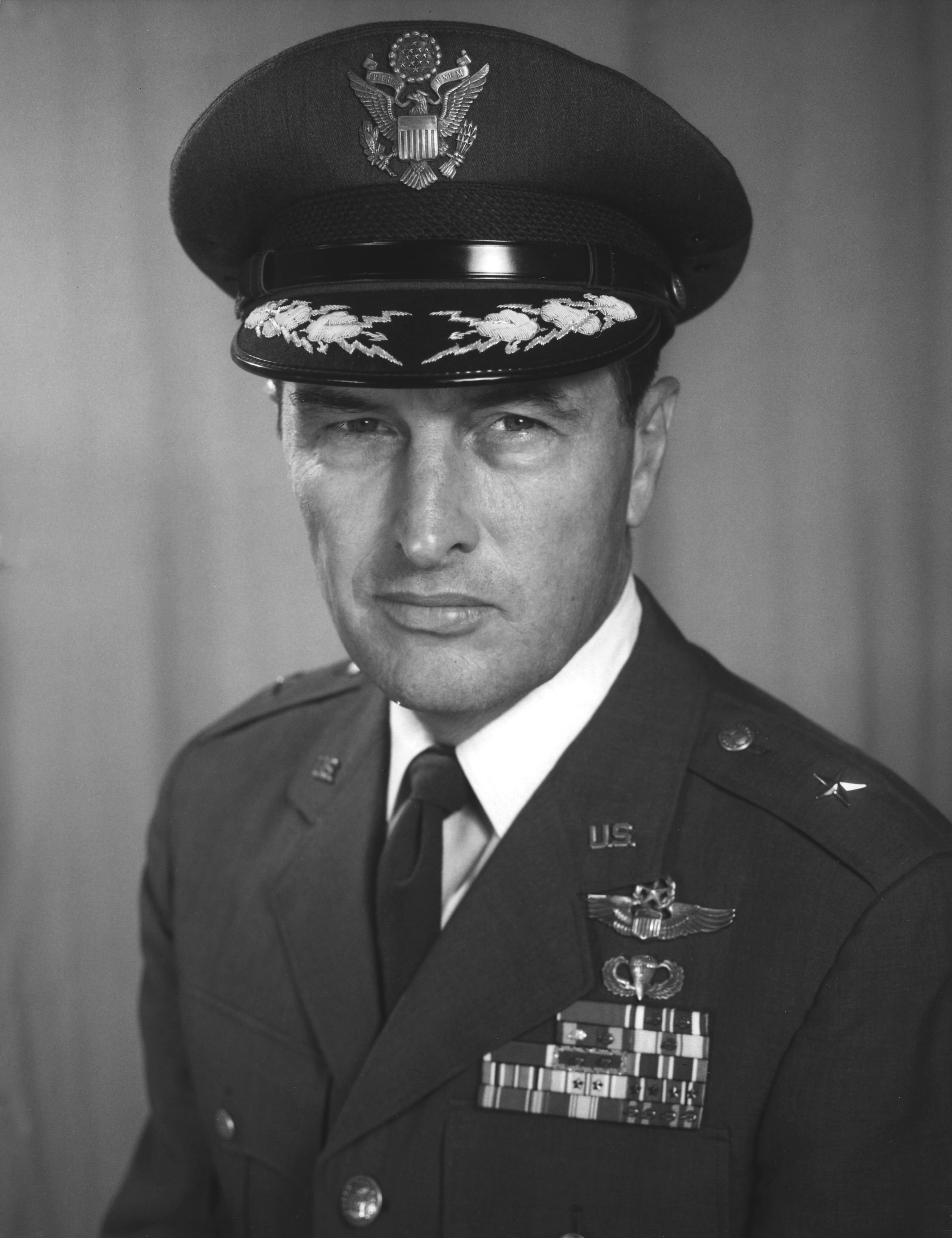 © 2019, Bryan R. Swopes