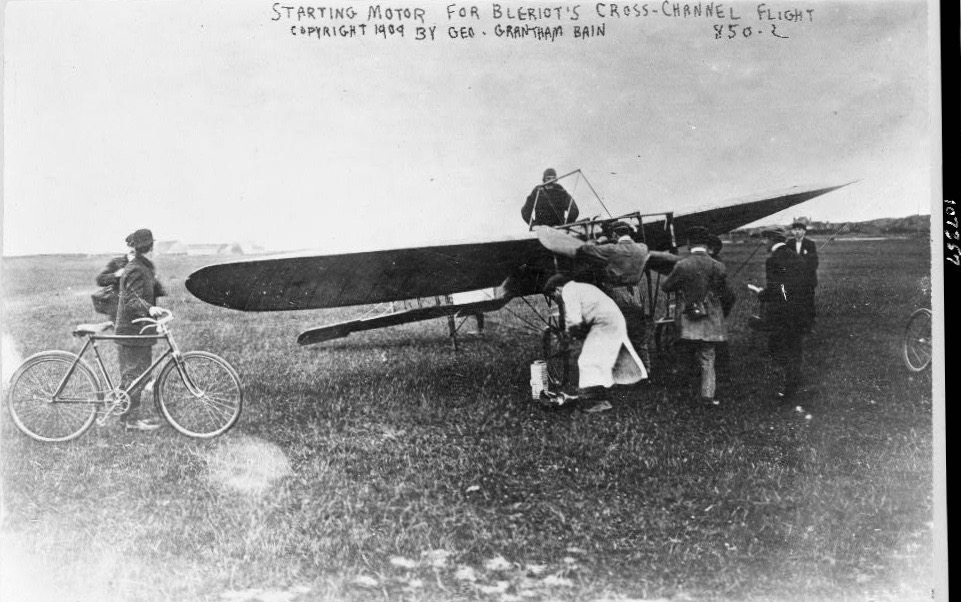 25 July 1909: At 4:41 a.m., Louis Charles Joseph Blériot took of from the hamlet of les Baraques,¹ near Sangatte, Pas-de-Calais, France, in his own Type XI single-engine monoplane, and flew across the English Channel (la Manche) to Dover. He landed at Northfall Meadow, near Dover Castle, Kent, England.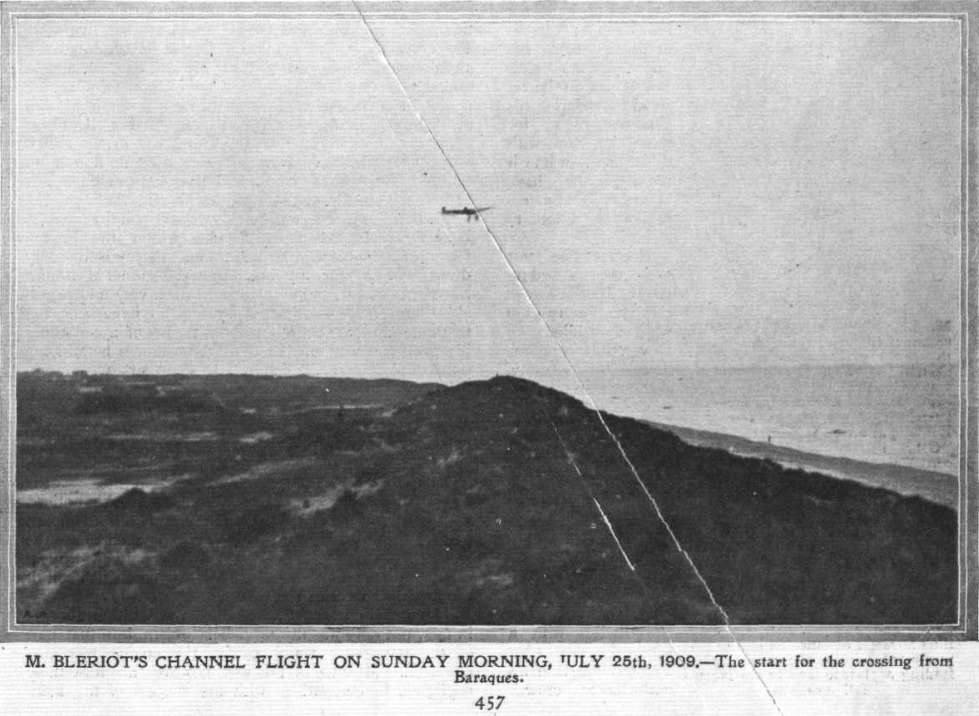 The airplane did not have a compass, so for a visual reference. Blériot used a 26-knot Pertuisane-class torpedo boat destroyer, Escopette, which was sailing toward Dover.  After passing the ship, visibility deteriorated and he was only able to see the water below him.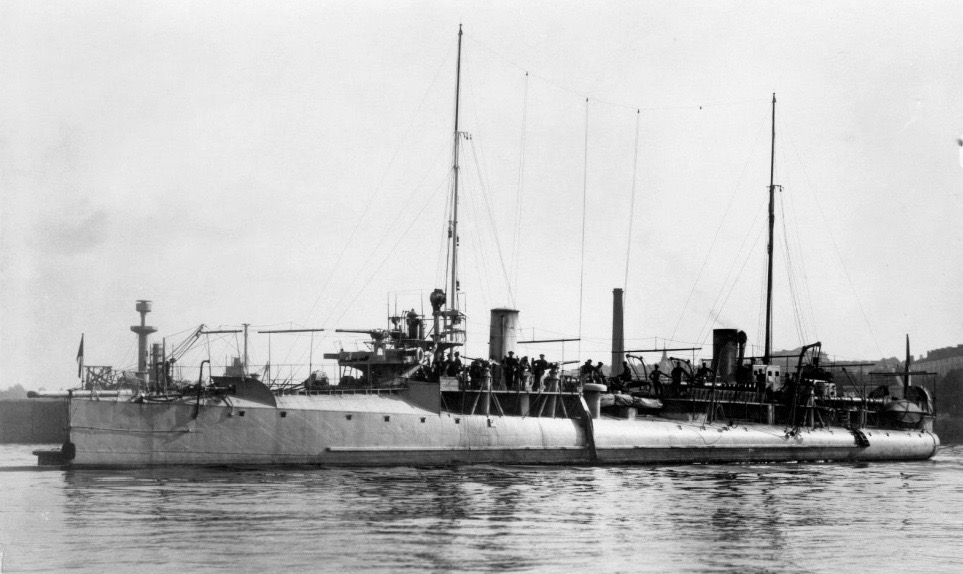 Blériot flew on and after about ten minutes was able to see the coastline ahead. He realized that the wind had blown him to the east of his intended course, so he flew along the shoreline until he recognized a signal marking the landing point. The wind was gusty near the cliffs and he landed harder than intended, slightly damaging his airplane.
A contemporary aviation news publication reported:
. . . Accounts differ as to the exact moment of departure and descent, and as a matter of fact it is doubtful if any reliable timing was made since M. Bleriot started without a watch as well as without a compass. The distance of the flight was about 31 miles, and hence the speed was in the region of 45 miles an hour. During the crossing he flew at an altitude of 150 ft. to 300 ft., and thus kept much nearer the water than Mr. Latham did on his attempt.
—Flight: First Aero Weekly in the World. Vol. I, No. 31, 31July 1909, at Page 458, Column 2.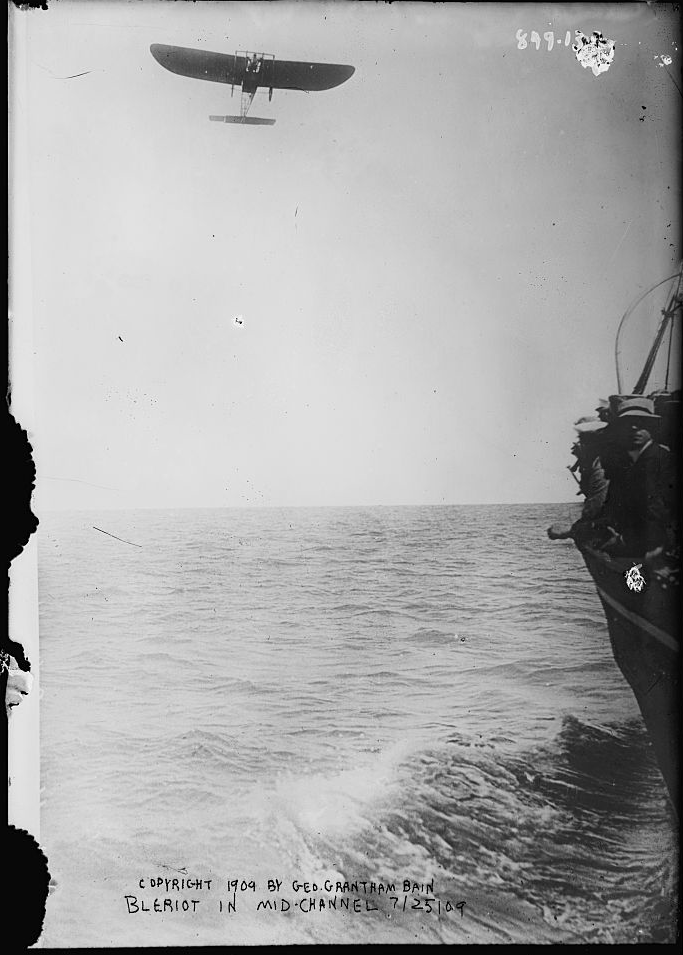 This was the first time an airplane had been flown across the English Channel, and brought Blériot international acclaim. He was appointed Chevalier de la légion d'honneur, by France. A London newspaper, the Daily Mail, awarded him a £1,000 prize.
Very quickly, orders for his Type XI were coming in. Between 1909 and 1914, approximately 900 were sold.
Louis Bleriot's Channel-crossing Type XI monoplane was donated to the Musée des arts et métiers in Paris by the newspaper Le Matin, in October 1909. It remains in the museum's permanent collection.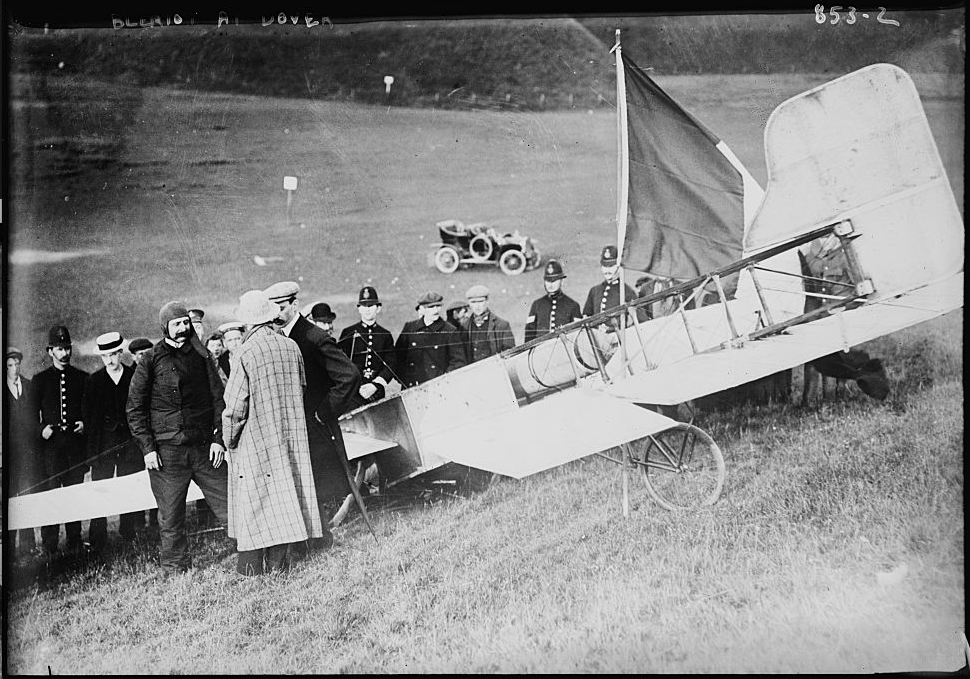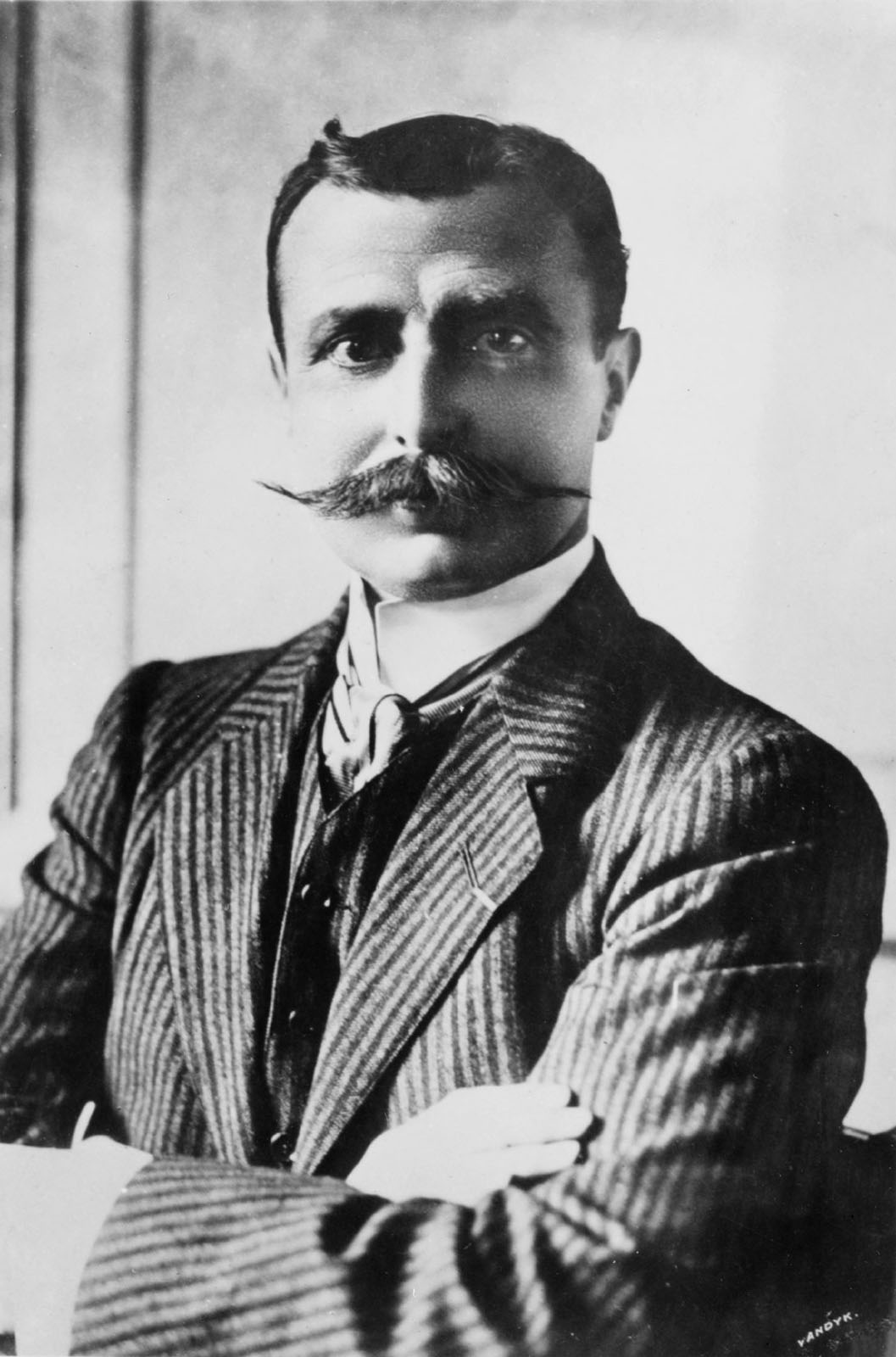 Louis Charles Joseph Blériot was born 1 July 1872 at Cambrai, Nord, Pas-de-Calais, France. He was the son of Louis Charles Pierre Alexander Blériot and Clémence Marie Eugenie Candeliez Blériot. In 1882 Blériot was sent to l'Institution Notre-Dame de Grâce, a boarding school in Cambrai, and then, to a high school in northern France. He next studied at the Collège Sainte-Barbe in Paris. After a year there, he transferred to the École Centrale Paris, at Châtenay-Malabry, in southwest Paris.
In 1895–1896, Blériot served as a sous-lieutenant assigned to the 24ᵉ régiment d'artillerie (24th Regiment of Artillery) at Tarbes in the Pyrenees mountains, which divide France from Spain.
Blériot next worked as an electrical engineer and in 1896, he invented acetylene headlamps for use on automobiles. Blériot gained an interest in aviation after attending l'Exposition de Paris 1900. The income from his lamp manufacturing allowed him to conduct serious aeronautical experiments.
In 1901, Blériot married Mlle. Jeanne Alicia Védere (the marriage banns were published 2 February 1901). They would have six children, born between 1902 and 1929.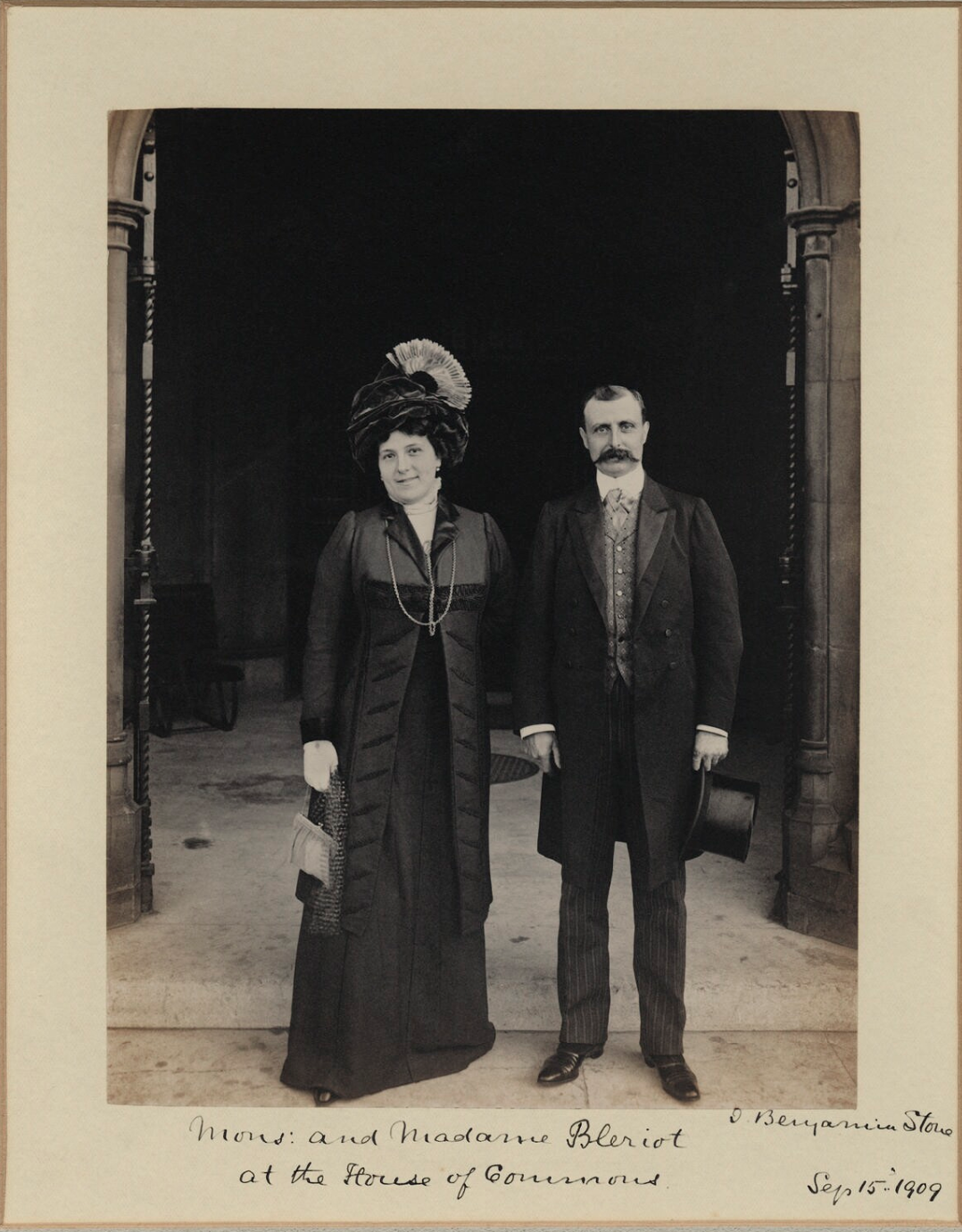 Over the next few years, worked with several other pioneers of aviation, including Ernest rchdeacon,  Léon Levavasseur, Gabriel Voison, Eventually, he started his own aeronautical research and aircraft manufacturing company, Recherches Aéronautique Louis Blériot. In 1913, he bought the aircraft manufacturing company that would become Société Pour L'Aviation et ses Dérivés, designers and builders of the legendary fighter of World War I, the SPAD S.XIII C.1. His businesses in France and England manufactured airplanes, automobiles and motorcycles.
In 1930, Blériot established the Blériot Trophy, to be awarded to an aviator who demonstrated flight at a speed of 2,000 kilometers per hour (1,242.742 miles per hour) for 30 minutes. 31 years later, 10 May 1961, the three-man crew of a Convair B-58A Hustler named The Firefly accomplished that feat.
Louis Charles Joseph Blériot died 2 August 1936, in Paris. He was buried at the Cimitière des Gonards, Versailles, Île-de France, France.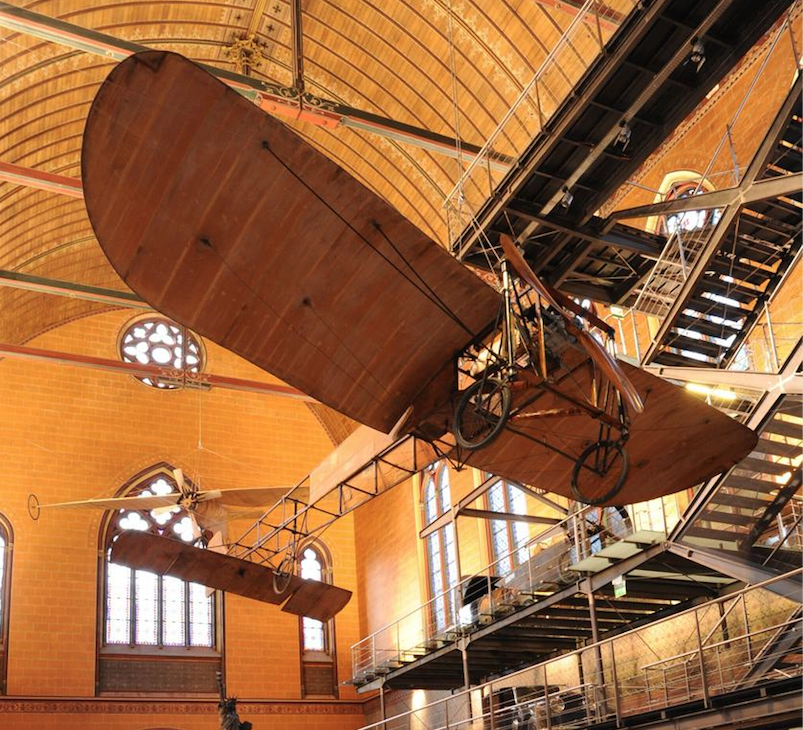 The Blériot XI was a single-seat, single-engine monoplane. It was 26.24 feet (7.998 meters) long with a wingspan of 25.35 feet (7.727 meters) and height to the top of the cabane strut of 8.0 feet (2.438 meters). It had an empty weight of 507 pounds (229.9 kilograms). (Sources give conflicting specifications for the Blériot XI, probably because they were often changed in an effort to improve the airplane. The model flown across the English Channel was described by Flight as the Blériot Short-Span Monoplane. Dimensions given here are from the three-view drawings, below.)
In its original configuration, the Type XI was powered by an air-cooled, 3.774 liter (230.273 cubic inches) Robert Esnault-Pelterie (R.E.P.) two-row, seven-cylinder fan engine (or "semi-radial"), which produced 30 horsepower at 1,500 r.p.m.,  and drove a four-bladed paddle-type propeller. The R.E.P. engine weighed 54 kilograms (119 pounds). This engine was unreliable and was soon replaced by an Alessandro Anzani & Co. W-3.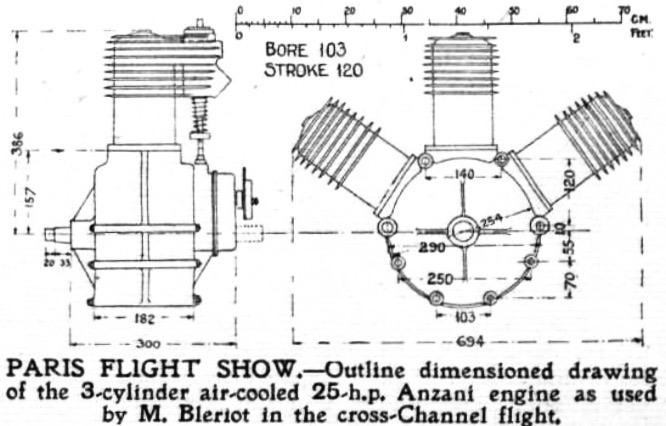 The Anzani W-3 was an air-cooled, naturally-aspirated, 3.377 liter (206.078 cubic inch) 60° (some sources state 55°) three-cylinder "fan"-type radial engine (or W-3). It was a direct-drive, right-hand-tractor engine which produced 25 horsepower at 1,600 r.p.m. The W-3 was 0.300 meters (11.811 inches) long, 0.386 meters (15.197 inches) high, and 0.694 meters (2 feet, 3.323 inches) wide. The engine weighed 65 kilograms (143 pounds). The engine turned a highly-efficient Hélice Intégrale Chauvière two-bladed, fixed-pitch, propeller which had a diameter of 6 feet, 8 inches (2.032 meters). The Anzani W-3 cost 3,000 French francs in 1909.
The Blériot XI had a maximum speed of 47 miles per hour (76 kilometers per hour) and the service ceiling was approximately 1,000 meters (3,281 feet).
A description of the Blériot Type XI appeared in Vehicles of the Air, by Victor Loughead,² Second Edition, The Reilly and Britton Co., Chicago, 1910, Figure 197, between Pages 406 and 407: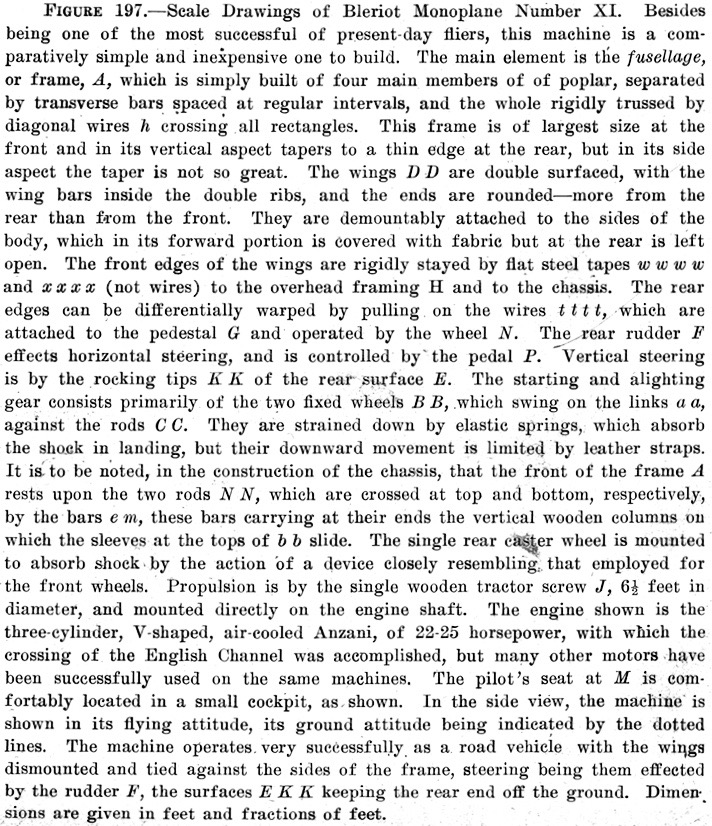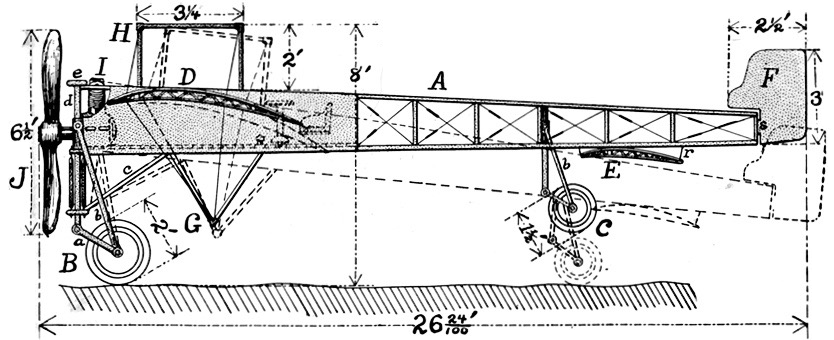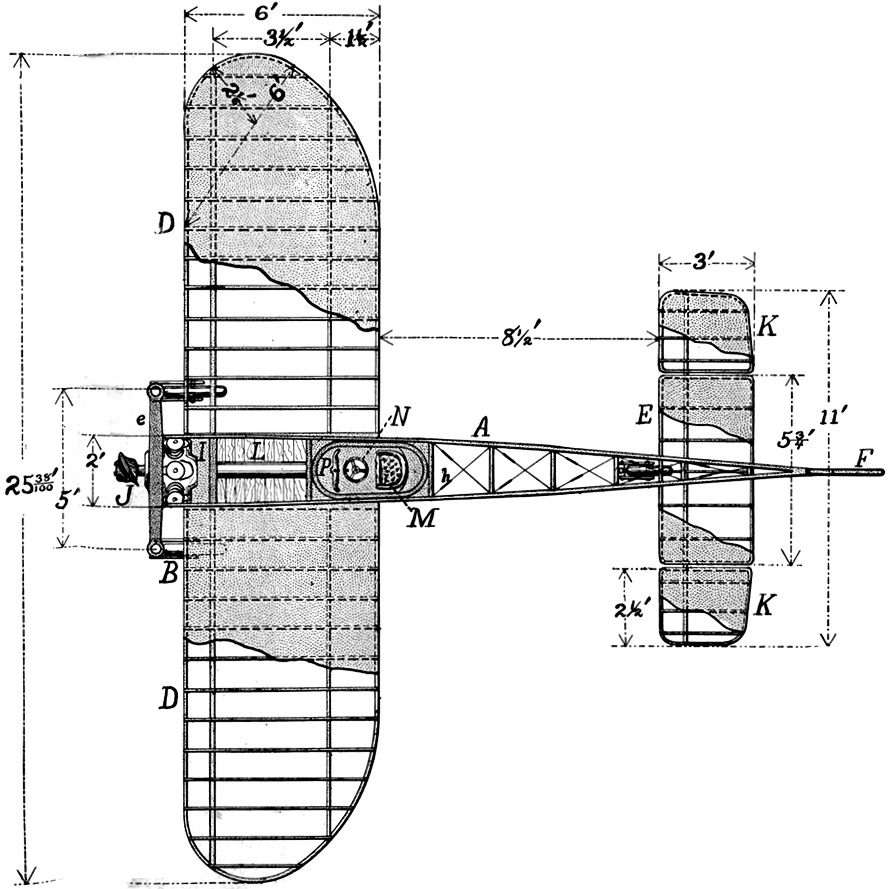 ¹ The village was renamed Sangatte-Blériot-Plage in 1936.
² Victor Loughead was the older brother of Allan and Malcolm Loughead, founders of the Loughead Aircraft Manufacturing Company of Santa Barbara, California, better known today as the Lockheed Martin Corporation.
© 2018, Bryan R. Swopes