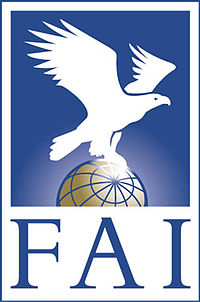 25 May 1961: Captain Walter C. McMeen, U.S. Air Force. flew a Kaman HH-43B Huskie, 60-0263, to an altitude of 8,037 meters (26,368 feet) over Luke Air Force Base, west of Phoenix, Arizona. This established a new Fédération Aéronautique Internationale (FAI) World Record for Altitude with a 1,000 Kilogram Payload.¹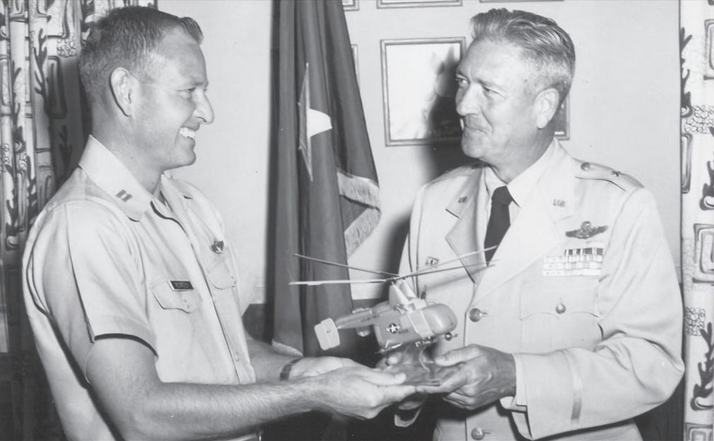 Captain McMeen was awarded the Distinguished Flying Cross for his achievement.
This same helicopter set a World Record for Altitude Without Payload  at 10,010 meters (32,841 feet), 18 October 1961.² It was flown by Lieutenant Colonel Francis M. Carney over the Kaman plant at Bloomfield. Connecticut. The following week, on 24 October 1961, Colonel Carney set six more world records, flying the HH-43B to 3,000 meters (9,853 feet) in 2 minutes, 41.5 seconds;³ 6,000 meters (19,685 feet) in 6 minutes 49.3 seconds;⁴ and to 9,000 meters (29,528 feet) in 14 minutes, 31 seconds.⁵ Captain Richard H. Coan set a World Record for Distance Over a Closed Circuit Without Landing, when he flew 60-0263 1,055.16 kilometers (655.65 miles), at Mono Lake, California, 13 June 1962.⁶ Captain Chester R. Radcliffe, Jr., set an FAI World Record for Distance Without Landing when he flew the Huskie from Hill Air Force Base, Utah, to Springfield, Minnesota, a distance of 1,429.80 kilometers (888.44 miles), 5 July 1962.⁷

The Kaman Aircraft Corporation Huskie was used by the U.S. Air Force, U.S. Navy and Marine Corps, primarily for short range rescue operations. It was operated by two pilots and two rescue crewmen.
A turboshaft engine drove a unique system of counter-rotating and intermeshing rotors to provide lift, thrust and directional control. The counter-rotation cancelled the torque effect so no anti-torque, or tail, rotor was necessary. This allowed all of the engine's power to drive the main rotor system.
The fuselage of the H-43B was 25 feet, 2 inches (7.671 meters) long. Each rotor had a diameter of 47 feet, 0 inches (14.326 meters). It's height was 15 feet, 6½ inches (4.737 meters). The helicopter's empty weight was 4,470 pounds (2,028 kilograms) and its maximum gross weight was 8,800 pounds (3,992 kilograms).*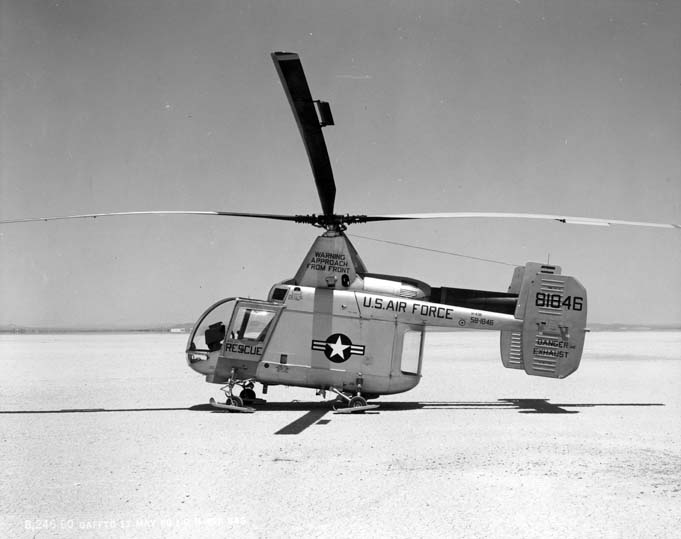 The H-43B was powered by one Lycoming T53-L-1B turboshaft engine, rated at 860 shaft horsepower at 21,510 r.p.m. The engine uses a 5-stage axial-flow, 1 stage centrifugal-flow, compressor with a single stage gas producer turbine and single-stage power turbine. A reverse-flow combustion section allows significant reduction in the the engine's total length. The power turbine drives the output shaft through a 3.22:1 gear reduction. The T53-L-1 is 3 feet, 11.8 inches (1.214 meters) long and 1 foot, 11.0 inches (0.584 meters) in diameter. It weighs 460 pounds (209 kilograms).
The Huskie's economical cruise speed was 98 miles per hour (158 kilometers per hour), and the maximum speed was 120 miles per hour (193 kilometers per hour). Its hover ceiling out of ground effect (HOGE) was 18,000 feet (5,486 meters), and in ground effect (HIGE) was 20,000 feet (6,096 meters) and it had a range of 235 miles (378 kilometers).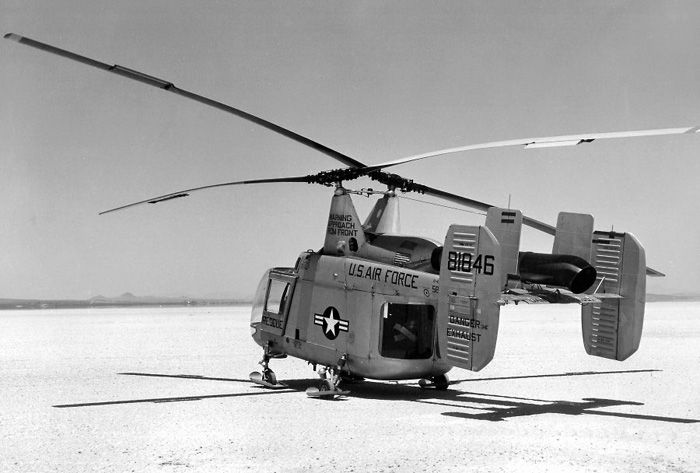 With the call sign Pedro, the HH-43 was a rescue helicopter that served in combat during the Vietnam War.
The record-setting Kaman HH-43B Huskie 60-0263 was last assigned to Detachment 3, 42nd Aerospace Rescue and Recovery Squadron, Kirtland Air Force Base, New Mexico. It is in the collection of the National Museum of the United States Air Force, Wright-Patterson Air Force Base, Ohio.
Walter Carlton McMeen was born 22 July 1926 at Lamesa, Dawson County, Texas,  He was the son of Ralph Evan McMeen, an oil company truck driver, and Nannie Dee Price. At the age of 17 years, Walter enlisted in the United States Navy, 29 March 1944. He served as a fireman aboard the Fletcher-class destroyer USS Young (DD-580). Following World War II, Fireman 1st Class McMeen was released from active duty, 16 May 1946.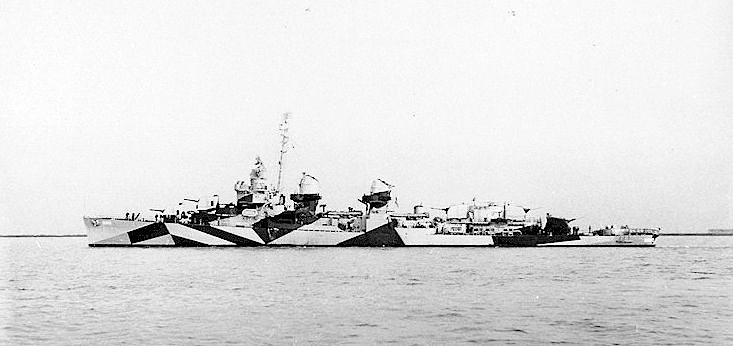 McMeen studied at Texas Technological College, Lubbock, Texas, but in 1950, he left school to enlist as an aviation cadet in the U.S. Air Force. He was sent to pilot training at Williams Air Force Base, southeast of Phoenix, Arizona.
Aviation Cadet McMeen married Miss Lena Fay Boykin of Dallas, Texas, at Williams AFB, 28 Oct 1950. The wedding was presided over by an Air Force chaplain. They would have four children.
Walter C. McMeen was commissioned as a second lieutenant, U.S.A.F., 10 February 1951. He flew 100 combat missions in fighter bombers during the Korean War. He then served as an instructor at Nellis AFB, near Las Vegas, Nevada.
Lieutenant McMeen transitioned to the Piasecki H-21. In three years at Nellis, he rescued 49 pilots. He was then assigned to Luke AFB. During the next four years, in addition to 31 Air Force personnel, McMeen rescued 41 civilians and brought them to safety.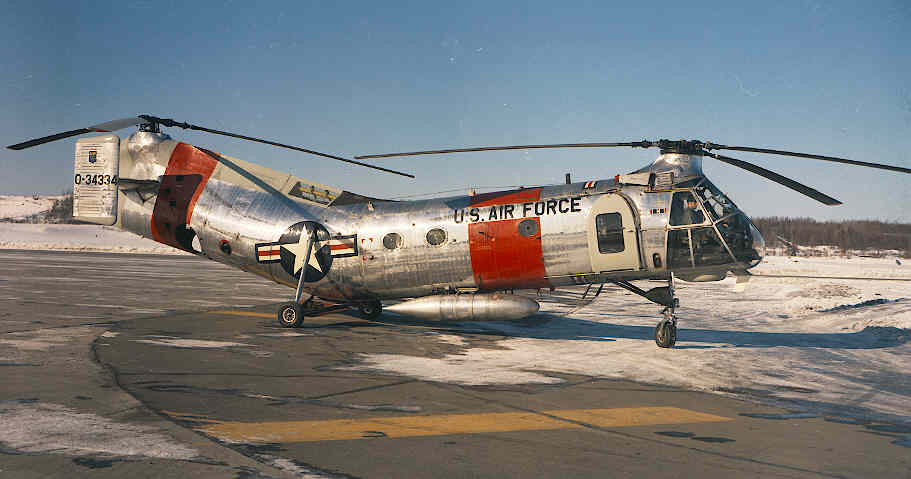 In 1955, using an ax to chop through the canopy of a burning North American Aviation F-86 Sabre, Lieutenant McMeen saved the life of the fighter's pilot. For this action he was awarded the Soldier's Medal.
On 12 April 1960, Captain McMeen accepted the first Kaman H-43B at the factory in Bloomfield, Connecticut. He flew the new helicopter to Langley, Virginia, where it was loaded aboard a Lockheed C-130 Hercules and transported to Luke AFB, Arizona.
In 1968, Major McMeen commanded Detachment 16, Western Aerospace Rescue and Recovery Center at Williams AFB.
Major McMeen retired from the Air Force 1 July 1970.
McMeen was fatally injured 28 December 1984, at San Diego, California. He was a passenger aboard a Bell 47G-3B-1 helicopter, N474MP, attempting to land aboard M/V Olga del Pacifico, a 70.01-meter, 1,111 gross ton Mexican-registered tuna seiner which was tied up alongside the 10th Avenue Terminal in San Diego Bay. The pilot, James McDonald, did not see a crane boom which was positioned over the ship's helideck. McDonald was critically injured, but McMeen died at Physicians and Surgeons Hospital at 4:15 p.m.**
Major Walter Carlton McMeen was buried at the National Memorial Cemetery of Arizona, Phoenix, Arizona.
¹ FAI Record File Number 13154
² FAI Record File Number 1870
³ FAI Record File Numbers 13057 and 13135
⁴ FAI Record File Numbers 13056 and 13136
⁵ FAI Record File Number 13137
⁶ FAI Record File Number 1258
⁷ FAI Record File Number 13208
* Maximum overload gross weight is 9,150 pounds (4,150 kilograms) at a load factor of 2.0
** The helicopter, manufacturer's serial number 6531, was repaired and returned to service. It was later registered N811MS and N9296U. The FAA registration was cancelled in 2013.
© 2020, Bryan R. Swopes