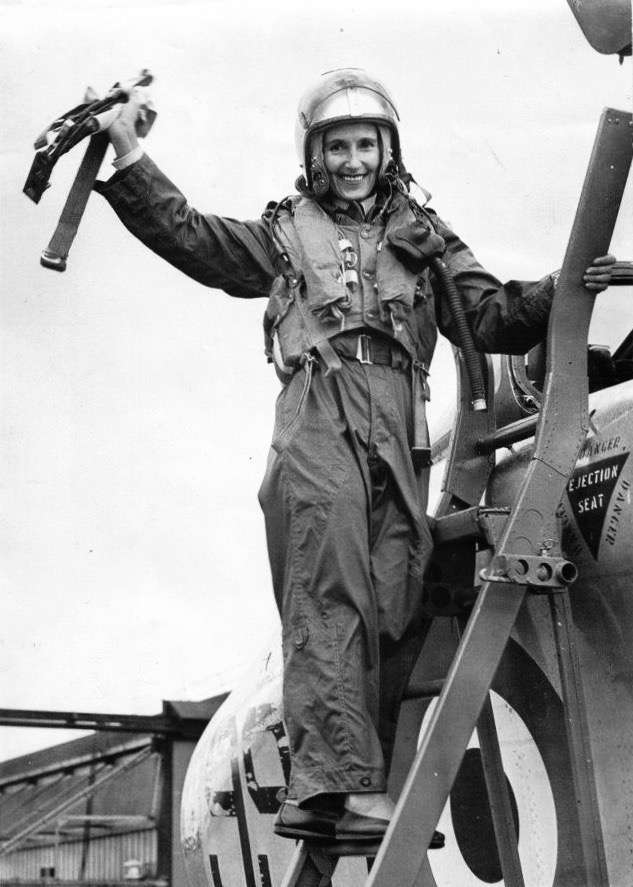 26 August 1963: Mrs. Diana Barnato Walker, a former pilot with the Air Transport Auxiliary during World War II, flew an English Electric Lightning T Mk.4, XM996, with Squadron Leader Kenneth Goodwin, from RAF Middleton St. George. Her request to make the flight had been approved by Secretary of State for Air Sir Hugh C. P. J. Fraser, MBE. This was the 27th anniversary of her very first flight, which was made in a de Havilland DH.82 Tiger Moth.
Barnato Walker took the controls of the Lightning soon after takeoff, and climbed to 56,000 feet, accelerating toward Mach 1.6. The duration of the flight was approximately 40 minutes.
The Daily Herald quoted her as saying, "Of all the aircraft I have ever flown this is a lady's dream plane. It flies so quietly and smoothly and responds perfectly."
The Chelsea News reported:
CHELSEA MOTHER JOINS THE 'TEN TONNERS'
Flies 1,250 mph at 56,000 feet
By GOGI HARMSWORTH
Mrs. Diana Barnato Walker, of No. 3 Chelsea Embankment, has become the first woman pilot to be a member of the 350-strong Ten Ton Club, all of whose members are pilots who have flown over 1,000 m.p.h. — there are only two other women members in the world. She is the mother of a 14-year-old boy, Barney.
     Mrs. Barnato-Walker made her flight on Monday in a two-seater Lightning T.4 from the R.A.F. station at Middleton St. George, Yorkshire. Her co-pilot was Squadron-Leader Kenneth Goodwin.
     "It was absolutely wonderful," said Mrs. Barnato-Walker on Wednesday. "It was terribly quiet in the Lightning when we were supersonic because we were going so fast that we left the noise of the plane behind."
     Immediately after taking off, she took over the control and remained in charge for most of the 40-minute flight.
     The maximum speed was 1,250 mph (mach 1.6).
     The plane belonged to No. 2 Squadron, 226 Operational Conversion Unit, stationed at Middleton St. George.
Mrs. Barnato-Walker was allowed to do the flight because it was thought she would then be better qualified to inspect cadets in the Women's Junior Air Corps.
CLUB TIE
     She was officially made a member of the Ten Ton Club when she landed, and was presented with the exclusive club tie.
     She was guest of honor at a party held for her in the mess.
     A few days before the flight, Mrs. Barnato-Walker had to go through the official R.A.F. decompression test because of the high altitude (56,000 ft.) at which the flight was made. She had to wear RAF safety gear during the flight. If she had not passed the decompression test she would not have been allowed to do he "ten ton."
     Mrs. Barnato-Walker, who was featured in the NEWS on February 8, is corps pilot in the Women's Junior Air Corps and spends most of her week-ends and spare time giving flights to young cadets of the various units in the British Isles, helping them become air-minded and perhaps take up a career in flying.
RACING ACE FATHER
     She is the daughter of the late Wolf Barnato, the racing motorist, and the grand-daughter of Barney Barnato, the South African diamond millionaire.
     During the war she piloted nearly every British military bomber and fighter plane then in existence when she was in the ferry service.
     She became a pilot in 1936, at the earliest possible age.
Chelsea News, No. 5,369, Friday, 30 August 1963, Page 1, Columns 4 and 5
Although many sources state that Mrs. Barnato Walker established a world speed record, breaking one set by Jacqueline Auriol in a Mirage III R on 14 June 1963,¹ the Fédération Aéronautique Internationale online data base does not show any official FAI records credited to her. Other sources state that she was the first British woman to break the "sound barrier." However,  Flight Officer Jean Oakes WRAF, accomplished this 13 September 1962, when along with Flight Lieutenant John Smith, when she also flew a Lightning T.4 from RAF Middleton St. George to Mach 1.6. (Flight Officer Oakes, a recruiting officer, may not have been a qualified pilot.)
Diana Maitland Barnato was born 15 January 1918, at Camden Town, London, England, during a Zeppelin raid. She was the daughter of Joel Woolf ("Babe") Barnato and Dorothy Matland Falk Barnato; grand-daughter of Barney Barnato [Barnet Isaacs], the owner of the Barnato Diamond Mining Company, Kimberly Mine; Kimberley Central Diamond Mining Company; co-founder with Cecil Rhodes of the De Beers Consolidated Mines; and owner of the New primrose Gold Mining Company and the Johannesburg Estate Company.
She attended Queen's College, Harley Street, London, until 1936.
As a debutante, Miss Barnato was presented to King Edward VIII at Buckingham Palace.
At the age of 18, she earned pilot license at  Brooklands Flying Club, while flying a de Havilland DH.82 Tiger Moth.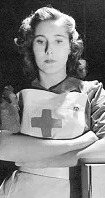 With the onset of World War II, Miss Barnato joined the Red Cross as a nurse. She served in France until the evacuation of British forces at Dunkirk.
In order to join the Air Transport Auxiliary, an organization of civilian pilots which ferried military aircraft for the Royal Air Force, on 9 March 1941 Miss Barnato took a qualification flight with the ATA's chief instructor, A.R.O. Macmillan. Having qualified, she was sent to the ATA elementary flying school at White Waltham Airfield, Berkshire, England, in November 1941. On completion of training, she was assigned to the Air Transport Auxiliary Ferry Pool No. 15, RAF Hamble, Hampshire, 9 May 1942.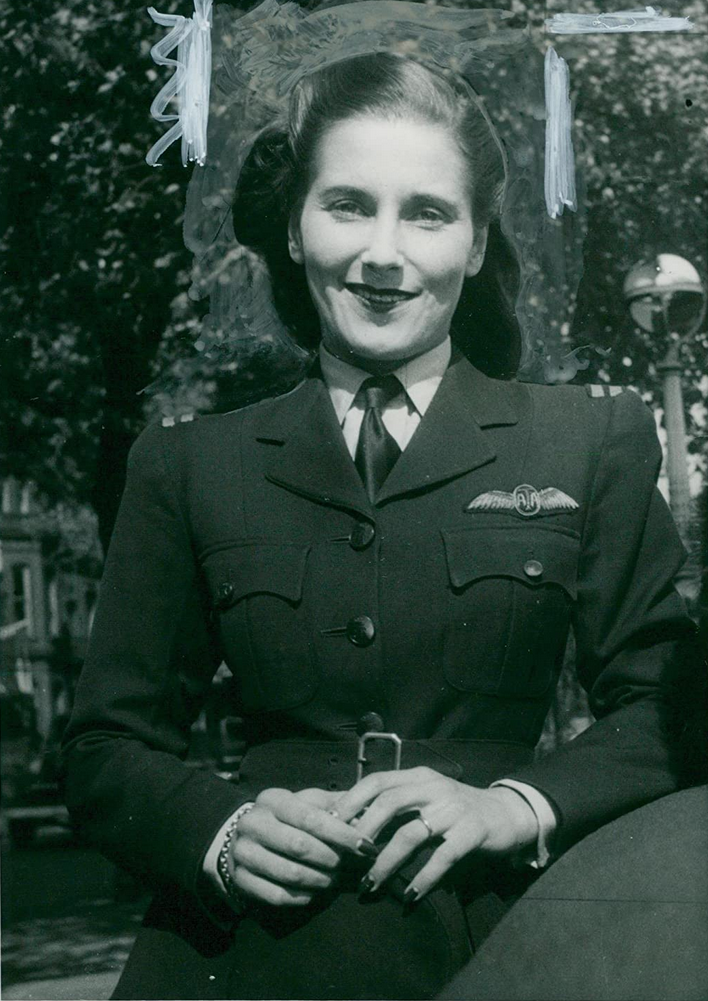 In May 1943, she First Officer Barnato was reprimanded for "appearing at Windsor Races wearing trousers and side cap." She was again reprimanded the following month for "diversion of operational aircraft," and demoted to 3rd Officer.
During the War, Barnato flew more than 80 aircraft types, and delivered more than 260 Supermarine Spitfires.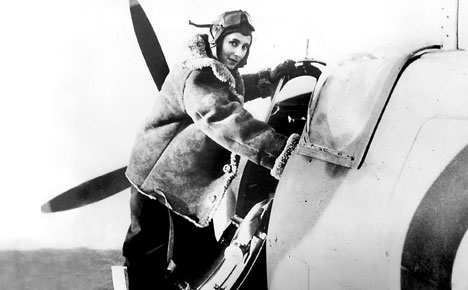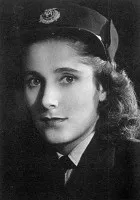 On 6 May 1944, Diana Barnato married Wing Commander Derek Ronald Walker, RAF, at St. Jude's Church, Englefield Green, Runnymead, Surrey, England. A few months later, she and her new husband took a pair of Supermarine Spitfire IXs and flew to Brussels, Belgium. Because this was an unauthorized flight, both newlyweds were fined three months pay.
Wing Commander Walker was killed 14 November 1945, while flying a North American Mustang IV, KM232, in bad weather. His remains were buried at Englefield Green Cemetery.
Mrs. Barnato Walker never remarried. She did have a 30-year relationship with  Air Commodore Whitney Willard Straight, CBE, MC, DFC, FRSA, FRGS. (Some sources state that they had a son, Barney Barnato Walker, while others indicate that he had been adopted.)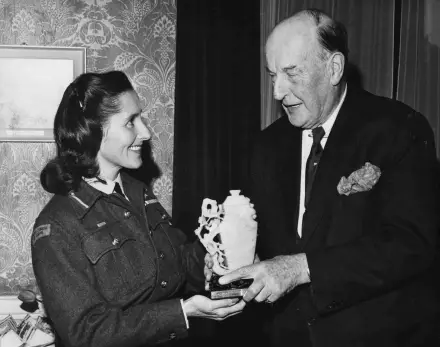 In 1963, she was presented the Jean Lennox Bird Trophy of the British Women Pilots Association, which is awarded to a British woman who has made a noteworthy contribution to aviation, by Lord Brabazon. The trophy is a pale celadon vase and cover, approximately 20 centimeters high.
On 12 June 1965  Mrs. Barnato Walker was made an Ordinary Member of the Civil Division of the Most Excellent Order of the British Empire (MBE) "for services to the Air Transport Auxiliary and the Girls Venture Corps."
She was the Master of Foxhounds of the Old Surrey and Burstow Hounds, and Commodore ATA Association. She worked at sheep farming in Surrey.
She was the author of Spreading My Wings, an autobiography published in 1994.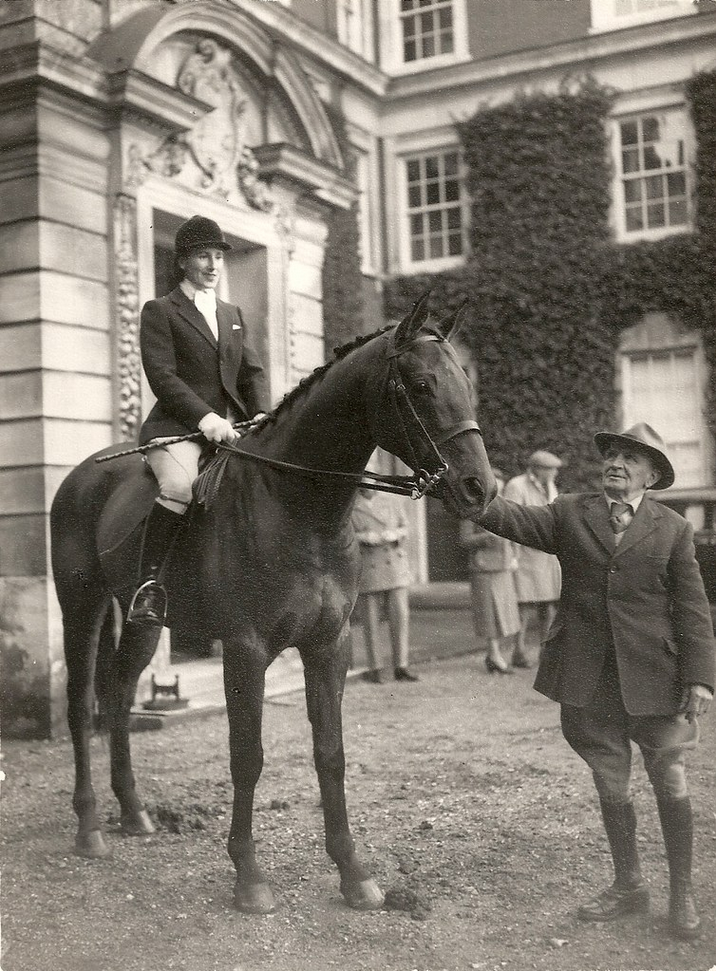 At the age of 88 years, Mrs. barnato Walker flew in a two-plane Supermarine Spitfire. She said "It would be impolite not to."
Diana Barnato Walker, MBE, died of pneumonia, 28 April 2008, in a hospital in Surrey, at the age of 90 years. Her funeral was held at Horne Church, Surrey, on Thursday, 15 May 2008.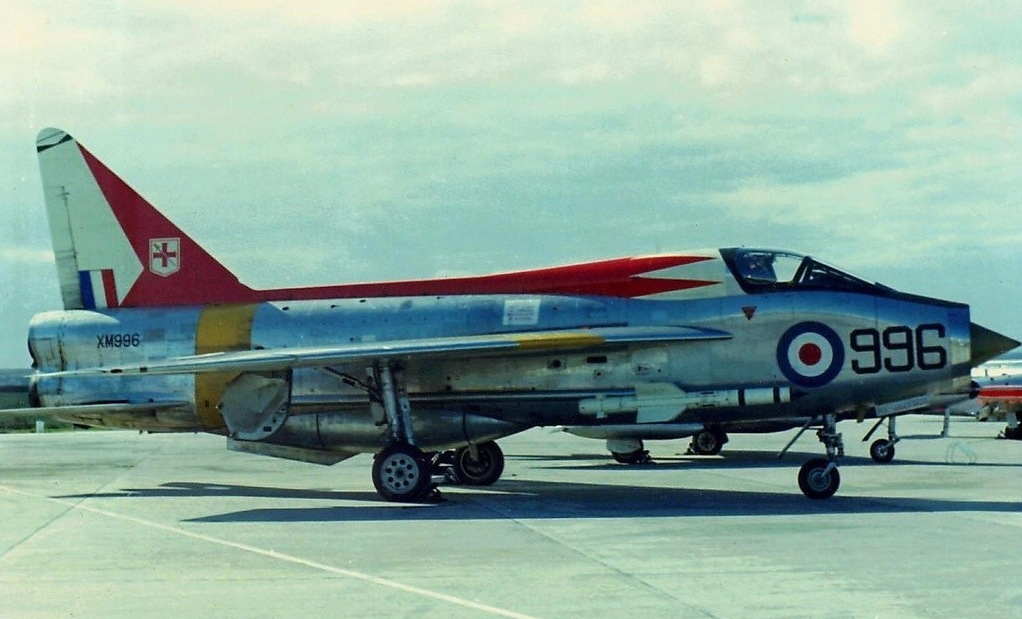 The English Electric Lightning T Mk.4 is a two-place, twin-engined, mid-wing monoplane interceptor trainer. A crew of two sit side-by-side in the cockpit. It is 55 feet, 3 inches (16.840 meters) long, with a wing span of 34 feet, 10 inches (10.617 meters) and height of 19 feet, 7 inches (5.969 meters). The wings have an angle of incidence of 2°' and 3° anhedral. The leading edges are swept aft 60° and the trailing edges, 51°56′. At the root, the wing's chord is 18 feet, 6 inches(5.638 meters) tapering to a theoretical 1 foot, 3.72 inches (0.399 meters) at the rounded tip. The variable incidence tail plane has a span of 14 feet, 6 inches (4.420 meters) with a 60° sweep. The Lightning T Mk.4 carries 966 Imperial gallons (4,392 liters or 1,160 U.S. gallons) of fuel in seven tanks throughout the fuselage and wings.
The Lightning is powered by two vertically-mounted axial-flow Rolls-Royce Avon Mk. 22001 afterburning turbojet engines. These are each rated 11,200 pounds (49.820 kilonewtons) static thrust at Sea Level, and 14,400 pounds (64.054 kilonewtons) with afterburner. One engine, No. 2, is mounted above and to the rear of engine No.1. The engines are limited to 100% +/- 0.5% r.p.m., for 15 minutes, and 97.5%, for 30 minutes. Maximum Continuous Power is restricted to 95% r.p.m.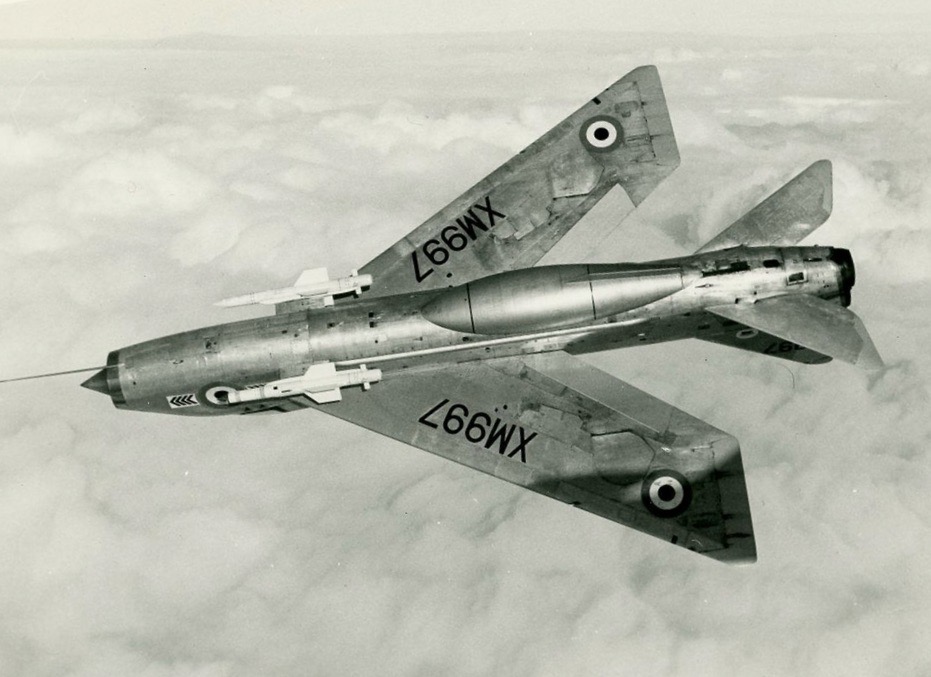 The Lightning T Mk.4 has an empty weight of 24,815 pounds (11,256 kilograms), and all-up weight of 34,914 pounds (15,837 kilograms), with a ventral fuel tank installed. Maximum Takeoff Weight (MTOW) is 35,000 pounds (15,876 kilograms).
The Lightning's maximum speed limitation is Mach 1.7. With no missiles carried, it is restricted to 650 knots (748 miles per hour/1,204 kilometers per hour) Indicated Air Speed; with two missiles, 600 knots (690 miles per hour/1,111 kilometers per hour) IAS below 25,000 feet; and 650 knots IAS above 25,000 feet (7,620 meters). The trainer's approach speed is 175–180 knots (201– 207miles per hour/324 –333 kilometers per hour).
The T Mk.4's maximum load factor is 6 g up to 0.9 Mach, or 5.5 g, above (empty or no ventral tank). The maximum negative acceleration is 3g.
The Lightning T Mk.4 is limited to a maximum altitude of 60,000 feet (18,288 meters).
The interceptor trainer can be armed with two ADEN 30mm guns or two de Havilland Firestreak heat-seeking missiles, and in addition to its primary training function, is fully operational as a fighter.
¹ FAI Record File Number 12392, 2,038.70 kilometers per hour (1,266.79 miles per hour)
© 2023, Bryan R. Swopes