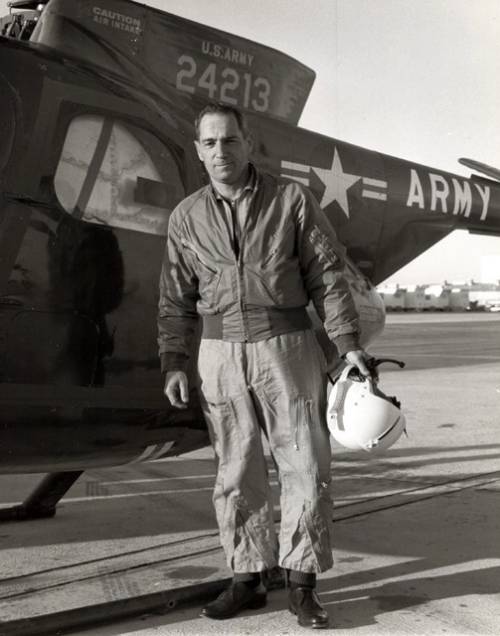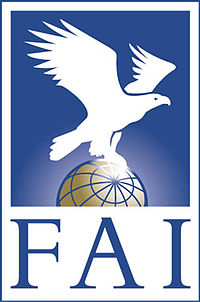 20 March 1966: At Edwards Air Force Base in the high desert of southern California, Hughes Aircraft Company test pilot Jack L. Zimmerman flew the third prototype YOH-6A Light Observation Helicopter, 62-4213, to set a Fédération Aéronautique Internationale (FAI) World Record for Distance Over a Closed Circuit Without Landing of 1,700.12 kilometers (1,056.41 miles).¹ Fifty-three years later, this record still stands.
One week later, Zimmerman would set six more World Records ² with the "Loach."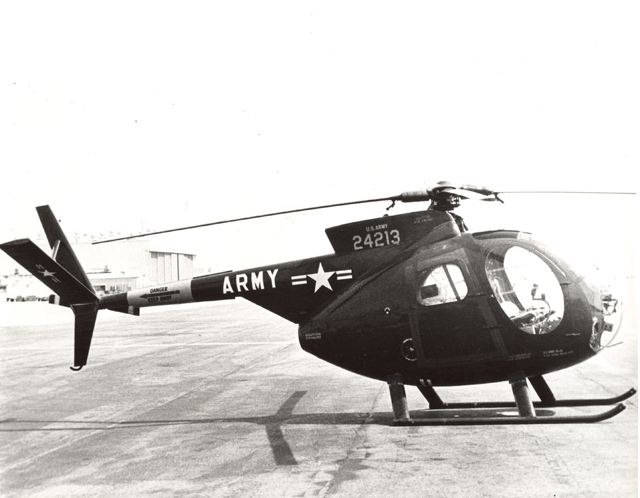 The Hughes Model 369 was built in response to a U.S. Army requirement for a Light Observation Helicopter ("L.O.H."). It was designated YOH-6A, and the first aircraft received U.S. Army serial number 62-4211. It competed with prototypes from Bell Helicopter Company (YOH-4) and Fairchild-Hiller (YOH-5). All three aircraft were powered by a lightweight Allison Engine Company turboshaft engine. The YOH-6A won the three-way competition and was ordered into production as the OH-6A Cayuse. It was nicknamed "loach," an acronym for L.O.H.
The YOH-6A was a two-place light helicopter, flown by a single pilot. It had a four-bladed, articulated main rotor which turned counter-clockwise, as seen from above. (The advancing blade is on the helicopter's right.) Stacks of thin stainless steel "straps" fastened the rotor blades to the hub and were flexible enough to allow for flapping and feathering. Hydraulic dampers controlled lead-lag. Originally, there were blade cuffs around the main rotor blade roots in an attempt to reduce aerodynamic drag, but these were soon discarded. A two-bladed semi-rigid tail rotor was mounted on the left side of the tail boom. Seen from the left, the tail-rotor rotates counter-clockwise. (The advancing blade is on top.)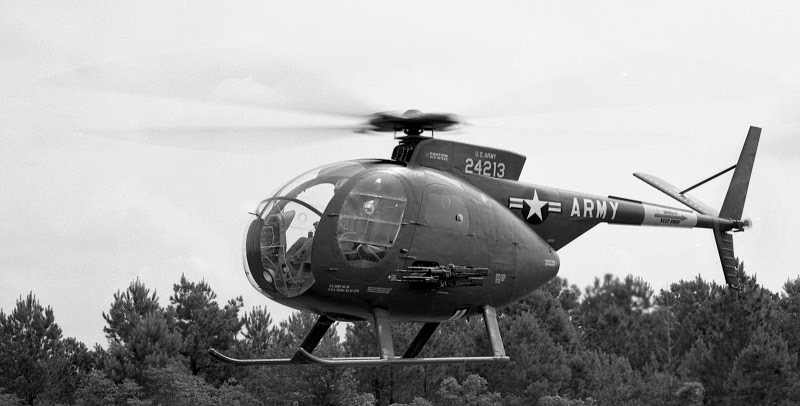 The YOH-6A was powered by a T63-A-5 turboshaft engine (Allison Model 250-C10) mounted behind the cabin at a 45° angle. The engine was rated at 212 shaft horsepower at 52,142 r.p.m. (102% N1) and 693 °C. turbine outlet temperature for maximum continuous power, and 250 shaft horsepower at 738 °C., 5-minute limit, for takeoff. Production OH-6A helicopters used the slightly more powerful T63-A-5A (250-C10A) engine.
The Hughes Tool Company Aircraft Division built 1,420 OH-6A Cayuse helicopters for the U.S. Army. The helicopter remains in production as AH-6C and MH-6 military helicopters, and the MD500E and MD530F civil aircraft.
Hughes YOH-6A 62-4213 is in the collection of the United States Army Aviation Museum, Fort Rucker, Alabama.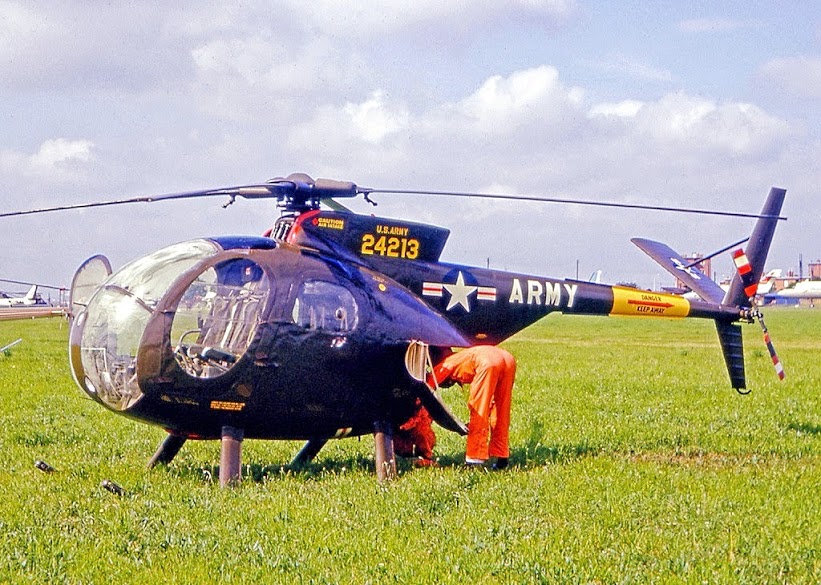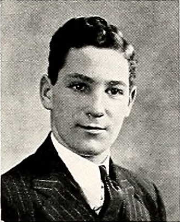 Jack Louis Zimmerman was born 1 September 1921 at Chicago, Illinois, the second of three children of Bernard Zimmerman, an electrician, and Esther Rujawski Zimmerman. Jack graduated from Hirsch High School in Chicago in 1940. He then studied engineering at the University of Chicago, but left to enlist in the U.S. Army Air Corps. He graduated from flight school in 1943 and was commissioned a second lieutenant.
Lieutenant Zimmerman was sent to Freeman Field, Indiana, as part of the Army's first class of student helicopter pilots, training on the Sikorsky R-4. On completion of training he was assigned to a Liberty ship in the western Pacific as part of a Project Ivory Soap Aviation Repair Unit.
Taking off from the Army Transport Service ship USAT Maj. Gen. Robert Olds (formerly, the Liberty ship, SS Daniel E. Garrett), Lieutenant Zimmerman's helicopter crashed into the sea. For his heroic actions in saving a passenger's life, he was awarded the Soldier's Medal: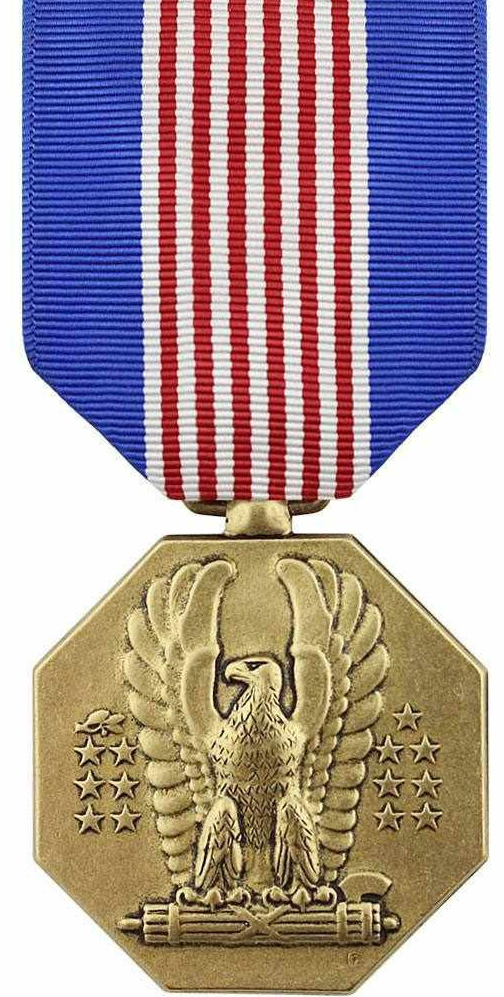 "For heroism displayed in rescuing an enlisted man from drowning on 1 November 1944. While taking off from the flight deck of the SS Daniel E. Garrett, Lieutenant Zimmerman with Private William K. Troche as passenger was forced to land at sea. Lieutenant Zimmerman at the risk of his life made several dives into the plane when his passenger had difficulty in extricating himself from the craft. When Private Troche's life preserver failed to operate properly, Lieutenant Zimmerman supported him in the water for approximately 30 minutes and afterwards pulled him to a life preserver, which had been thrown from the ship. The heroism displayed by Lieutenant Zimmerman on this occasion reflects great credit upon himself and the military service." —http://collectair.org/zimmerman.html
Following World War II, Jack Zimmerman was employed as a commercial pilot, and then a test pilot for the Seibel Helicopter S-4 and YH-24 light helicopters, and when the company was bought by Cessna, he continued testing the improved Cessna CH-1 and UH-41 Seneca. In 1963, Zimmerman began working as a test pilot for the Hughes Tool Company's Aircraft Division. He retired in 1982.
Jack Louis Zimmerman died at San Diego, California, on his 81st birthday, 1 September 2002.
¹ FAI Record File Number 762
² FAI Record File Numbers 771, 772, 9920, 9921, 9922, and 9923
© 2019, Bryan R. Swopes