by Captain Sean M. Cross, United States Coast Guard (Retired)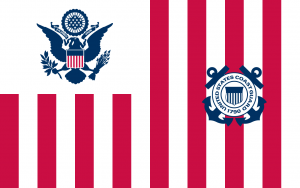 During the Vietnam conflict from 1967–1972, eleven U.S. Coast Guard Aviators voluntarily served with high honor and distinction with the U.S. Air Force Aerospace Rescue and Recovery forces in Southeast Asia in the dual role of aircraft commanders and instructor pilots. They regularly risked their lives flying into harm's way to save airmen in peril of death or capture. Their significant contributions and exceptional performance were highly commended by the Air Force with the award of four Silver Stars, sixteen Distinguished Flying Crosses, and eighty-six Air Medals, in addition to many other recognitions. The previous accolades did not come without cost—designated Coast Guard Aviator #997, Lieutenant Jack Columbus Rittichier was killed in action while attempting to rescue a downed Marine airman in hostile territory on June 9th, 1968. These Aviators carried out their noble mission with heroism and a focus on duty, honor, country and the Coast Guard. Their actions brought honor on themselves, the United States of America, the U.S. Air Force and the U.S. Coast Guard.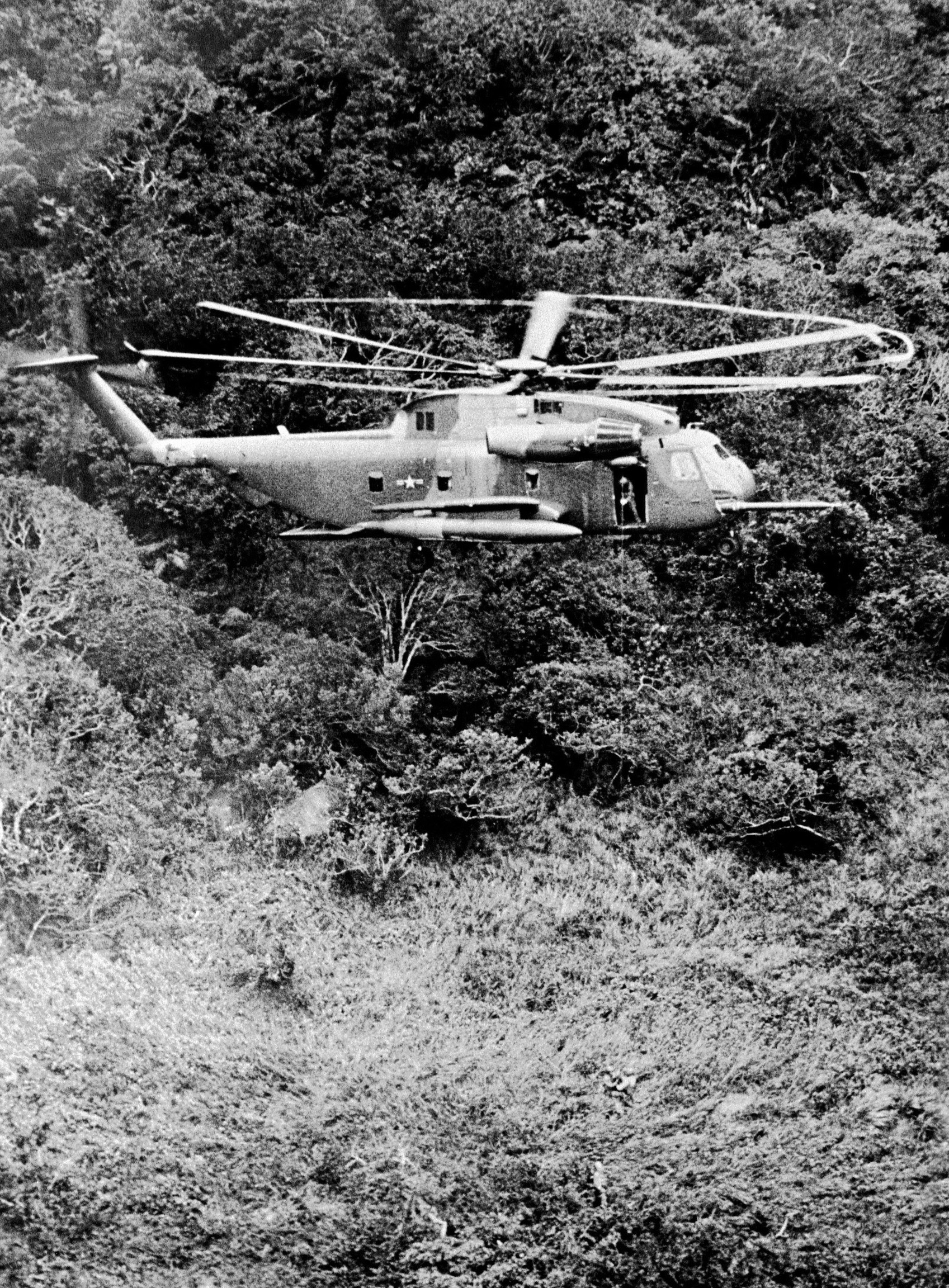 26 September 1971: A Sikorsky HH-53C Super Jolly Green Giant, crewed by Coast Guard Lieutenant Commander Joseph Lawrence ("Jay") Crowe, Jr., CGA '62 (Pilot), Xxxxxx Hampton (Copilot), William Simm (Flight Engineer), Daniel G. Manion (Pararescue Jumper) and Richard L. Steed (Pararescue Jumper), rescued the crew of a North American Aviation OV-10A Bronco (call sign "RUSTIC 07″), Lieutenant Lansford Elmer Trapp, Jr., and Cambodian observer, Sergeant Chap Khorn, after they ejected from their 12.7mm-damaged aircraft, about 10 miles (16 kilometers) northwest of Kampong Cham, Cambodia.
Lieutenant General Lansford E. Trapp bio: https://www.af.mil/About-Us/Biographies/Display/Article/105437/lieutenant-general-lansford-e-trapp-jr/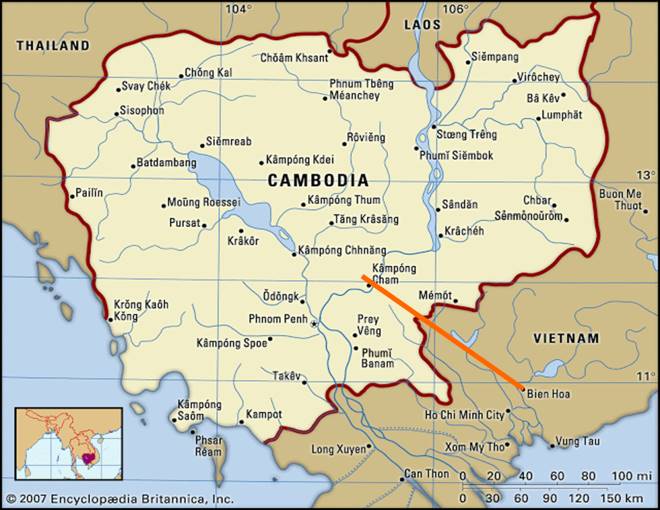 A little more…(much of this content was slightly modified from the book Leave No Man Behind: The Saga of Combat Search and Rescue by George Galdorisi and Thomas Phillips, pages 393 and 394)
To better cover the southern portion of South Vietnam and be closer to the increasing levels of operations in Cambodia, the 37th Aerospace Rescue and Recovery Squadron (ARRS) had for some time maintained a pair of HH-53Cs at Bien Hoa Air Base, about fifteen miles northeast of Saigon.  On September 26, 1971, it was Coast Guard exchange pilot Lieutenant Commander Joseph "Jay" Crowe's turn to stage at the forward operating location (FOL). Standing the alert with his crew, Hampton, Simm, Manion, and Steed, they were scrambled to rescue of the crew of an OV-10A from the 19th TASS who shared the ramp at Bien Hoa.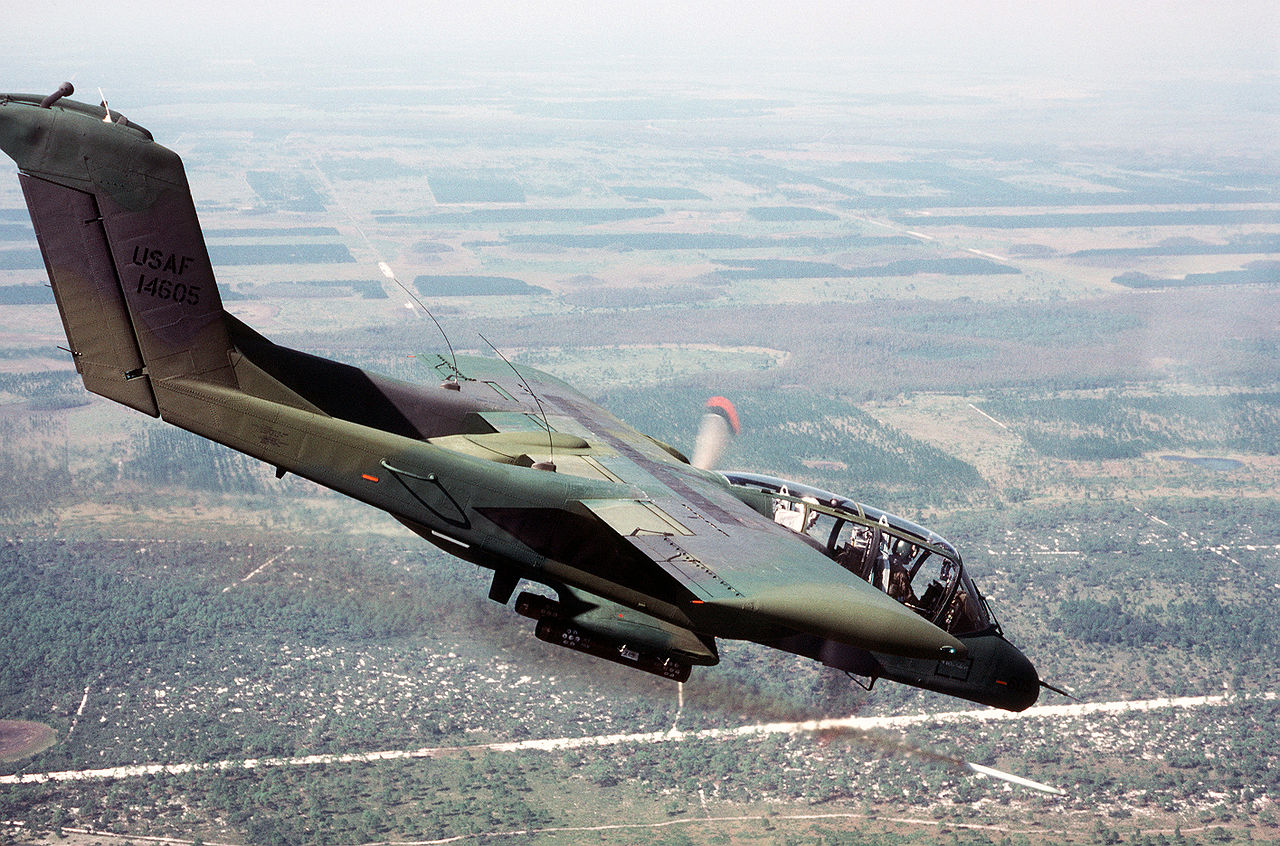 The Rustic FAC, the call sign that any FAC [Forward Air Controller] operating in Cambodia used, regardless of squadron, had fallen victim to a ".50-caliber trap" when it was hit at 3,500 feet (1,067 meters) by converging fire from four 12.7mm AA machine guns ringing the perimeter of a small village about ten miles (16 kilometers) northwest of the Mekong River town of Kampong Cham. When grouped as a battery, the 12.7 mm guns, "heavy guns" of the southern air war (where the heavy AA weapons of Laos and North Vietnam had not yet appeared in large numbers), were still quite deadly. The Bronco pilot, 1st Lieutenant Lansford Trapp, and his observer, Cambodian Sgt. Chap Khom, had parachuted down into the apex of the gun formation, and the hostile forces accompanying the AAA gunners were in no rush to go get them.
In an interview with his grandson recorded in 2018, retired General Lansford E. Trapp described the incident:
"When I was a lieutenant, and this would have been in 1971, I was flying an observation aircraft over in Vietnam. I was on a mission over in Cambodia and we were helping ground forces who were fighting against bad guys over there. That ensuing battle that went on as I was flying over head in my airplane, we actually got hit by ground fire and the left wing of the airplane caught on fire.
"I had a Cambodian interpreter sitting in my back seat, a Sergeant Chung (Khorn), and it was his seventh ride in an airplane. I didn't even know that the wing was on fire until one of the other airplanes came by and said "hey your left wing is on fire". So, I looked out, my wing was on fire, and we decided that I was gonna be able to land at one of the airports that was right there. So, we came in and tried to land, but I lost control of the airplane. So, I pushed the power back in and climbed up over the airfield. Then the left wing burned off, and so we started in a pretty good spiral into the wing that had burned off. We ejected from the airplane.
"Sergeant Corn (Khorn) went out first, and then I went out. The craziest thing was that we used to fly with about 250 to 300 big maps, so we could look at the country as we were trying to figure out where we were. Those all came flying out of the cockpit as we ejected. It looked like confetti outside. As we came down sergeant Corn he got burned pretty bad from the wing fire, and I banged my ankle up pretty badly, but we were OK. We got picked up by friendly forces and I got a nice helicopter ride back to home base that night."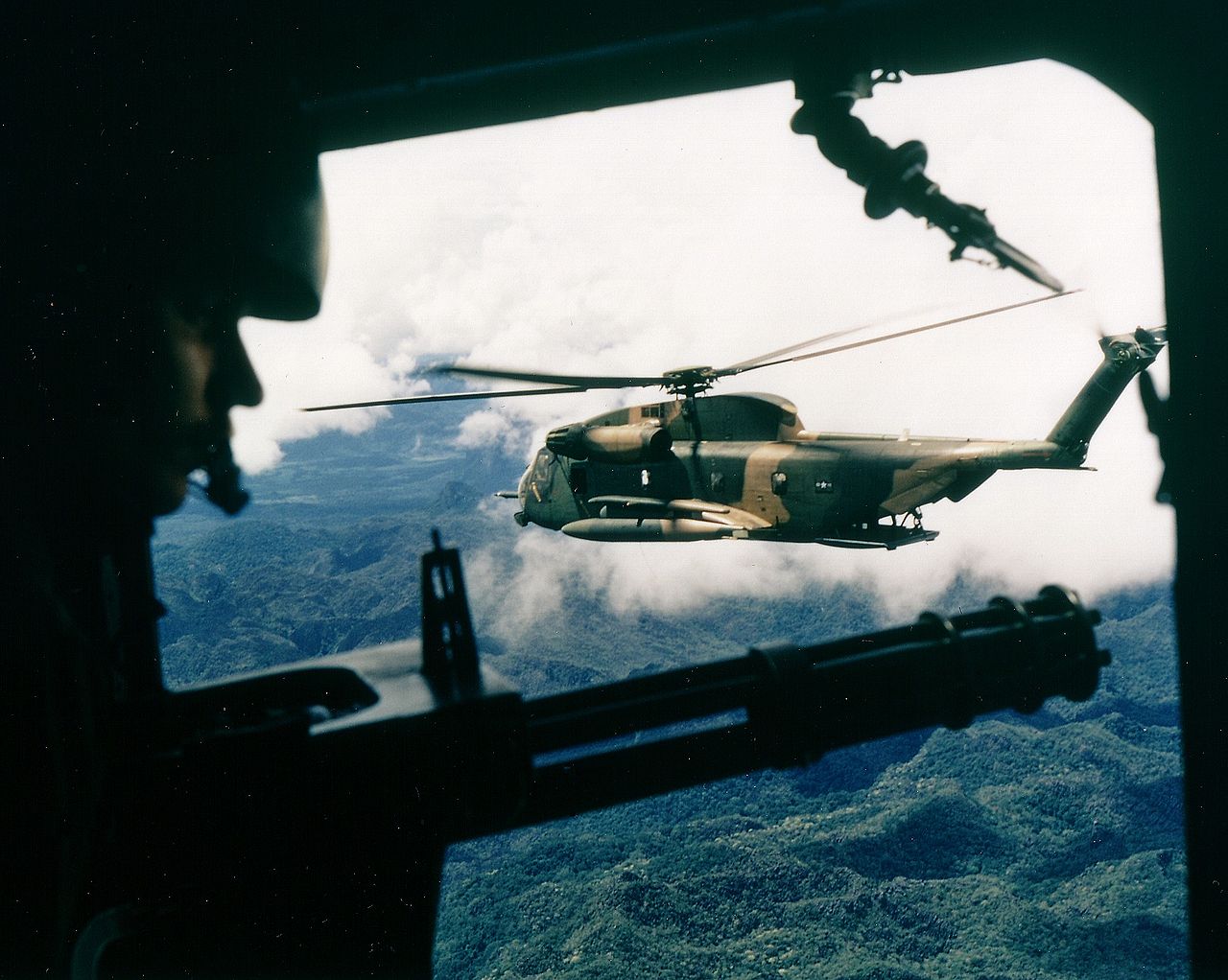 Crowe's Jolly approached at 8,000 feet (2,438 meters), safely above the range of the still-active hostile guns, while the A-1H Sandys of the 1st Special Operations Squadron (SOS) went in low to begin their routine of locating the survivors and the hostile guns. In the flat and relatively open terrain of central Cambodia, penetrating the ring of guns was going to be dicey, there not being the ridges, karsts, and dense vegetation of the 37th's regular operating area to provide a modicum of masking for the helicopter. By this stage of the war, a low, treetop-hugging approach by the rescue helicopter was a well-known procedure, and the enemy gunners would be waiting for it, scanning the low horizon for the rescue helicopter sure to follow on the heels of the tough Skyraiders. Each gun guarded its quadrant of the circle around the downed airmen, waiting.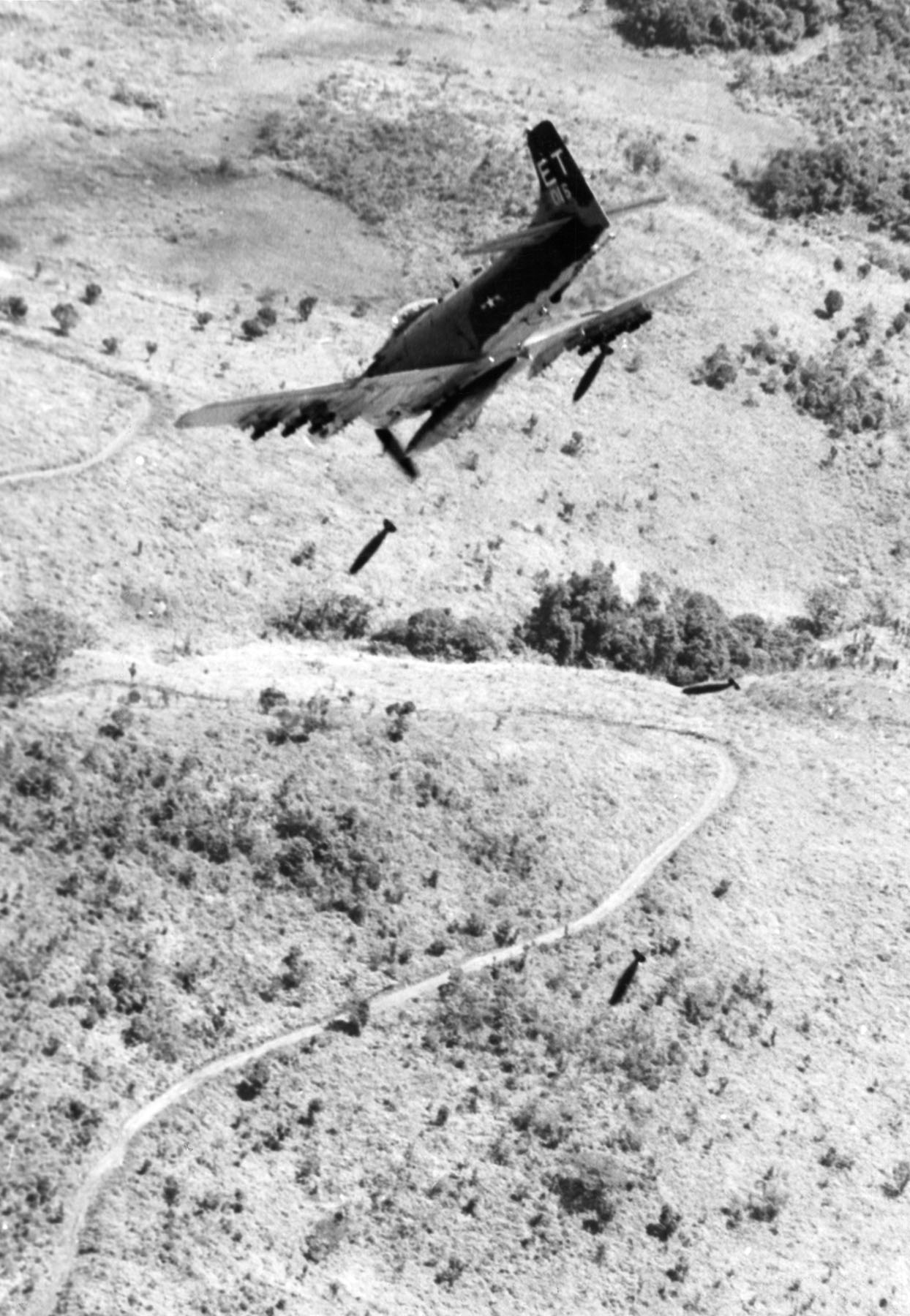 Crowe decided to use a variation of the diving spiral approach he had used June 4th with success, rescuing a Covey FAC crew up in southern Laos. Rather than descending some distance away prior to a low-level run-in, he entered an autorotation from directly overhead, copilot Hampton pulling the throttles of the twin engines back, and Crowe lowering the collective stick. Down the helicopter fell, with the rush of air up through the rotors keeping the blades spinning, while the engines idled (relatively quietly). The blades are unloaded in an autorotative descent, so the characteristic whop-whop is virtually eliminated, and with the engines at idle, there is significantly less of the distinctive noises that normally come from the helicopter.
With the Sandys rumbling around, strafing and bombing and attracting the eye of the gunners, the diminished but still telltale sounds made by the falling Jolly were masked.  Crowe kept the helicopter in a steep turn, spiraling down inside the perimeter of the four guns around the downed aircrew, literally behind their backs, careful not to swing out too wide, where he might catch a gunner's eye. The Jolly would be easily seen should anyone glance straight up, luckily the last place a sane gunner would be looking for a helicopter.  They were falling out of the sky at more than five thousand feet per minute. As the Jolly approached the ground, Crowe began to level off, converting vertical speed to speed across the ground, still spiraling, and then raised the nose to decelerate.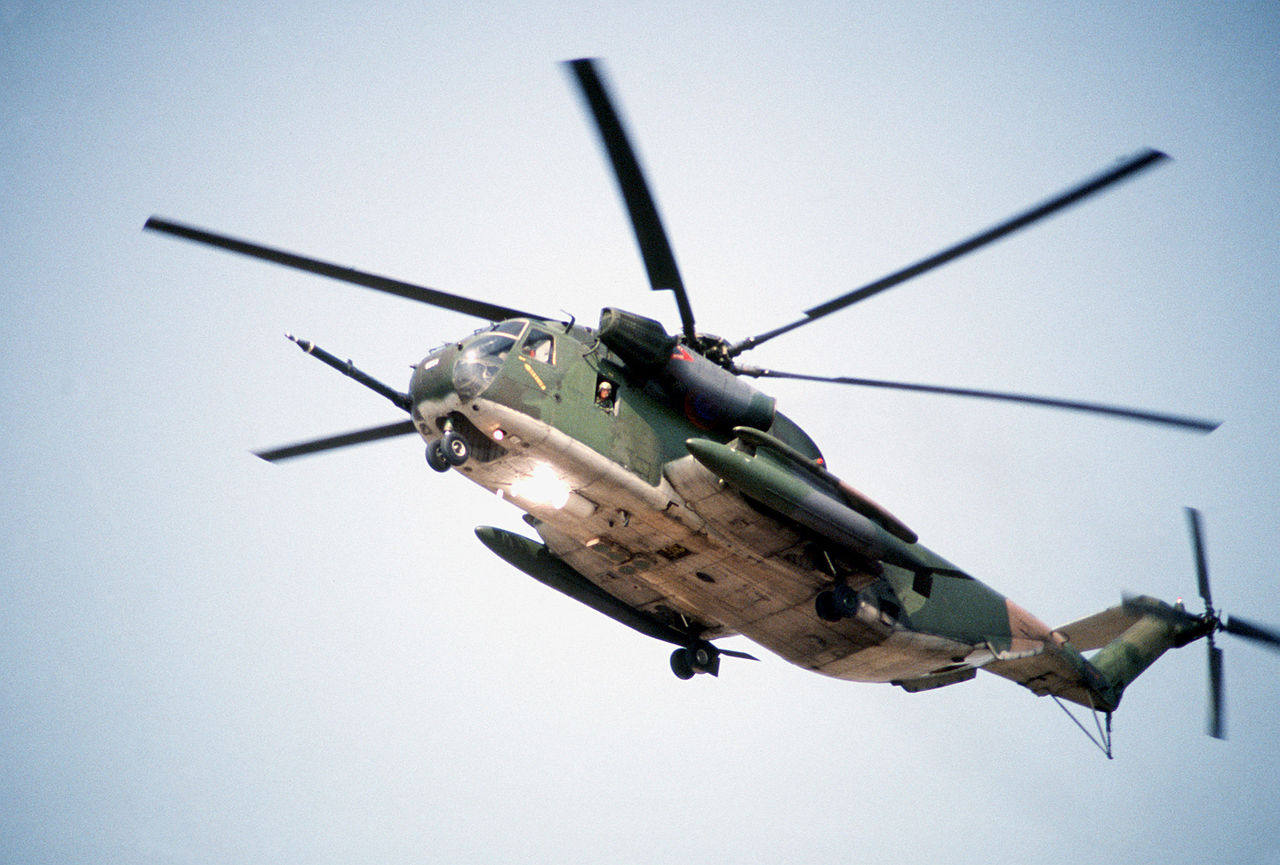 At the same time, Hampton slowly and smoothly pushed the engine throttles forward, to accelerate them back into normal speed and gently engage their drive wheels with the spinning gears of the main rotors. The accelerating engines and the rotors digging into the air as Crowe pulled up on the collective and flared into a quick-stop created loud rotor beats, accenting the whine of jet turbines accelerating to maximum power, announcing their arrival to all. But the helicopter was safely down beneath the trees in a hover, and the telltale was too late to help the gunners acquire their target. This tight spiral autorotative descent and recovery to a hover requires a superior feel for the helicopter, and exquisite coordination with the copilot to return the rotors to engine-driven flight smoothly at just the right instant. Done right, the procedure is a dramatic and breathtaking maneuver and a grand entrance. But the room for error is very small, and a botched maneuver is perilous and very unforgiving.
It was not a gambit to be repeated very often; if the gunners had detected the helicopter, Crowe and company would have found themselves in a deadly crossfire. But this day it was brilliant: a tactical surprise, completely unexpected, and therefore completely effective. The Jolly crew snatched the two men quickly and escaped out of the circle with a low-level departure. A climbing spiral back up from the center of the guns, with the gunners now alerted, was clearly out of the question. The helicopter received only sporadic fire as it left the scene in the typical low-level escape, while taking no casualties.
Epilogue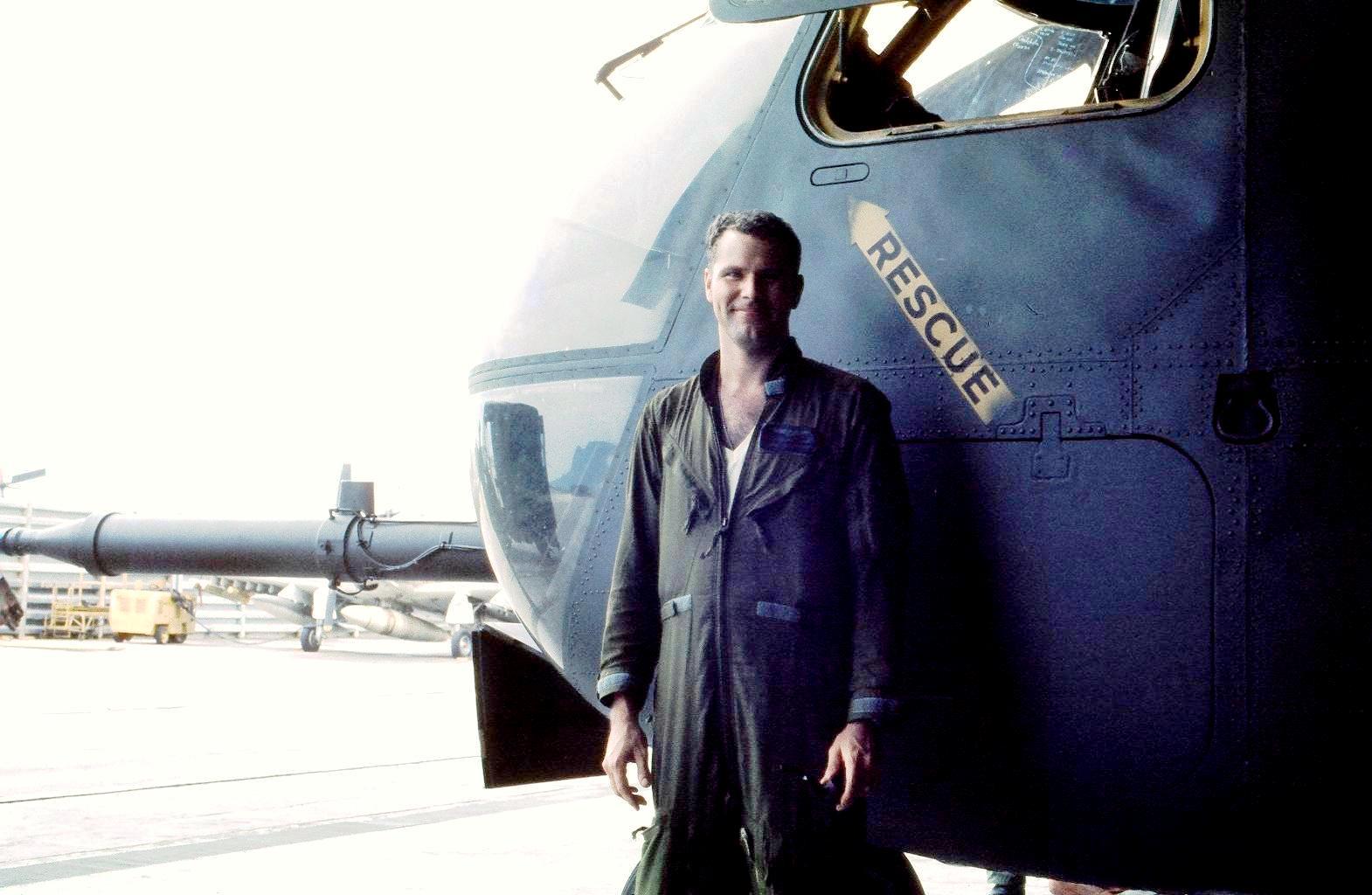 After graduation from high school in Weston, Massachusetts in 1958, Jay received an appointment to the U.S. Coast Guard Academy, New London, Connecticut. Commissioned an Ensign in 1962, he served a tour at sea and then was assigned to naval flight training. Receiving his wings in 1965, he served at Coast Guard Air Stations San Francisco, California, Barbers Point, Hawaii; Cape Cod, Massachusetts; Port Angeles, Washington; Annette Island Alaska, and Sitka, Alaska.
He served during the Vietnam War on an exchange tour with the U.S. Air Force as a Combat Rescue Crew commander with the 37th ARRS Jolly Green Giants in Da Nang AB, RVN.
Jay was a 1981 graduate of the Air War College. He served as Commanding Officer Coast Guard Air Station Port Angeles, Washington, and Coast Guard Air Station Cape Cod, Massachusetts. His final assignment before retirement was as Chief, Operations Division, 11th Coast Guard District, Long Beach, California.
During Jay's distinguished career he was awarded a Legion of Merit, three Distinguished Flying Cross Medals, nine Air Medals, two Meritorious Service Medals. Three Coast Guard Commendation Medals, a Coast Guard Achievement Medal, and a Meritorious Unit Commendation. Hangar 3172 at Air Station Cape Cod, Massachusetts, was named in his honor.
Captain Crowe flew west crossing the bar February 22, 2003. His family was at his side.
Aircraft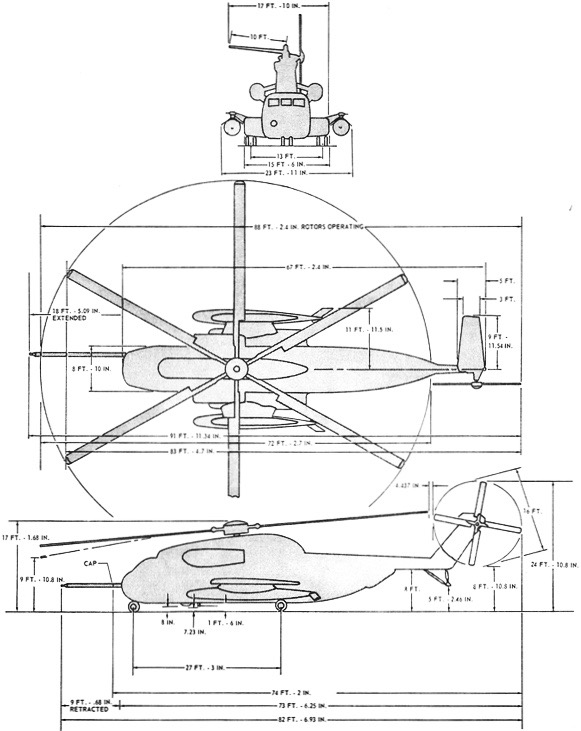 The MH-53M Pave Low IV is a variant of Sikorsky's S-65 heavy-lift military transport helicopter series.  The MH-53M is a single main rotor, single tail rotor, twin-engine helicopter. It has a crew of six: 2 pilots, 2 flight engineers and 2 gunners. The Pave Low IV is equipped with Terrain-Following Radar and Forward Looking Infrared (FLIR) for low-level operations in darkness and low visibility.
The MH-53M fuselage is 67 feet, 2.4 inches (20.483 meters) long, and the helicopter has a maximum length of 91 feet, 11.34 inches (28.025 meters) with rotors turning and the refueling boom extended. The height to the top of the main rotor pylon is 17 feet, 1.68 inches (5.224 meters). The maximum height (rotors turning) is 24 feet, 10.88 inches (7.592 meters).
The fully-articulated 6-blade main rotor has a diameter of 72 feet, 2.7 inches (22.014 meters). The main rotor turns counter-clockwise at 185 r.p.m. (100% Nr), as seen from above. (The advancing blade is on the helicopter's right.) The main rotor blades are built with titanium spars and have -16° of twist. The semi-articulated four-blade tail rotor has a diameter of 16 feet, 0 inches (4.877 meters) and is positioned on the left side of the tail pylon. It turns clockwise at 792 r.p.m., as seen from the helicopter's left side. (The advancing blade is below the axis of rotation.) The gap between rotor arcs is just 4.437 inches (11.270 centimeters).
Empty, the MH-53M weighs 32,000 pounds (14,515 kilograms). Its maximum takeoff weight is 46,000 pounds (20,865 kilograms).
Its two General Electric T64-GE-100 axial-flow turboshaft engines have a Normal Continuous Power rating of 3,810 shaft horsepower at 85 °F. (30 °C.), Military Power rating of 4,090 shaft horsepower, and a Maximum Power rating of 4,330 shaft horsepower. The T64-GE-100 is 79 inches (2.007 meters) long, 20 inches (0.508 meters) in diameter and weighs 720 pounds (327 kilograms). Output (100% N2) is 13,600 r.p.m.
The MH-53M has a maximum speed of 196 miles per hour (315 kilometers per hour) and a service ceiling of 16,000 feet (4877 meters). It carries two 450-gallon (1,703 liter) jettisonable fuel tanks under each sponson.
The MH-53M is armed with two M134 7.62mm miniguns and a GAU-18/A .50 caliber machine gun.
© 2020, Sean M. Cross
For additional reading, see: