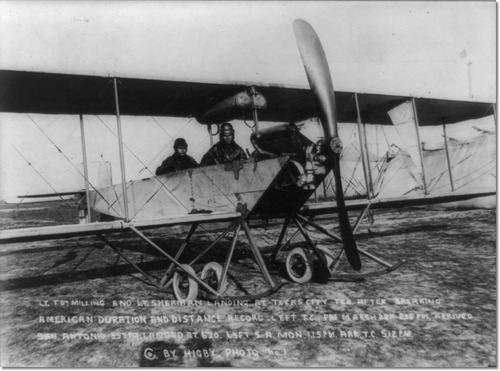 28 March 1913: Lieutenants Thomas DeWitt Milling and William C. Sherman, Aeronautical Division, Signal Corps, United States Army, set two American Cross-Country Nonstop Records for Distance and Duration by flying a single-engine Burgess Model H Military Tractor (also known as the Burgess-Wright Model H) biplane from Texas City to San Antonio, Texas, a distance of 220 miles (354 kilometers), in 4 hours, 22 minutes.
During the flight Lieutenant Sherman drew a map of the terrain.
Aero and Hydro reported:
American Cross-Country Nonstop Records.—The Aero Club of America, on recommendation of its Contest Commitee, has adopted the following, relative to cross-country flying, nonstop records: Duration—Aviator With Passenger.—Lieutenant T. DeWitt Milling, Texas City, Tex., to San Antonio, Tex., March 28, 1913, Burgess-Wright tractor biplane, 70-horsepower Renault motor; time, four hours, 22 minutes.
Distance—Aviator With Passenger.—Lieut. T. DeWitt Milling, Texas City, Tex., to San Antonio, Tex., Burgess-Wright tractor biplane, 70-horsepower Renault motor; distance covered, 220 miles.
—AERO AND HYDRO, Noel & Company, Publishers, Chicago, Illinois, Volume VI, No. 10, 7 June 1913, at Page 190, Column 1
The U.S. Army Signal Corps purchased six Model H biplanes for $7,500, each. They were assigned serial numbers S.C. 9 and S.C. 24–S.C. 28.
The Burgess Model H was a two-place, single-engine biplane which could be ordered with either wheeled landing gear or floats. It was built by the Burgess Company and the Curtiss Aeroplane and Engine Company, under license from Wright.
The biplane was 27 feet, 9 inches (8.458 meters) long with a wingspan of 34 feet, 6 inches (10.516 meters), and weighed 2,300 pounds (1,043 kilograms)
The airplane was powered by a normally-aspirated, air-cooled, 6.949 liter (424.036 cubic inch displacement) Renault Limited left-hand tractor 90° V-8 engine with a compression ratio of 4.12:1. The engine produced 70 horsepower at 1,750 r.p.m., burning 50-octane gasoline. The V-8 drove a two-bladed propeller at one-half of crankshaft speed. (The propeller was driven by the camshaft.) This engine, also known as the Type WB, was manufactured by three British companies: Renault Limited, Rolls-Royce Limited, and Wolseley Motors Limited.
The airplane had a maximum speed of 72 miles per hour (116 kilometers per hour).
Thomas Milling was issued the Fédération Aéronautique Internationale's pilot certificate number 30, and the Army's Military Aviator Certificate No. 1. He was the first U.S. military officer authorized to wear a military aviator badge as part of his uniform.
© 2017, Bryan R. Swopes