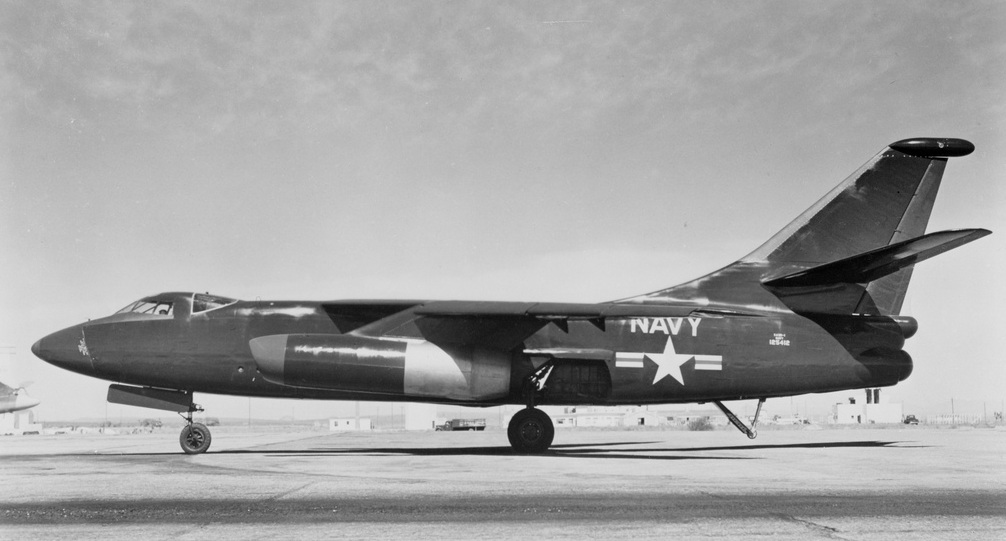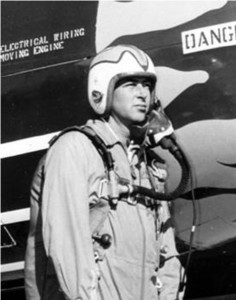 28 October 1952: The prototype Douglas XA3D-1 Skywarrior, Bu. No. 125412, made its first flight at Edwards Air Force Base, California. Douglas test pilot George R. Jansen was in the cockpit. The Skywarrior was a carrier-based, twin-engine, swept-wing strategic bomber, designed to carry a 12,000 pound (5,443 kilogram) bomb load. The prototype was equipped with two Westinghouse XJ40-WE-12 turbojet engines producing 7,000 pounds of thrust (31.138 kilonewtons), each.
Designed to be launched from an aircraft carrier, fly 2,000 miles (3,219 kilometers), deliver a 3.8 megaton Mark 15 thermonuclear bomb on target, then return to the carrier, the Skywarrior was a considerable challenge for its designers. It was operated by a three man crew: pilot, navigator/bombardier and gunner.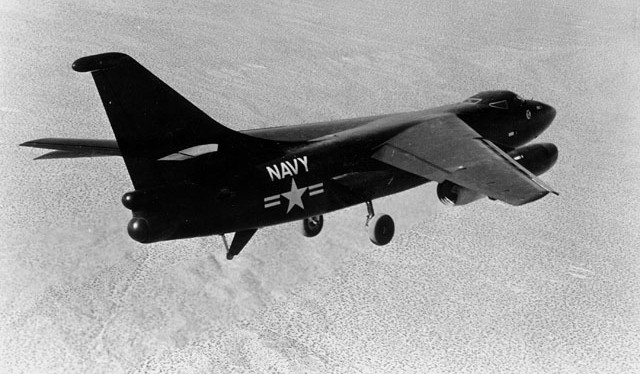 The production A3D-1 was 74 feet, 5 inches (22.682 meters) long with a wingspan of 72 feet, 6 inches (22.098 meters) and overall height of 22 feet, 10 inches (6.960 meters). The shoulder-mounted wings were swept back at a 36° angle and the wings and vertical fin were hinged so that they could be folded for storage aboard the aircraft carrier. The bomber's empty weight was 35,900 pounds (16,284 kilograms) and the maximum takeoff weight was 70,000 pounds (31,752 kilograms).
When the two prototypes' Westinghouse JX40 engines proved to be underpowered, they were replaced with Pratt & Whitney J57-P-1 turbojets, rated at 9,000 pounds of thrust (40.034 kilonewtons). The J57 was a two-spool axial-flow turbojet which had a 16-stage compressor section and a 3-stage turbine. (Both had high- and low-pressure stages.) The engine was 15 feet, 3.5 inches (4.661 meters) long, 3 feet, 5.0 inches (1.041 meters) in diameter, and weighed 4,390 pounds (1,991 kilograms). Production models were equipped with the J57-P-6, rated at 9,700 pounds of thrust (43.148 kilonewtons).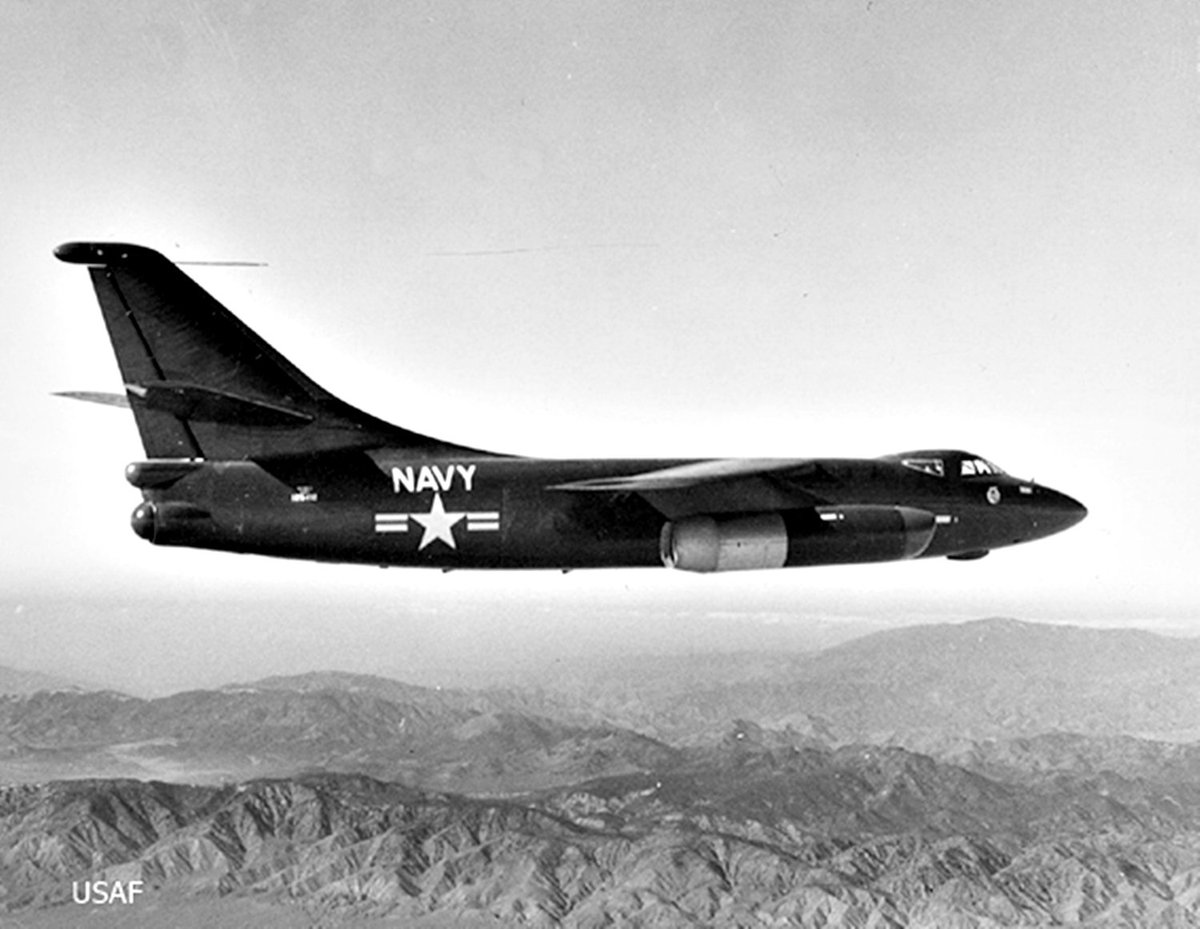 The A3D-1 had a cruise speed of 519 miles per hour (835 kilometers per hour) and maximum speed of 621 miles per hour (999 kilometers per hour) at 1,000 feet (305 meters). The combat ceiling was 40,500 feet (12,344 meters). It had a range of 2,100 miles (3,380 kilometers). The combat radius was 1,150 miles (1,851 kilometers).
The Skywarrior could carry 12,000 pounds (5,443 kilograms) of conventional or Special Weapons (MK 43 or MK 57 nuclear bombs) in its internal bomb bay. A remotely-operated turret in the tail was armed with two An-M3 20 mm cannon with 500 rounds per gun.
The first A3D-1 production aircraft were painted a glossy sea blue. This was soon changed to a flat light gray for the sides and upper surfaces with gloss white underneath. This provided better camouflage as well as thermal protection from nuclear blast.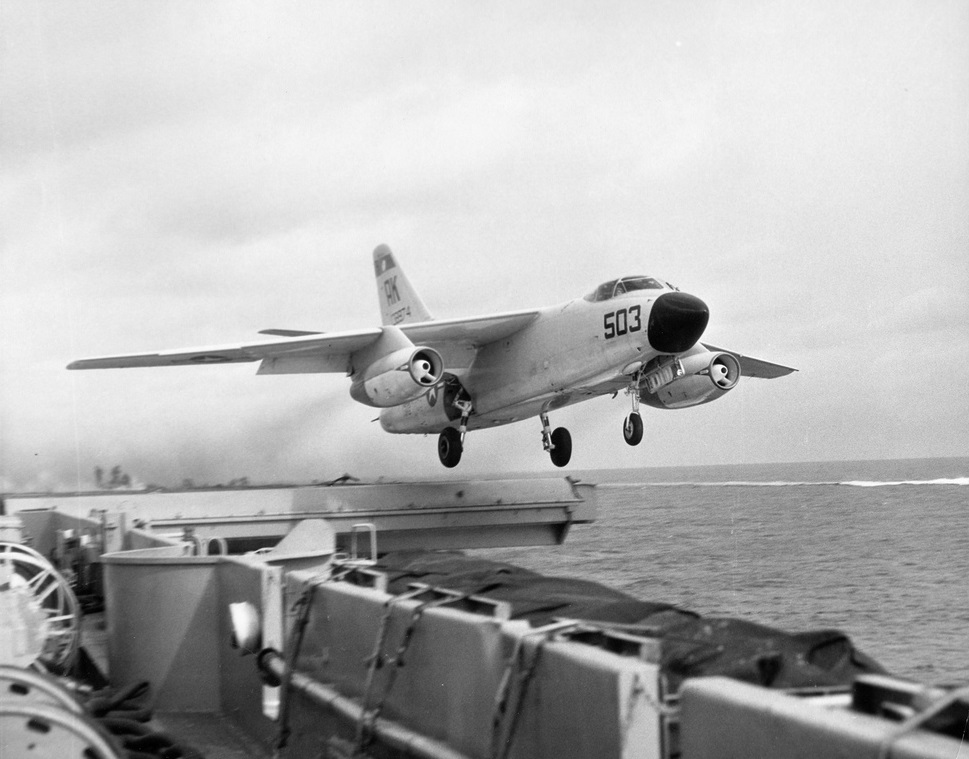 Douglas built 282 A3D Skywarriors between 1956 and 1961. They remained in service as late as 1991. The U.S. Air Force ordered 294 B-66 Destroyer medium bombers, which were developed from the A3D. The first XA3D-1, Bu. No. 125412, was used as a ground trainer after the test flight program was completed.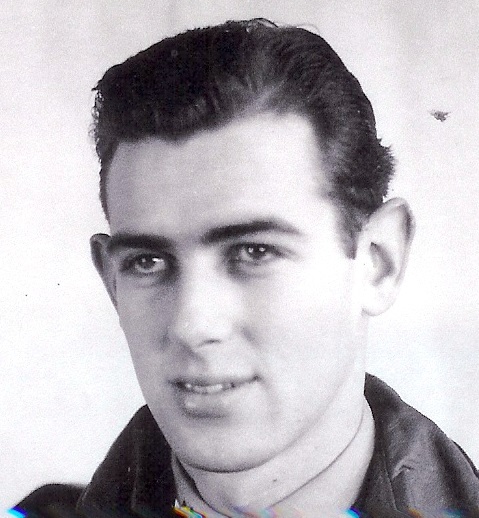 George R. Jansen was the Director of Flight Operations for the Douglas Aircraft Company. He had been a bomber pilot flying the B-24 Liberator during World War II. After one mission, his bomber, Margaret Ann, returned to base in England with more than 750 bullet and shrapnel holes, and one crewman dead and another wounded. He twice flew missions from North Africa against the refineries at Ploesti, Romania. At the age of 22, Jansen was a major in command of the 68th Bombardment Squadron (Heavy), 44th Bombardment Group (Heavy). He had been awarded three Distinguished Flying Crosses and five Air Medals.
After the war, George Jansen went to work for Douglas as a production test pilot. He graduated from the Air Force Test Pilot School at Edwards Air Force Base in 1952. He flew many of Douglas's new prototype aircraft, and also flew the modified Boeing P2B-1S Superfortress mother ship to carry the D-558-II Skyrocket to altitude. He made many of the first flights for Douglas, both military and civil. He passed away at the age of 70 years.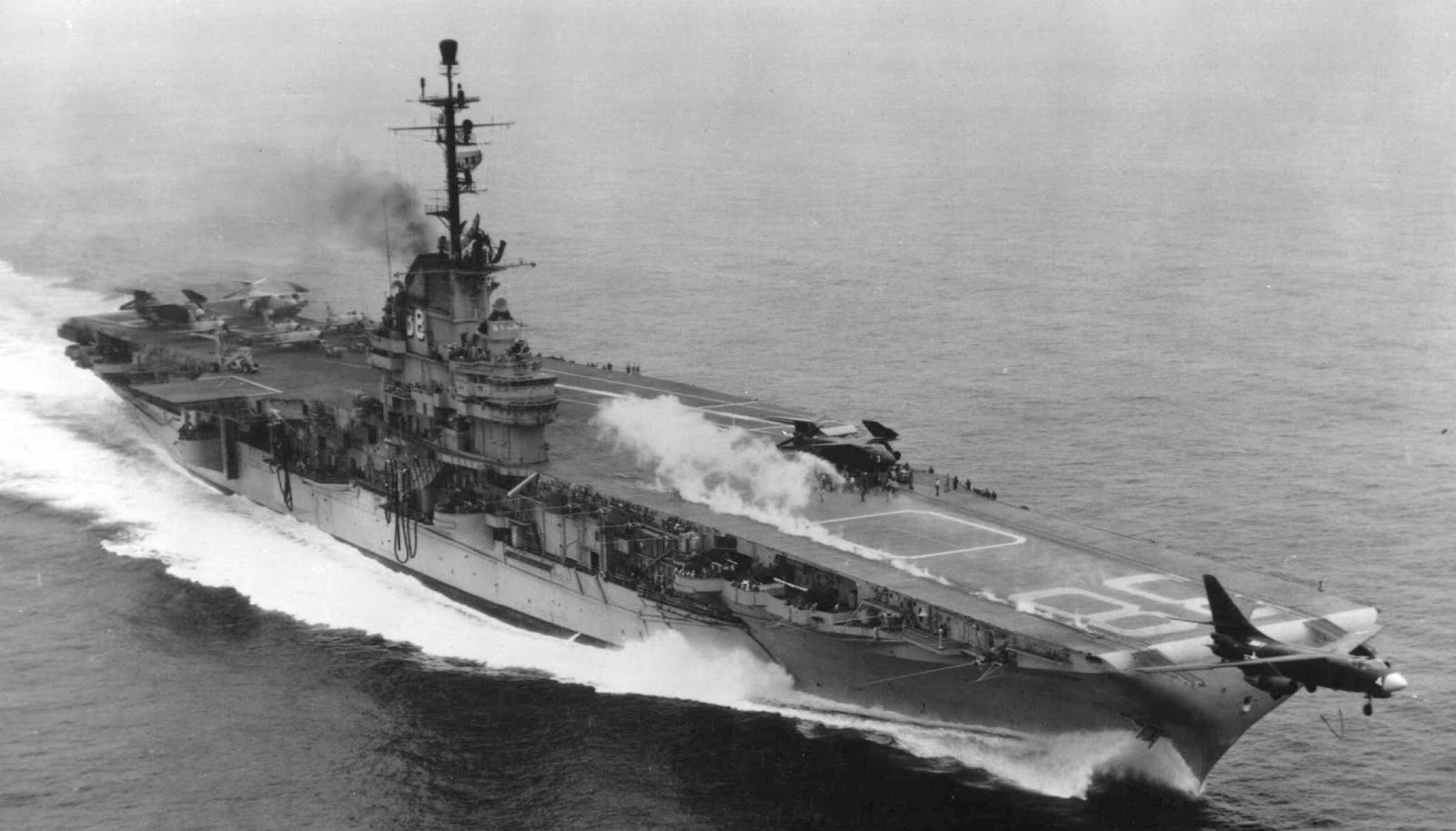 © 2018, Bryan R. Swopes