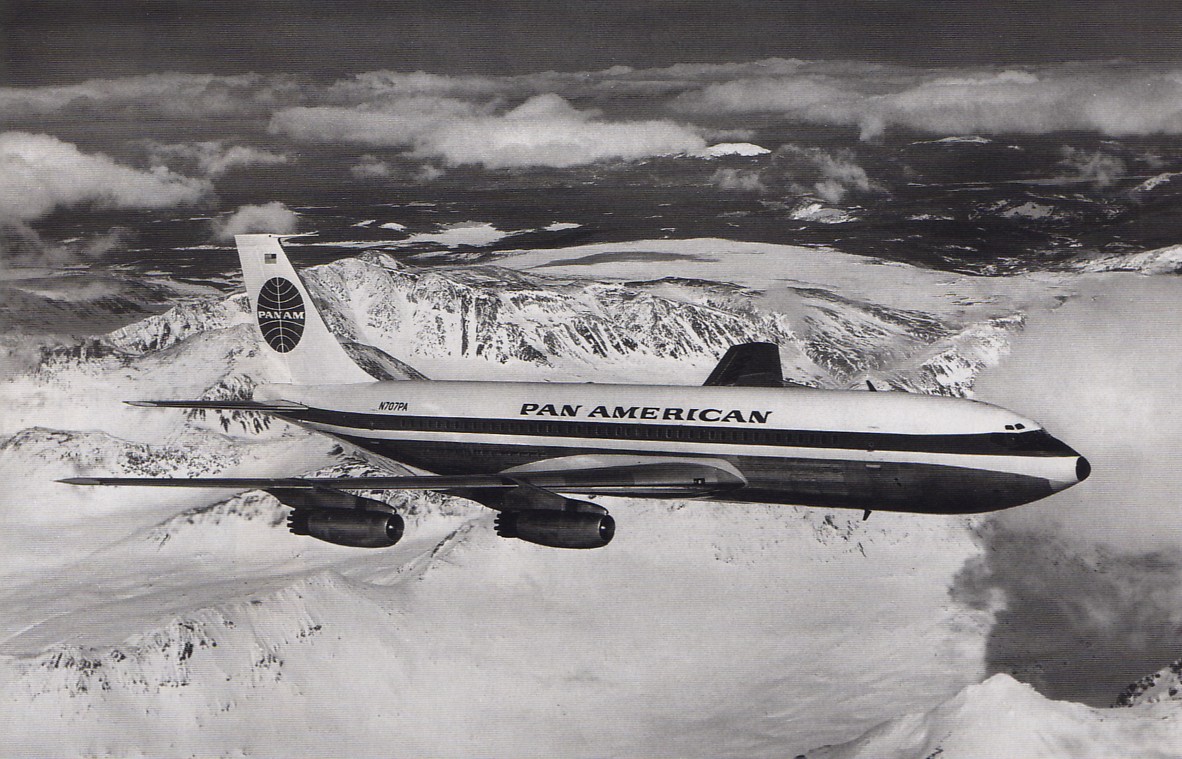 3 January 1981: Pan American World Airways retired its last Boeing 707 airliner. Pan Am had been the launch customer for the 707. On 20 October 1955 the airline ordered twenty 707s, and later ordered 130 more. The first one, Clipper America, a 707-121, N707PA, was delivered 15 August 1958. On 26 October 1958, N711PA, also named Clipper America,¹ made the first regularly scheduled transatlantic flight by a jet airliner.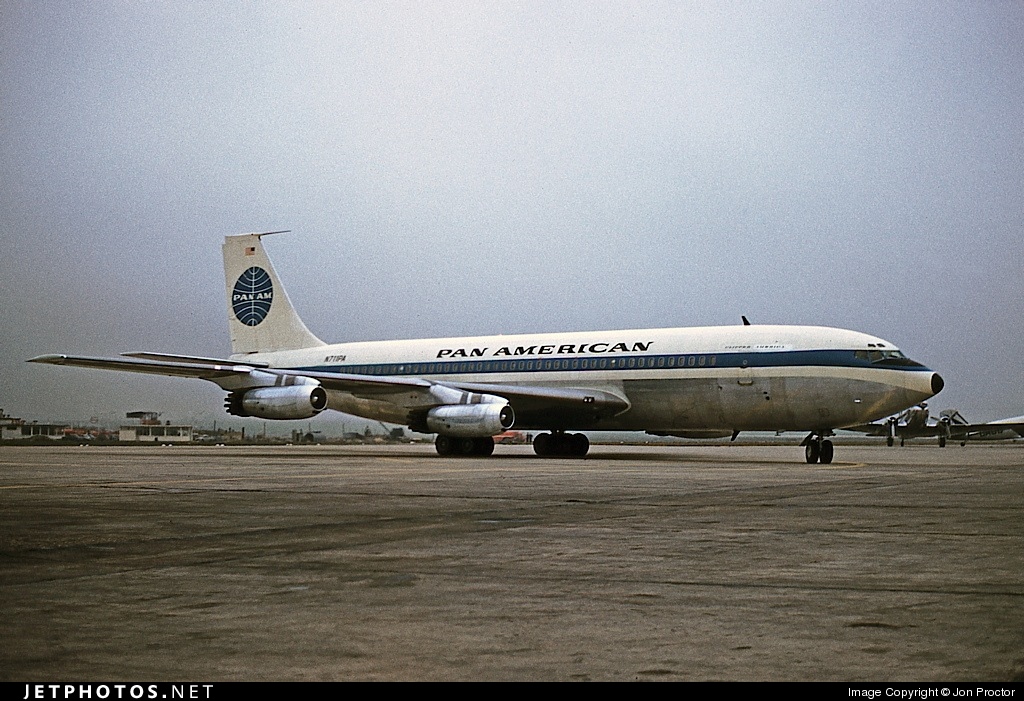 The Boeing Model 707-121 was a four-engine jet transport with swept wings and tail surfaces. The leading edge of the wings were swept at a 35° angle. The airliner had a flight crew of four: pilot, co-pilot, navigator and flight engineer.
The 707-121 was 145 feet, 1 inch (44.221 meters) long with a wing span of 130 feet, 10 inches (39.878 meters). The top of the vertical fin stood 41 feet, 8 inches (12.700 meters) high. The 707 pre-dated the "wide-body" airliners, having a maximum fuselage width of 12 feet, 4.0 inches (3.759 meters). The airliner's typical operating empty weight is 122,500 pounds (55,565 kilograms). Maximum take off weight is 257,340 pounds (116,727 kilograms).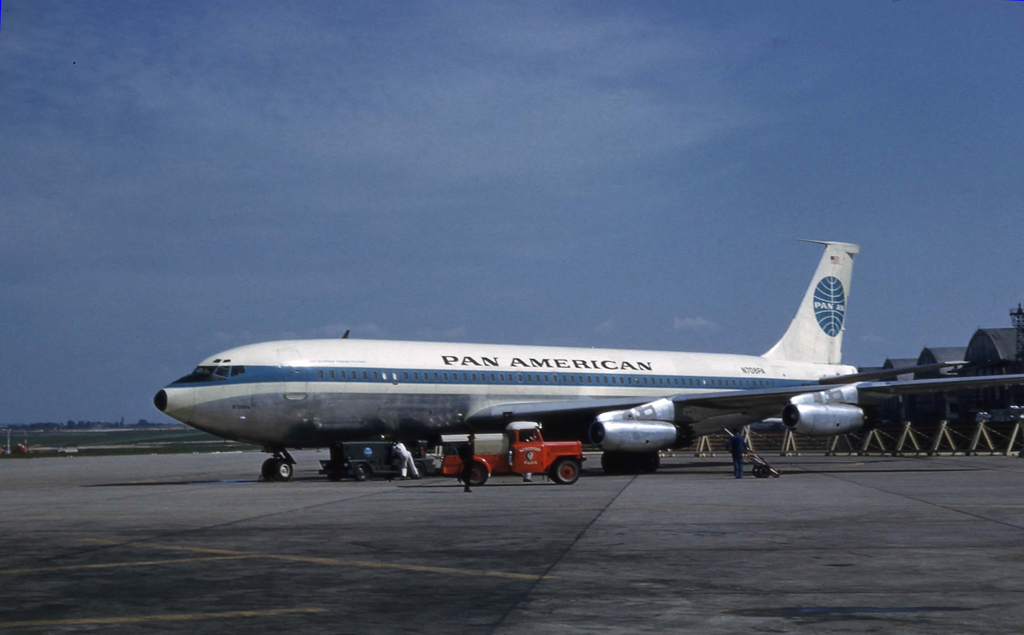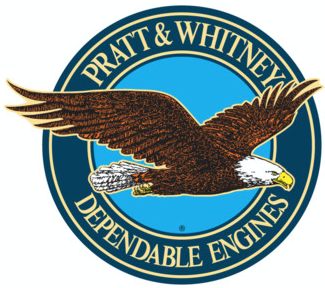 The first versions were powered by four Pratt & Whitney Turbo Wasp JT3C-6 turbojet engines, producing 11,200 pounds of thrust (49,820 kilonewtons), and 13,500 pounds (60.051 kilonewtons) with water injection. This engine was a civil variant of the military J57 series. It was a two-spool axial-flow turbojet engine with a 16-stage compressor and 2 stage turbine. The JT3C-6 was 11 feet, 6.6 inches (3.520 meters) long, 3 feet, 2.9 inches (0.988 meters) in diameter, and weighed 4,235 pounds (1,921 kilograms).
At MTOW, the 707 required 11,000 feet (3,353 meters) of runway to take off.
The 707-121 had an economical cruise speed of 550 miles per hour (885 kilometers per hour) at 35,000 feet (10,668 meters), and a maximum cruise speed of 593 miles per hour (954 kilometers per hour) at 30,000 feet (9,144 meters)—0.87 Mach. It's range was 2,800 nautical miles (5,186 kilometers).
The Boeing 707 was in production from 1958 to 1979. 1,010 were built. Production of 707 airframes continued at Renton until the final one was completed in April 1991. As of 2011, 43 707s were still in service.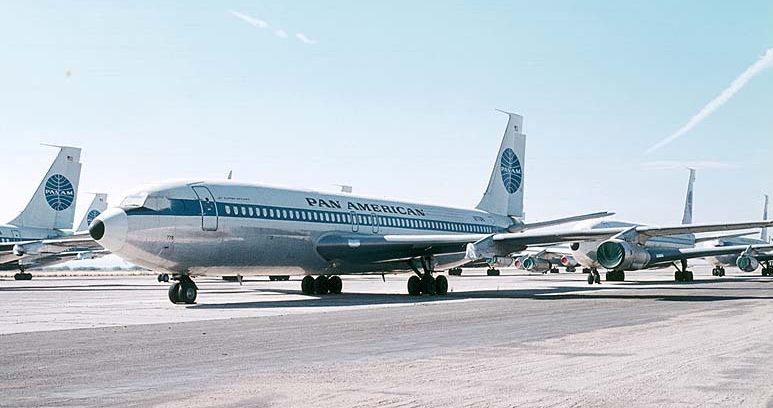 ¹ At least three Pan Am 707s carried the name Clipper America. N709PA was renamed Clipper Tradewind. N710PA, was renamed Clipper Caroline. N711PA was renamed Clipper Mayflower.
© 2019, Bryan R. Swopes