31 December 1948: One year and one day after the first flight of the MiG I-310 S01 prototype, the first production Mikoyan-Gurevich MiG-15, serial number 101003, made its first flight. The production aircraft were based on the third I-310 prototype, S03. No. 101003 was designated МиГ-15(CB) (MiG-15 SV), and was retained by Mikoyan OKB for testing.
The MiG-15 is a single-seat, single-engine turbojet-powered fighter interceptor, designed to attack heavy bombers. Designed for high-subsonic speed, the leading edges of the wings were swept aft to 35° and had 2° anhedral. The wings were very thin to minimize aerodynamic drag and used "fences" to control air flow. The horizontal stabilizer was swept 40°, and the vertical fin, 55.7°.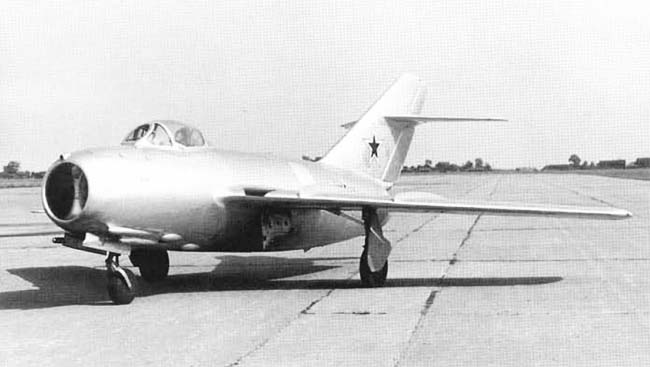 Rolls-Royce Nene Mk.I and Mk.II turbojet engines had been used in the three I-310 prototypes. The British engine was reverse-engineered by Vladimir Yakovlevich Klimov and manufactured at Factory No. 45 in Moscow as the RD-45F. The engine produced a maximum 22.26 kilonewtons of thrust (5,004 pounds of thrust). It was improved and designated VK-1. Most MiG-15s used this engine.
The production fighter was 10.10 meters (33 feet, 2 inches) long, with a wingspan of 10.08 meters (33 feet, 1 inch) and height of 3.17 meters (10 feet, 5 inches). The total wing area was 20.60 square meters (222 square feet). The interceptor's empty weight was 3,247 kilograms (7,158 pounds), and its takeoff weight was 4,917 kilograms (10,840 pounds).
The MiG-15 had a cruise speed 974 kilometers per hour (605 miles per hour, 0.79 Mach). Its maximum speed was 1,047 kilometers per hour (565 knots, or 651 miles per hour)—0.99 Mach—at low altitude, and 1,031 kilometers per hour (557 knots, 641 miles per hour, 0.97 Mach) at 5,000 meters (16,404 feet). The maximum rate of climb was 2,520 meters per minute (8,268 feet per minute), and its service ceiling was 15,100 meters (49,541 feet). The fighter had a practical range of 1,335 kilometers (830 miles).
Armament consisted of one Nudelman NS-37 37 mm cannon with 40 rounds of ammunition, and two  Nudelman-Rikhter NR-23 23 mm cannon with 80 rounds per gun.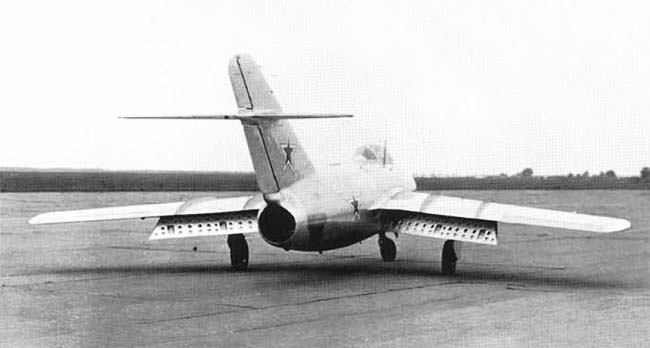 The first MiG 15, 101003, was built at Factory No. 1. Full scale production was considered so important that four other aircraft types were discontinued so that their factories could be used to build MiG-15s. They were also license-built in Poland and Czechoslovakia. More than 18,000 MiG-15s have been built. It has served in the air forces of at least 44 countries.
The MiG-15 soon entered combat in the Korean War. It scored its first air-to-air victory, 1 November 1950, when First Lieutenant Fiodor V. Chizh shot down a U.S. Air Force F-51 Mustang.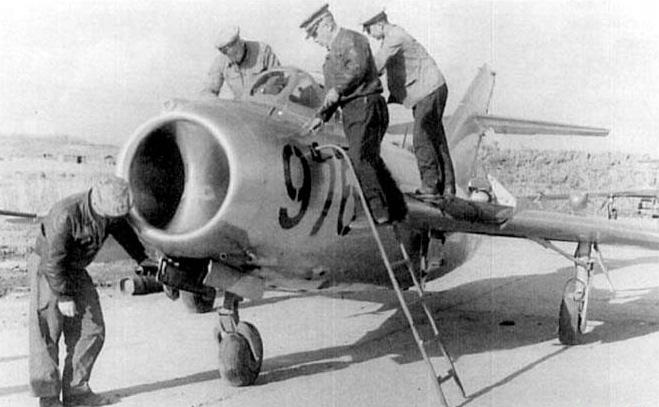 © 2018, Bryan R. Swopes