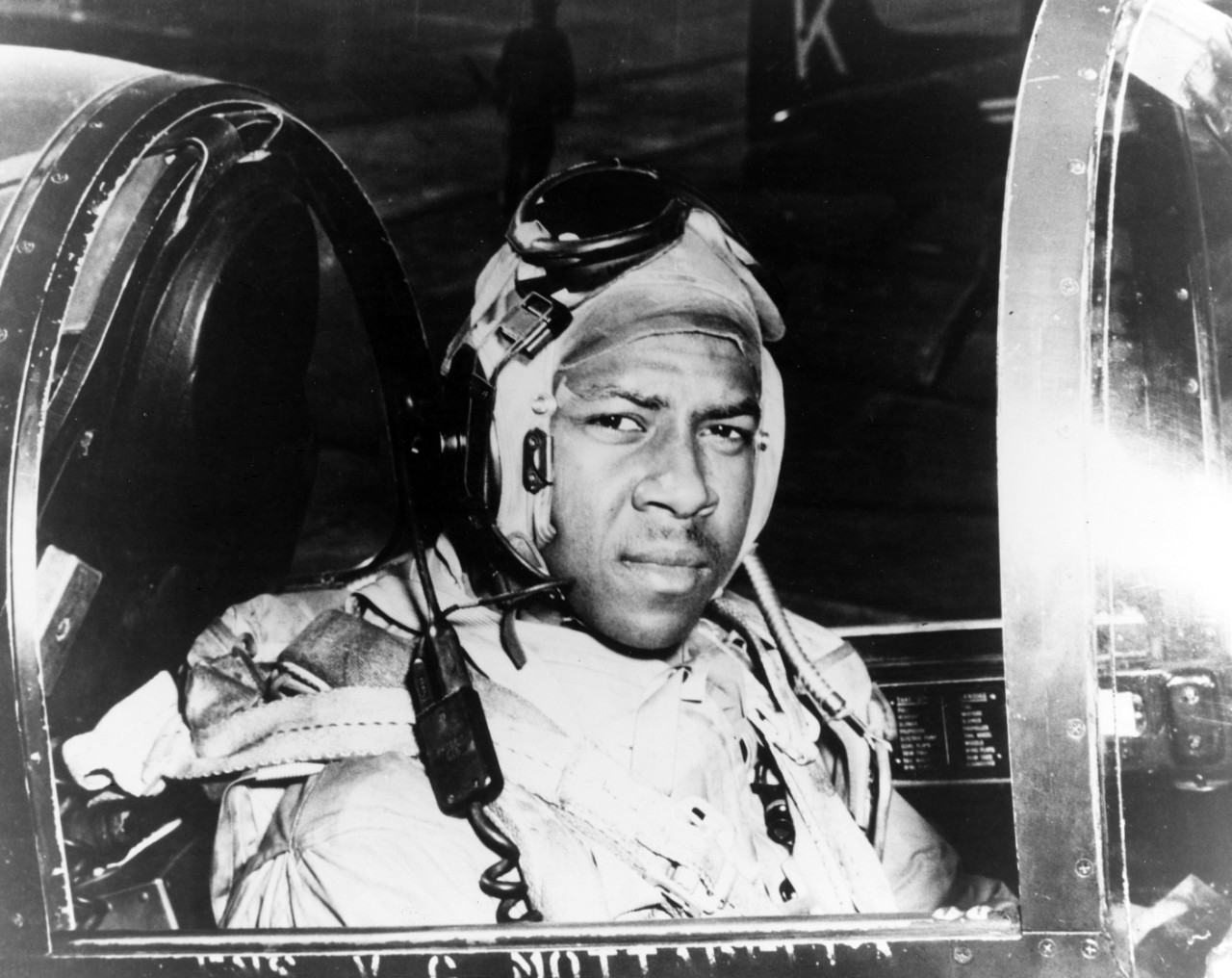 4 December 1950: Ensign Jesse Leroy Brown, United States Navy (13 October 1926–4 December 1950)
The following article is from the United States Navy, Naval History and Heritage Command:
Jesse Leroy Brown was born in Hattiesburg, Mississippi, into a sharecropper family. He was a school athlete who excelled at math and dreamed of being a pilot from the time he was a young boy. When he left Mississippi to attend Ohio State University in 1944, his high school principal wrote to him, "As the first of our graduates to enter a predominately white university, you are our hero." Even though Brown had to work the midnight shift loading boxcars for the Pennsylvania Railroad to earn money for his education, he was still able to maintain a high GPA.
Brown joined the Naval Reserve to help pay for college. After he saw a poster recruiting students for a new naval aviation program, he was discouraged from applying and was told he would never make it to the cockpit of a Navy aircraft. He persisted and was finally permitted to take the qualification exams. He wrote to a childhood friend that he had made it through five hours of written tests, followed by oral tests and a rigorous physical exam ─ making it through each round of eliminations with flying colors. Despite his excellent performance and acceptance into the program, Brown told his friend, "I'm not sure the Navy really wants me."
He received orders to Selective Flight Training in Glenview, Illinois, in March 1947, followed by additional training at Naval Air Station Ottumwa and Naval Air Station Pensacola. On 21 October 1948, at the age of 22, Brown became the first African American man to complete Navy flight training. A public information officer released a photograph and story the next day with the headline, "First Negro Naval Aviator." The story was picked up by the Associated Press and Brown's picture appeared in Life magazine.
Brown, now a section leader, flew a Vought F4U-4 Corsair and was assigned to fighter squadron VF-32 aboard USS Wright (CVL-49). His squadron transferred to USS Leyte (CV-32) in October 1950 as part of Fast Carrier Task Force 77 on its way to Korea to assist U.N. forces.
On 4 December 1950, on the way to Chosin Reservoir with his squadron, Brown announced over the radio, "I think I may have been hit. I've lost my oil pressure." He crash-landed his Corsair on the side of a mountain in the snow.
Circling over the crash site in his own Corsair, squadron commander Lieutenant (j.g.) Thomas J. Hudner Jr. realized something was wrong when Brown didn't emerge from the cockpit of the wrecked aircraft. Hudner made the decision to crash-land next to Brown's wrecked Corsair, risking court-martial, capture by the Chinese, and his own life by ignoring his commanding officer's directive, "If a plane goes down, that's one down. We don't need Hollywood stuff."
Hudner found Brown in pain, bleeding, and trapped in his aircraft by a damaged instrument panel, with no way to rescue him. A Sikorsky helicopter piloted by Marine First Lieutenant Charlie Ward arrived in response to Hudner's radio distress call, but there was nothing that could be done to extricate Brown from the Corsair. Brown asked Hudner to tell his wife, Daisy, how much he loved her before he died in his cockpit. As daylight dwindled and the possibility of capture grew increasingly imminent, Hudner and Ward were reluctantly forced to leave Brown's body behind.
Unable to safely recover his body, Brown's shipmates instead decided to honor him with a warrior's funeral. On 7 December 1950, seven aircraft loaded with napalm and piloted by Ensign Brown's friends made several low passes over his downed Corsair. The top of Brown's head was still visible with snow on his hair when they dropped the napalm on his plane while reciting The Lord's Prayer.
Ensign Jesse Brown would posthumously receive the Distinguished Flying Cross, the Air Medal, and the Purple Heart. Hudner nervously anticipated a court-martial for defying a direct order and willful destruction of a Navy aircraft. Instead, he would receive the Medal of Honor for "exceptionally valiant action and selfless devotion to a shipmate." When USS Jesse L. Brown (DE-1089) was launched in 1973, Hudner was in attendance, standing next to Brown's widow. In 2017, USS Thomas Hudner (DDG-116) was christened in Hudner's honor.
(In addition to U.S. Navy records, this biography was supplemented with information obtained from the book, The Flight of Jesse Leroy Brown, by Theodore Taylor; Avon Books, Inc.; ISBN: 0-380-97689-7; ©1998 by Theodore Taylor.)
The President of the United States of America takes pride in presenting the Distinguished Flying Cross (Posthumously) to Ensign Jesse Leroy Brown (NSN: 0-504477), United States Navy, for heroism in aerial flight as Pilot of a fighter plane in Fighter Squadron THIRTY-TWO (VF-32), attached to the U.S.S. LEYTE (CV-32), in hostile attacks on hostile North Korean forces. Participating in 20 strikes on enemy military installations, lines of communication, transportation facilities, and enemy troop concentrations in the face of grave hazard, at the Chosin Reservoir, Takshon, Manp Jin, Linchong, Sinuiju, Kasan, Wonsan, Chonjin, Kilchu, and Sinanju during the period 12 October to 4 December 1950. With courageous efficiency and utter disregard for his own personal safety, Ensign Brown, while in support of friendly troops in the Chosin Reservoir area, pressed home numerous attacks destroying an enemy troop concentration moving to attack our troops. So aggressive were these attacks, in the face of enemy anti-aircraft fire, that they finally resulted in the destruction of Ensign Brown's plane by anti-aircraft fire. His gallant devotion to duty was in keeping with the highest traditions of the United States Naval Service.