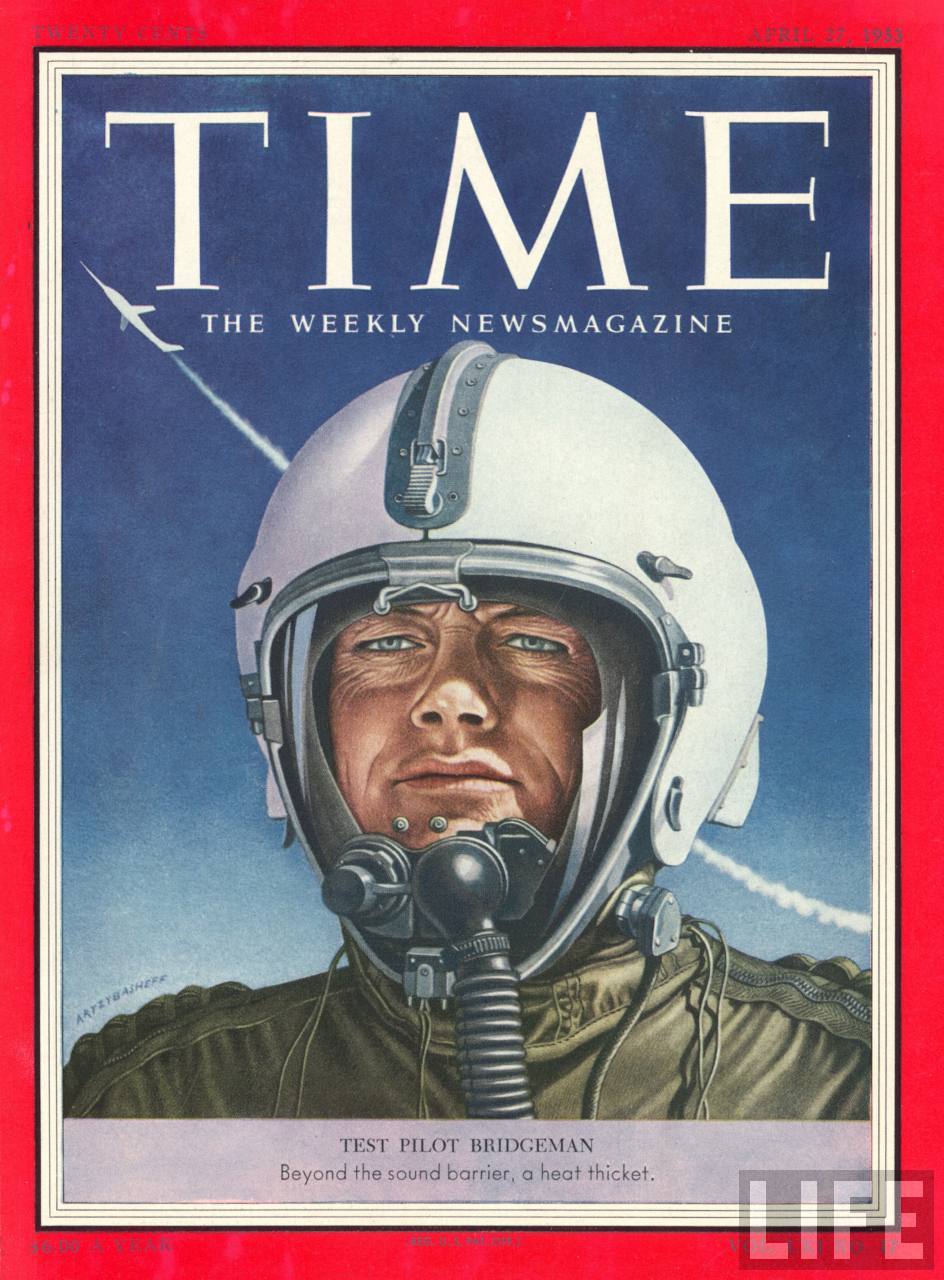 7 August 1951: Douglas Aircraft Company test pilot William Barton Bridgeman flew the rocket-powered U.S. Navy/NACA/Douglas D-558-2 Skyrocket, Bu. No. 37974 (NACA 144), to a record speed of Mach 1.88 (1,245 miles per hour/2,034 kilometers per hour) at Muroc Dry Lake (later Edwards Air Force Base) in the high desert of southern California.
The D-558-2 was airdropped at 34,000 feet (10,363 meters) from a Navy P2B-1S Superfortress, Bu. No. 84029 (a U.S. Air Force Boeing B-29-95-BW Superfortress, 45-21787, transferred to the Navy and heavily modified as a drop ship) flown by another Douglas test pilot, George Jansen.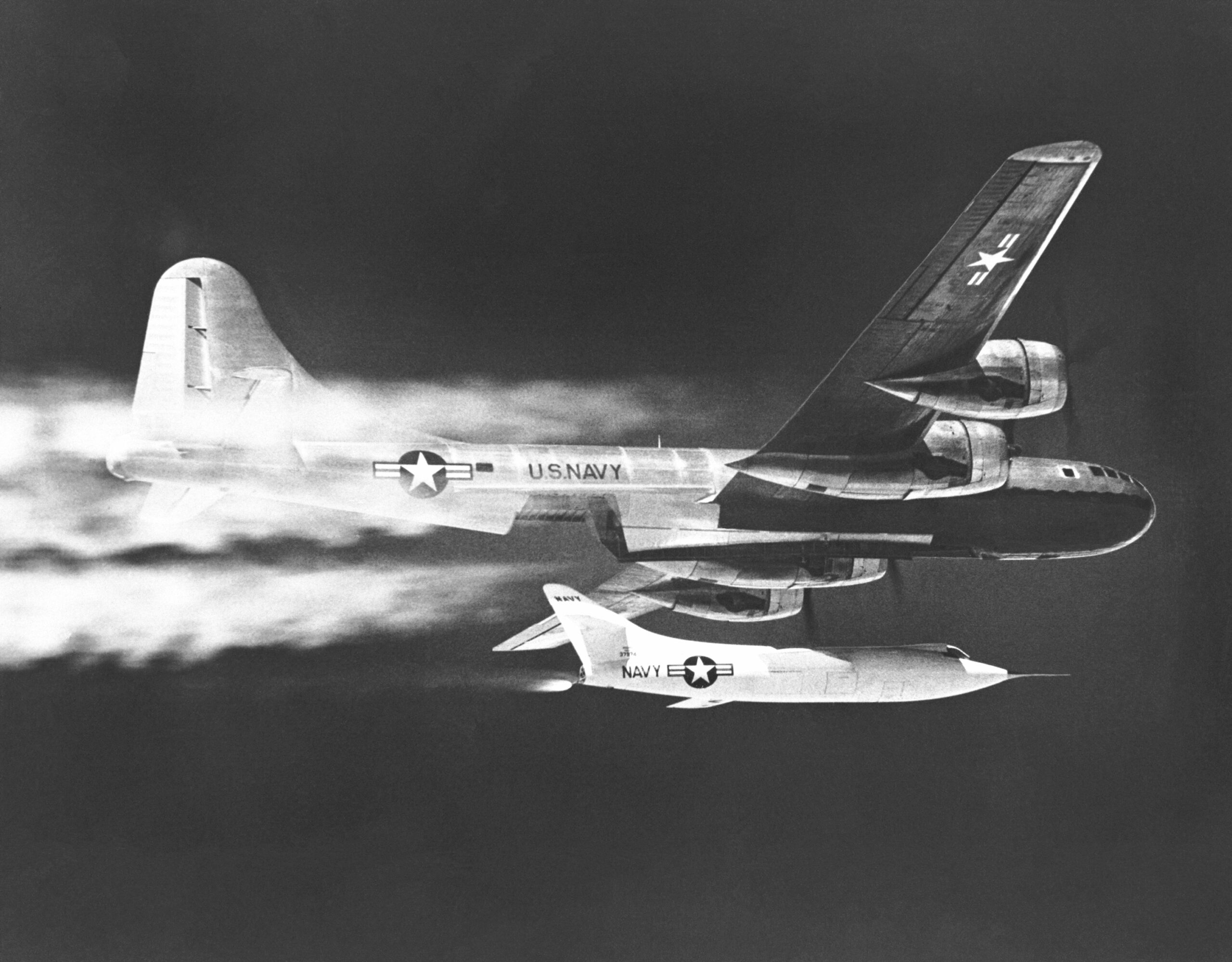 In his autobiography, Bridgeman described the flight:
We are at 34,000 feet. My cue. Ten cold minutes preparing the ship for flight. The trap door springs and releases the captive Skyrocket swollen with explosive propellants. She blasts into flight.
Thirty seconds and I am supersonic. Sixty-eight thousand feet and this is it. Over the rim. Easy. The electrically controlled stabilizer flies her now. It takes over for me. At .6 G I push over just enough to get my speed. I am on the ragged edge between .6 G and .8 G. It is working! Everything is going according to my plan. It is so easy this time. Surely I cannot be breaking my last record without having to pay for it. The Machmeter is moving up, fluttering toward the Number 2. . . the rockets sputter and the fuel is gone. That's all she wrote.
Late that afternoon the official speed attained by the Skyrocket reduced from data and film came out  of the aerodynamicists' office. Mach 1.88.
—The Lonely Sky, William Bridgeman, Castle and Company LTD, London, 1956, Chapter XXII at Page 260.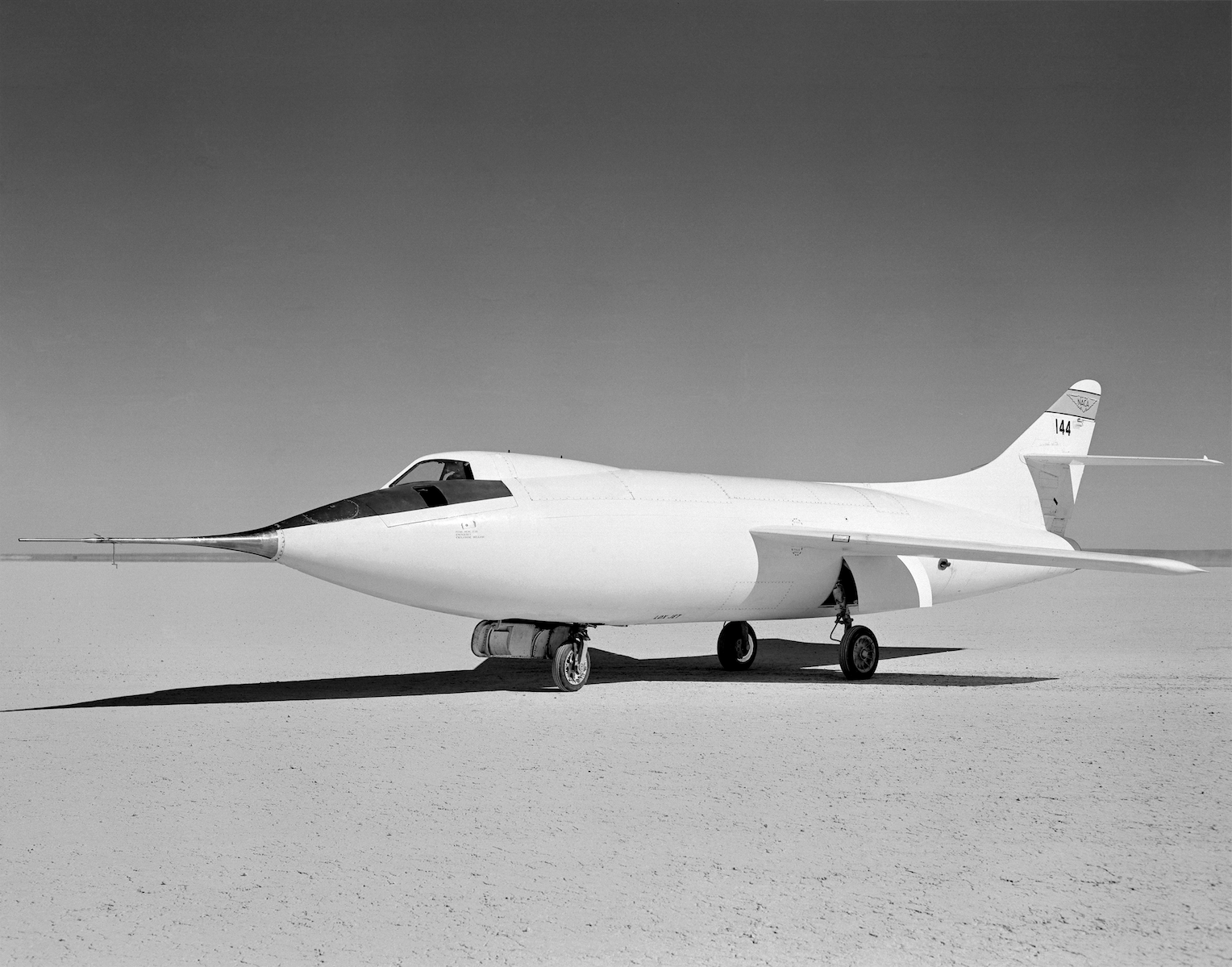 Bill Bridgeman had been a Naval Aviator during World War II, flying the Consolidated PBY Catalina and PB4Y (B-24) Liberator long range bombers with Bombing Squadron 109 (VB-109), "The Reluctant Raiders." Bridgeman stayed in the Navy for two years after the end of the war, then he flew for Trans-Pacific Air Lines in the Hawaiian Islands and Southwest Airlines in San Francisco, before joining the Douglas Aircraft Company as a production test pilot. He flew new AD Skyraiders as they came off the assembly line at El Segundo, California. Bridgeman soon was asked to take over test flying the D-558-2 Skyrocket test program at Muroc Air Force Base.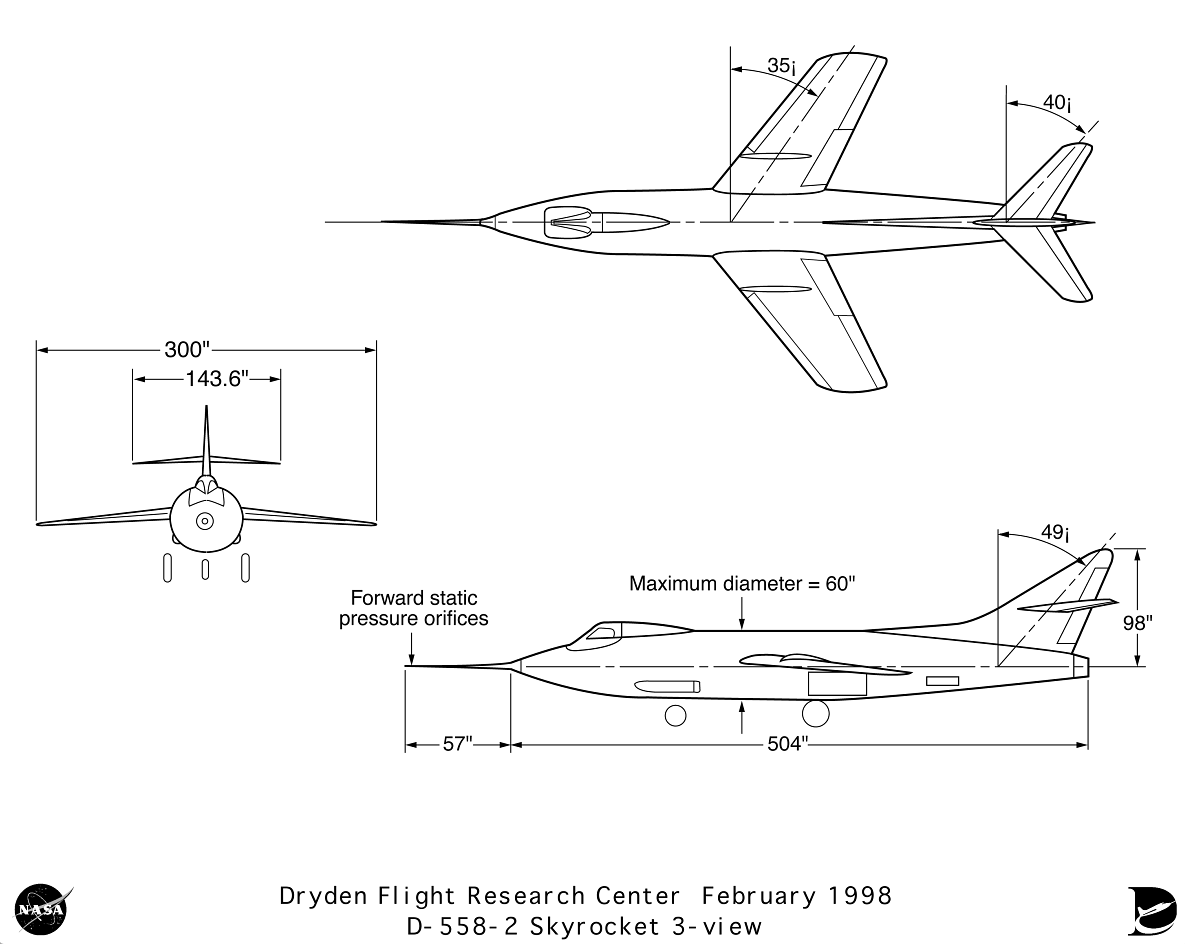 The D-558-II Skyrocket was Phase II of a planned three phase experimental flight program. It was designed to investigate flight in the transonic and supersonic range. It was 46 feet, 9 inches (14.249 meters) long with a 25 foot (7.62 meter) wing span. The wings were swept back to a 35° angle. The Skyrocket was powered by a Westinghouse J34-WE-40 11-stage axial-flow turbojet engine, producing 3,000 pounds of thrust, and a Reaction Motors LR8-RM-6 four-chamber rocket engine, which produced 6,000 pounds of thrust. The rocket engine burned alcohol and liquid oxygen.
There were three D-558-2 Skyrockets. Between 4 February 1948 and 28 August 1956, they made a total of 313 flights. The Skyrocket flown by Bill Bridgeman to Mach 1.88 is in the collection of the Smithsonian Institution National Air and Space Museum.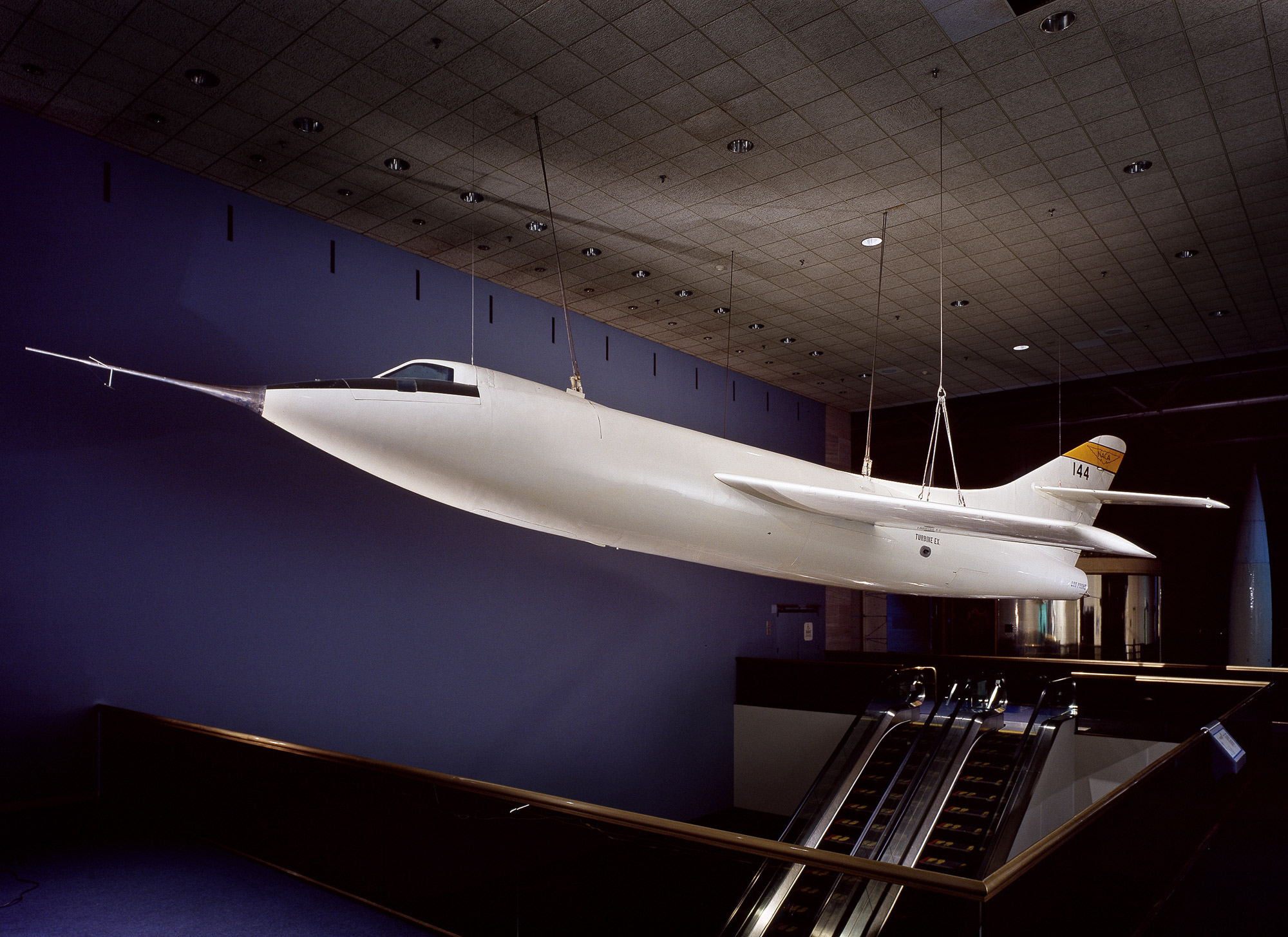 © 2020, Bryan R. Swopes