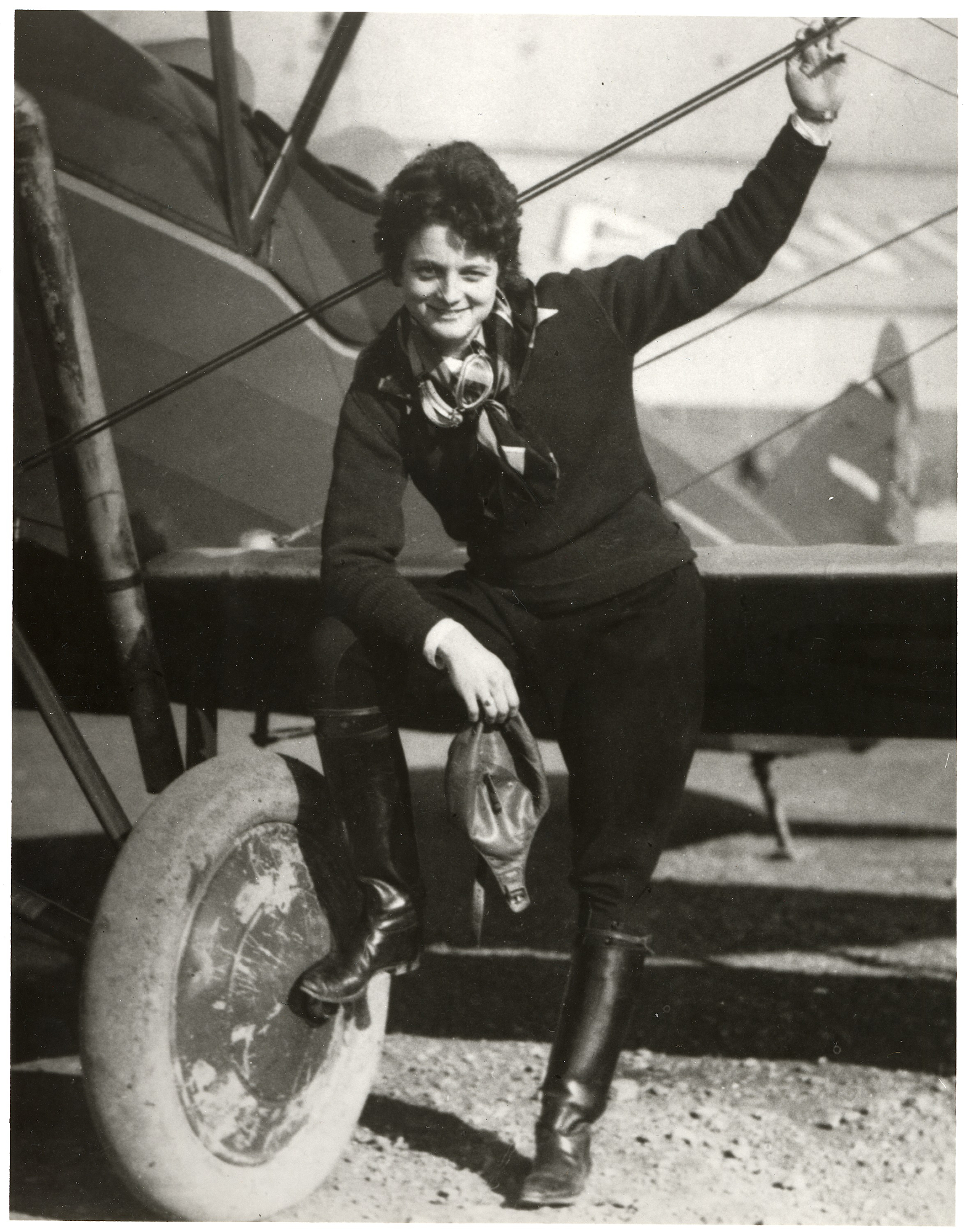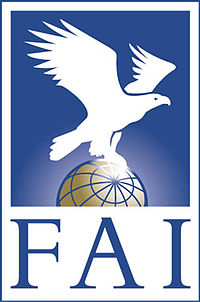 7 December 1928: Flying a Travel Air 3000 biplane over Oakland, California, Iris Louise McPhetridge Thaden established an official Fédération Aéronautique Internationale (FAI) World Record for Altitude of 6,178 meters (20,269 feet).¹ Mrs. Thaden surpassed the record of 5,008 meters (16,430 feet) set by Lady Heath, just five days earlier, 2 December 1928.²
The Oakland Chapter of the National Aeronautic Association wanted to have all new U.S. records set at Oakland, and Mrs. Thaden's altitude flight was a part of that campaign. Officials from the Oakland NAA group observed her flight in order to certify the record for the international body, the FAI.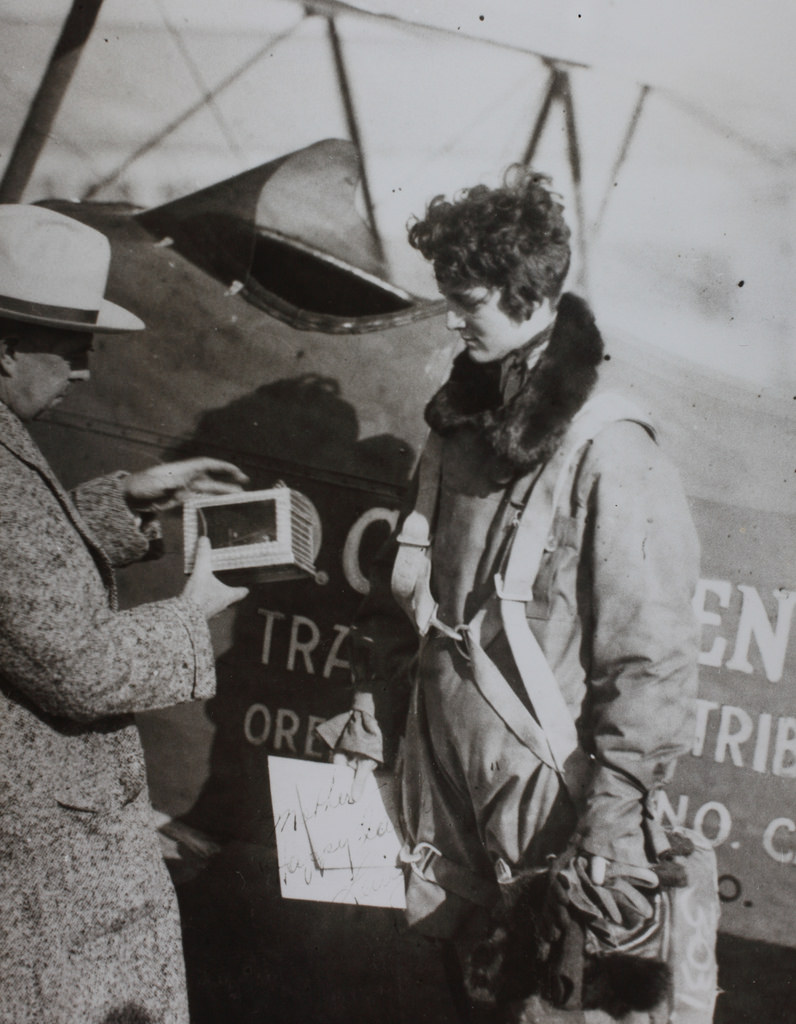 The Oakland Tribune reported:
AVIATRIX SETS WORLD RECORD
Oakland Pilot Breaks Mark for Women With Altitude of 25,400 Feet.
     Confident that she has established a new world's altitude record for women fliers, Mrs. Louise McPhetridge Thaden, Oakland aviatrix, clyaims [sic] to have attained a height of 25,400 feet in her plane during a flight of one hour and fifty-five minutes over Oakland airport.
Mrs. Thaden took off from the local flying field at 2:30 p.m. yesterday in a Travelair [sic] biplane equipped with a 180-horsepower Hispano-Suiza motor. She carried two altimeters and a sealed barograph. One altimeter showed a height of 25,400 feet, while the other registered 23,100 feet. Either mark would be sufficient to break the record of 22,000 feet held by Lady Heath of London.
In the plane were a tank of oxygen and a mask which Mrs. Thaden found necessary to use at a height of 15,000 feet. She was dressed in a fur-lined flying suit, fur-lined boots, and wore a fur-lined helmet and gloves.
"It was awfully cold up there," said Mrs. Thaden after landing at the airport. "The flight wasn't difficult, and I believe I can establish a higher altitude mark than this one."
The flight was conducted under supervision of the Oakland chapter, National Aeronautical [sic] Association, with Leo S. Nagle, local president, assisting. The sealed barograph will be sent to Washington, D.C., for official calibrating to make Mrs. Thaden's flight official.
__________
     WICHITA, Kansas, Dec. 8.—(AP)—Mrs. Louise McPhetridge von Thaden, Oakland, Calif., aviatrix, who believes she has established a new altitude record for women fliers, learned to fly while she was in Wichita working as a saleswoman for a local company. She came here from Bentonville, Ark., where she formerly taught school.
Walter Beech, president of the airplane manufacturing company which built the plane Mrs. Thaden used in her altitude flight, said he picked as a person having natural ability for flying after she had only 10 hours of instruction in the air.
—Oakland Tribune, Vol. CIX, No. 161, Saturday, 8 December 1928, Page 1, Column 6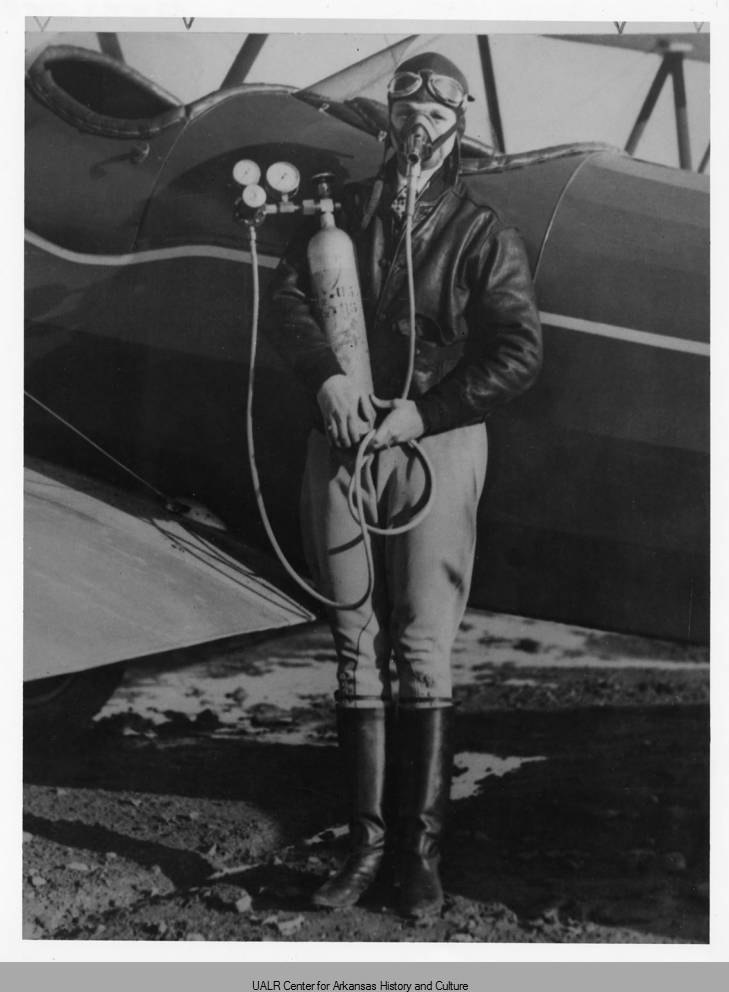 Because of the altitudes at which she intended to fly, Mrs. Thaden carried a cylinder of pressurized oxygen and face mask. In her autobiography, she wrote: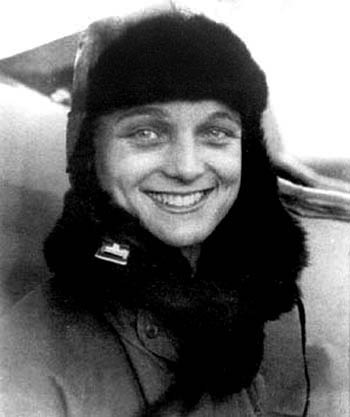 . . . Every foot of altitude was a battle. "Come on baby," I breathed, "Just a hundred feet more! You can do it—just a hundred feet more. Come on, baby—hunnert—feet—."
     There was a ringing in my ears, a far away, dim, yet sharply ringing like the sound you hear coming out from under ether. The plane was nose down, turning in wide, fast circles, engine bellowing protestingly under wide-open throttle.
     Automatically easing the throttle back and giving back pressure on the stick, I glanced at the altimeter: 16,200 feet. I fumbled clumsily and my numb fingers succeeded in prying the frozen mass of ice and mask from my face. Fresh air tasted good as I breathed in long, hard, deep, gulps. The plane weaved crazily.
     I thought, "I must have passed out."
— High, Wide, and Frightened, by Louise McPhetridge Thaden. University of Arkansas Press, Fayetteville, 2004. Chapter 2, Page 24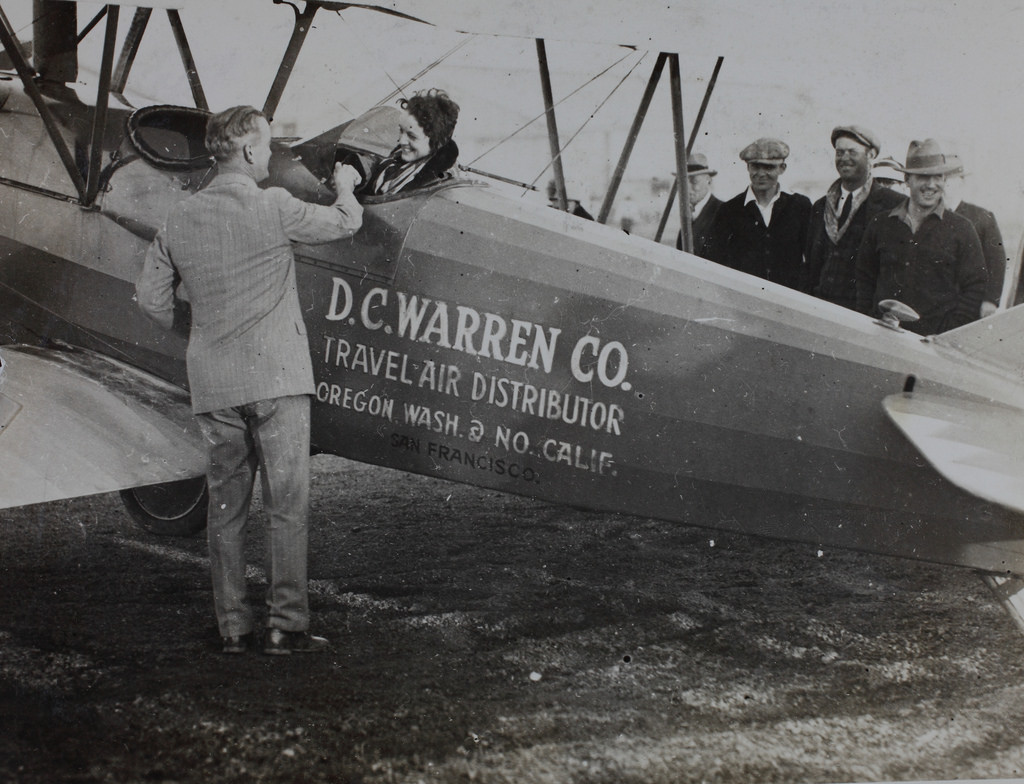 Louise McPhetridge had been employed by Walter Beech as a sales representative for his Travel Air Manufacturing Company at Wichita, Kansas, and he included flying lessons with her employment. Beech asked her to go to Oakland as an employee of Douglas C. Warren, the new Travel Air dealer for the western region of the United States. He included flying lessons with her employment. (Warren owned the airplanes used by Mrs. Thaden to set her altitude and endurance records.) She received her pilot's license from the National Aeronautic Association, signed by Orville Wright, 16 May 1928.
Once in California, Miss McPhetridge met an aeronautical engineer, Herbert von Thaden,³ and they were married on 21 July 1928.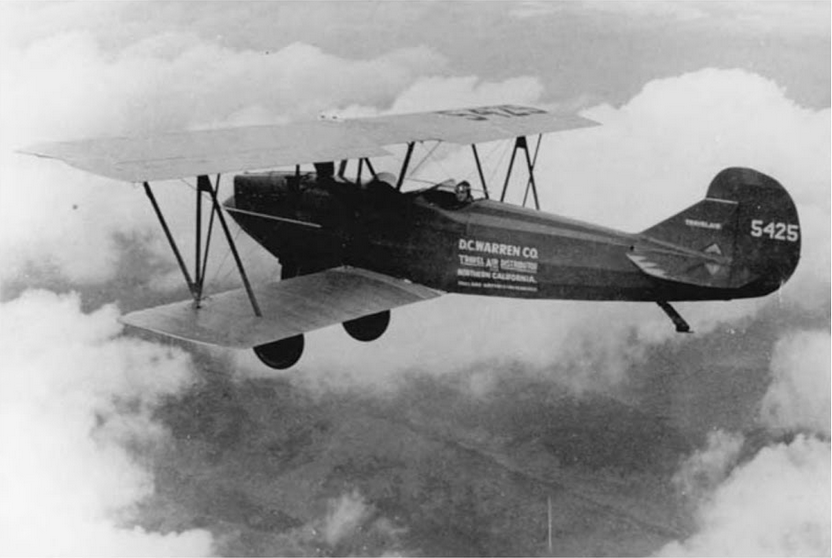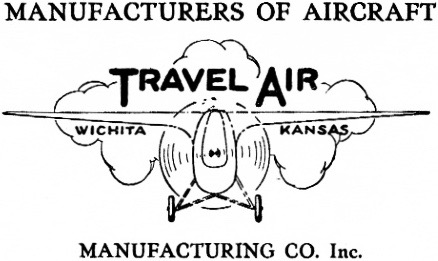 The airplane flown by Mrs. Thaden for her altitude record was a Travel Air 3000, registration NC5425, serial number 514. The Travel Air 3000 was a single-engine, three-place, single-bay biplane with fixed landing gear. The airplane was 24 feet, 3 inches (7.391 meters) long, with an upper wing span of 34 feet, 8 inches (10.566 meters), and lower span of 28 feet, 8 inches (8.738 meters). The airplane had an overall height of 9 feet, 0 inches (2.743 meters). The 3000 had an empty weight of 1,664 pounds (755 kilograms), and gross weight of 2,590 pounds (1,175 kilograms).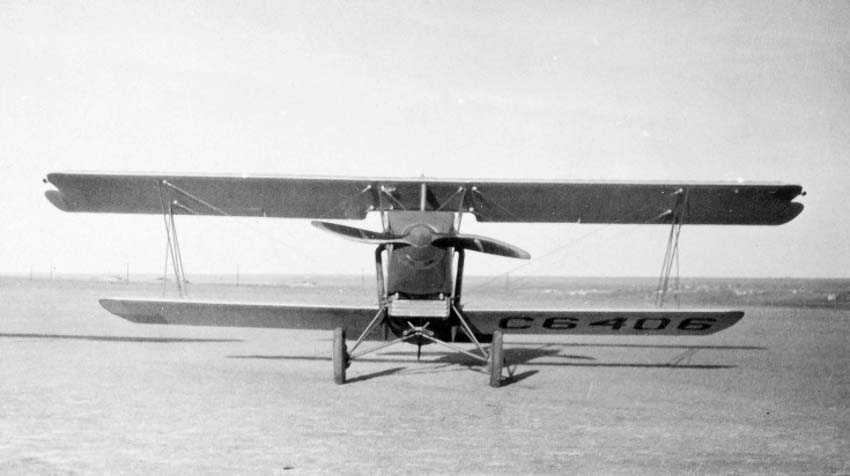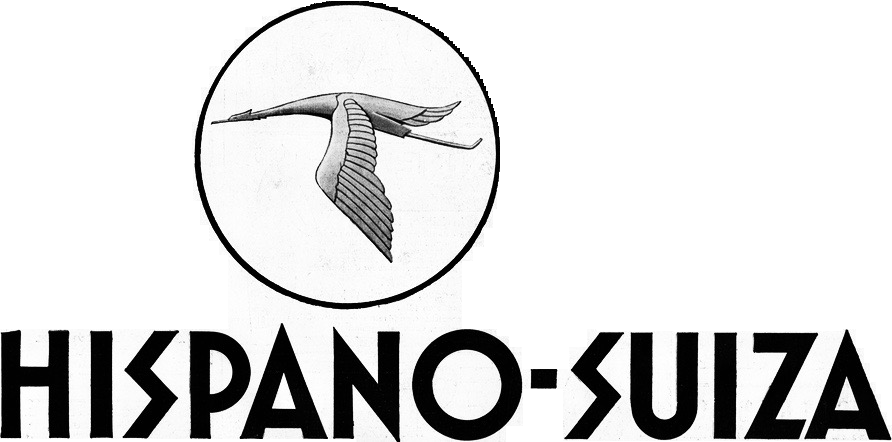 Travel Air biplanes could be ordered with several different air-cooled or water-cooled engines, such as the Curtiss OX-5, the 120 h.p. Fairchild Caminez 4-cylinder radial, or the Wright Whirlwind. The 3000 was equipped with a liquid-cooled, normally-aspirated Hispano-Suiza 8Ac V-8 (according to FAI records). For the record flight the engine was replaced with a "souped-up" engine.
The Travel Air 3000 had a cruise speed of 105 miles per hour (169 kilometers per hour), and a maximum speed of 119 miles per hour (192 kilometers per hour). Its service ceiling was 17,000 feet (5,182 meters), and the maximum range was 400 miles (644 kilometers).
The Travel Air Manufacturing Company built approximately 50 of the "Hisso-powered" Travel Air 3000 variant.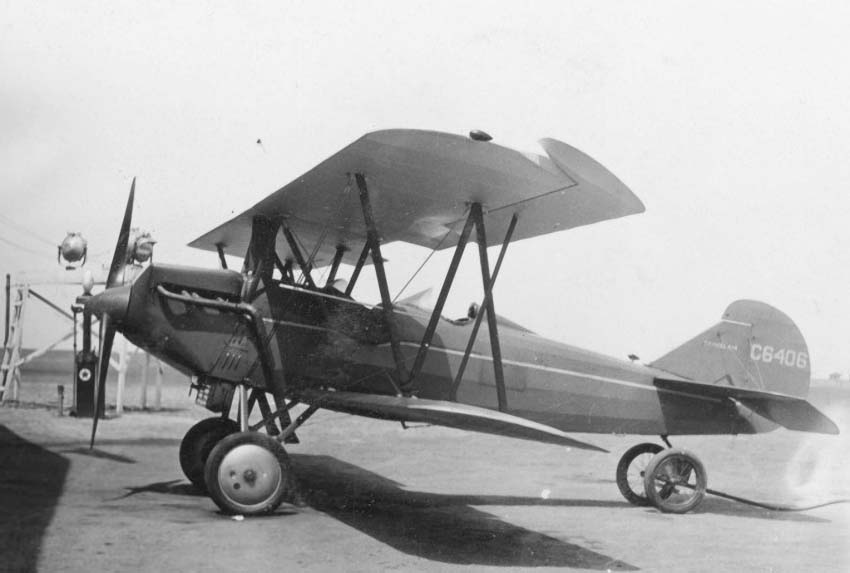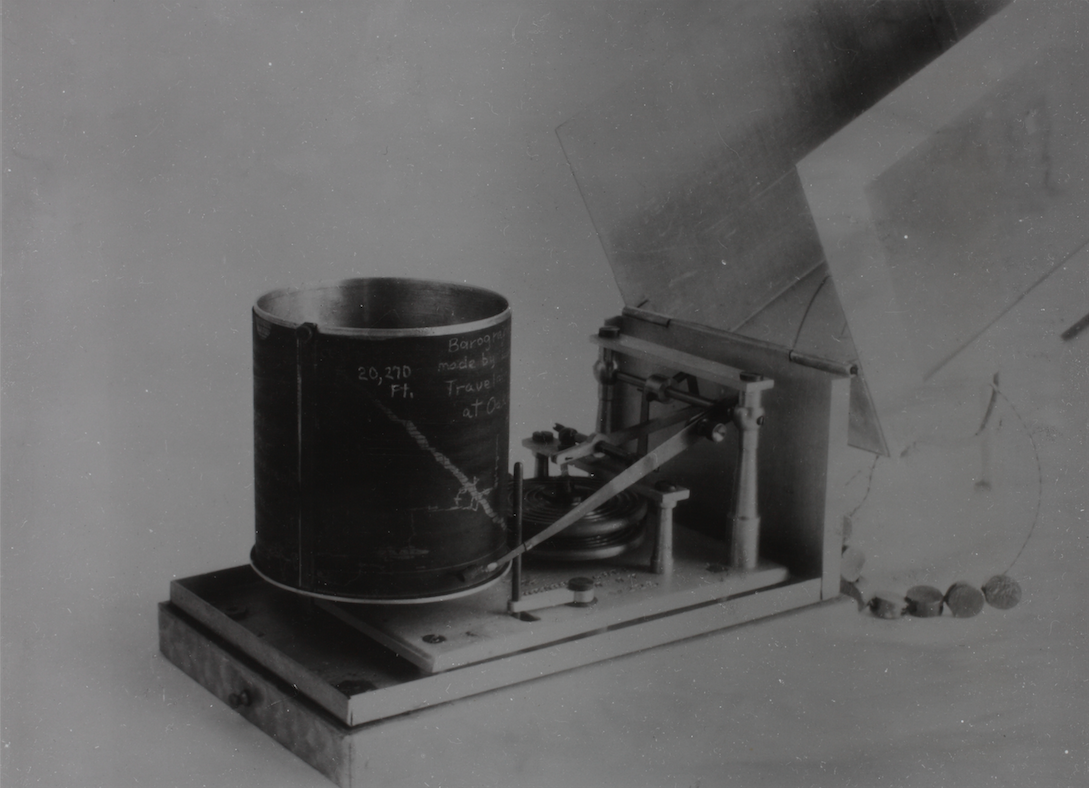 ¹ FAI Record File Number 12221
² FAI Record File Number 12212
³ Herbert von Thaden had founded the Thaden Metal Aircraft Company, builder of the all-metal Thaden T-1, T-2, and the T-4 Argonaut. Thaden went on to design molded plywood furniture for the Thaden-Jordan Furniture Corporation. His designs are considered to be works of art, and individual pieces sell for as much as $30,000 today.
© 2019, Bryan R. Swopes