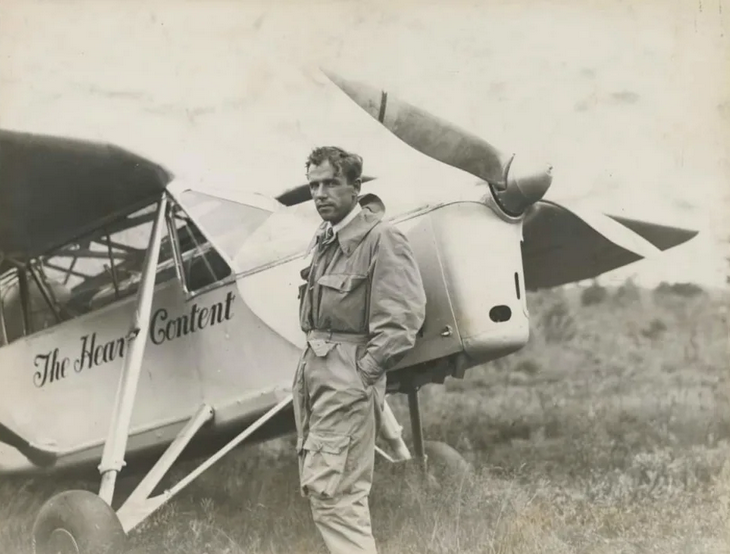 9 April 1933: Jim Mollison flies solo across the South Atlantic Ocean. He left Dakar, Senegal, at 12:15 a.m., 9 February, and arrived at Port Natal, Brazil, at 03:20 GMT, 10 February. Mollison's airplane was a de Havilland DH.80A Puss Moth, G-ABXY, which he had named The Heart's Content.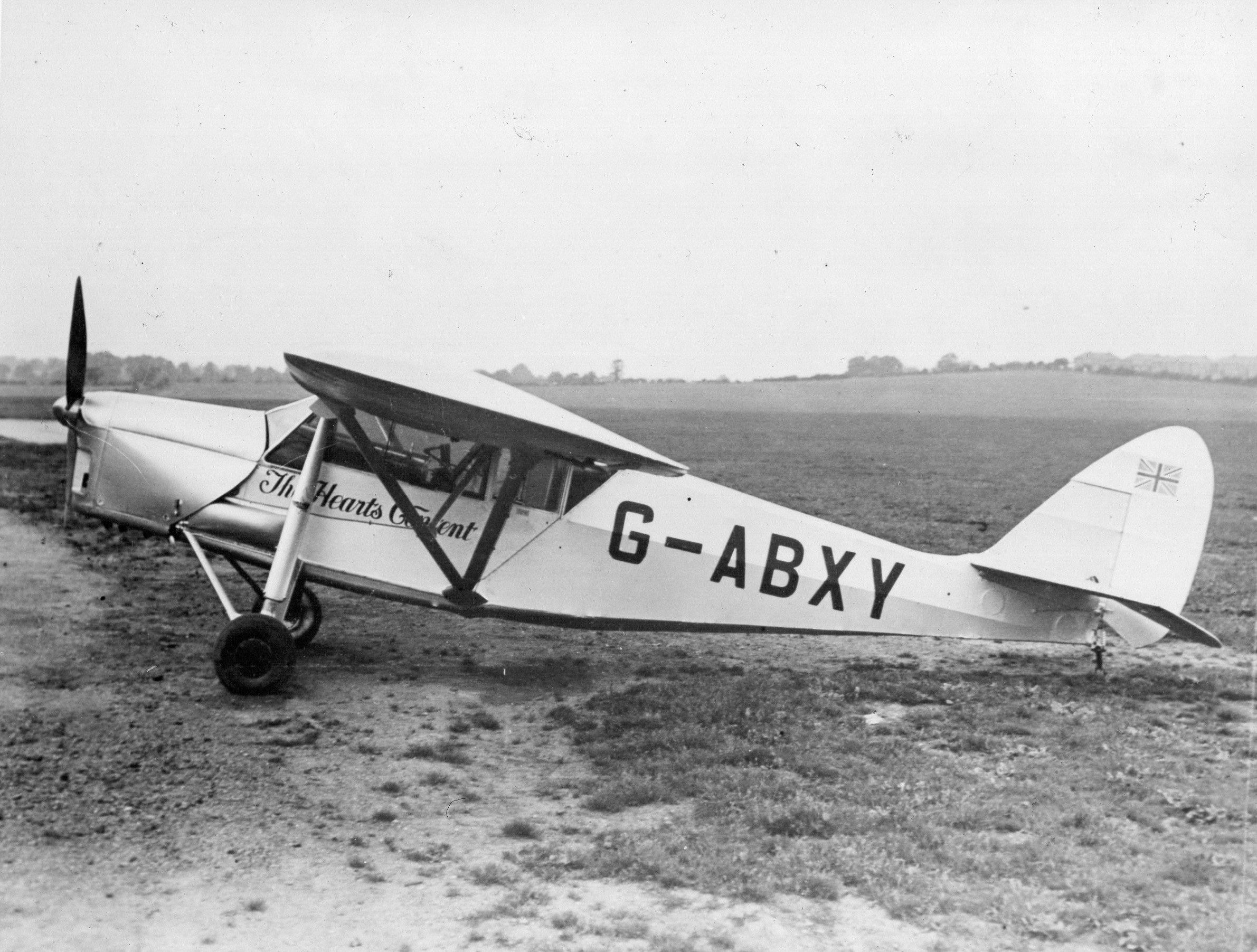 Port Natal, Brazil (Thursday)
     Mr. J. A. Mollison, after a flight of 17½ hours from Dakar, landed here at 3.20 G.M.T. this afternoon. He has completed the flight from Lympne, which he left at 8.12 on Monday, in 82 hours 8 minutes, thus beating the French record by 25 hours 52 minutes. This was the first solo westward flight across the South Atlantic. After he landed Mr. Mollison attended an official reception, at which the Governor of the Province, the Mayor, and a number of military officials were present.
     He made a perfect landing in Heart's Content, and getting out said, "I had good weather most of the way. The South Atlantic is a much simpler task than the North." Mr. Mollison said his machine averaged 115 miles per hour. He is staying here to-night and flying on to Rio de Janeiro to-morrow.—Reuter
     Considerable interest has been taken during the week in the progress of Mr. Jim Mollison (teh husband of Miss Amy Johnson), who left Lympne at 8.12 last Monday morning on an attempt to fly to South America in three and a half days and thus beat the record of 4½ days from France to Brazil, set up by a French monoplane.
     At 5.10 on Monday evening he landed at Barcelona. Fog caused him to miss the aerodrome at Barcelona and he went some 40 miles out of his way before finding it. This delayed him about an hour.
If the Spanish Air Force had not put out flares for him it is doubtful whether Mr. Mollison would have been able to land at Barcelona at all.
He left this place at 8.45 the same night and landed at Agadir, Morocco, at 7.20 on Tuesday evening. At 3.15 p.m. on Tuesday he reached Villas Cisneros, and at 8 o'clock on Wednesday morning he was at Thies, Senegal. The distance fro, Lympne to Thies is 2,410 miles, and Mr. Mollison flew there in a few minutes under 48 hours.
     At 12.15 a.m. yesterday he left Dakar for Port Natal.
—Devon and Exeter Gazette, Friday, 10 February 1933, Page 20, Column 1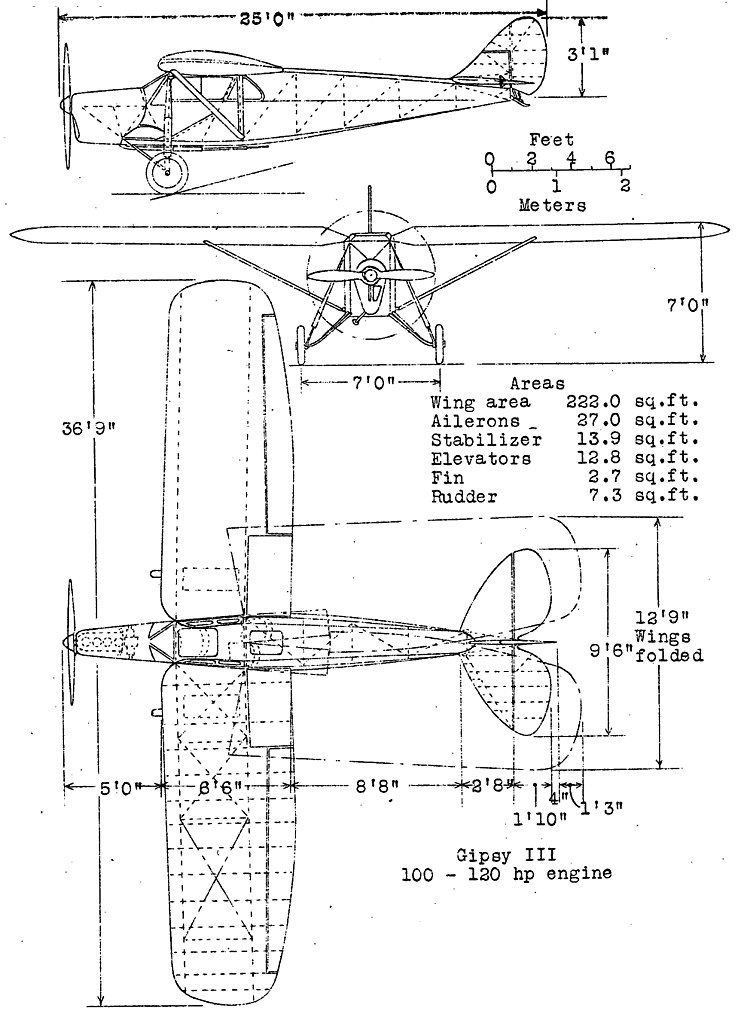 The de Havilland Aircraft Co., Ltd., DH.80A Puss Moth was a single-engine high-wing monoplane with an enclosed cabin for a pilot and two passengers. It was constructed of a welded tubular steel frame and wood wings covered with doped fabric. The airplane was 25 feet, 0 inches (7.620 meters) long with a wingspan of 36 feet, 9 inches (11.201 meters) and height of 6 feet, 10 inches (2.083 meters). The Puss Moth had an empty weight of 1,150 pounds (522 kilograms) and gross weight of 1,900 pounds (863 kilograms).
G-ABXY was powered by a 373.71-cubic-inch-displacement (6,124 cubic centimeters) air-cooled de Havilland Gipsy Major I inverted, inline 4-cylinder engine with a compression ratio of 5.25:1. It produced 120 horsepower at 2,100 r.p.m and 130 horsepower at 2,350 r.p.m. The engine weighed 306 pounds (138.8 kilograms).
The DH.80A had a cruise speed of 105 miles per hour (169 kilometers per hour) and maximum speed of 125 miles per hour (201 kilometers per hour). The airplane had a service ceiling of 13,000 feet (4,000 meters). The standard DH.80A had a range of 440 miles (708 kilometers) (with optional tanks, the range was extended to 570 miles or 700 miles).¹
De Havilland built 284 DH.80A Puss Moths between 1929 and 1933. Only eight are known to exist.
G-ABXY was first registered in July 1932. Its Certificate of Registration was number 3816. Flown by Harold Leslie Brook, it was destroyed in a crash near Génolhac, Gard, France, when Brook encountered freezing fog, 28 March 1934. Losing altitude, the airplane crashed on the slope of a mountain. Brook was injured.
¹ Specifications and performance from National Advisory Committee for Aeronautics Advisory Circular No. 117, https://ntrs.nasa.gov/citations/19930090394