9 October 1955: Lieutenant Colonel Robert Ray Scott, United States Air Force, commanding officer, 510th Fighter Bomber Squadron, 405th Fighter Bomber Wing, Langley Air Force Base, Virginia, with Major Robert C. Ruby and Captain Charles T. Hudson, flew their Republic F-84F Thunderstreaks non-stop from Los Angeles Airport (LAX) on the southern California coastline to overhead Floyd Bennett Field, New York. The elapsed time for the Colonel Scott's flight was 3 hours, 46 minutes, 33.6 seconds. Two in-flight refuelings from Boeing KB-29 tankers were required.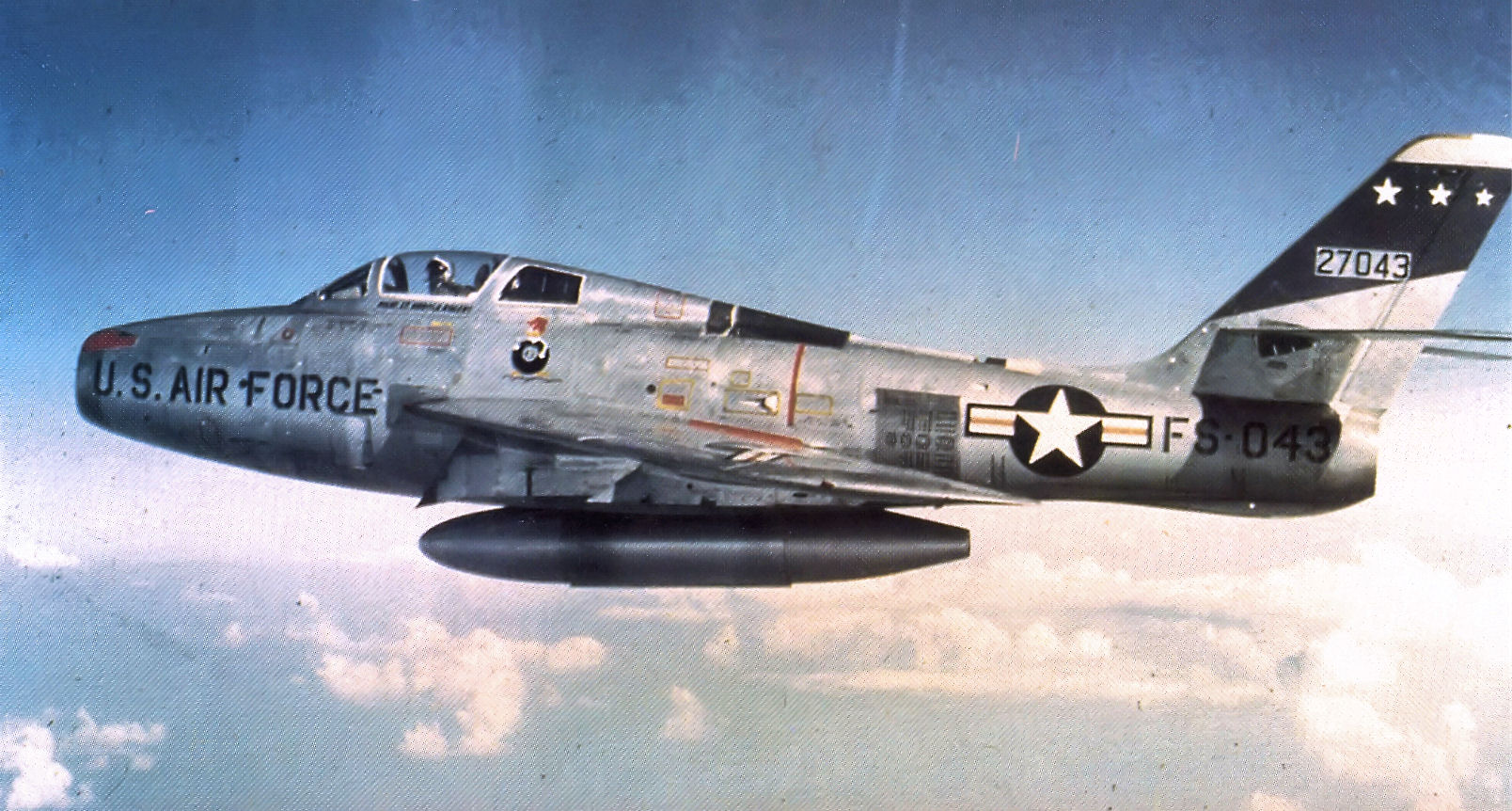 A newspaper article from the following day describes the event:
2 Des Moines Pilots Break Speed Record
NEW YORK (AP) — Two air force pilots from Des Moines broke the speed record from Los Angeles to New York Wednesday, making a nonstop flight in less than four hours.
Lt. Col. Robert R. Scott, 34, flying a Republic F-84F Thunderstreak jet fighter, turned in the fastest time — 3 hours 46 minutes and 33 seconds. He averaged 649 miles an hour.
Just one minute behind was another Des Moines pilot, Maj. Robert C. Ruby, 32. His time was 3:47:33.
The old mark for the 2,445-mile route was 4:06:16, set Jan 2, 1954, by an air national guard pilot.
Refueling Slow
The pilots said they could have made faster time except for slow and obsolete in-flight refueling tanker planes.
A third pilot who shattered the old mark is Capt. Charles T. Hudson, 33, of Gulfport, Miss., who made the flight in 3:49:53.
Eight air force Thunderstreaks left Los Angeles in a mass assault on the record. Five dropped out through failure to make contact with refueling planes or other reasons. All reportedly landed safely.
While setting a Los Angeles–New York record, Scott failed to beat the navy's time from San Diego, Calif., to New York — 2,438 miles, or seven miles shorter than Wednesday's flight.
Flew Cougar Jet
Lt. Comdr. Francis X. Brady, 33, of Virginia Beach, Va., flew from San Diego in 3:45:30 on April 1, 1954, flying a Grumman F9F Cougar.
The air force planes flew at about 40,000 feet.
"The tankers used for refueling are much too obsolete and too old," Scott commented on landing.
The jets had to slow to 200 m.p.h. from almost 650 to take on fuel.
Scott said he refueled twice — once near La Junta, Colo., and once near Rantoul, Ill.
Others Agree
Ruby and Hudson also said they could have made faster time if the tank planes were more modern.
Hudson and Ruby carried extra gas tanks and made one in-flight refueling each. Scott carried no extra gas and had two in-flight refuelings.
1st Lt. James E. Colson of Middleboro, Ky., tried to make it with no refueling. He got as far as Pittsburgh, Pa.
Of the other four unable to complete the flight, one dropped out in California, two in Kansas and one at Sedalia, Mo. 
— The Daily Iowan, Thursday, March 10, 1955, Page 1, Column 1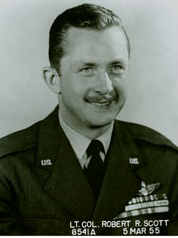 Robert Ray Scott enlisted as an Aviation Cadet in the U.S. Army Air Corps in August 1941, and received his pilot's wings and was commissioned as a 2nd Lieutenant in March 1942. He was assigned as an instructor pilot in California before being transferred to the 426th Night Fighter Squadron, flying the Northrop P-61 Black Widow in India and China. He shot down two Japanese airplanes. He flew the F-86 Sabre during the Korean War, commanding a squadron.
In 1954 he graduated from the Air Force test pilot school at Edwards Air Force Base, then served as a project pilot on the North American F-86D all-weather interceptor. Later he was a project officer at Edwards AFB on the Republic F-105 Thunderchief Mach 2 fighter-bomber.
During the Vietnam War, Colonel Scott commanded the 355th Tactical Fighter Wing, flying the F-105. On 26 March 1967 he shot down an enemy MiG-17 fighter near Hanoi with the 20 mm M61 Vulcan cannon of his Thunderchief, making him only the second Air Force pilot with air combat victories in both World War II and Vietnam.
During his Air Force career, Colonel Scott was awarded four Silver Star medals, three Legion of Merit medals, six Distinguished Flying Crosses and 16 Air Medals. He died in 2006 at the age of 86 years. He is buried at the Arlington National Cemetery.
© 2015, Bryan R. Swopes
by