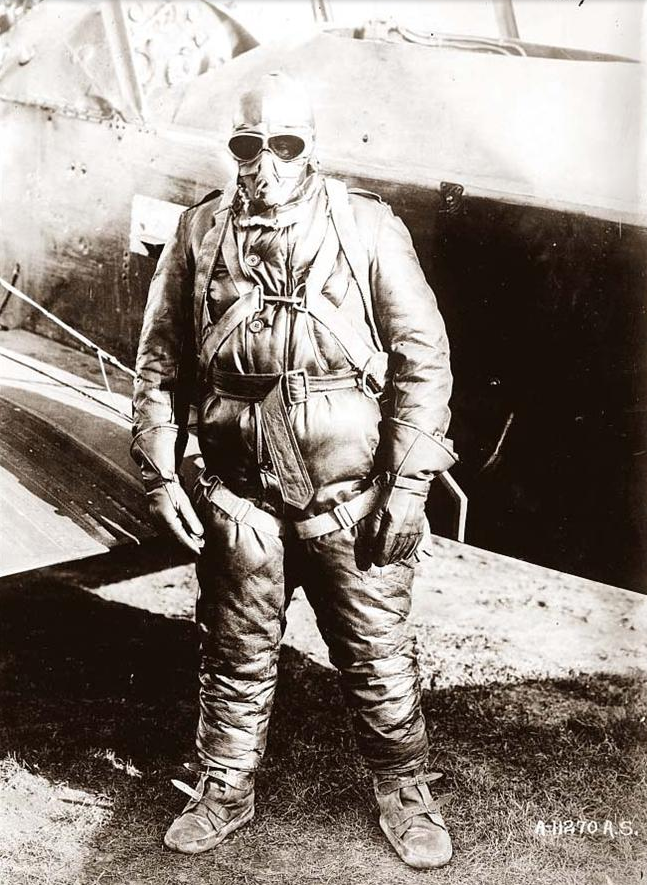 John Arthur Macready was born at San Diego, California, 14 October, 1887.¹ He was the second of three sons of Benjamin Macready, a miner, and Mattie Delahunt Beck Macready.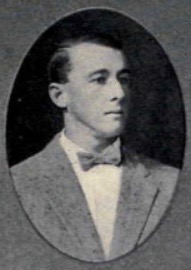 John Macready graduated from Los Angeles High School at Los Angles California, then attended Leland Stanford, Jr., University, near San Francisco, California. He graduated with a Bachelor of Arts degree (A.B.) in economics in 1913.
Following graduation, and while visiting his family, then living near Searchlight, Nevada—where his father had founded the Quartette Mine and Mill, a $7,000,000 ² per year operation—Macready was elected justice of the peace.
The United States entered World War I on 6 April 1917. John Macready enlisted in the U.S. Cavalry, but,
". . . while on a train, en route to Reno to get his final papers, he picked up the Magazine Section of the The Times and read a story about Rockwell Field.
     "Being a native of San Diego—he first saw the light there forty-three years ago—he was particularly interested and made up his mind to learn to fly one of those things everyone was talking about.
     "His education, grammar school and high school graduation here—the latter from Los Angeles High School on top of Bunker Hill—and four years at Stanford as a student of economics, came in handy and he was able to switch his enlistment to the United States Army Air Corps [sic] as a private."
—Los Angeles Times, Vol. XLIX, Sunday, 2 November 1930, Part VI, Page 4 Column 2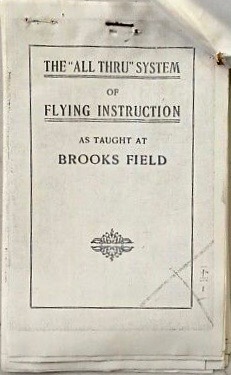 On 16 July 1917, Macready was assigned to the Aviation Section, Signal Corps, United States Army, as a Private 1st Class. His draft registration card descibed him as medium height and build, with brown hair and blue eyes. On 27 December 1917, Macready was commissioned a first lieutenant in the Aviation Section, Signal Officers Reserve Corps. Macready was assigned as a flight instructor at Brooks Field, Texas, where he wrote the standard instructional text, The "All Thru" System of Flying Instruction as Taught at Brooks Field.
On 11 October 1918, Lieutenant Macready was promoted to the rank of captain, Air Service, U.S. Army. After World War I, he became an engineering test pilot at McCook Field near Dayton, Ohio. His reserve commission was vacated 18 September 1920, and he was commissioned a first lieutenant, Air Service, 18 September 1920.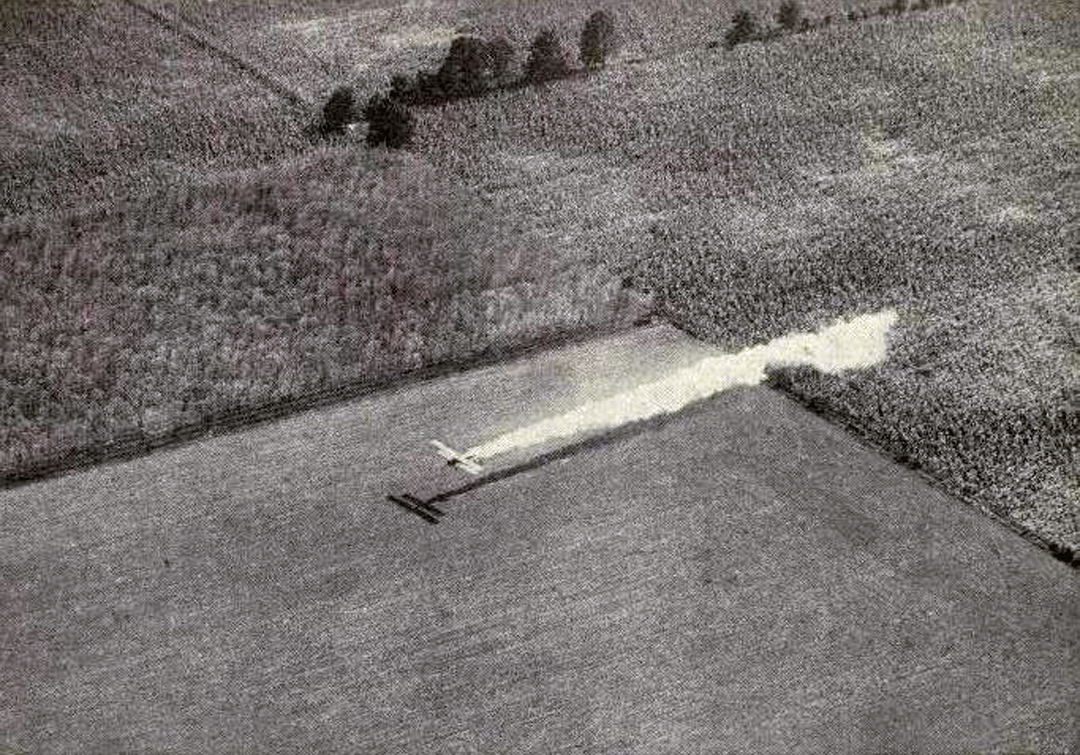 On 3 August 1921, near Troy, Ohio, Lieutenant Macready flew a Curtiss JN-6 to perform the first aerial application ("crop dusting") of pesticides by airplane. Macready flew at an altitude of 20-35 feet (6–11 meters), upwind of a grove of tall catalpa trees. Released 53 yards (48 meters) from the edge of the grove, an 8–11 mile per hour (3.5–5 meters/second) wind carried the arsenate of lead powder and every leaf in the grove was covered.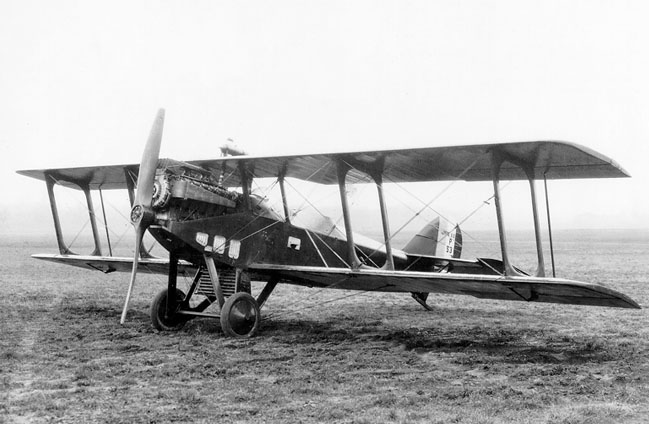 On 28 September 1921, Lieutenant Macready flew a turbo-supercharged Packard Lepère L USA C. II biplane, serial number S.C. 40015, to a world record altitude of 40,800 feet (12,436 meters). He won his first of three Mackay Trophies for this flight.
Macready and Oakley planned to fly a Fokker T-2 across the North American continent, non-stop, from San Diego, California, to New York. The starting point at Rockwell Field was chosen to take advantage of favorable westerly winds, and to use the higher-octane gasoline which was available in California.
When they encountered fog in the mountains east of San Diego, the two fliers were forced to turn back. They remained airborne over San Diego to measure the airplane's performance and fuel consumption for another attempt. They remained airborne for 35 hours, 18 minutes. They were awarded the Mackay Trophy for the most meritorious flight of the year. This was Macready's second Mackay. He and Kelly would win it again the following year.
Over 2–3 May 1923, Macready and Kelly flew the T-2 on the first non-stop transcontinental flight. The two aviators took off from Roosevelt-Hazelhurst Field, Long Island, New York, at 12:30 p.m. Eastern Time and landed at Rockwell Field (now, NAS North Island), San Diego, California, the next day at 12:26 p.m., Pacific Time. They had flown 2,470 miles (3,975 kilometers) in 26 hours, 50 minutes, 38.8 seconds, for an average speed of 92 miles per hour (148 kilometers per hour). Macready won his third Mackay Trophy for this flight. He is the only person to have won the award three times.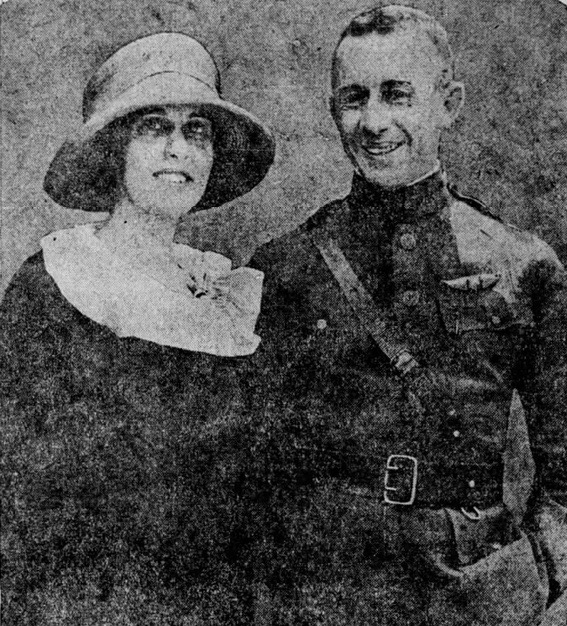 In the late afternoon of 9 May 1923, Lieutenant Macready married Miss Nelliejay Turner of Columbus, Ohio, at the Los Angeles, California, home of Macready's parents. The ceremony was conducted by Rev. Charles Thompson of Springfield, Ohio. Lieutenant Oakley Kelly was best man. Miss Turner, then a student at Ohio State University (Kappa Alpha Theta sorority), had been introduced to Lieutenant Macready at the family home the previous year. They would have two daughters, Jo-Ann and Sally Jean Macready.
In 1923, Macready graduated from the Aeronautical Engineer Course, Air Service Engineering School.
On 13 June 1924, Macready was the first pilot to parachute from an airplane at night, when on a flight between Columbus and Dayton, Ohio, the engine of his airplane failed. The Los Angeles Times quoted an Air Service report:
"There being no moonlight, he guided his plane toward an area showing the fewest number of lights. The two flares he released failed to ignite, and he decided to trust to his parachute. Shortly after he launched himself into space his plane crashed and burst into flames. Capt. Macready's parachute caught in the branches of a tree and he was hanging by the shroud lines over a ravine some ninety feet deep. His shouts brought several persons to his assistance and he was pulled up to safety by means of the parachute cords."
—Los Angeles Times, Vol. LIV, 2 June 1935 "Times Sunday Magazine," Page 15, Column 3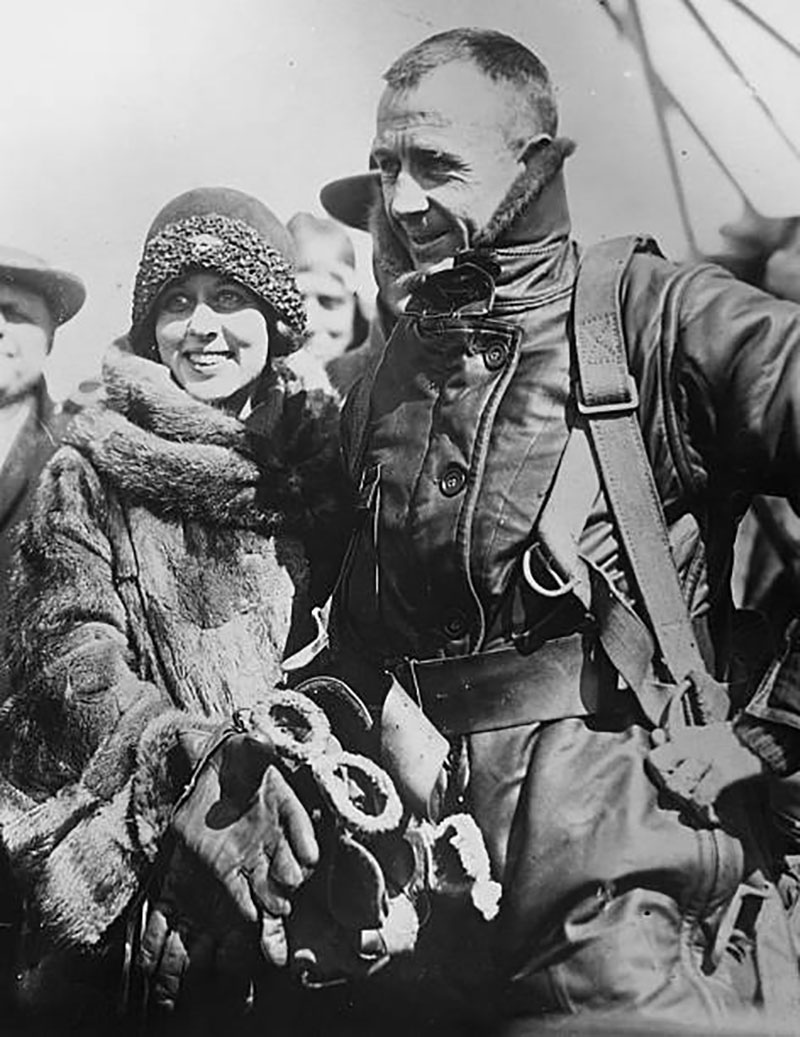 On 29 January 1926, Macready took off from McCook Field in an experimental airplane, the Engineering Division XCO-5. Macready was attempting to exceed the existing Fédération Aéronautique Internationale world altitude record of 12,066 meters (39,587 feet), which had been set by Jean Callizo at Villacoublay, France, 21 October 1924.
When the sealed barograph was sent to the Bureau of Standards in Washington, D.C., for calibration, it indicated a peak altitude of 38,704 feet (11,797 meters). This was 269 meters (883 feet) lower than the existing world record, but it did establish a new United States national altitude record.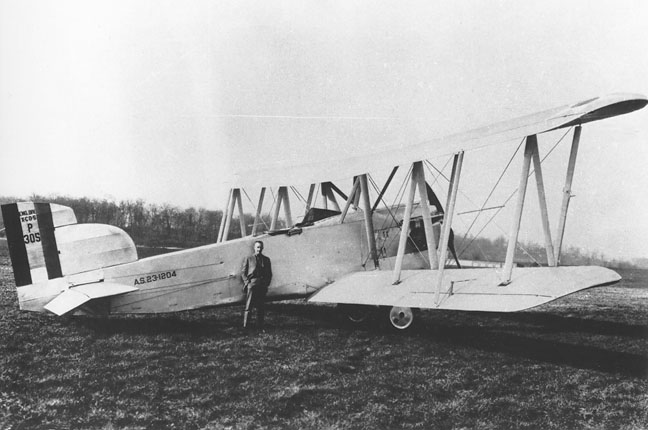 For six years John Macready was responsible for testing turbosuperchargers, which enabled aircraft engines to produce continuous power at increasing altitudes. It was while testing these that he established his altitude record.
John Macready resigned from Air Corps in 1926. He worked as an engineer for Frigidaire until 1929, then became head of Shell oil's aviation division based in San Francisco, California. He flew a Lockheed Vega. He bought a horse ranch in Mariposa County.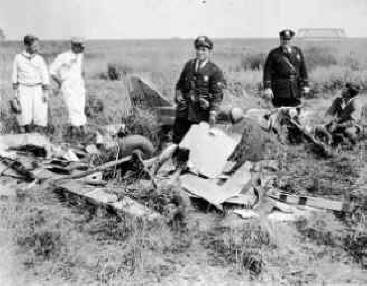 On 30 August 1930, Macready crashed in a Menasco-engined Keith Rider B-1, NR10216,  while practicing for the Thompson Trophy pylon race the National Air Races at Curtiss-Wright Airport in Chicago, Illinois.. A wing strut failed at approximately 162 miles per hour/261 kilometers per hour). Initial news reports were that he had been killed. He suffered a broken nose, fractured shoulder and bruises.
"A wing strut folded as Macready turned the course in the first lap of the free-for-all speed event, according to witnesses. The ship spiraled about drunkenly for an instant, but by skillful maneuvering the former army flier brought it to earth right side up. The plane struck with terrific force, bounded high into the air and was demolished on the rebound."
—The Cincinnati Enquirer, Vol. XC. No. 144, Sunday, 31 August 1930, Page 1, Column 5
In September 1931, Macready was commissioned as a major in the Air Corps Reserve. He was assigned to the 316th Observation Squadron at Crissy Field, Presidio of San Francisco, California.
The New York Times reported that John Macready collaborated with the Bausch & Lomb optical company to to develop the iconic Ray-Ban Aviator sunglasses, which debuted in 1938 and remain in production today.

On June 19 1934, Macready involved in a fatal traffic accident when a motocyclist collided with his car on a blind turn near Yosemite. Macready was not injured.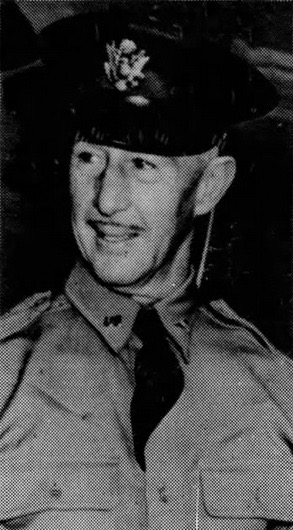 Major Macready was recalled to active duty with the Air Corps on 10 October 1939 and assigned to duty at Hamilton Field, California. He later commanded 9th Air Base Group, and on 1 December 1941, took command of the Air Corps basic flying school at Moffett Field, California. The school operated the Vultee BT-13 trainer and taught formation flying, navigation and cross-country flying.
During World War II, Colonel Macready served as inspector general of Twelfth Air Force during Operation TORCH, the Allied invasion of North Africa. He also commanded the Mediterranean Air Transport Service. Following the war, Macready commanded Merced Army Airfield in California, and in 1946, was acting commanding office of  Walla Walla Army Airfield in Washington state. Colonel Macready was transferred to the Air Force retired list in 1948.
In October 1954, an authorized controlled burn on Macready's thoroughbred horse ranch spread into the surrounding Sierra National Forest. The U.S. Forest Service sued Macready for the cost of fighting the 1,830-acre fire, estimated at $72,662. An Act of Congress attempted to prevent this action, but after many delays, the case went to trial in June 1964. The two-day trial resulted in a "hung jury" and the judge declared a mistrial. A new trial date was set.
On Nov 8, 1958, John A. Macready was awarded the Croix de Guerre by President Andre Pleven of France for his service in North Africa during World War II.
John Arthur Macready died in Mariposa County, California, 15 September 1979, at the age of 90 years.
"Honor is its own reward. There is plenty of glory in connection with flights of this nature, and considerable satisfaction in doing one's duty as a soldier and accomplishing a feat considered by many to be impossible."
—John A. Macready, Aviator
¹ Some sources state 1888.
² Equivalent to $177,550,404.04 in 2018
© 2019, Bryan R. Swopes